/ Source: TODAY contributor
In a resignation announcement brimming with indignation, this year's Miss Pennsylvania USA said she felt compelled to turn in her crown.
"Effective immediately I have voluntarily, completely, and utterly removed myself from the Miss Universe Organization," beauty queen Sheena Monnin posted on Facebook. "In good conscience I can no longer be affiliated in any way with an organization I consider to be fraudulent, lacking in morals, inconsistent, and in many ways trashy."
They may be beautiful, but the competition can get ugly. From blackmail to sabotage, check out the underside of the pageant circuit.
Monnin, 27, alleged that Sunday's Miss USA competition, which is run by the Miss Universe Organization, was fixed. She said she had evidence that the top five contestants were selected in advance of Sunday's show.
"I witnessed another contestant who said she saw the list of the Top 5 BEFORE THE SHOW EVER STARTED proceed to call out in order who the Top 5 were before they were announced on stage," Monnin wrote on Facebook on Tuesday. "After it was indeed the Top 5 I knew the show must be rigged; I decided at that moment to distance myself from an organization who did not allow fair play and whose morals did not match my own."
Fifty-one hopefuls were whittled down to one winner after the swimsuit, evening gown and interview competitions.
In a statement, the Miss Universe Organization dismissed Monnin's allegations as "false" and said Monnin told pageant officials she was resigning for a different reason: Because she did not agree with the organization's recent decision to admit transgender contestants.
Pageant officials released an email message they said they received from Monnin on Monday that read, "I refuse to be part of a pageant system that has so far and so completely removed itself from its foundational principles as to allow and support natural born males to compete in it. This goes against ever (sic) moral fiber of my being."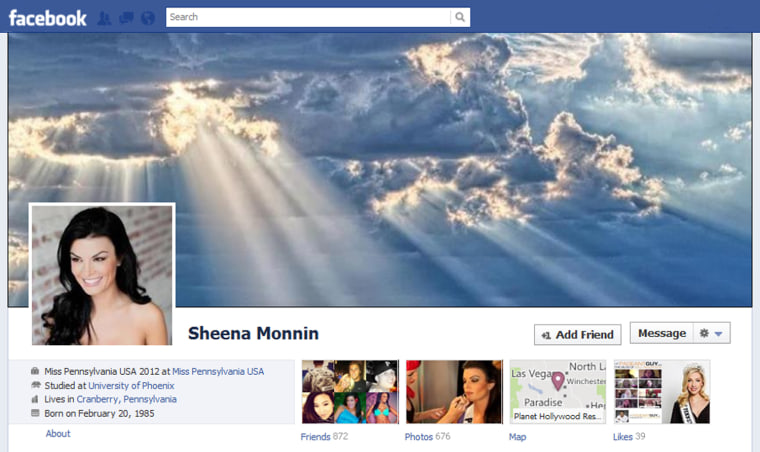 On her Facebook page, Monnin describes herself as "conservative" and sums up her religious views by citing the Bible verse John 3:16.
Olivia Culpo, a 20-year-old cellist from Rhode Island, won the Miss USA crown on Sunday night after voicing her support for transgender beauty queens. Culpo will go on to represent the United States in this year's Miss Universe pageant.
"We are disappointed that [Monnin] would attempt to steal the spotlight form Olivia Culpo of Rhode Island on her well-deserved Miss USA win," the Miss Universe Organization said in its statement. "The contestant she privately sourced as her reference [of pageant-fixing] has vehemently refuted her most recent claim."
From living in refugee camps to having weird phobias, these contestants for Miss USA 2012 are more than just pretty faces.