From a beauty who battled breast cancer to an orphan breaking racial and religious barriers, some Miss Universe contestants bring with them heart-wrenching — yet inspiring — stories. They are among the 86 women from around the world competing for the 2013 crown in Moscow Saturday.

For Miss Bulgaria Veneta Krasteva, the road to Moscow has been a difficult one. Just over two years ago, at the age of 18, she was diagnosed with breast cancer.

"They found my tumor early because I would go to the gynecologist for regular check-ups," Krasteva told TODAY.com via email. "I started to notice that one of my breasts was aching and I felt a lump."
Krasteva, who hails from Sofia, Bulgaria, was the first person in her family to fight the illness. "It was terrible news. I never thought it would happen to me," she said.
She underwent two years of aggressive treatment, and was forced to put off college so she could focus on her health.
Now, at 21, Krasteva is cancer-free. "My recovery took a while, but after I fully healed, I was able to start my life again," she said.
The blonde beauty won the Miss Universe Bulgaria 2013 title in September; she hopes if she is crowned the top title this week, she'll be able raise awareness about breast cancer.
"For all women and especially young girls, they should know it could happen to anyone," Krasteva said. "Women must do what they can to keep themselves protected and educate themselves on the symptoms of cancer. Just knowing your body and staying aware can save your life."
Miss Bulgaria isn't the only one who has faced adversity. Titi Yitayish Ayanaw, Miss Israel, is an Ethiopian-born orphan who moved to the country when she was only 12 years old. The 5'11" beauty was raised by her aunt and now lives with her grandmother, she told TODAY.com.
On Nov. 9, 86 ladies from around the world will vie for the title of Miss Universe in Moscow. Take a look at the contenders all dressed up in dramatic outfits inspired by their home countries for the annual National Costume Show.
She attended school and went on to be an officer in the Israeli army, but held on to the dream of being a model. A friend entered her in a beauty pageant, and from there, Ayanaw, 22, went on to become the first black Miss Israel.

Ayanaw hopes winning the Miss Universe title will help her be a role model for young girls in her community.
"My community is very proud of me, I'm the first beauty queen," she said. "I think the girls, they see my picture and it's the first time an Ethiopian Jew is on [magazine] covers and in photos. They're so excited, the young girls start to believe in themselves, that they can do it also. If I win here, it's going to be like history."
As for other history-makers, 25-year-old Moe Set Wine is the first Miss Universe contestant to represent the historically war-torn nation of Myanmar in 53 years. Wine hopes her participation in the competition will educate the world about her oft-overlooked home country – but feels she does have some disadvantages.
"Because we are (inexperienced), I do feel a little bit unprepared," Wine admitted to TODAY.com. "But I know this is my chance to put my country on the world stage so people know about Myanmar. It's an honor…"
Wine, who studied business management at California Lutheran University, said most of the American students she was friends with didn't know much about Myanmar. "I don't like that," she said. "If I win Miss Universe, the world will know what Myanmar is. I can do something for my country."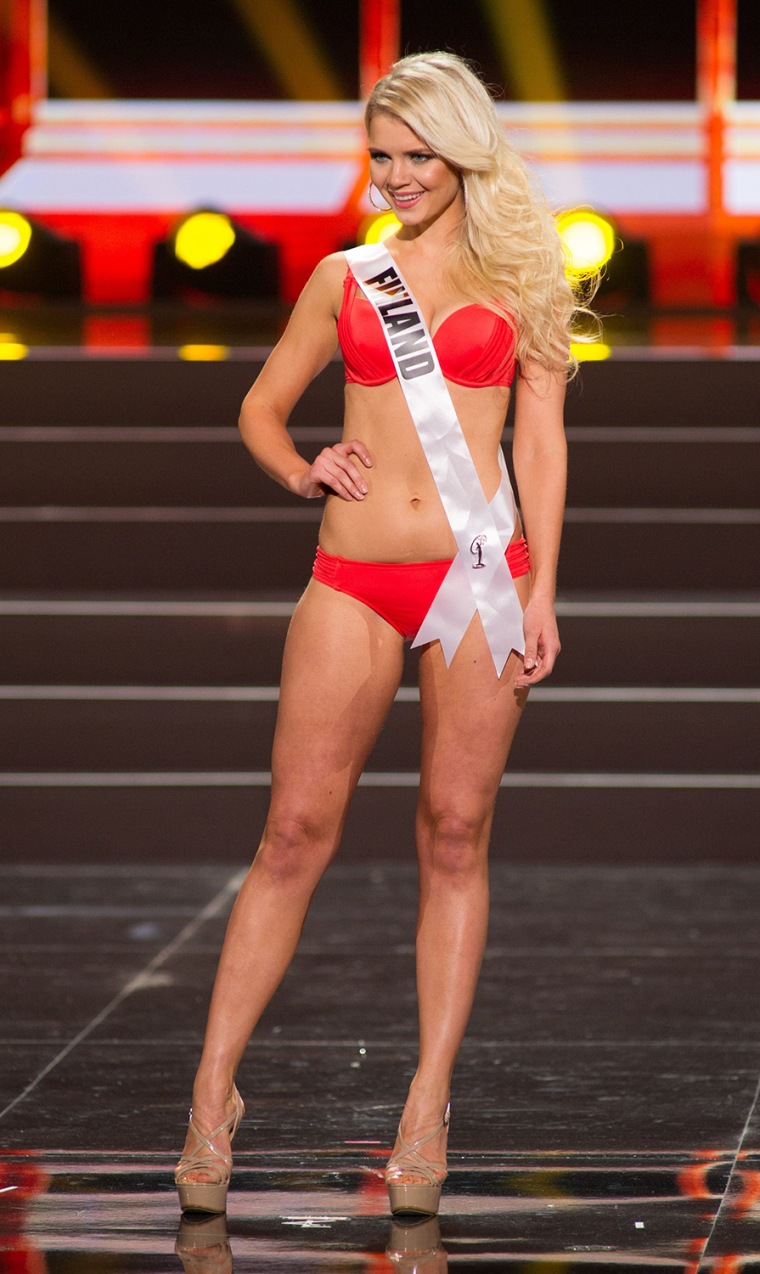 The pageant isn't just about overcoming adversity; it also boasts a few quirky and talented characters, too. Lotta Hintsa, the 25-year-old contestant representing Finland, once ran a marathon with only five minutes notice. Hintsa, a former competitive cheerleader, wanted to make the 26.2 mile run to show up a male college classmate.

"A boy in my class said that small girls don't run marathons," she told TODAY.com. That weekend, a spot in a race opened up just a few minutes before it started, and Hintsa got a chance to prove him wrong. "It wasn't really hard," she said. "I could have run it faster. After I finished I felt like I could have run another one," she said. As for the naysaying classmate, "I was very excited to go back to school on Monday and tell him what I did over the weekend," she said.
The final leg of the Miss Universe competition, hosted by the Trump Organization, will air on NBC on at 9 p.m. ET Sat., Nov. 9. The pageant, held in Russia for the first time at Moscow's Crocus City Hall event venue, has already seen its share of controversy, thanks to Russia's anti-gay laws. Openly gay MSNBC anchor Thomas Roberts is among the pageant's hosts, and he has had to respond to critics who say he should boycott the country.
"I think the most important thing is visibility and the LGBT community has the right to be outraged," Roberts told TODAY.com. "But it's not the time to shy away, it's the time to show up. And it's the time to make sure that you show up and that you're visible, and that you're respected, on an equal footing."
Roberts will be joined by other hosts including style expert Jeannie Mai, current Miss Universe Olivia Culpo, Nick Templitz of sports website The Fumble and former Spice Girl Mel B. Celebrity judges include Stephen Tyler of Aerosmith, Olympic figure skater Tara Lipinski and famed Japanese chef Nobu Matsuhisa. 
Vidya Rao contributed to this report.