Miss New York has taken the crown for the second year in a row and this time, she's making history.

On Sunday night, Nina Davuluri became the first Indian-American to beat out 52 other contestants and take the Miss America title.
"Thank you so much," the aspiring doctor, 24, said through tears, as last year's titleholder Mallory Hagan crowned her in Atlantic City's Boardwalk Hall. 
Competing on a platform of "celebrating diversity," Davuluri performed a fusion of classical Indian and Bollywood-style dancing in a dazzling red and turquoise ensemble after momentarily missing her stage cue. 
During her interview, she was asked about Julie Chen's decision to have surgery in order to further her career. "Unfortunately, I don't agree with plastic surgery," responded Davuluri, who graduated from the University of Michigan. "Be confident in who you are."
For the evening gown competition, Davuluri donned a bright yellow dress inspired by her favorite Disney movie, "Beauty and the Beast." 
Davuluri's bid for Miss America came with a bit of controversy: She made headlines just two days before the pageant when the New York Post's Page Six column claimed that she called Hagan "fat as f---" shortly after being crowned Miss New York. Davuluri and Miss America representatives deny the accusations.
On Monday, a different kind of controversy emerged, as racist comments referring to her heritage popped up on Twitter. 
Miss California, Crystal Lee, placed first runner-up at the pageant, while Miss Oklahoma, Kelsey Griswold, took second runner-up.
Sunday's finale included several contestants who shared their unique stories and platforms with the public, such as Miss Kansas Theresa Vail, a member of the National Guard and the first contestant to publicly display her tattoos during the swimsuit competition, and Miss Iowa, a 23-year-old vocalist born without her left forearm. Vail won the "America's Choice" award Sunday night, which automatically qualified her for the semifinal round.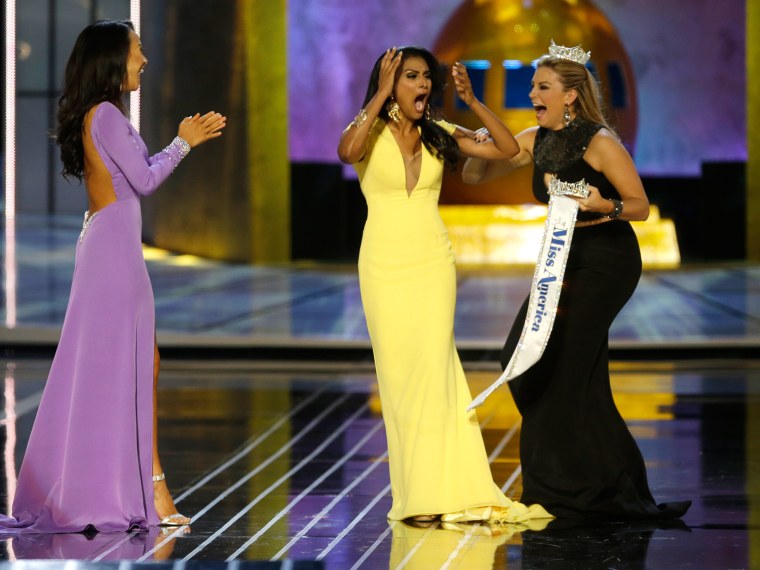 The 93rd annual Miss America pageant marks the return of the beauty competition to its roots in Atlantic City, where the contest first began in 1921. For the past six years, the pageant has been held in Las Vegas. 

This year's competition was hosted by Chris Harrison of "The Bachelor" and "Good Morning America's" Lara Spencer. Miss America 2004 Deidre Downs Gunn, the New York Knicks' Amar'e Stoudemire and 'N Sync's Lance Bass, were among the competition's seven celebrity judges.  

The contestants' week in Atlantic City leading up to the finale was packed with press engagements and preliminary rounds. Early winners in the pageant's preliminary swimsuit competition were Miss Mississippi, Chelsea Rick; Miss Oklahoma, Kelsey Griswold; and Miss Georgia, Carly Mathis. 
Winners in the preliminary talent competition were Miss New Hampshire, Samantha Russo, who sang "Don't Rain On My Parade"; Miss Minnesota Rebecca Yeh, who played the violin; and Miss Florida, Myrrhanda Jones, who performed a baton twirling routine just hours after tearing her ACL during a rehearsal on Thursday. Jones, 20, made it to the semifinals and wore a bejeweled leg brace during her final performance.

On Saturday, Atlantic City locals gathered together on the boardwalk for a revival of an old Miss America tradition: The Show Us Your Shoes Parade, which got its start in 1972 when spectators shouted "Show us your shoes!" as contestants made their way down New York Avenue after rehearsals.
Contestants brought that tradition back to life by designing their own elaborate heels with colors and symbols representative of their home states and personal stories, like green alligators for Florida and a taxi and city skyline for New York. Miss Kansas decided to forego heels in favor of wearing her military uniform and combat boots for the 2-mile parade, which included marching bands, dancers, and an appearance by the reigning Miss America Mallory Hagan.
Hagan's year-long stint as Miss America was cut short because of the competition's return to Atlantic City from Las Vegas, but the Miss America organization will compensate her for the lost time, according to the Associated Press.  
As for Hagan's advice to this year's winner, she told the New York Daily News: "The reality is that when you win Miss America, you won because who you were, not what someone thought you should be. It's just really important to remain true to the person you were before you won Miss America, and be yourself."
During the 93rd annual Miss America pageant in Atlantic City, 53 contestants competed in luminous evening gowns and flashy swimsuits. Take a look at this year's winner and the other lovely ladies who vied for the crown.
In honor of the upcoming 93rd annual Miss America pageant, take a look at the lovely ladies who have seized the coveted crown since the competition's start in 1921.