Mallory Hytes Hagan, a 23-year-old from Brooklyn, N.Y., tap danced her way to the Miss America 2013 crown on Saturday night.
"I can't believe this is happening," she said tearfully, after last year's winner, Laura Kaeppeler, put the crown on her head.
Running on a platform of child sexual abuse prevention, Hagan beat out 52 other young women for the $50,000 scholarship prize after winning both the bikini competition, in a black swimsuit, and the evening gown portion, in a white one-shoulder dress.
When asked if armed guards should be put outside schools in the wake of the tragedy in Newtown, Conn., Hagan confidently responded, "I actually don't think the proper way to fight violence is with violence," and stressed the importance of educating the public on proper gun use.
During the talent competition, the self-described "goofball" lit up the stage while tap dancing to James Brown's "Get Up Off of That Thing."
The aspiring cosmetics executive will spend the next year touring the country, speaking to groups and raising money for the Children's Miracle Network, the official charity of the Miss America Organization.
First runner-up at the pageant was Miss South Carolina, Ali Rogers, while Miss Oklahoma, Alicia Clifton, nabbed second runner-up.
Several of the young women's stories touched the public's hearts in the weeks leading up to the pageant. Miss Montana Alexis Wineman, who enrolled in the pageant on a whim, is the first contestant living with autism, while Miss D.C. opened up about the double mastectomy she is planning to undergo after the Vegas competition to reduce her risk of breast cancer. Miss Iowa Mariah Cary also discussed her struggle with Tourette's Syndrome since the age of 8.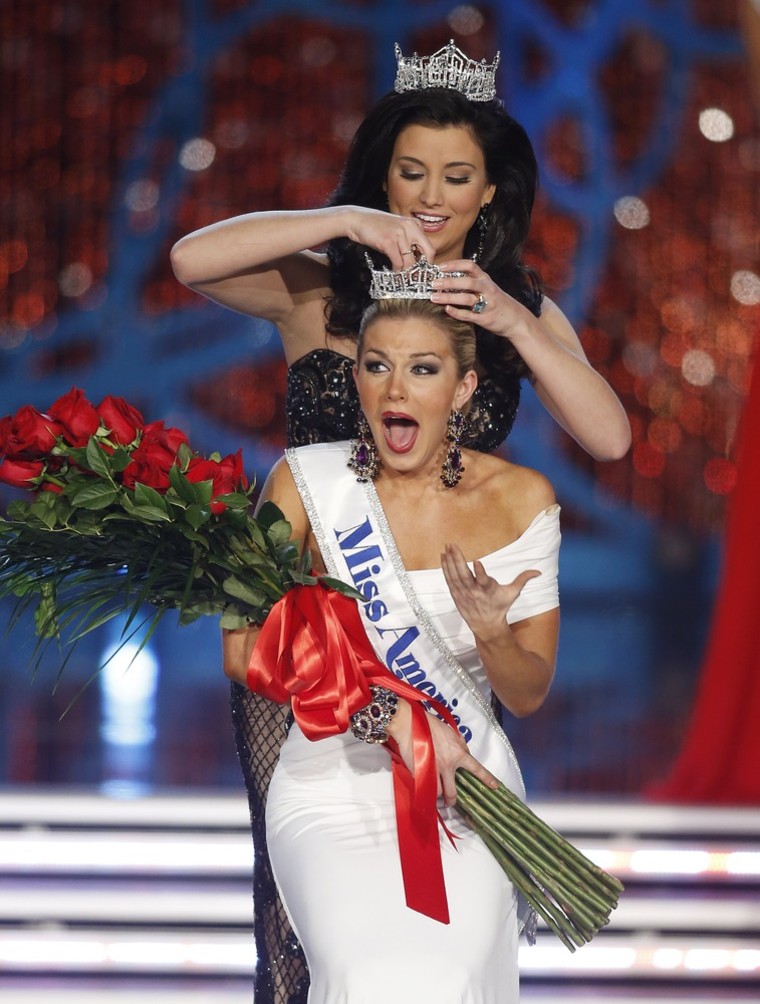 Hosted by Brooke Burke-Charvet of "Dancing with the Stars" and Chris Harrison of "The Bachelor," the 92nd annual Miss America pageant took place at the Planet Hollywood Resort and Casino in Las Vegas. Judges included Sam Champion of "Good Morning America," designer Bradley Bayou, former "Entertainment Tonight" host Mary Hart, Olympic gold medalist McKayla Maroney and Miss America 2009 Katie Stem Irk.
The judges were thrown a curve ball when they were asked to pick a 16th semi-finalist on the spot. They eventually agreed on Miss Washington, who said, "It's time to strut my stuff."
Viewers at home also had an opportunity to influence the outcome of the competition with online and mobile-phone voting. Miss Montana became the America's Choice finalist as a result of this voting, automatically continuing to the semi-final round.
Three days of preliminary competitions came before Saturday night's crowning. The contestants were split into three groups to compete in different categories in the preliminary rounds, the results of which were factored into their final scores. These preliminary scores and the talent competition each counted for 30 percent of the contestant's scores, while the swimsuit and evening gown portions made up 20 percent.
Miss Alabama won the $6,000 Quality of Life Scholarship for her commitment to community service.
"I don't think people really realize how intelligent these women are and that most of them are competing for scholarship money," host Burke-Charvet told ABC News Radio last week. "They're incredibly accomplished women, so charitable, and I was really impressed at how dynamic they are."
Laura Kaeppeler, a 24-year-old opera singer from Wisconsin, took the crown in last year's competition. She spent the last 12 months teaching children whose parents are incarcerated, an act inspired by her own father, who served prison time for postal fraud.
"It is an extremely unusual year in that you are one day Laura from Wisconsin, and the next minute you are Miss America, and you are thrown into this crazy year of travel, appearances and nonstop schedule," Kaeppeler told the Las Vegas Sun in December. "It really pushes you to the limit in what you think you are capable of."
Life has certainly changed for Hagan, who grew up in Opelika, Ala., and attended Auburn University before deciding to make a move to Brooklyn to attend the Fashion Institute of Technology.
"I moved to New York in October 2008 with less than a grand in my pocket, a big suitcase and a lot of hope," she said.
In dazzling gowns and sexy bikinis, 53 contestants competed for the pageant's coveted crown.
More:
Miss Montana is first autistic contestant for Miss America
Miss America contestant gets hate mail over mastectomy plans