Miss New York Kira Kazantsev was crowned Miss America on Sunday night in Atlantic City, following in the footsteps of two other Empire State victors: 2013 winner Mallory Hagan and 2014 winner Nina Davuluri. 
Kazantsev, dressed in a long, white gown, looked stunned as host Chris Harrison announced that it was a "three-peat" for the state of New York before calling her name.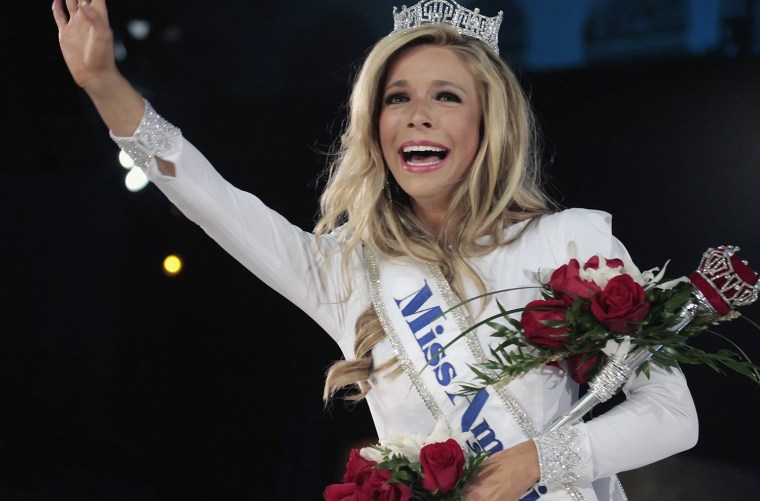 Kazantsev had a strong showing in the question-and-answer portion of the competition. The Hofstra University student, whose pageant platform is domestic violence awareness, said she'd like to see reform in the way the U.S. military handles sexual assault; her response garnered a loud cheer from the crowd.
Twitter buzzed throughout that and other big moments — including, most notably, Kazantsev's unique talent.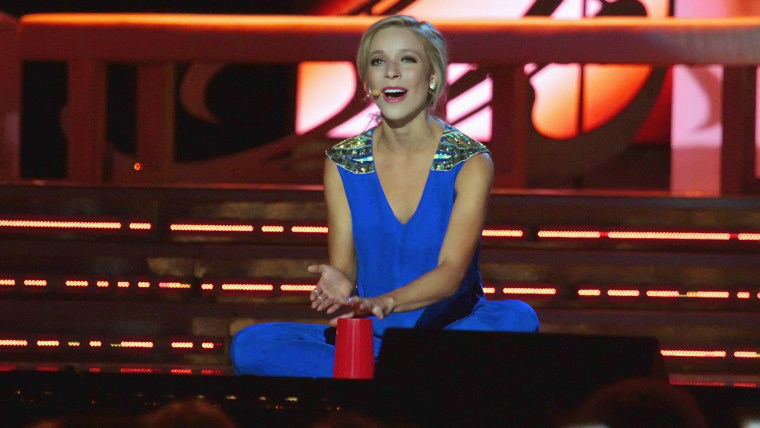 1. Miss New York cupped her way to victory
Kazantsev may owe her crown to a plastic red cup. She sang Pharrell Williams' hit song "Happy" while sitting barefoot on the stage and keeping time by banging a cup on the floor. Inspired by actress Anna Kendrick's number in the 2012 film "Pitch Perfect," the act got viewers — including Kendrick herself — tweeting.
2. Miss Idaho rocked her insulin pump
Miss Idaho Sierra Sandison, a Type 1 diabetic, had her insulin pump on display during the preliminary swimsuit and evening gown competitions. The 20-year-old from Twin Falls made headlines in July when she competed for the title of Miss Idaho with the pump in full view. Sandison, who hopes to teach young girls, "You can be beautiful no matter what," was awarded America's Choice by social media voters.
3. Al Roker got a shoutout
This year's pageant featured fun (and sometimes random) facts about the contestants through pop-up graphics. As Miss Ohio Mackenzie Bart showcased her ventriloquism skills, TODAY's own Al Roker got a nod via the fact box.
4. Kathy kicked off her shoes

Kazantsev wasn't the only woman at the pageant to ditch her shoes. During a pre-show interview, head judge Kathy Ireland made herself comfortable and went barefoot while dressed in an elegant evening gown. Though she made no mention of it during the broadcast, the move didn't go unnoticed on social media.
The camera did not pan down to show her feet during the rest of the broadcast, so viewers were unable to see if Ireland, who is launching her own footwear line, put her heels back on.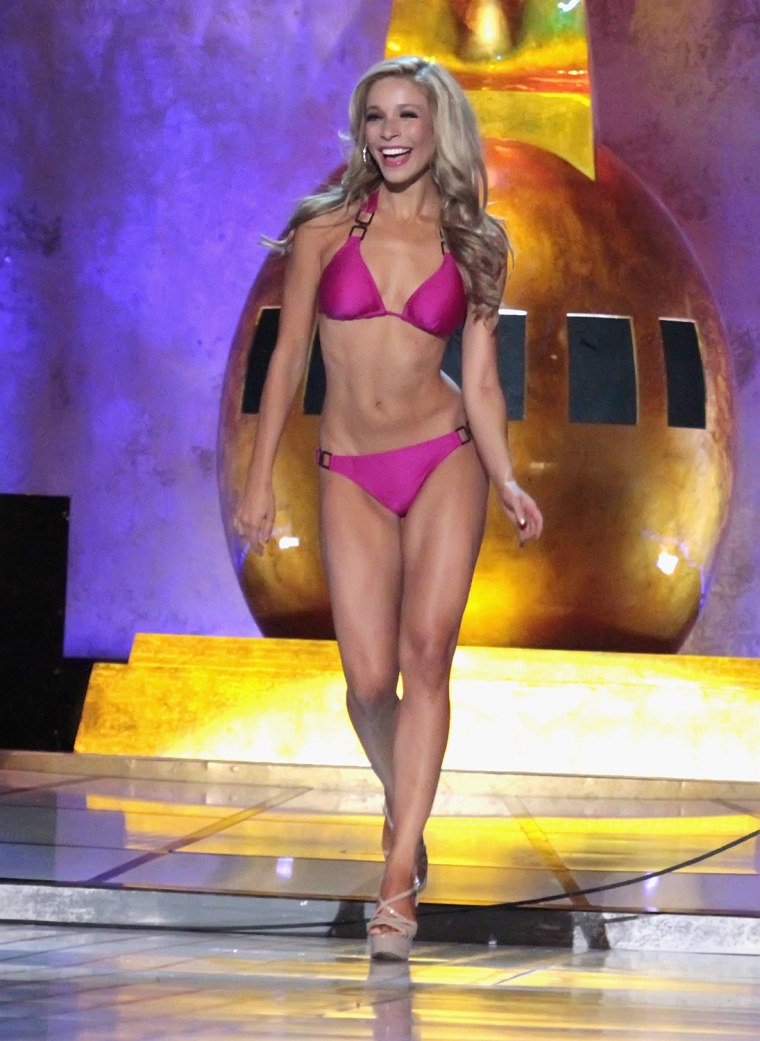 5. Someone forgot to use spell check
During Kazantsev's talent performance, viewers learned that she "loves anything Jane Austin."
The only problem: Jane's last name is "Austen."
The pageant's organizers didn't seem to notice their mistake, but viewers watching at home certainly did.
6. Miss Nebraska had a wardrobe malfunction

#MissNebraska trended during the pageant but, unfortunately for Miss Nebraska Megan Swanson, it was for all the wrong reasons. The 21-year-old from Omaha had been eliminated from the competition when the camera focused on her chatting with another contestant — without her legs crossed.
Swanson, who later tweeted that she "couldn't be happier" about how the pageant went, did not mention the incident on social media.

7. An American Idol resurfaced
Miss Mississippi Jasmine Murray may have looked familiar to some viewers. The 22-year-old was a Top 13 finalist on American Idol in 2008. Murray, 16 at the time, competed on the talent show and ended up finishing in 12th place. 
It came as no surprise that she chose to sing for the talent competition. Though her performance of Christina Aguilera's "Something's Got a Hold on Me" was, as Randy Jackson would say, "a little pitchy." Murray ended up finishing in the Top 10.
What did you think of the pageant? Let us know on Twitter and Facebook.