There are girls who spend their lives living out an episode of "Toddlers and Tiaras." And then there's Alexis Wineman, a Miss America contestant who entered the pageant world on a whim and now is the first-ever Miss America competitor who lives with autism.
"Growing up, I never was really interested in pageants. I thought it would be something I was never able to do," said the 18-year-old from Cut Bank, Mont. "But by the time I graduated, I kind of realized I'd done a lot of things I'd never thought I could do."
She entered and won the Miss Montana program, and is one of 53 contestants vying for the Miss America crown Saturday. "It's been an amazing, wonderful journey so far," she said. But it's been a long journey for Wineman, who told TODAY.com that it was "stressful" growing up.
"I was wondering why I was different, why I couldn't make any friends, why I was bullied. I just kept asking myself, 'Why, why, why?'"
The answer came when she was 11 and diagnosed with pervasive developmental disorder and borderline Asperger's syndrome, conditions on the autism spectrum. "I felt like it came 11 years too late," she said, "but when it came right down to it, it really did help. I found ways to cope. I was able to move on. By the time I graduated, I was really accepting who I was."
By then, she was many things she never thought she'd be: a cheerleader; part of the speech and drama team; a cross-country runner. "I got out of my comfort zone … I was able to be with groups of people I wasn't used to being with."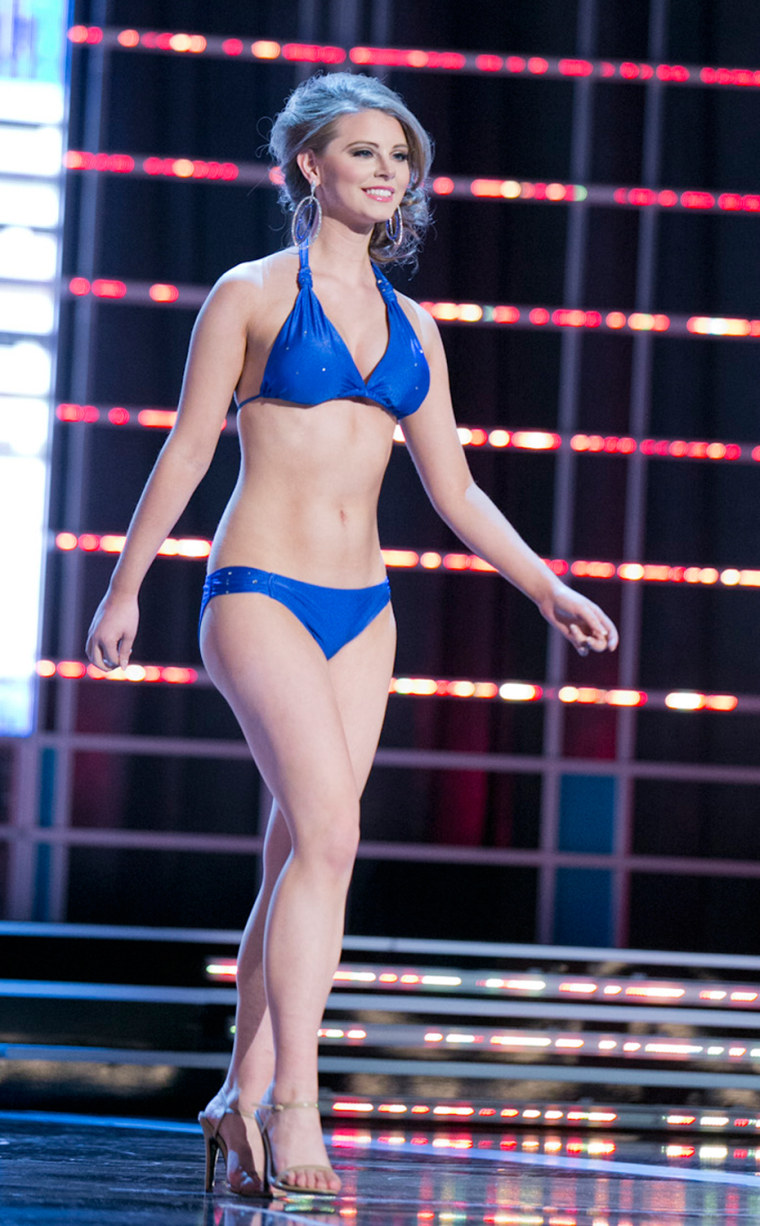 Since graduating, Wineman has been speaking at schools and autism conventions, and has formed partnerships with the autism groups Autism Speaks and Generation Rescue and the special needs support group AbilityPath. Her Miss America platform issue is "Normal is Just a Dryer Setting"- Living with Autism.
"Growing up, all I wanted was to be normal. I just wanted to fit in with everyone else," she said. "Looking back, I realized it was a waste of time, because normal doesn't exist. If we could just accept people for their differences, it will make life for our children and for ourselves much, much easier."
According to Autism Speaks, autism now affects 1 in 88 children in the United States, and figures are growing. There is no medical detection or cure.
Wineman's hope is that autism will be just one trait of many that defines people. "I just wish people would just accept people with autism more instead of pushing them off into a corner and trying to forget that they're there … I just want to make these two worlds understand each other."
Unlikely beauty queen
Unlike many competitors who spend their childhoods on the pageant circuit, getting used to the glamour of pageant life has been an adjustment for Miss Montana. "I was the girl with the hoodies on. I never wore makeup all that much. I wasn't much into beauty at all – to be honest, I'm still not all that much."
When she entered the Miss Montana program, Wineman said, her goal was to try something new and see if she'd like it. Turns out it agrees with her.
"I've learned to love dressing up if I like what I'm wearing," Wineman said. "I only learned how to use a curling iron a few months ago – I only know how to do one hairstyle. It's been really fun to dress up and look nice."
And while others are singing and dancing their way into America's hearts, Wineman plans to make us laugh. Her talent is a stand-up comedy monologue.
"I feel like the judges will be able to tell if you're enjoying it as much as the audience is," she said. "One thing I've always loved doing is making people laugh."
Her routine is about how women are never satisfied with their body image – "pretty ironic for a beauty pageant," she acknowledged. But the girl who used to hide from the world is now ready for her turn in the spotlight.
"If you told me 10 years ago that I would be on stage telling jokes to people, I would have told you that you're crazy," she said. "I think it's fair to say that I'm not the girl I was 10 years ago."
The Miss America pageants airs Saturday, Jan. 12 at 9 p.m. (ET) on ABC.
In dazzling gowns and sexy bikinis, 53 contestants competed for the pageant's coveted crown.
More:
Newly crowned Miss USA ready to 'fulfill her reign'
Miss USA Olivia Culpo is crowned Miss Universe
Slideshow: Crowning Miss Universe 2012
They may be beautiful, but the competition can get ugly. From blackmail to sabotage, check out the underside of the pageant circuit.