/ Source: The Associated Press
A 22-year-old Mexico woman won the Miss Universe pageant Monday night after donning a flowing red gown and telling an audience it's important to teach kids family values.
As Jimena Navarrete of Guadalajara walked during the evening gown competition, her one-strap dress billowed behind her like a sheet. Earlier, she smiled in a violet bikini as she confidently strutted across the stage on the Las Vegas Strip.
"I want to give my parents a big hug," Navarrete said at a news conference after the pageant. "There was a lot of effort and a lot of sacrifice."
Asked by Olympic gold-medal figure skater Evan Lysacek how she felt about unsupervised Internet use, Navarrete said the Web is important but parents need to be careful and watch over their kids.
"I do believe that Internet is an indispensable, necessary tool for the present time," she said through an interpreter. "We must be sure to teach them the values that we learned as a family."
First runner-up was Miss Jamaica Yendi Phillipps, while second runner-up was Miss Australia Jesinta Campbell.
Navarrete said she didn't expect to win. "I did feel surprised," she said. "I was like in a state of shock."
The telecast was hosted by TODAY's Natalie Morales and rocker Bret Michaels. Lysacek was one of this year's nine celebrity judges. The others were actresses Jane Seymour and Chynna Phillips; actors Chazz Palminteri and William Baldwin; magician Criss Angel; MSNBC anchor Tamron Hall; drummer Sheila E.; and supermodel Niki Taylor. 
Navarrete — who's been modeling since she was 15 — is Mexico's second Miss Universe. Lupita Jones of Mexico won the title in 1991. Navarrete replaces Miss Universe 2009 Stefania Fernandez of Venezuela.
Navarrete's win thwarted Miss Venezuela Marelisa Gibson from giving the South American country a third consecutive victory. Gibson did not make the top 15 finalists.
The United States was represented by Miss USA Rima Fakih, a 24-year-old Lebanese immigrant from Dearborn, Mich. She was eliminated after the opening number.
Her Miss USA win spurred celebrations among Arab-Americans.
Pageant records aren't detailed enough to show whether Fakih is the first Arab-American, Muslim or immigrant to win Miss USA.
Miss USA has not been named Miss Universe since Brook Lee won the title in 1997.
Twitterverse erupts
Navarrete was immediately congratulated on Twitter by Mexican President Felipe Calderon and his wife, Margarita Zavala.
"Congratulations to Jimena Navarrete for her deserved victory as Miss Universe," Calderon said. "This will serve Mexico, (and) our image as a country."
With fans in some 190 countries watching on television and keeping tabs on social networks, Navarrete and her competitors introduced themselves while wearing over-the-top national costumes. They then danced in silver and black dresses for the show's opening number before the top 15 finalists were announced.
The final 15 walked in swimsuits while Cirque du Soleil musicians played Elvis Presley songs including "Viva Las Vegas." The last 10 impressed in their gowns while John Legend and the Roots played a soulful medley including "Save Room."
By the end of the show, seven of the top 10 trending topics on Twitter had to do with the pageant, its contestants, its judges or owner Donald Trump. The mogul co-owns the pageant with TV network NBC.
(TODAYshow.com is jointly owned by NBC Universal and Microsoft.)
One small gaffe?
The show was without any major gaffes, except for Miss Philippines' answer when asked what her biggest mistake in life was and how she fixed it.
"In my 22 years of existence, I can say there is nothing major," Venus Raj said.
Before the pageant, Raj was rated among the top contestants in an online poll on the pageant's website. She finished in fifth place.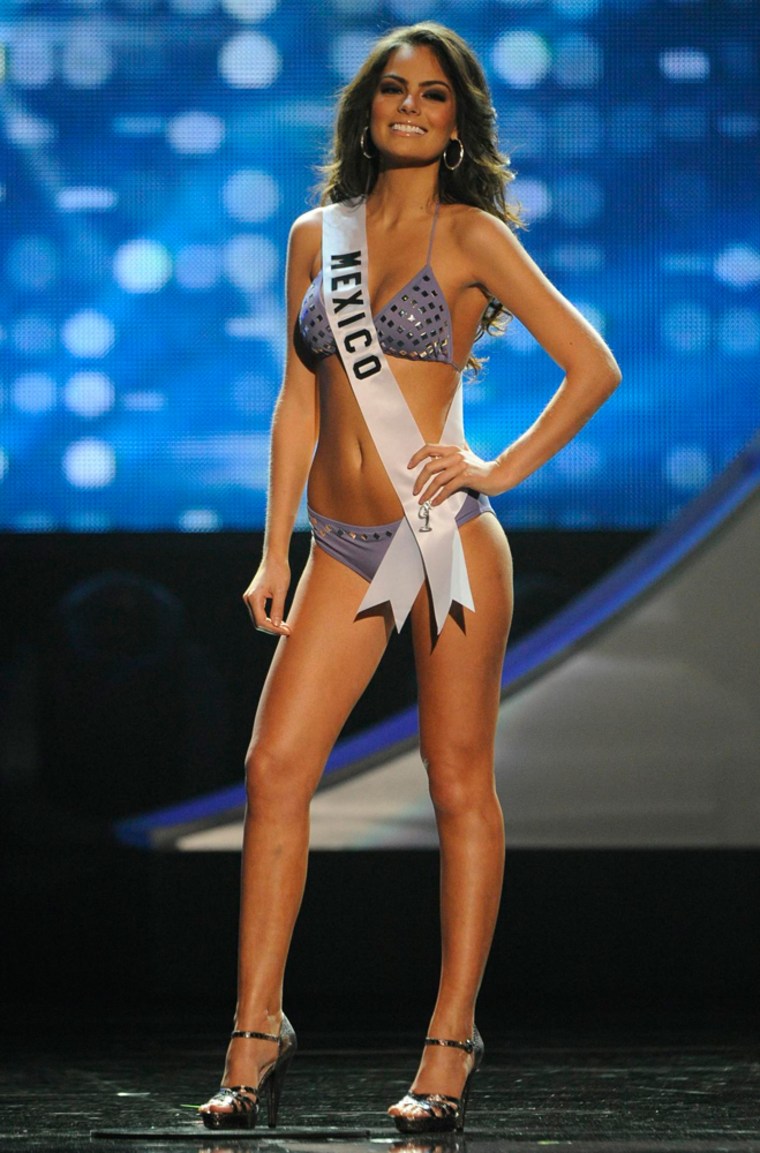 Navarrete won a package of prizes including an undisclosed salary, a luxury New York apartment with living expenses, a one-year scholarship to the New York Film Academy with housing after her reign, plus jewelry, clothes and shoes fit for a beauty champion.
Campbell won the Miss Congeniality Universe award. Miss Thailand Fonthip Watcharatrakul won Miss Photogenic Universe and a second award for having the best national costume.