/ Source: TODAY contributor
Being a straight shooter likely shot down any chance Carrie Prejean had of being crowned Miss USA Sunday night. But the Miss California told TODAY Tuesday she's proud she offered her honest opinion on gay marriage, even as her questioner says she should have kept her politics to herself.
"I'm so proud of myself," Prejean told Matt Lauer live on the TODAY set. "I wouldn't change a thing. I knew I had a purpose, and I don't take back what I said."
The often bland goings-on at the annual Miss USA pageant took on a decidedly heated political tone when openly gay celebrity blogger Perez Hilton, a pageant judge, asked Prejean: "Vermont recently became the fourth state to legalize same-sex marriage. Do you think every state should follow suit? Why or why not?"
Beauty and the blogger
Prejean, then among the final five contestants for the coveted crown, replied, "In my country, in my family, I think that I believe that a marriage should be between a man and a woman. No offense to anybody out there, but that's how I was raised and that's how I think it should be — between a man and a woman."
Prejean's pointed response raised eyebrows, but didn't raise her enough votes to put a crown on her head. Judge Claudia Jordan told NBC, "The judges were really against her, they were bothered by her answer."
Still, Prejean finished first runner-up to Miss North Carolina, Kristen Dalton.
With Prejean saying that she likely would have won had she not spoken so forthrightly, Hilton told TODAY he was "offended that she is still walking around saying that she should have won the pageant." And he told Lauer Tuesday via Skype that Prejean had no business offering such an obviously divisive answer to a question she could have easily danced around.
"I want [a Miss USA] who is going to be politically savvy, and that means saying things that will make everyone feel welcome," Hilton told Lauer. "She's a Christian, but I don't want her talking about Jesus, Jesus, Jesus, because that's offensive to all of the Jewish Americans, all the Muslim Americans, to all the atheist Americans.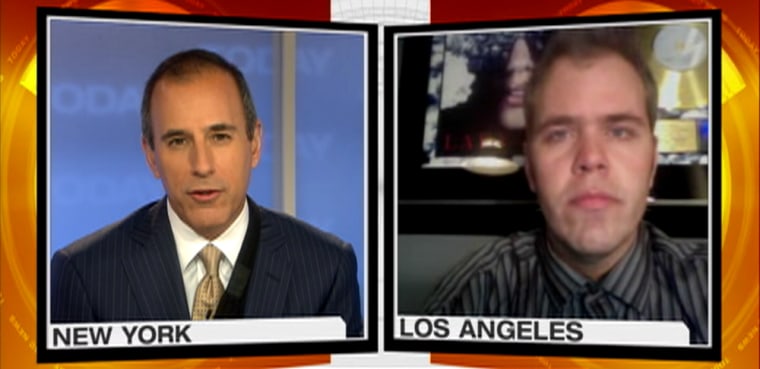 "It's about balance, it's about finding the perfect Miss USA, and unfortunately, Miss California was not the perfect Miss USA," Hilton continued. "I would have appreciated it had she left her politics and her religion out, because Miss USA represents all Americans."
Sticking to her stand
Prejean found herself in the unlikely position of being a divider, not a uniter, at the NBC-televised pageant — her comments even spurred a dustup between a gay audience member and the mother of one of the contestants.
But she told Lauer she had her eyes wide open when responding to Hilton's question, saying, "After I answered the question, I knew that I was not going to win because of my answer."
When Lauer asked Prejean if, given a do-over, she might offer up a more middle-of-the-road response, she replied, "No, I wouldn't have answered differently.
"It's not about being politically correct; for me, it was being biblically correct," Prejean explained. "When I'm asked a specific question, I'm going to give a specific answer. I'm not going to stand in the middle. I'm going to take one side or another."
To thine own self be true
Lauer asked Hilton why he would offer up a political hot potato of a question in the first place, since the Miss USA pageant usually has judges asking questions that allow the contestants to pray for world peace and tell how much they love puppies and kittens.
This all-American beauty beat out 50 other girls for the coveted crown.
Hilton told Lauer he believes his question "was very relevant and extremely important," and noted other contestants, including the eventual winner, were also posed pointed political questions.
Prejean now finds herself in the unlikely position of actually gaining more fame than the new Miss USA, Kristen Dalton of North Carolina. And she told Lauer she plans to use her newfound bully pulpit to encourage others to speak their minds.
"I was true to myself, and I know now I can go out and speak to young people about standing up for what you believe in and never compromising anything, for anyone or anything, even if it is the crown of Miss USA," Prejean said.