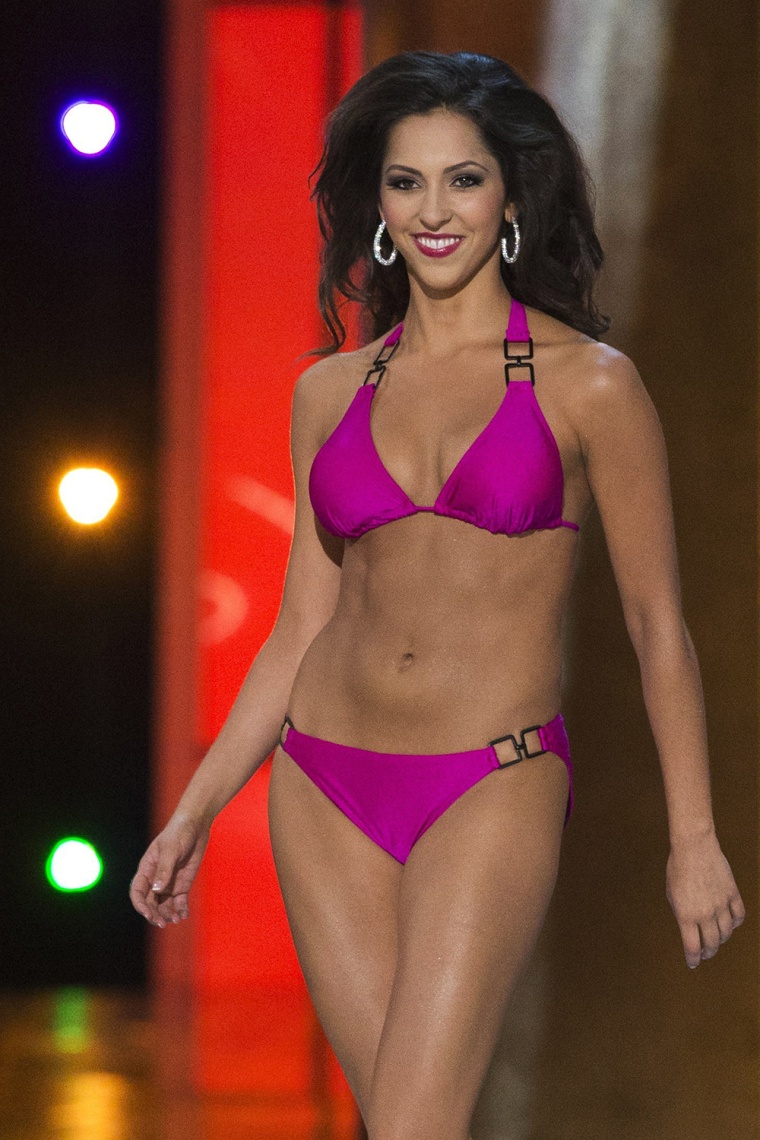 When K.T. Maviglia was in fourth grade, her teacher noticed she was learning differently than her classmates and getting messages confused. Tests revealed she had sensorineural hearing loss, a moderate loss that could be helped by her wearing a hearing aid and battery pack while her teacher wore a microphone and there were four speakers in the classroom.
Maviglia hated it.
"It was something that I really struggled with when I was younger because in fourth grade it matters if you were popular," she told TODAY.com. "I went from being the popular kid to the kid who needed special attention. It was hard for me to accept as part of who I was."
When she started high school, she gave up the hearing aids altogether, coping by sitting in the front of classrooms and asking extra questions. But now, the 22-year-old proudly wears them as a contestant in this year's Miss America Pageant and advocates for those with hearing disabilities.
Maviglia is one of several women whose platforms stem from their personal health issues. Miss Kentucky Ramsey Carpenter, who was diagnosed with multiple sclerosis in 2010, and Miss Idaho Sierra Sandison, who gained worldwide attention for wearing her insulin pump during a competition, will focus on MS and diabetes if they win Miss America, which airs Sunday at 8 p.m. ET on ABC. 
For Carpenter — who won Wednesday's preliminary talent competition for her fiddle performance — the victory represented how far she's come since she couldn't control her fingers while playing bluegrass standards "Sally Goodin" and "Orange Blossom Special" due to her progressive neurological disease.
"I have MS," the 24-year-old said, "but MS does not have me."
Sandison, 20, was diagnosed with Type 1 diabetes when she was 18. "My world flipped upside down," she said. "I was devastated."
But she now believes she has been tasked with helping others. "Whenever you have a challenge placed in your life, it gives you the opportunity to grow and serve and empower others," she said. "It took a couple months to come to terms [with the diagnosis] and I decided to have a good attitude."
Sandison was inspired by Miss America 1999 Nicole Johnson, who competed with an insulin pump. "I had been too scared to get one. I was afraid having a machine attached to me would make me less beautiful."
However she decided to compete in pageants with her pump this year. She has heard from people in 35 different countries "about how much I've touched their lives" and there are more than 3,000 Instagram images using her hashtag #ShowMeYourPump.
"I believe that Miss America has given lot of girls in recent years the ability to show diversity in beauty," Sandison said.
For Maviglia, who started a charity that provides funds for children to get hearing aids when insurance doesn't cover the cost, being Miss America would be another way for her to help others. She also hopes to show that health problems don't need to hold people back.
"No matter what adversity you go through, no matter what challenges you have in your life, you can overcome them, you can deal with them and you can be success."