Beth Mills was 21 years old, and had never experienced the delightful taste of an orange Tic Tac. She didn't considered it much of an oversight, but Tom Priebe, one of her coworkers at the University of Minnesota Duluth's bookstore, took immediate issue with her inexperience.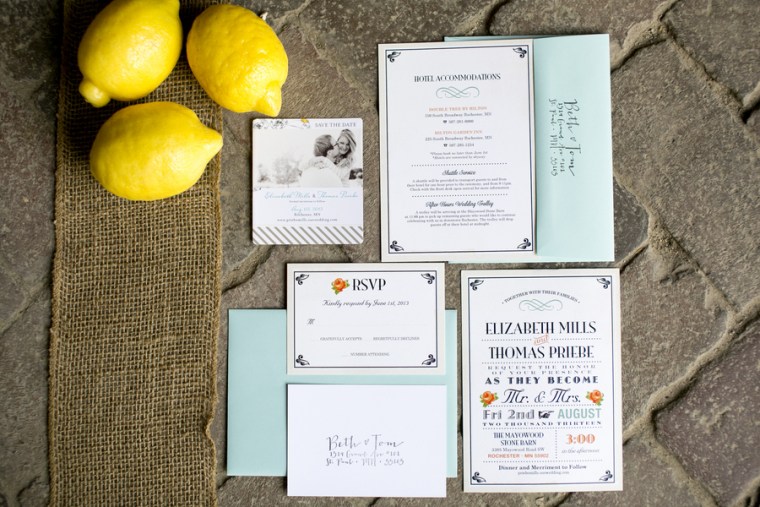 "It was actually my first day at the bookstore," Beth, now 26, recalls. "All I remember about him was that he was wearing a blue Marlins t-shirt and that he struck up a conversation about orange Tic Tacs. I said I hadn't had any and he was appalled."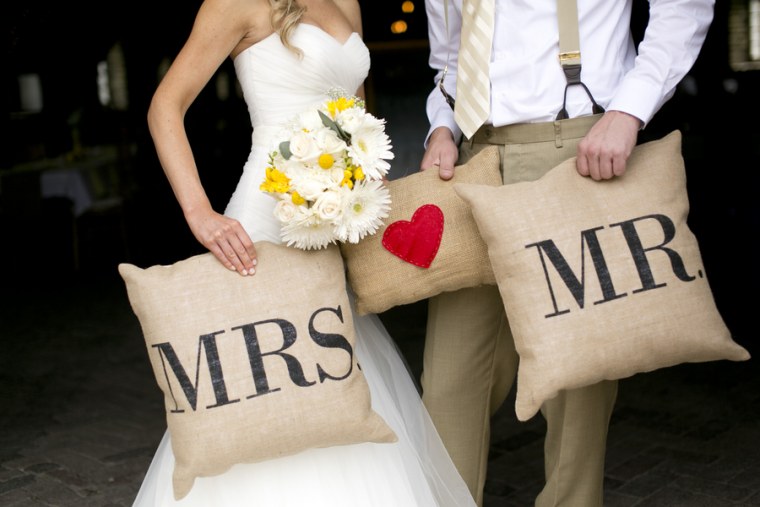 But Tom wasn't just standing up for an under-appreciated snack — he was talking to the girl he'd seen around campus, the one with the flashy gold sneakers who refused to blend in with the other bookstore employees. And the orange Tic Tac conversation was no accident.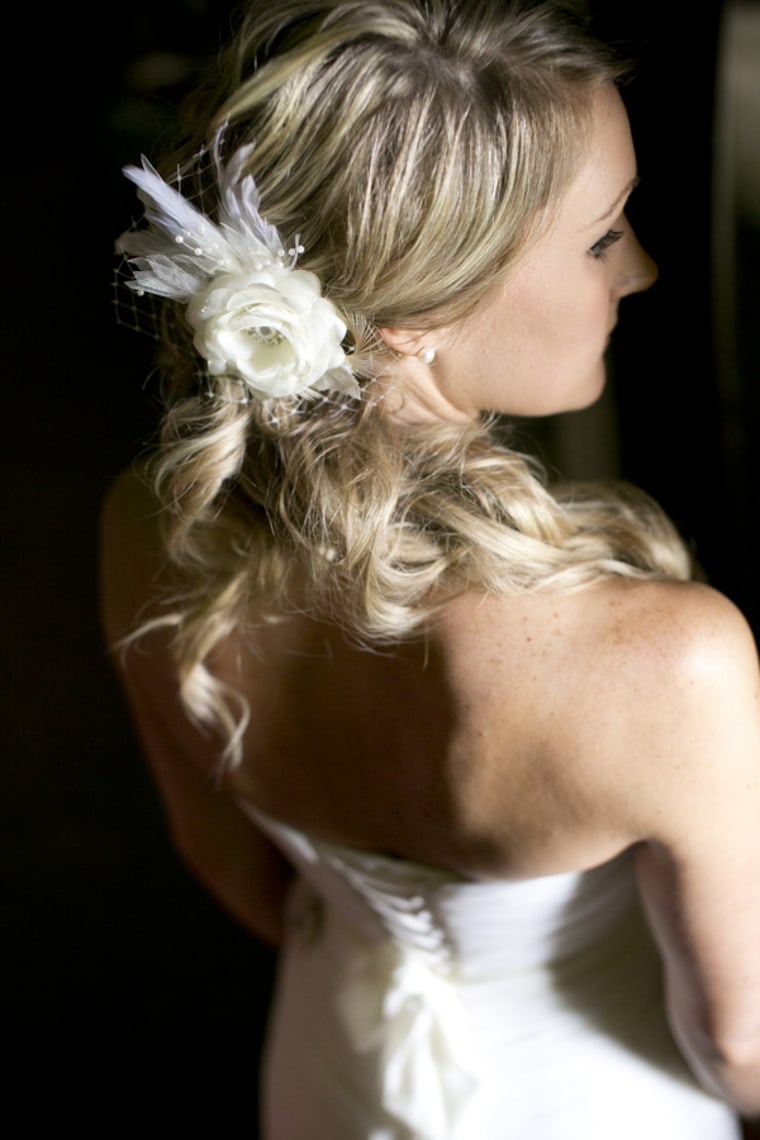 "I actually remember that day very well," Tom, also 26, says. "I knew the manager who hired Beth and I'd seen Beth at some parties, so I asked the manager about her. He must have known I liked her because he scheduled us together."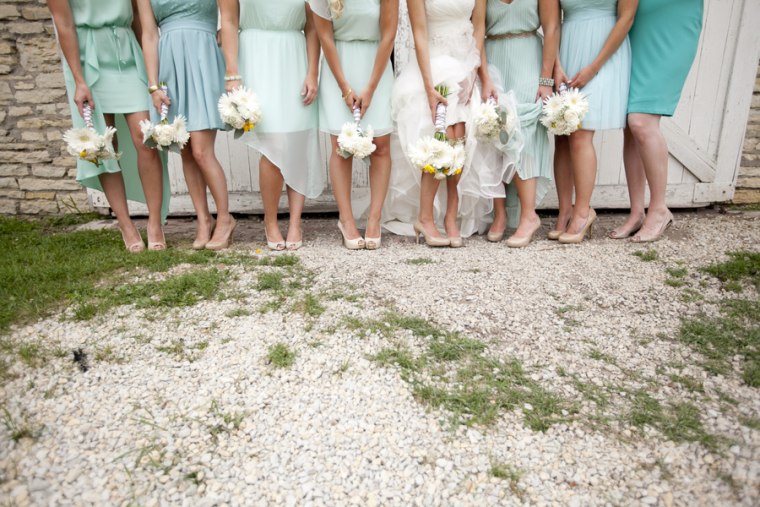 But when Tom asked her out, she said no. "I asked her to date me multiple times," he says. "It took some convincing."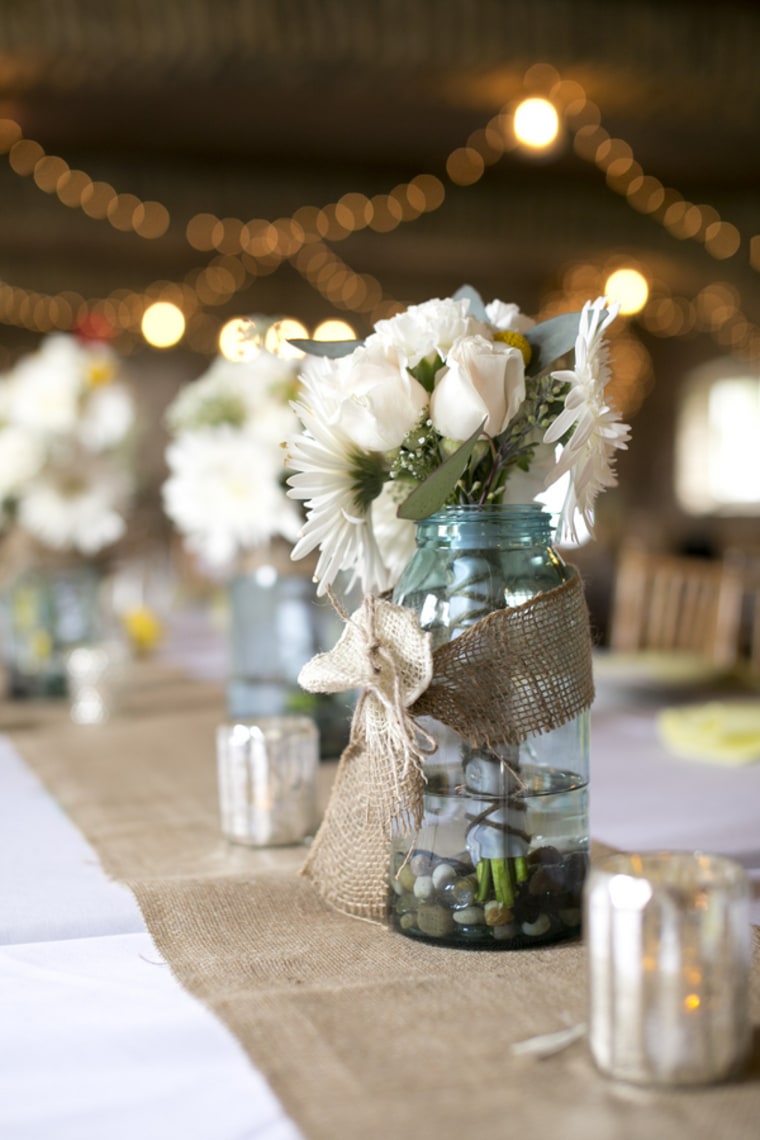 When she finally said yes, it was to what turned out to be a bad movie, but it didn't matter — what mattered was Tom's sense of humor. They kept dating, and Tom kept surprising her with orange Tic Tacs, as well as other gifts, like flowers, diamond earrings, and eventually a diamond ring.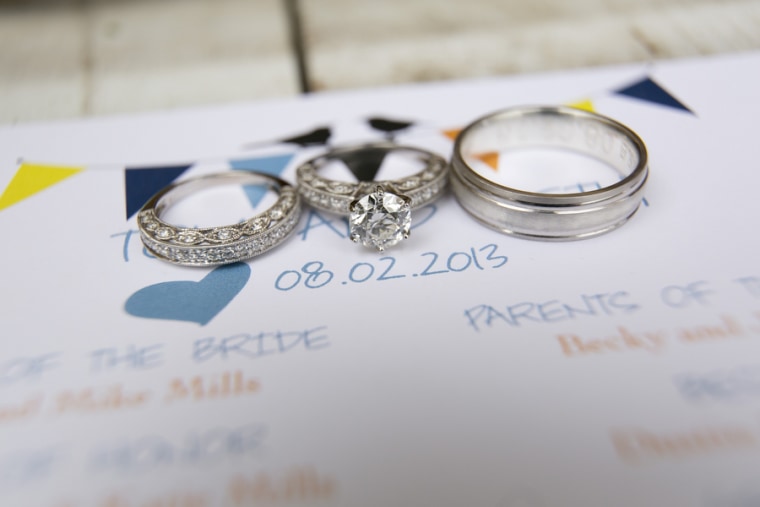 Tom popped the question in front of Beth's whole family on Christmas Day. The two had been living together in an apartment in St. Paul, Minn. but the proposal still produced its fair share of happy shock — for Beth, of course, but also for Beth's older sister, one of the only family members who hadn't been given the heads-up. Beth had already begun picking up discarded wrapping paper and shoving it into a trash bag when she remembered that Tom hadn't given Beth a present.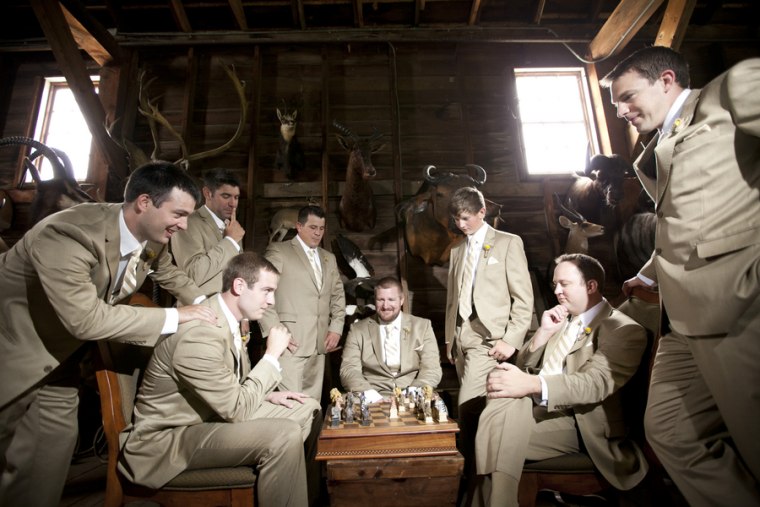 "I said, 'I got Beth a card,'" Tom recalls. "Beth asked it she could read it aloud, and then Beth started crying, because it said some sentimental things. At the end of the card, it just said 'Will you marry me?' When she looked up, I was on one knee."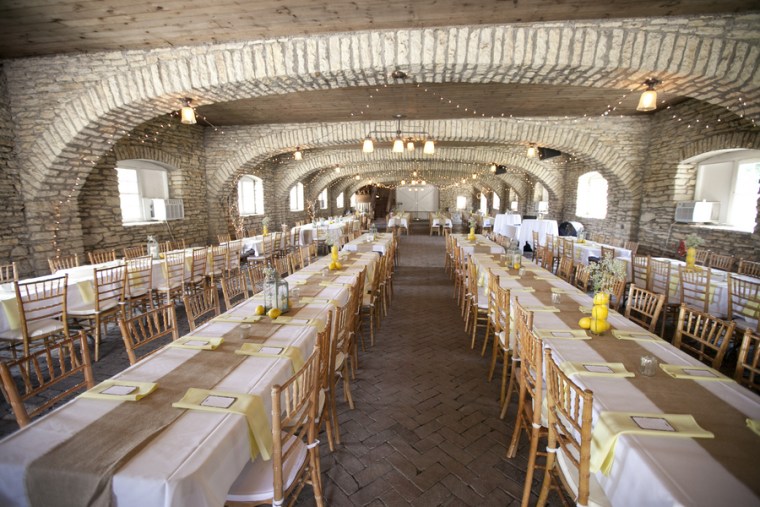 Beth knew what was happening, but she couldn't hear Tom over her sister's shrieking. "She was curled up in a ball, hand over her mouth, scream-crying," Beth recalled. "So I made him say it again."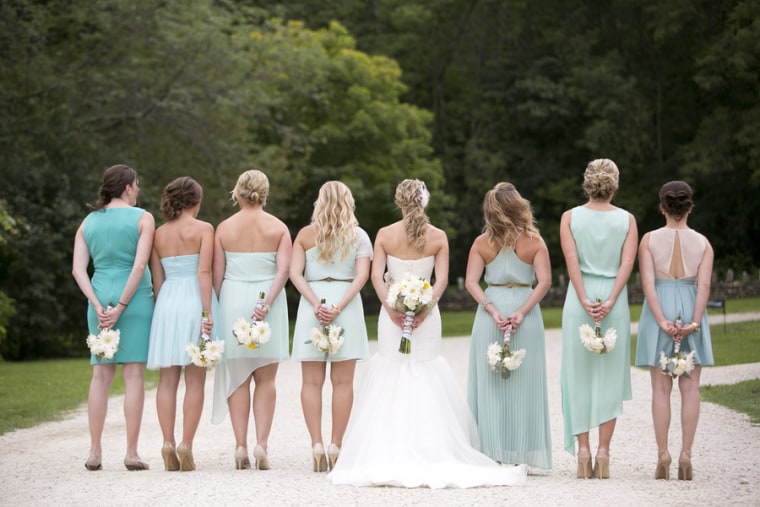 Beth and Tom were married on August 8th, 2013 at Mayowood Stone Barn in Rochester, Minn. after a year and nine months of planning — just the right amount of time for Beth to plan the "colossal" summer wedding she'd always imagined (summer was key, since Beth is an elementary school teacher).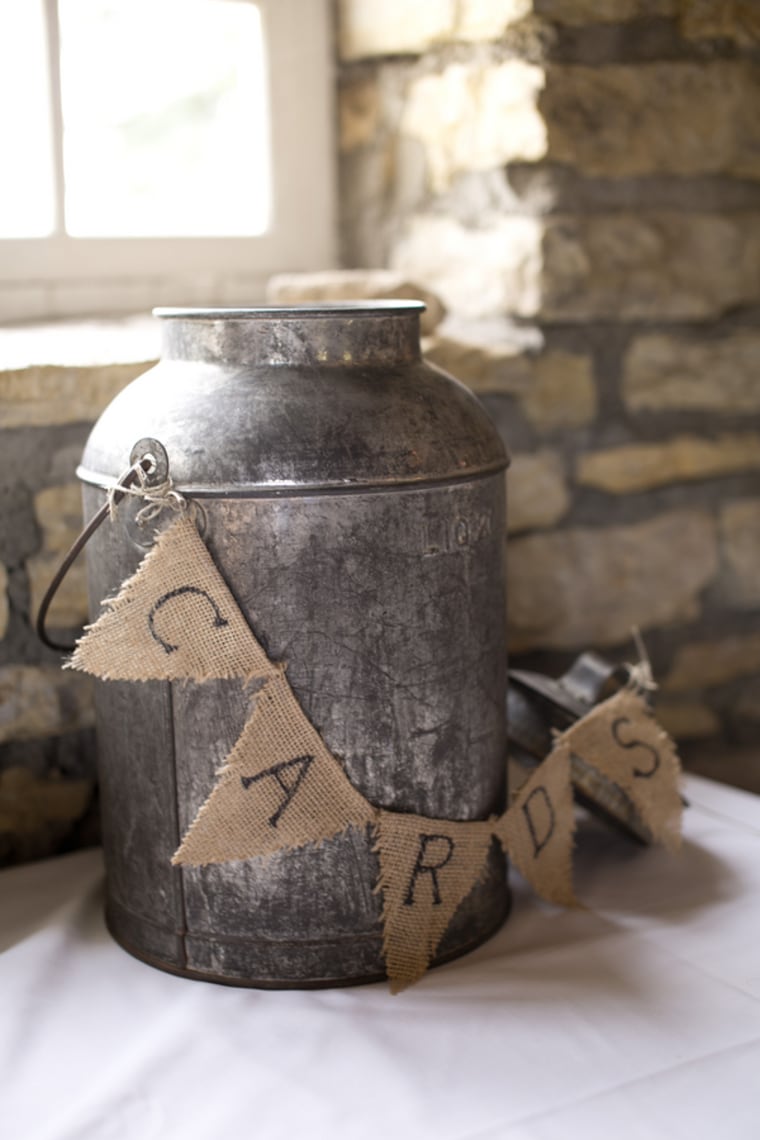 The venue, a rustic barn, was a bit of a distance from the couple's home, but more than worth the drive. "We're outdoorsy," Beth says. "We're not an elegant, black-tie couple. The whole time we toured it we kept looking at each other and smiling. We just knew, even without talking."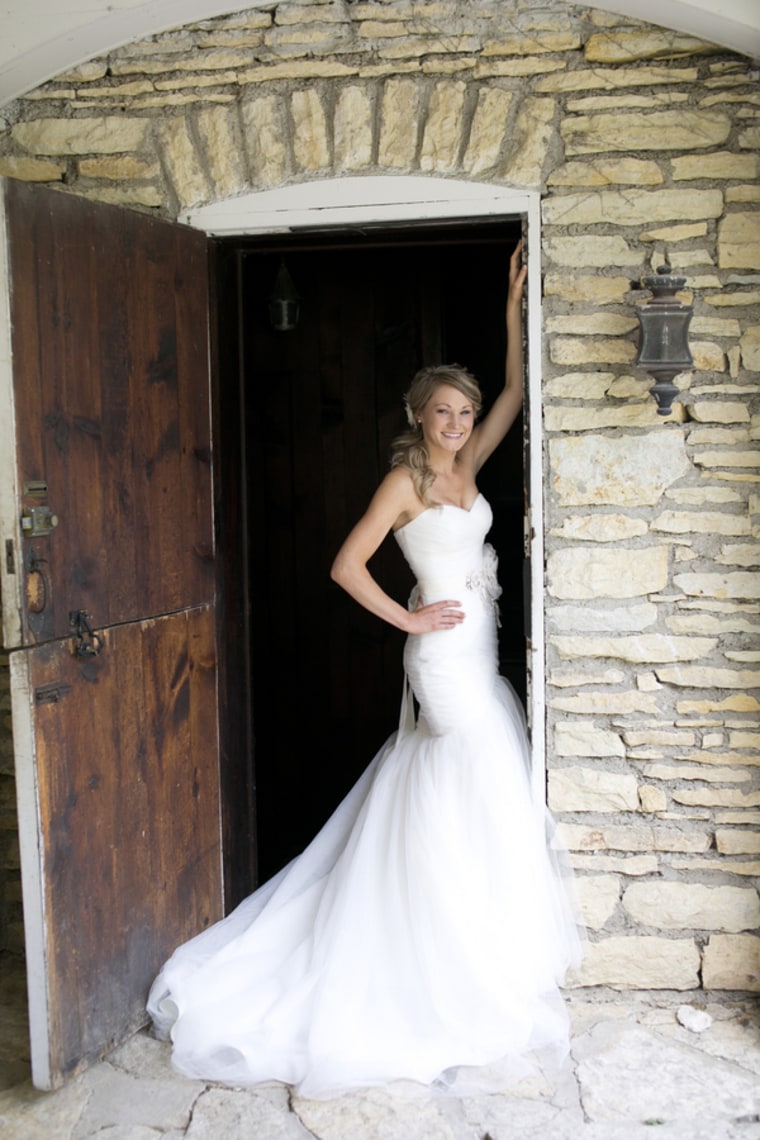 Beth took a seriously DIY approach to the day, from ordering her flowers wholesale to fashioning Maywood's old blacksmith shop into a snack bar and makeshift slideshow movie theater.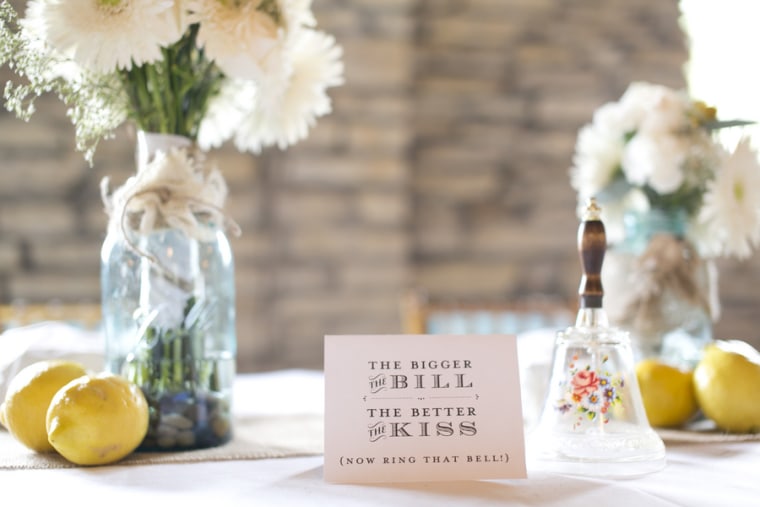 They placed tall pub tables outside and scattered yard games across the the lawn for their 270 guests to enjoy whenever they were in need of fresh air.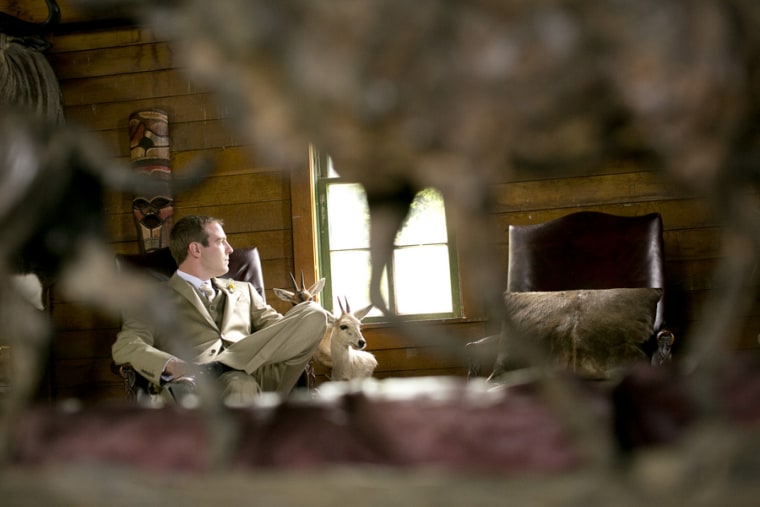 That, for Beth, was a real highlight: "We just walked through the crowd outside, hand and hand."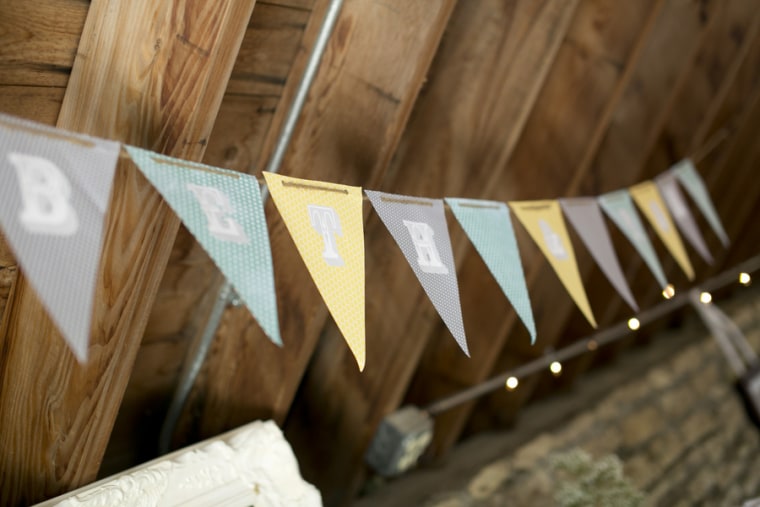 The ceremony itself took place in the barn's cavernous loft, with light coming in through the windows.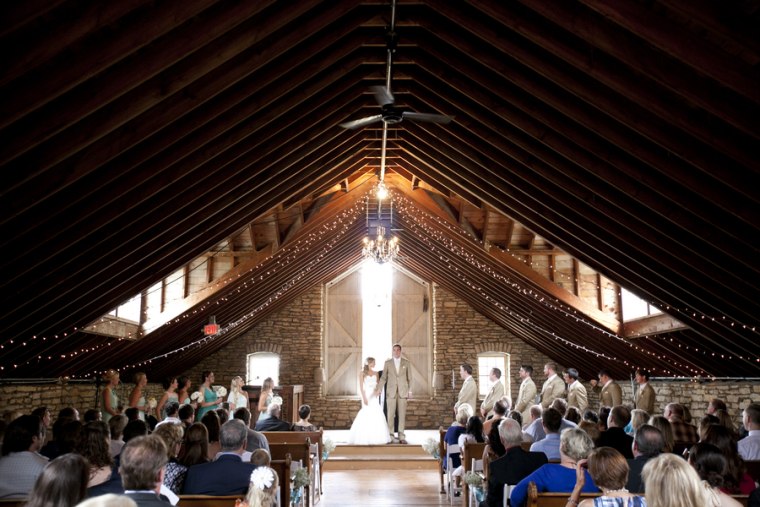 "I got pretty nervous, which is not typical of me," Tom says. "And I remember waiting for Beth and trying not to completely break down before she walked down the aisle.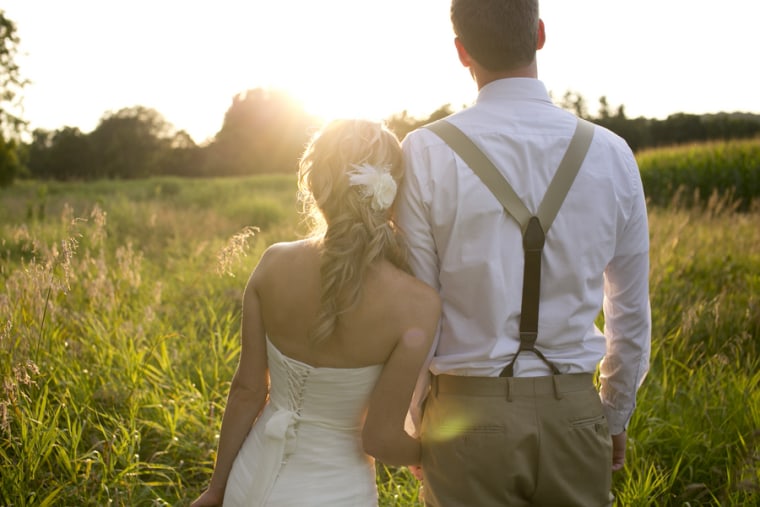 But Beth quickly put him at ease. "When she got up to me, the first thing she said was that she forgot her bouquet. That helped."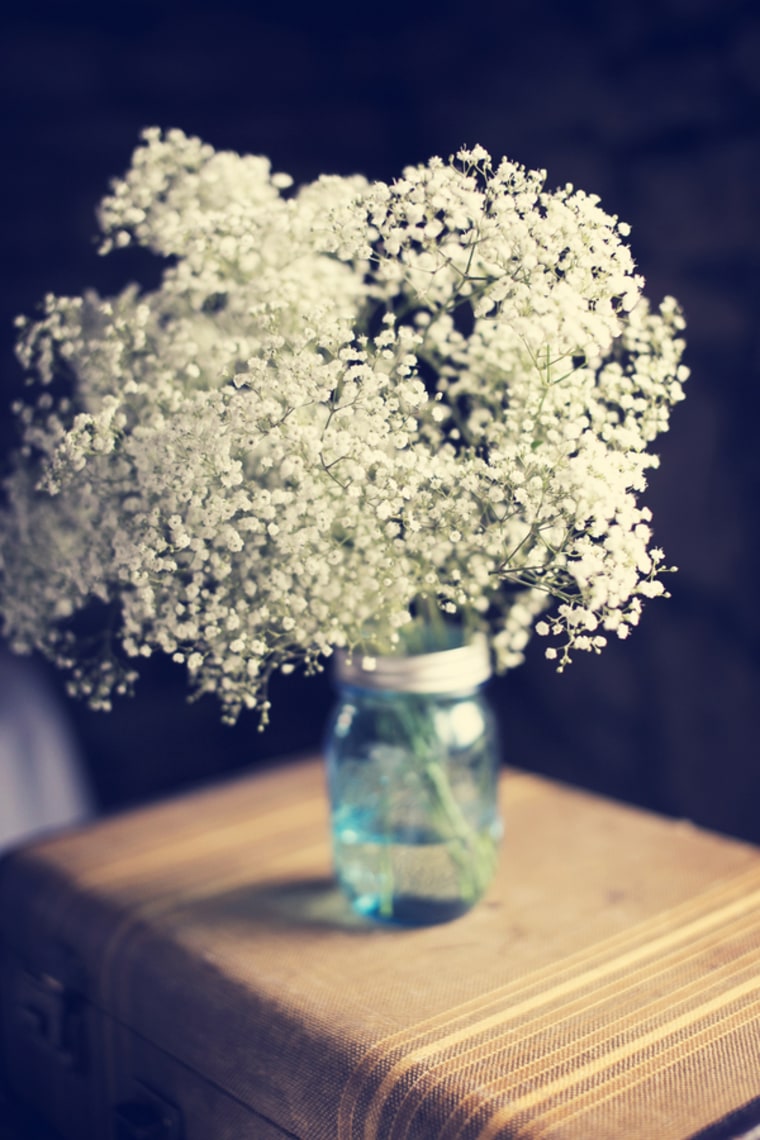 As for Beth, she didn't notice any hiccups. "Nothing went wrong. There was never a point where I felt stressed, just excited."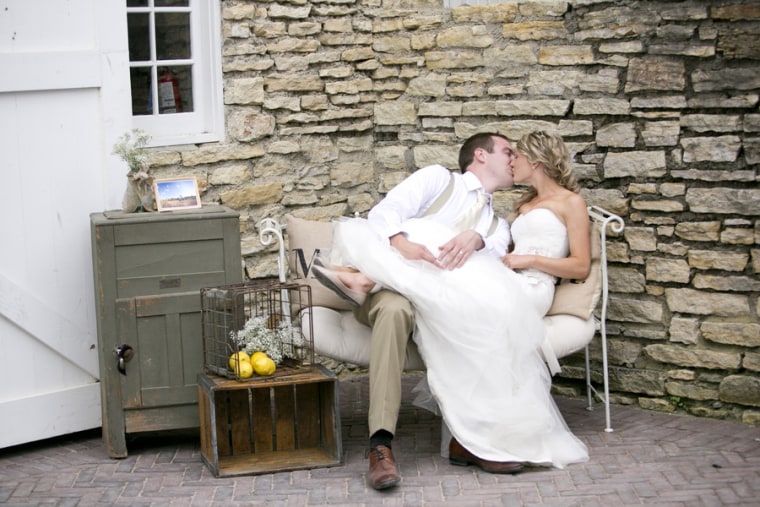 The bride wore a strapless mermaid dress with a sweetheart neckline, a poof of tulle at the bottom, and a lace-up corset back.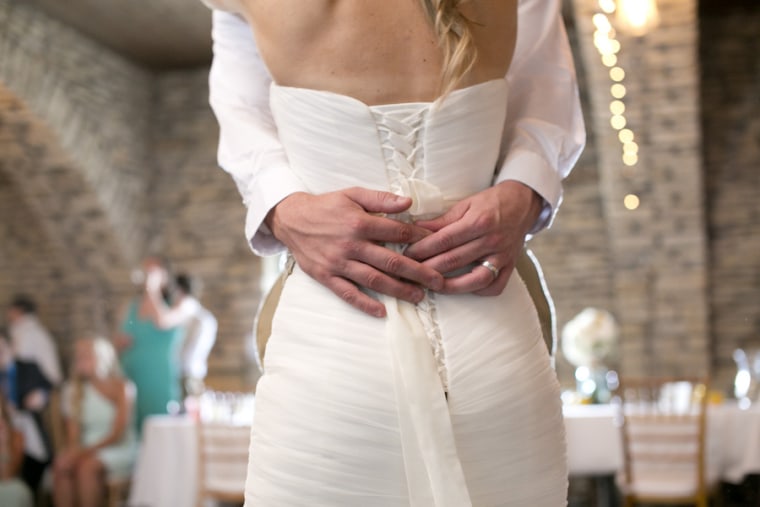 She also found a creamy pink sash to wear with it, which she built the wedding's color palette of pastels and bright lemon around.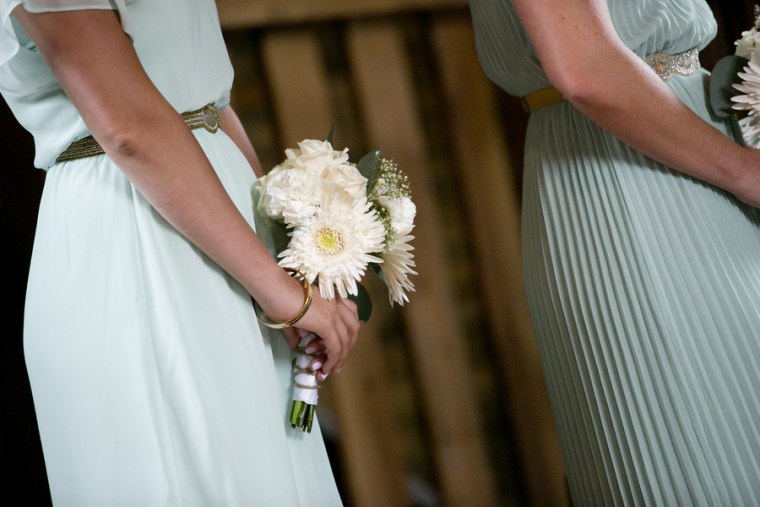 As far as Tom was concerned, nothing beat Beth in that dress: "That dress was my favorite part of the day. It was really beautiful. Especially with her in it."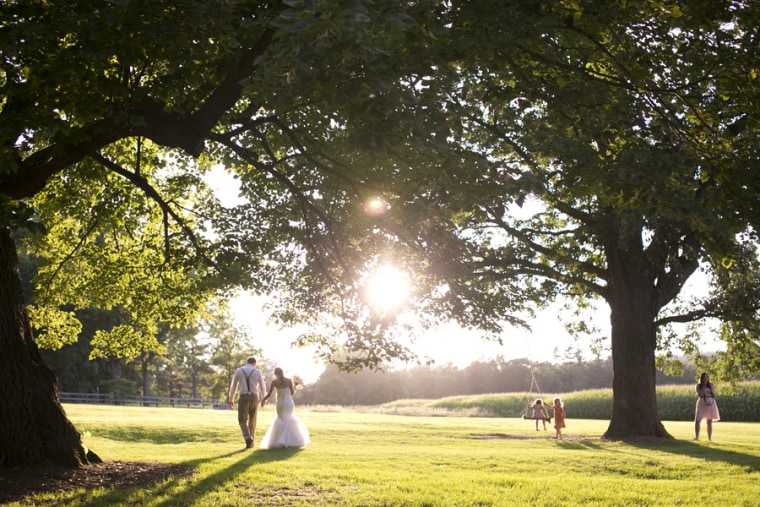 The twosome's favorite moment, though, happened well before the party or even the recitation of their vows: the first look.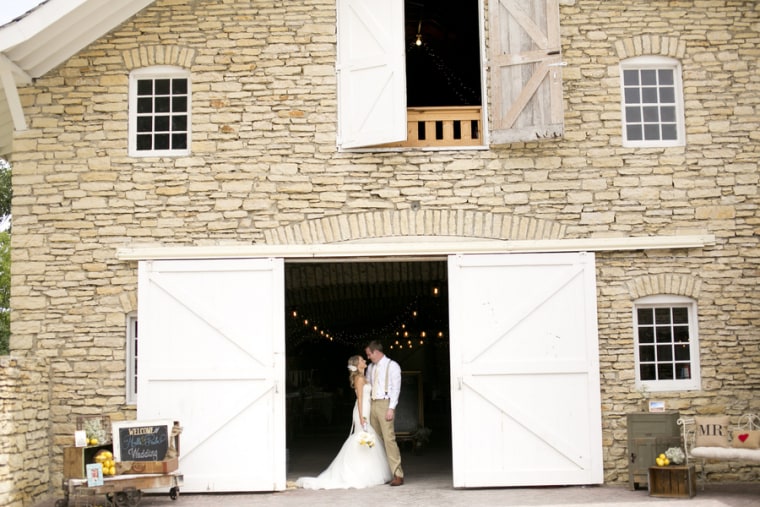 "There was so much buildup," Beth remembered.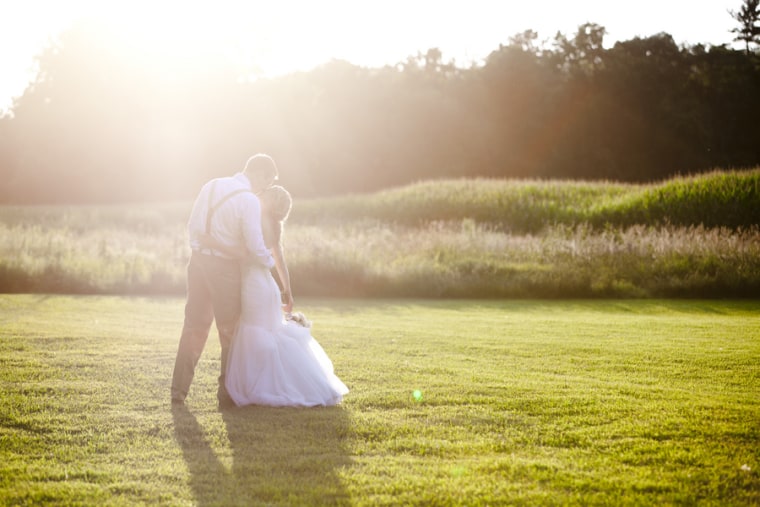 "And once I finally got all ready and walked outside, he was under this huge tree with branches so long they dipped all the way down to the ground and back up. It took my breath away."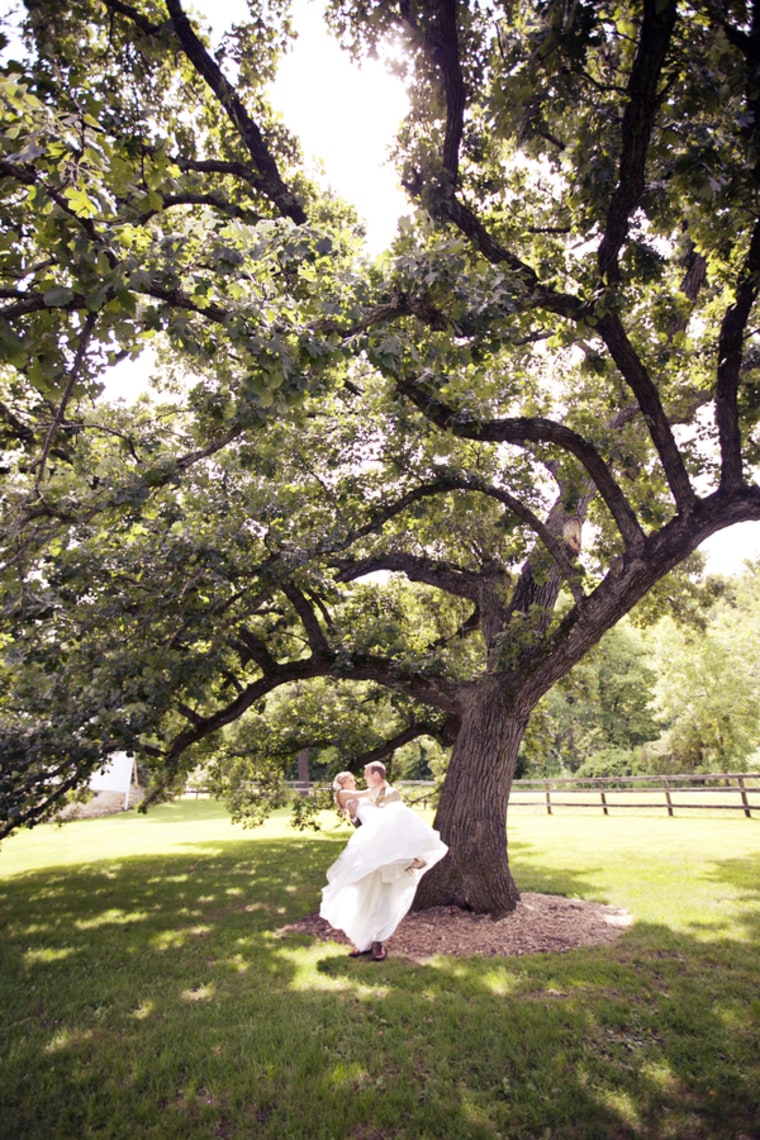 "Until you get married you never really understand the anxiety," Tom added. "And you wouldn't think you'd be nervous, because you're so sure of it. But that day all I wanted to do was see Beth and talk to Beth."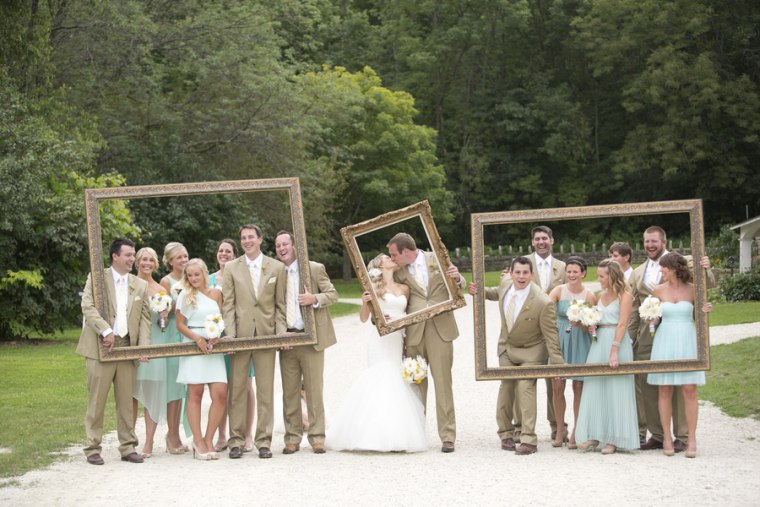 The day ended with tiers of German chocolate brownies and lemon bars in lieu of a traditional cake, and a happy, thoroughly exhausted bride and groom.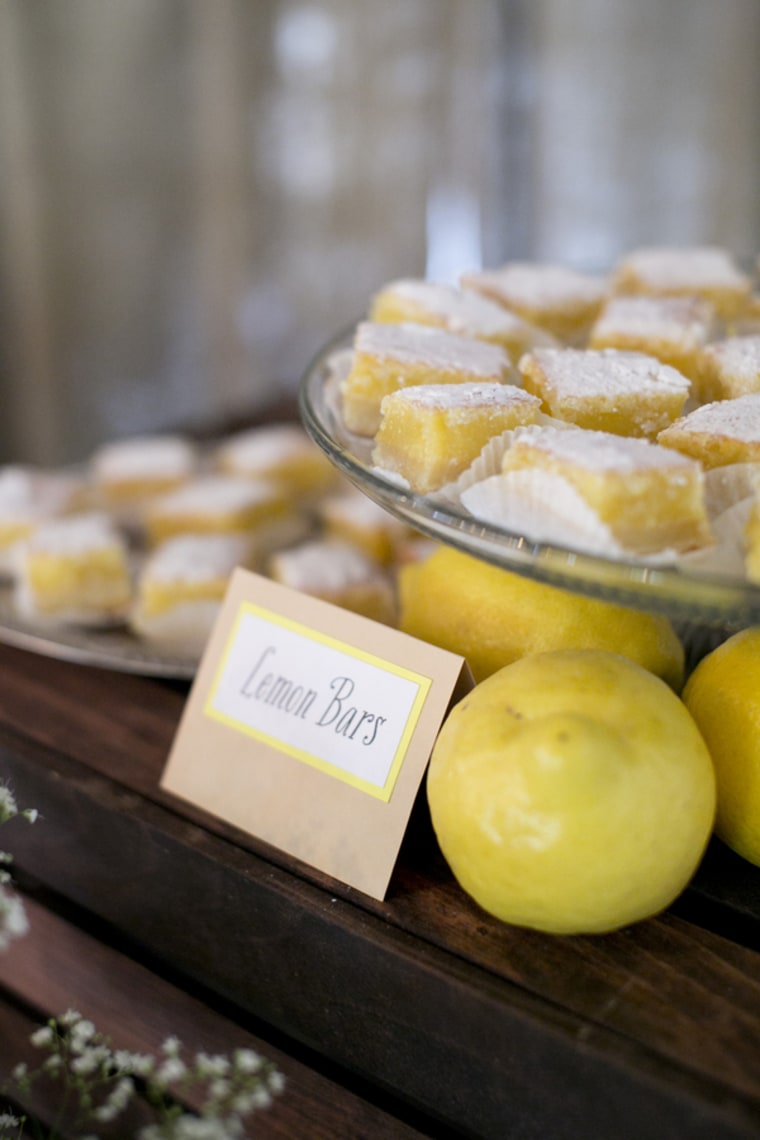 Everything had gone off without a hitch, and the two had really been able to forget about the planning and just enjoy the day.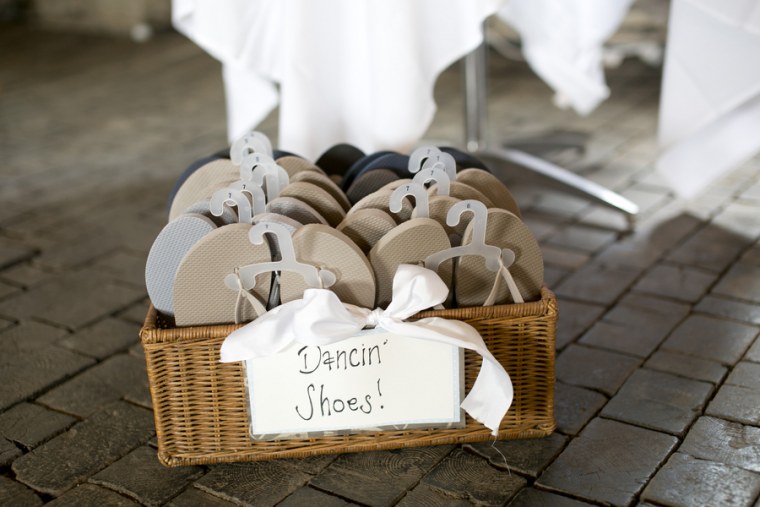 Still, the couple was so tired by the end that they ended up ducking back to their hotel while the rest of their guests took a trolley ride into Rochester for more fun.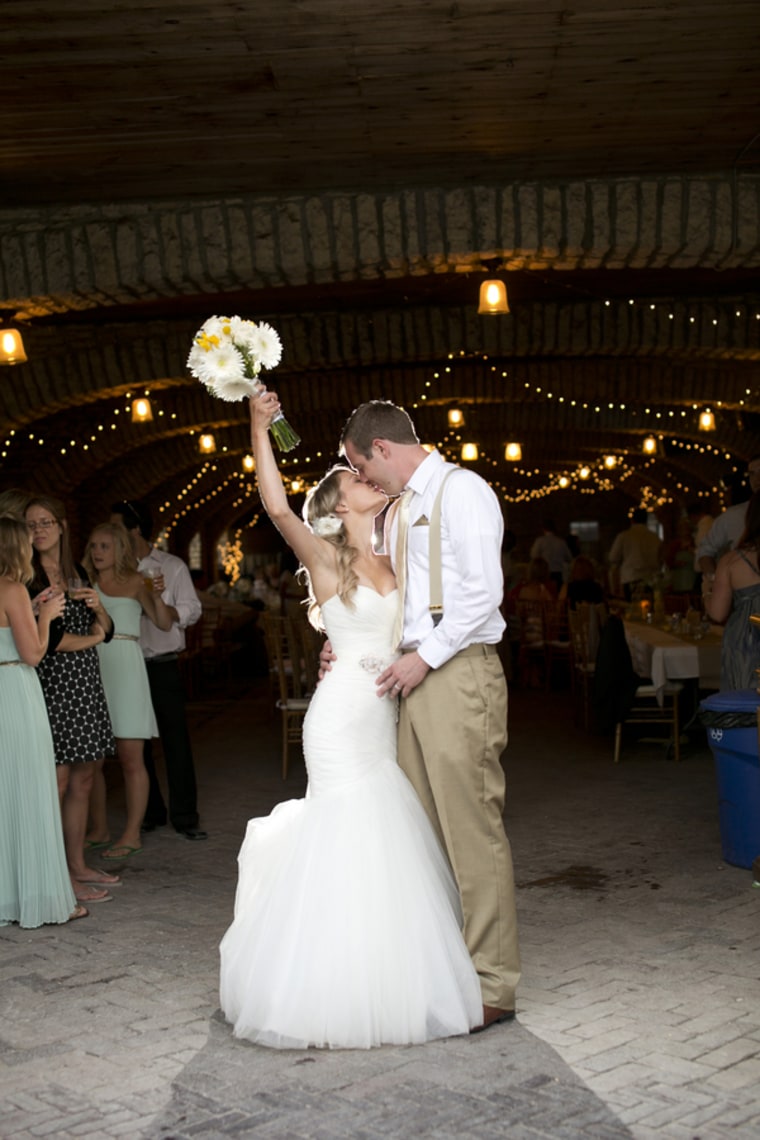 "We just looked at each other were like, 'Let's go home,'" Beth said.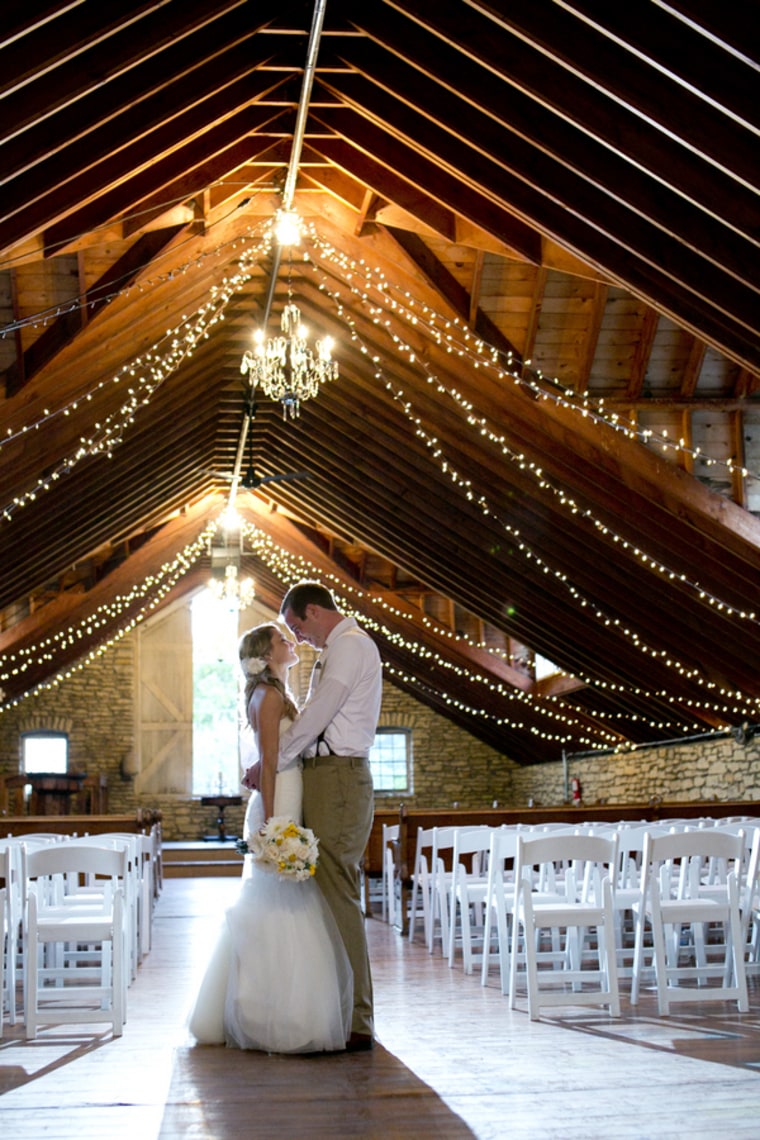 As of now, Beth and Tom are unpacking boxes, having officially moved out of their St. Paul apartment and into a home of their very own. 
All photos provided by Bellagala. Want to submit a real wedding? Send us your story, your contact information, and a link to your photos here.
Check out more of TODAY's featured Real Weddings here.