Some of Mindy Kaling's most adorable outfits from her hit comedy are on display this week at Neiman Marcus in Beverly Hills — but sorry, you can't buy them.
The clothes are a presentation by the high-end department store to honor Salvador Perez, costume designer for "The Mindy Show," and to drum up support for an Emmy nomination.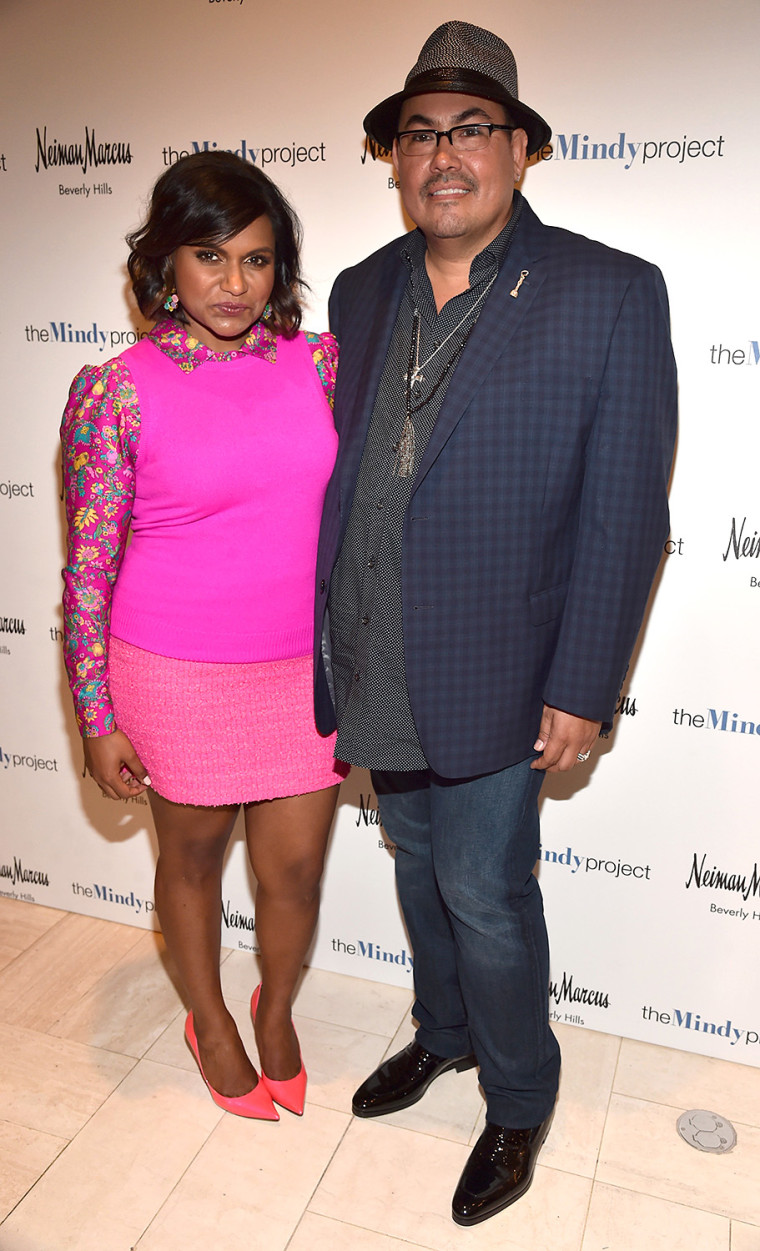 "I'm still in shock and awe — it's overwhelming," Perez told TODAY.com of the honor.
The outfits were pulled from the show's archive and include the tag that helps producers remember the scene in which Kaling wore the outfit, he said.
"They're all my favorites," Perez said, adding that he especially loves the dark green cocktail dress Kaling wore in a holiday episode. "That was a labor of love. On television, you don't get to see the detail. But now people can see it up close."
Kaling, who plays a doctor struggling to balance romance and work in the comedy, usually wears around 10 different outfits during each half-hour episode.
"Unless there's a montage — Mindy loves a montage," Perez said. "This season we did 24 outfits in one episode. That's just Mindy, not the entire cast! And some of it is custom-made. It's not like I'm just buying 24 outfits. I'm making coats. I'm making dresses."
Despite the busy workload, he said Kaling makes his job easy.
"She loves costumes as much as I do," Perez said. "We can talk about details, she loves the process. It makes my job so much easier. Mindy will give me a whole afternoon for fitting, she'll come in on her day off. It's the ultimate collaboration."
Kaling is also one of Perez's biggest fans.
"She said, 'I'm going to get you an Emmy nomination!' I said, 'It doesn't really work like that,'" Perez said, laughing.
"But I do think that a lot of times comedies are overlooked for costume design, because it's all about being funny," he added.
Perez, who was also the costume designer for the blockbuster "Pitch Perfect 2," said he has considered creating a line of clothing based on "The Mindy Project," but it's not yet a project he's ready to tackle.
"There's a huge demand for it, but it's just a matter of timing," he said. "If we're going to honor the fans with a line they can buy, it's got to be perfect. And that takes time. The show is all encompassing. I'm always working."