I was still so exhausted from my Target from Missoni debacle back in September (it literally took almost a whole day to order a skirt and a couple of baby items) that I didn't even attempt to jump online when the Jason Wu for Target collection went on sale Super Bowl Sunday. As is becoming the norm with the discount chain's designer collaborations, most of the collection sold out within hours, so when I finally did make it to my local Target this weekend there were only a sad 7 items total left.
But the almost empty racks did contain an adorable navy floral chiffon dress, and guess who has it in her wardrobe? The first lady, who basically put the Taiwan-born, American-educated designer on the map when she donned a dramatic ivory Wu-designed gown for her husband's 2009 inaugural ball. Mrs. Obama wore the $39.99 dress over the weekend at a press event in Florida.
As the Huffington Post points out, FLOTUS made the look her own by replacing the gold belt with a red one and adding a royal blue cardigan. The dress is still available in stores if you want to pick it up. At my local Clifton, N.J. Target, I spotted two of those frocks (one of which was missing the belt). As it happens, my colleague Carissa Ray (TODAY.com's supervising multimedia producer) bought the same dress at a store in Brooklyn on Saturday. (And now you know what TODAY.com staffers do with our weekends! And that we have excellent taste.)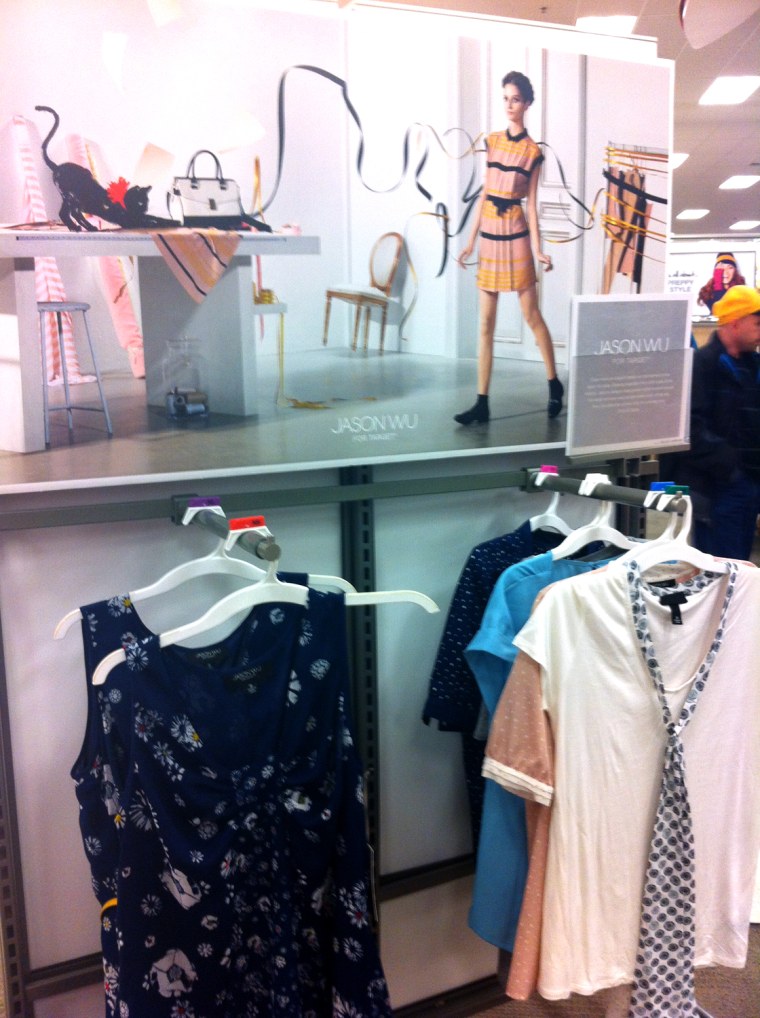 Mrs. Obama's press secretary confirmed to TODAY.com that indeed she was wearing a dress from the Target collection, but didn't have any information about whether FLOTUS waited in line to buy it herself (unlikely, but not impossible, as she has been known to hit her local Target). But I'm curious to see whether she trots out more of the collection in the future. Could a cat-print tote be next, or would Bo be offended?
Did you purchase any of the Jason Wu items at Target? Let us know in the comments below.
TODAY.com supervising producer Susan Houriet owns more than 20 designer-for-Target collection pieces, some of which she can even still fit into after having a baby (who has her own Missoni for Target dress and leggings).