The Met Gala? In September?
After a hiatus due to the pandemic, the annual Metropolitan Museum of Art Costume Institute benefit gala is back. In fact, this year we'll have TWO fashion exhibitions and star-studded events at the Metropolitan Museum in New York City with the second event being held on the traditional first Monday in May.
The theme of the 2021 Met Gala is "In America: A Lexicon of Fashion," honoring the 75th anniversary of the Costume Institute and celebrating modern American fashion. How did celebrities and designers interpret that theme? Here are the must-see ensembles from the famous museum steps.
Kim Kardashian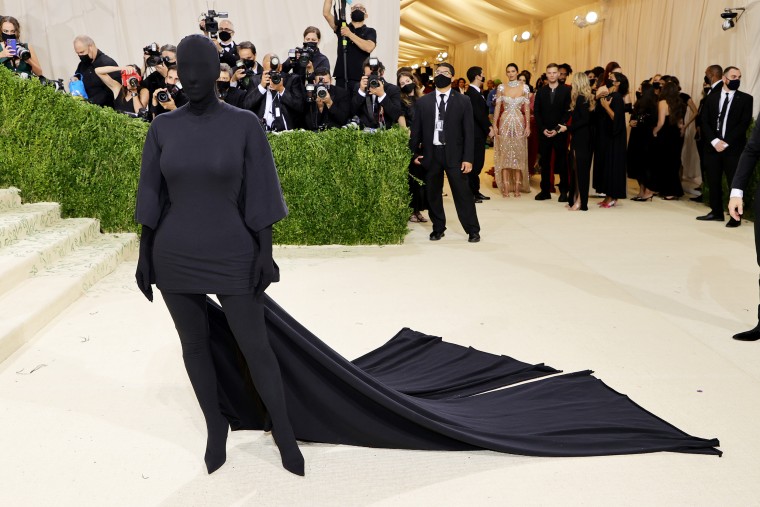 Be honest: Would you know that's Kim Kardashian if we didn't tell you? The Skims designer wore head-to-toe (and we mean head-to-toe) black Balenciaga.
Rihanna and A$AP Rocky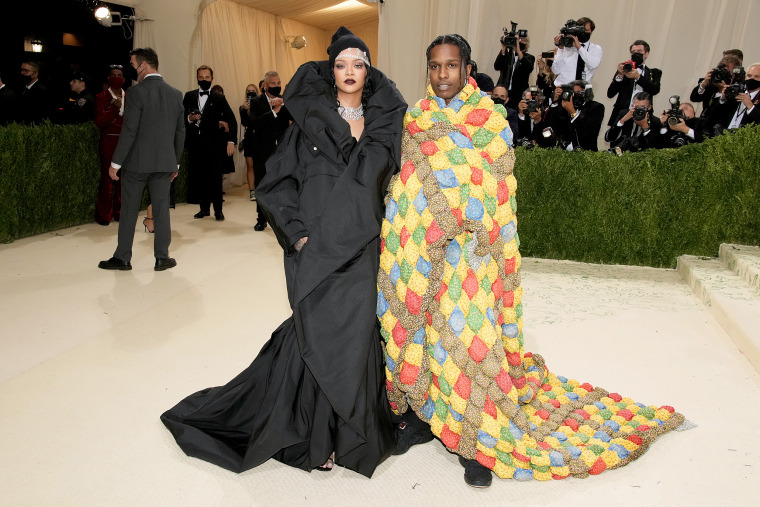 Rihanna, as they say, always understands the assignment when it comes to dressing on theme for the Met Gala. Seen here with boyfriend A$AP Rocky, the Fenty designer and pop star sports a puffy coat-style gown with a matching beanie and tons of jewels.
Dan Levy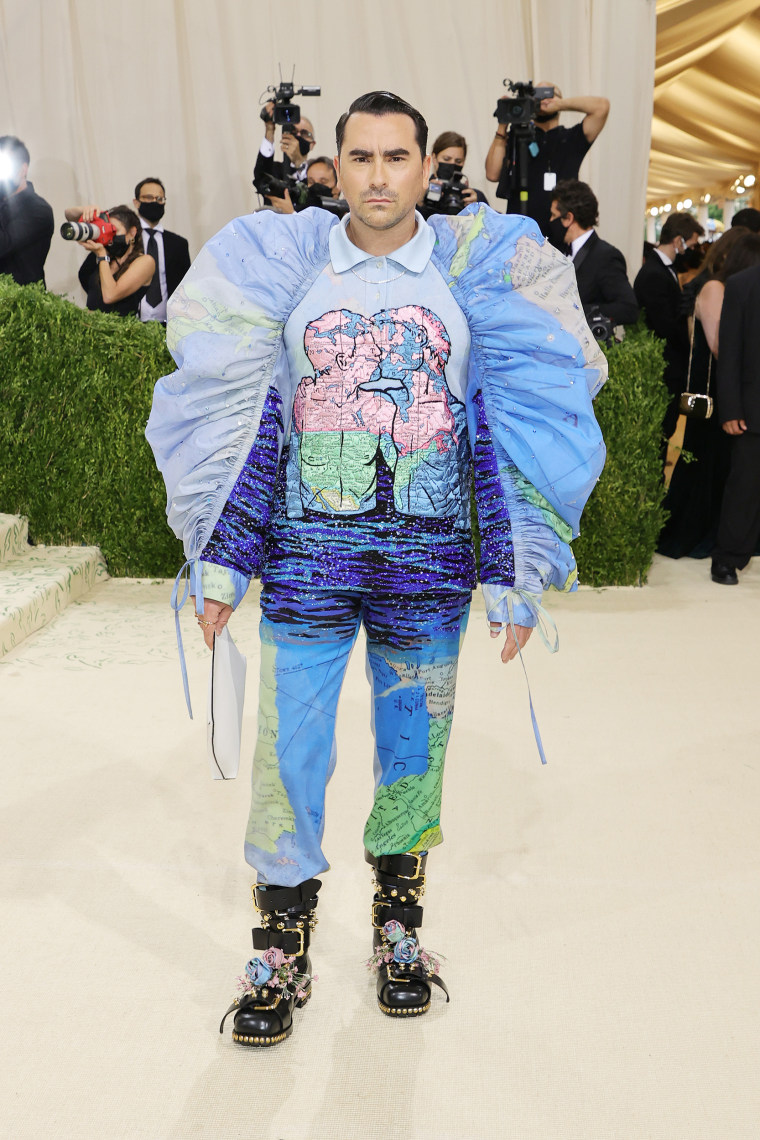 The "Schitt's Creek" creator and star chose a head-turning look by Loewe for his white carpet moment.
Billie Eilish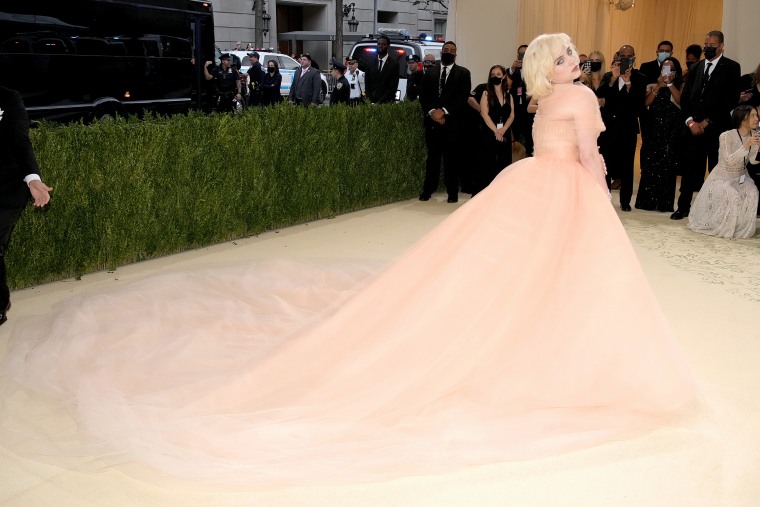 The normally toned-down pop star went for all-out glamour at the Met Gala in this Marilyn Monroe-worthy gown by Oscar de la Renta.
Serena Williams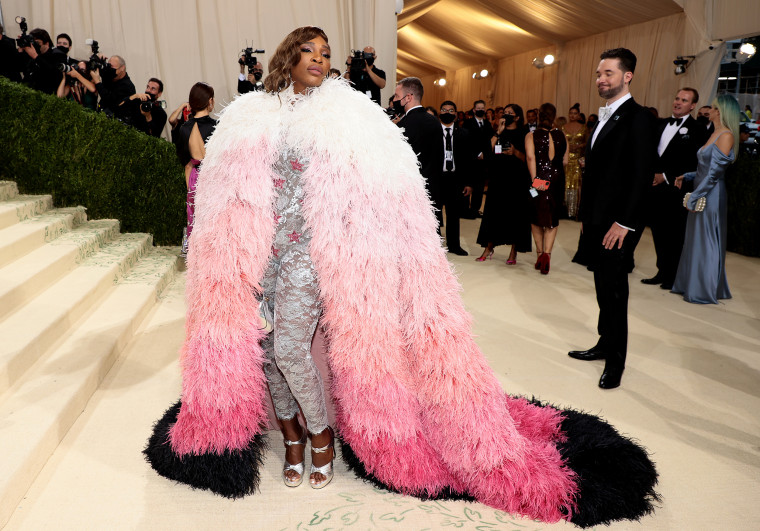 Serena Williams said her Gucci look was inspired by superheroes — and we can see why!
Lil Nas X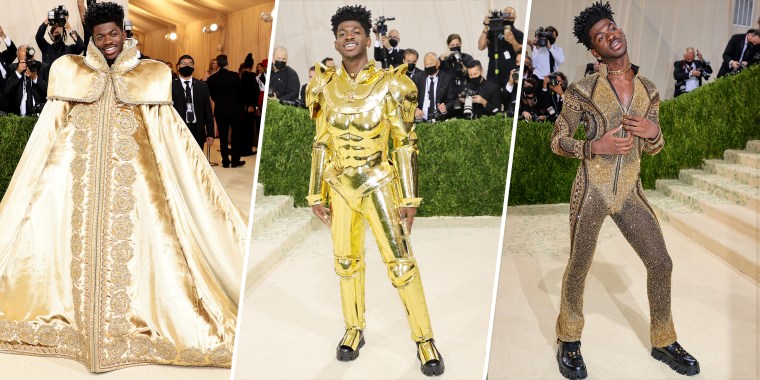 The boundary-pushing rapper and singer wore three full outfits on his journey up the Met steps, including a gold-plated suit of armor.
Gigi Hadid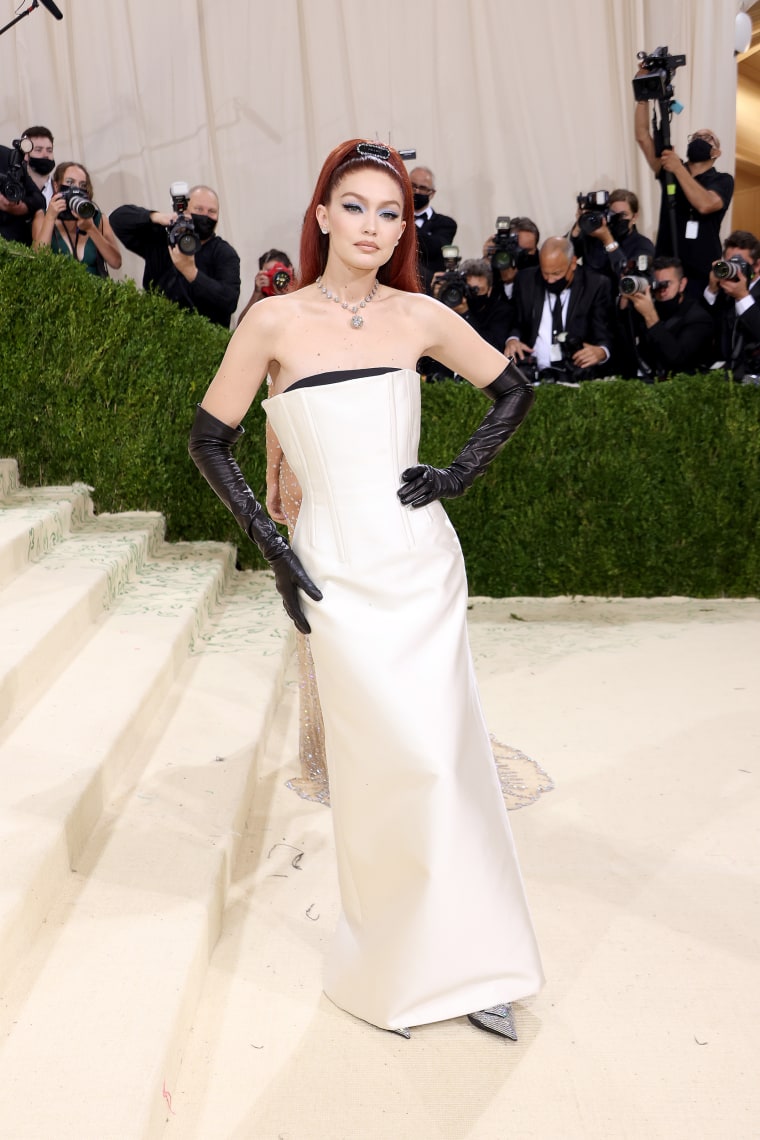 Gigi Hadid is channeling her inner Jessica Rabbit in a Prada gown paired with new auburn locks.
Karlie Kloss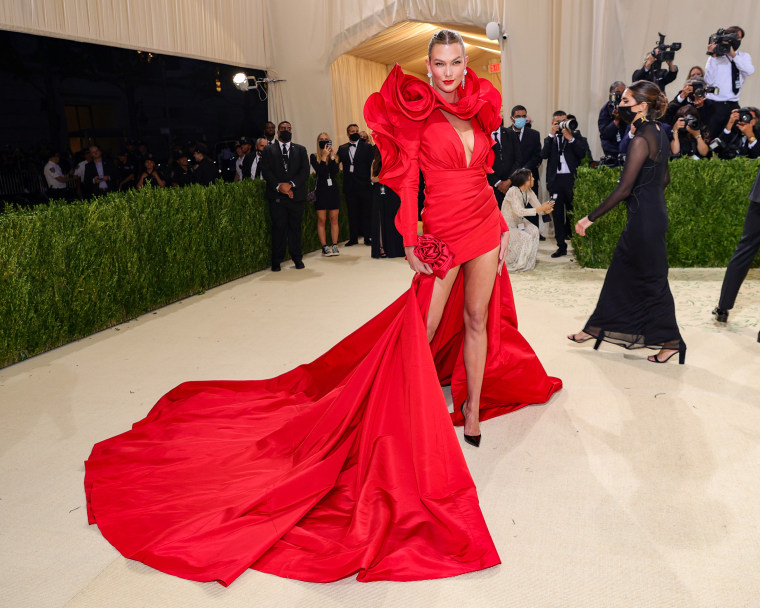 In a Carolina Herrera gown inspired by the American rose, Karlie Kloss made an entrance in red.
Emily Blunt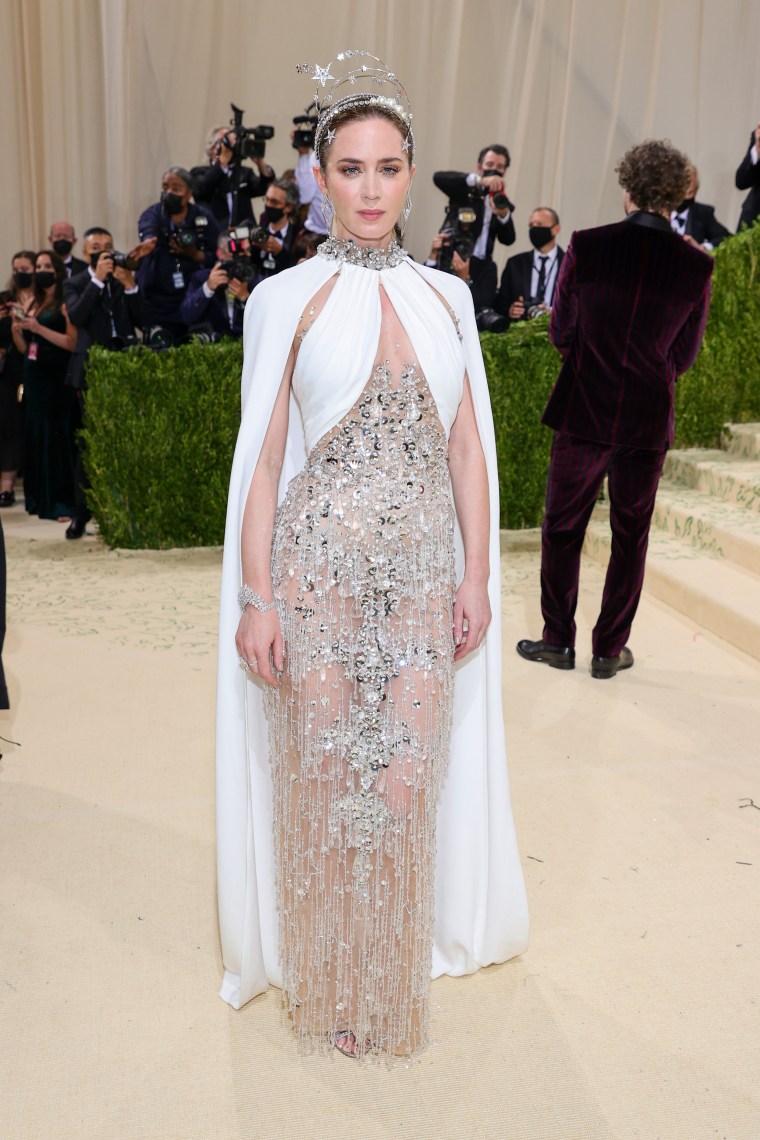 This celestial look by Miu Miu is absolutely magical on the "Jungle Cruise" actress.
Jennifer Lopez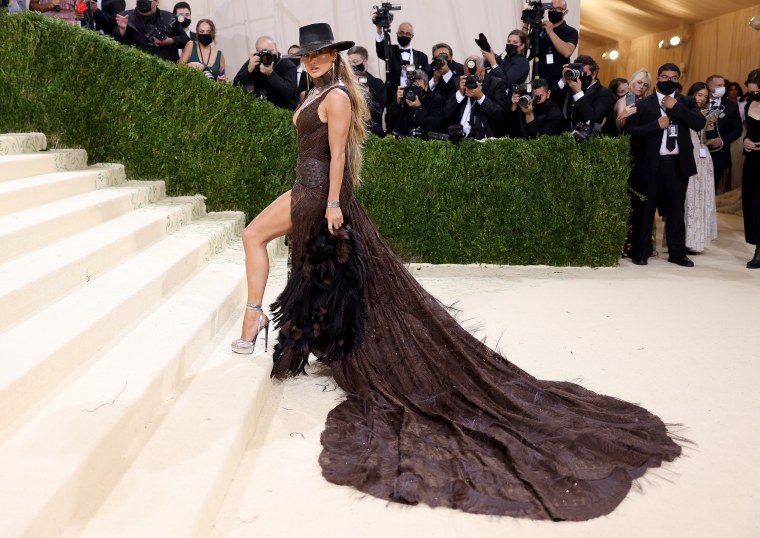 J.Lo took the American theme to heart with accessories fit for the wild west ... a very chic wild west, that is.
Grimes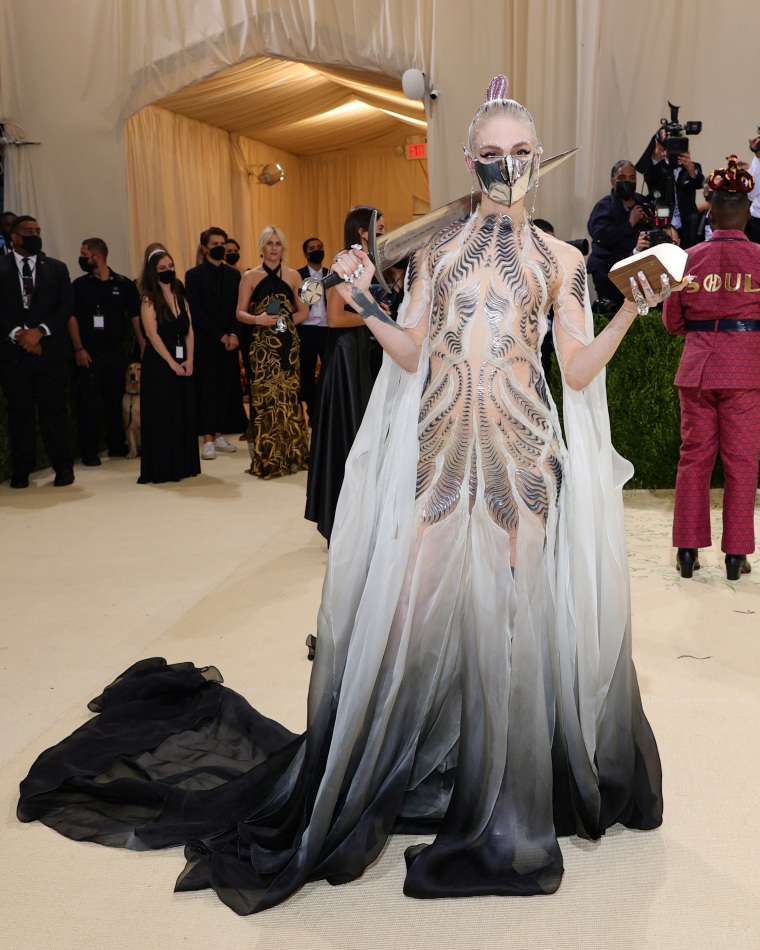 The Canadian musician had the perfect accessory to go with her dreamy ombre dress. No, not her partner, Elon Musk, but a full-blown sword.
Megan Thee Stallion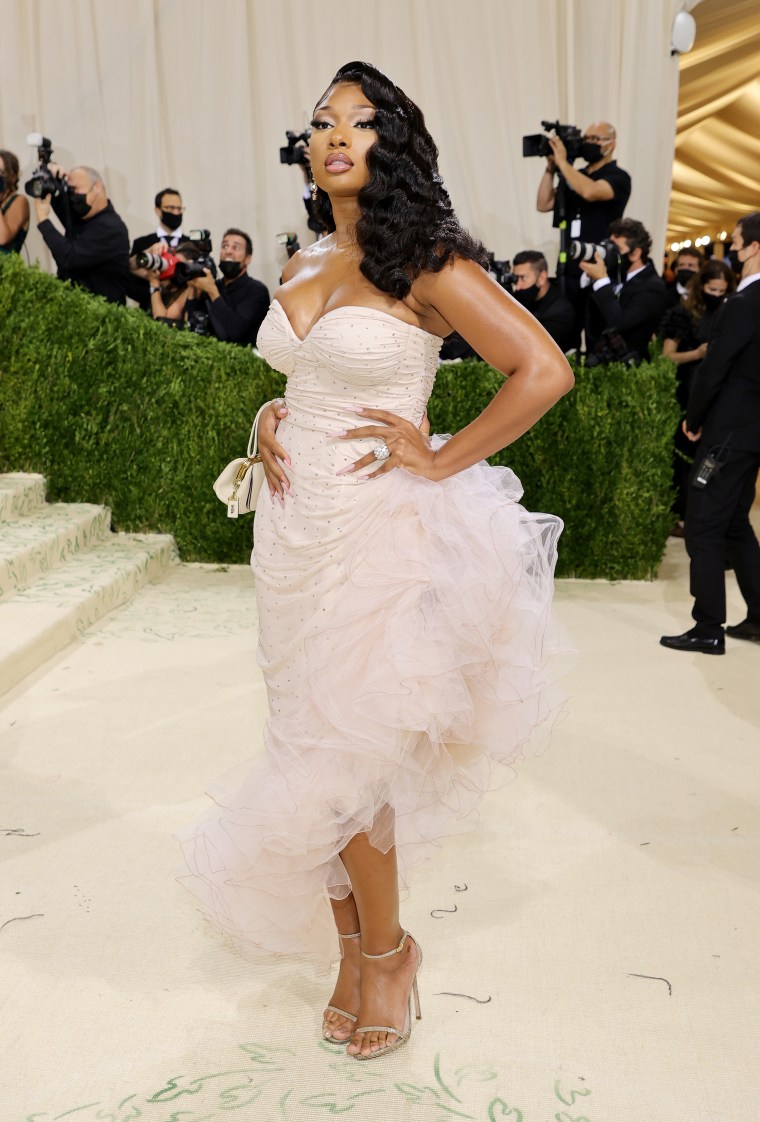 Looking sugary sweet, the hit-making rapper wore a cotton candy-esque strapless dress with an asymmetrical hemline from Coach.
Maisie Williams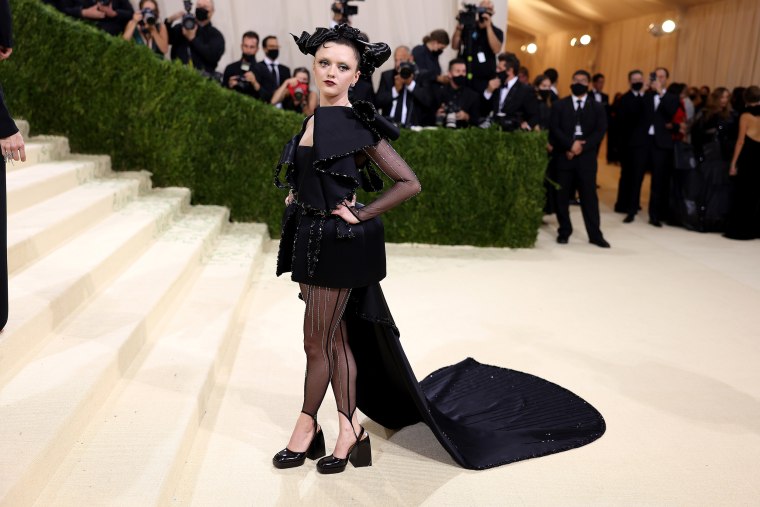 "Game of Thrones" star Maisie Williams said her goth look at the Met Gala was inspired by another production: "The Matrix."
Kate Hudson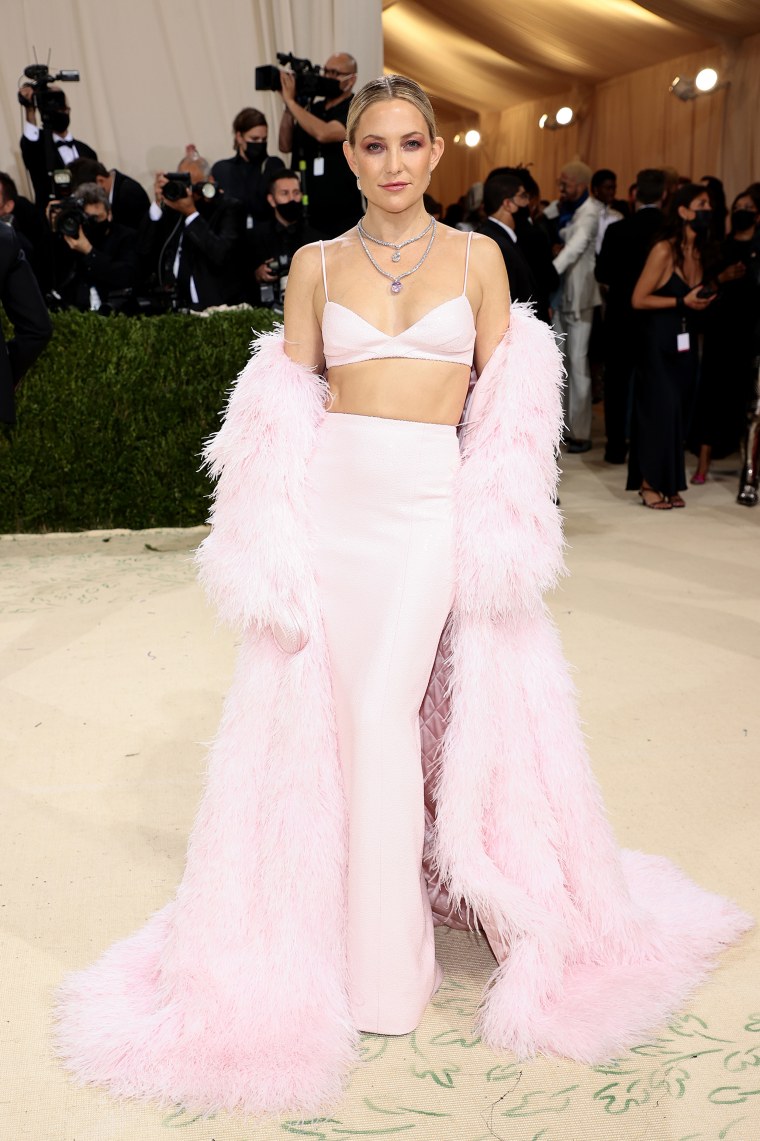 In a pink two-piece and a matching feathered jacket draped just so, Kate Hudson is the epitome of glamour.
Regina King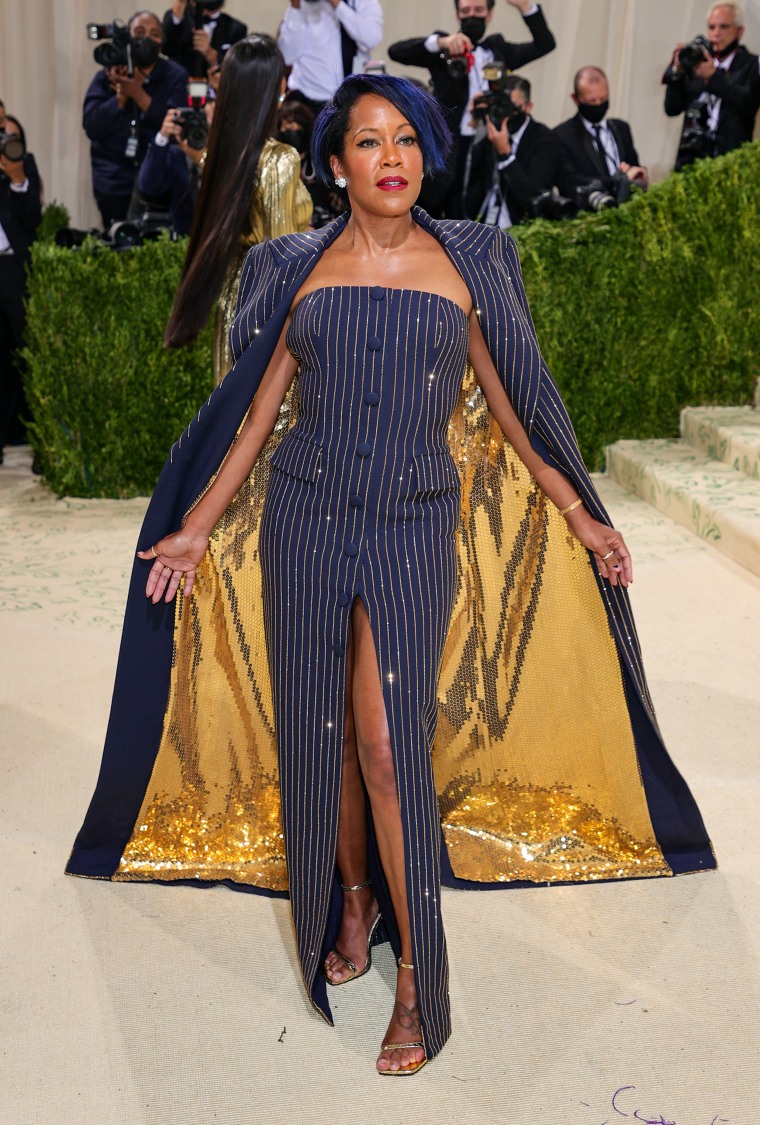 With sparkly pinstripes and a gold-lined cape, Regina King made a stylish and sophisticated entrance in Michael Kors. And don't sleep on the purple streak in her hair!
Kacey Musgraves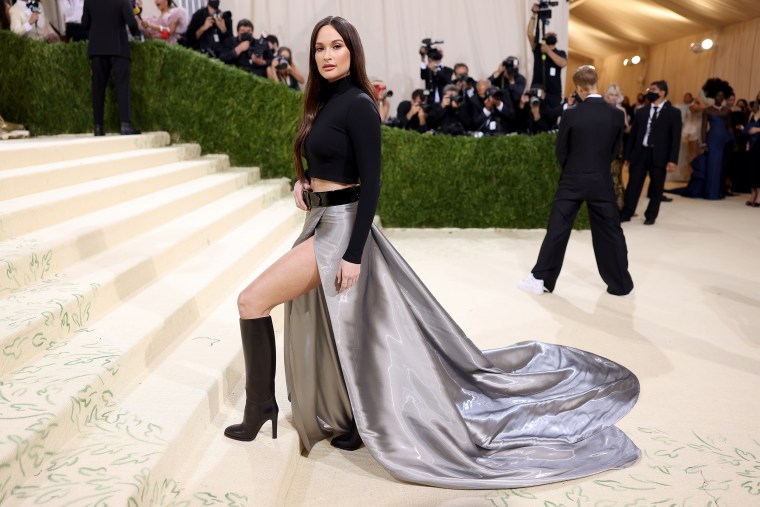 Kacey Musgraves donned a two-piece Ralph Lauren ensemble with a silky smooth silver skirt that showed off her knee-high boots.
Lupita Nyong'o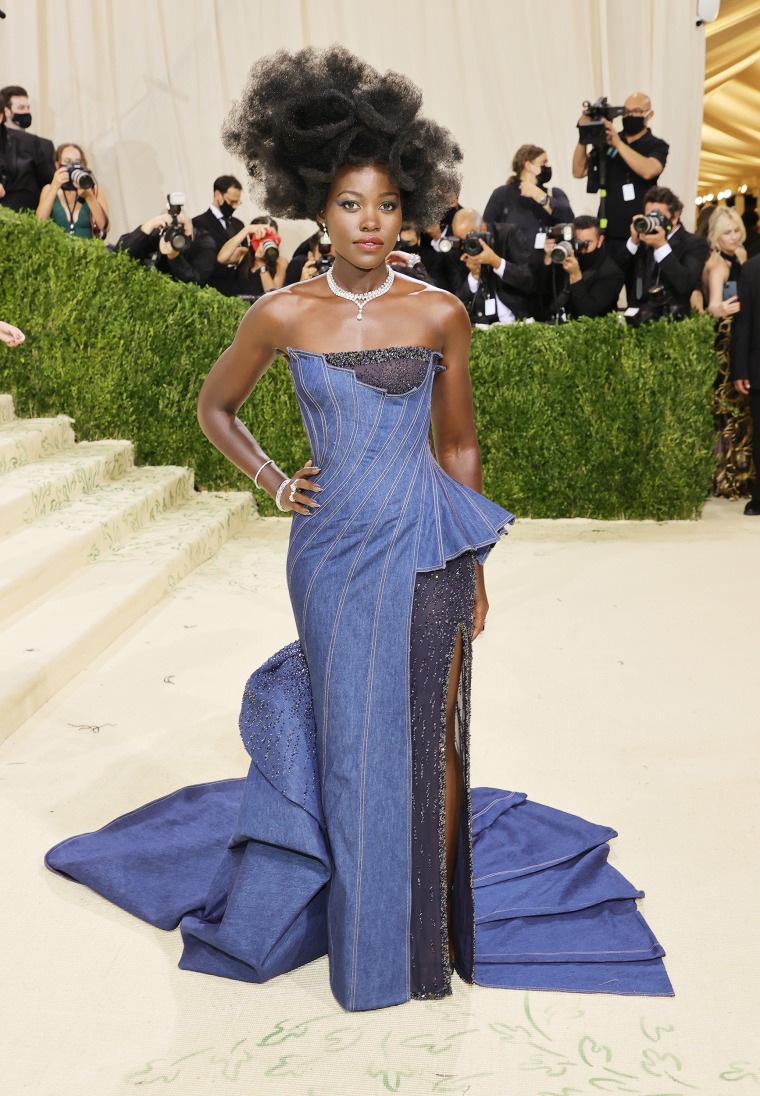 Lupita Nyong'o paid homage to the most iconic American fabric of all: denim.
Normani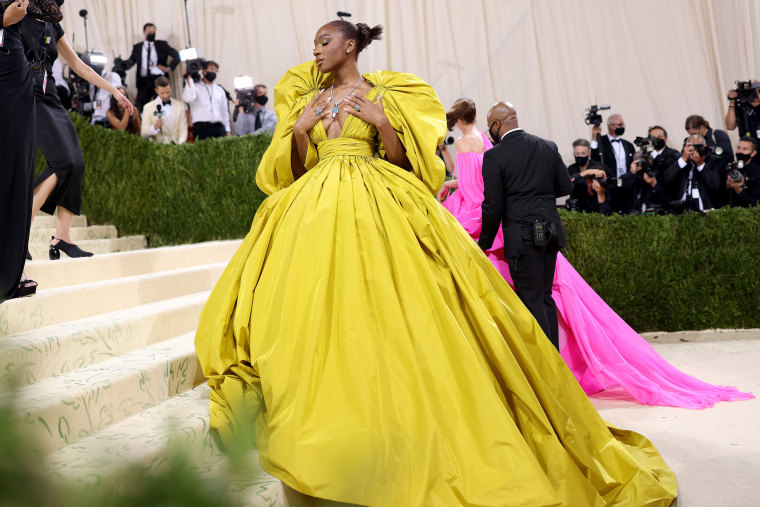 The pop star has a Cinderella moment in this marigold Valentino ballgown with trendy puff sleeves.
Kristen Stewart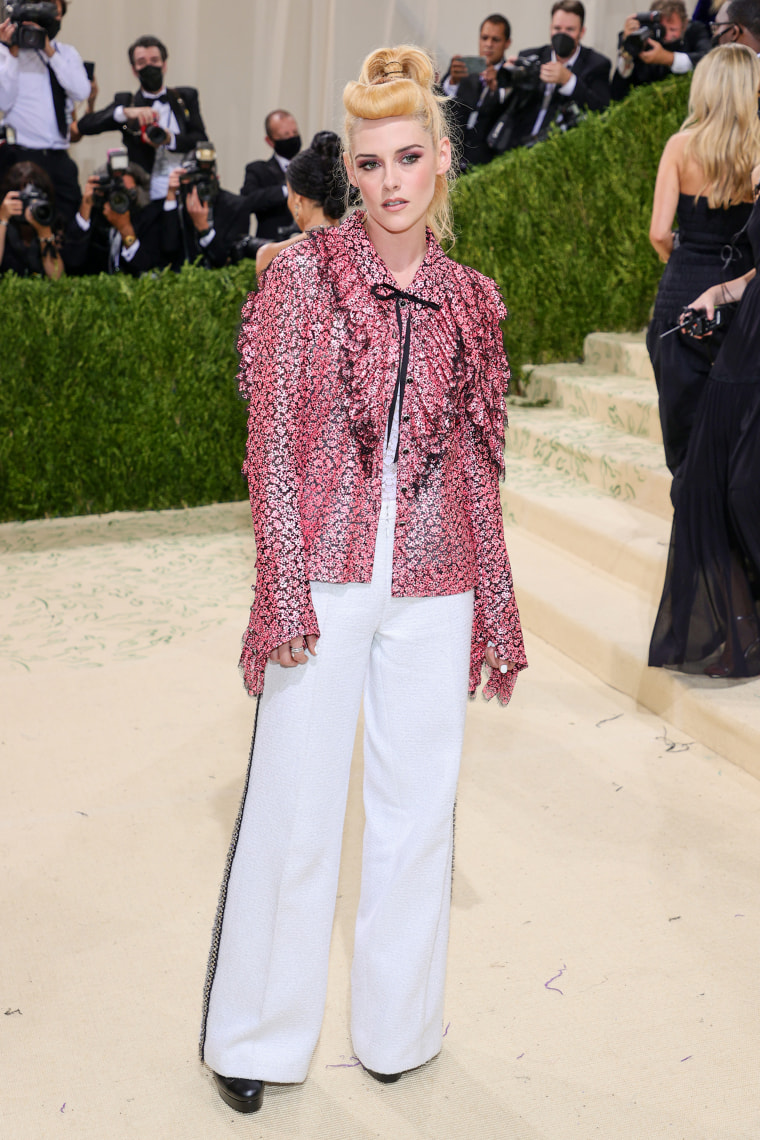 Wearing her signature Chanel, Kristen Stewart pairs a sweet pantsuit with a retro high ponytail.
Amanda Gorman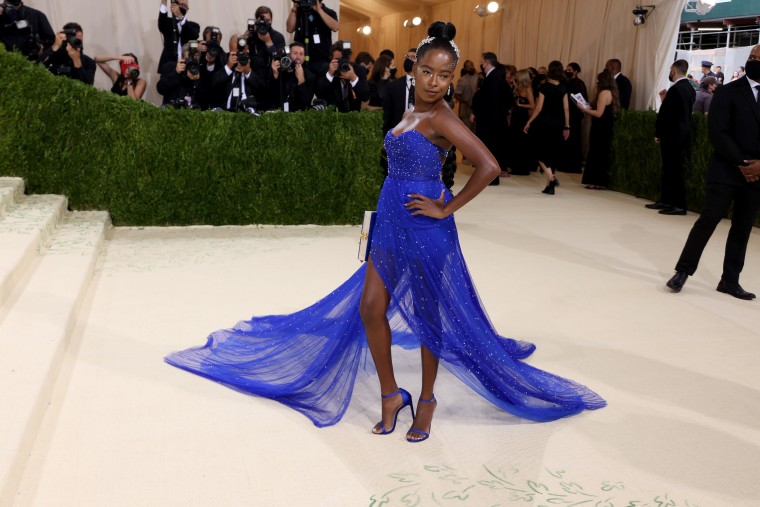 The inaugural poet and co-chair of the night's event said her Vera Wang look was inspired by the Statue of Liberty. She certainly looks statuesque!
Timothee Chalamet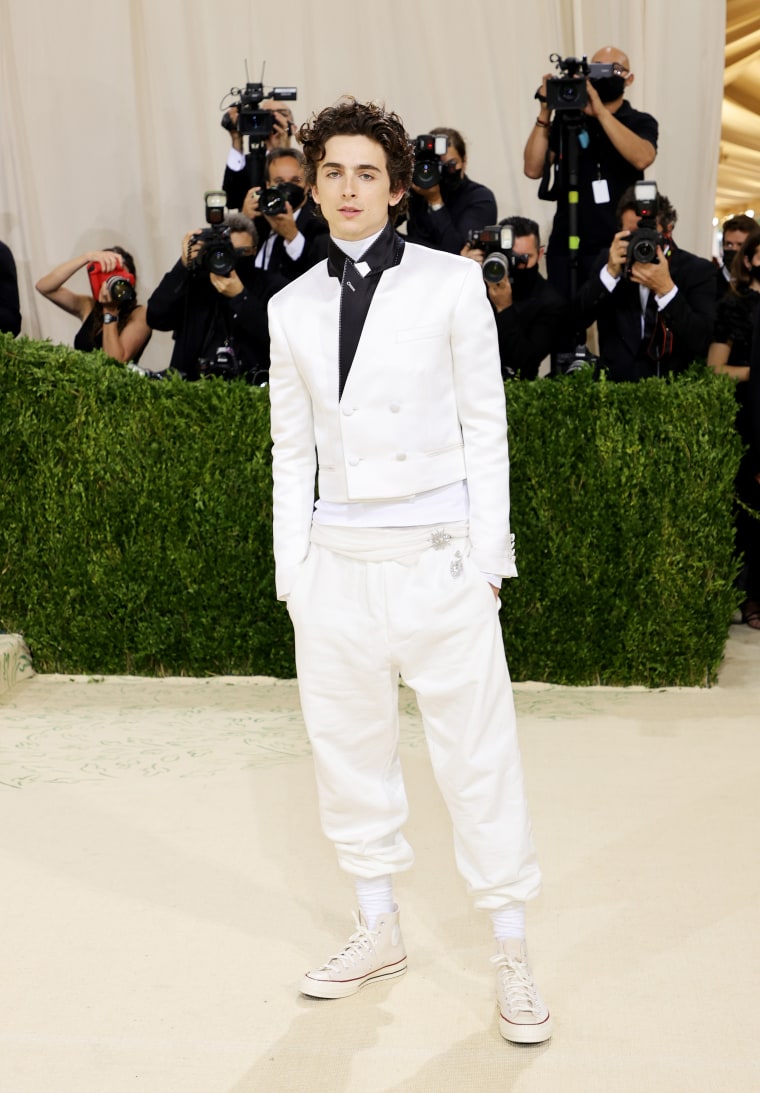 At just 25 years old, the actor is already a style icon and a co-chair of the event (along with other Gen Z favorites, like performer Billie Eilish, tennis star Naomi Osaka and inaugural poet Amanda Gorman).
Iman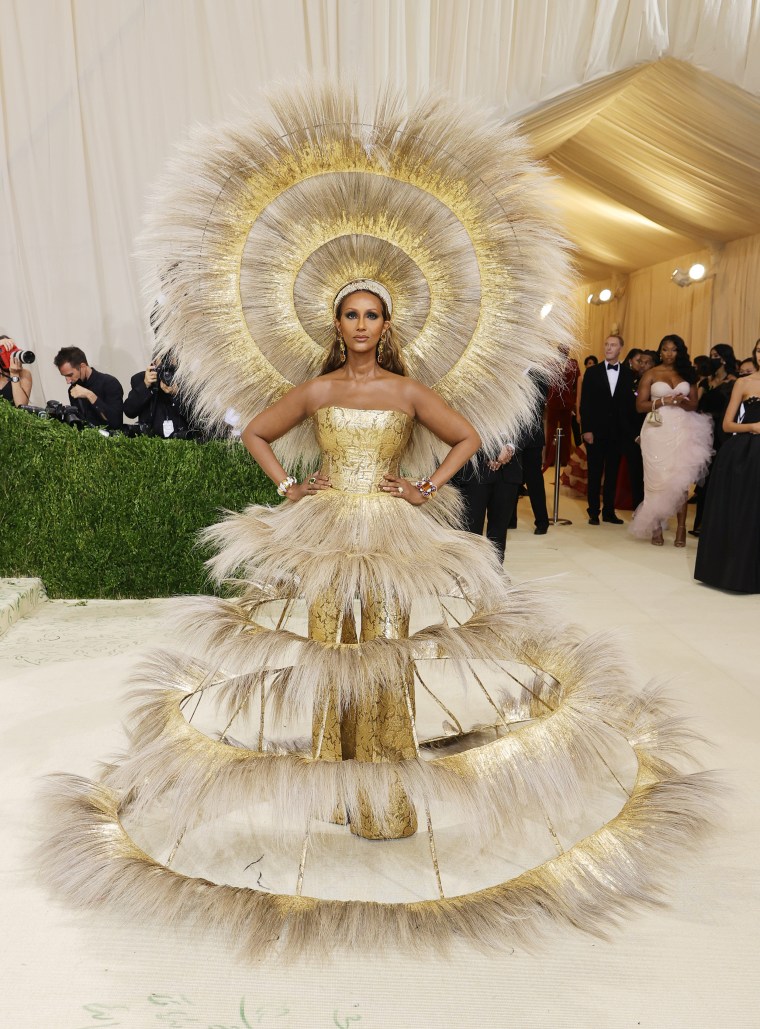 Now that's a showstopper! Supermodel Iman stole the spotlight in a gold fringed number with an out-of-this-world headpiece that looked like a halo.
Pete Davidson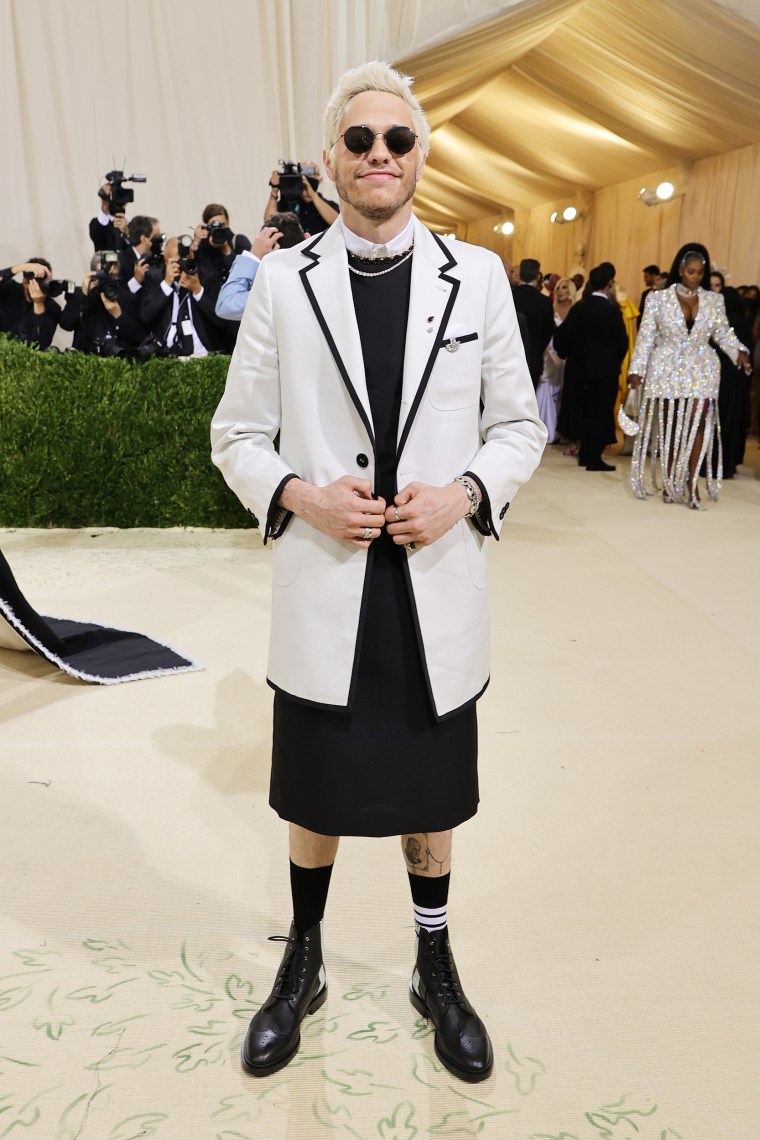 The "SNL" star confidently wore a black-and-white dress by Thom Browne on the white carpet. What you might not see? The hidden touches that honor his late father, who was a firefighter on 9/11.
Gabrielle Union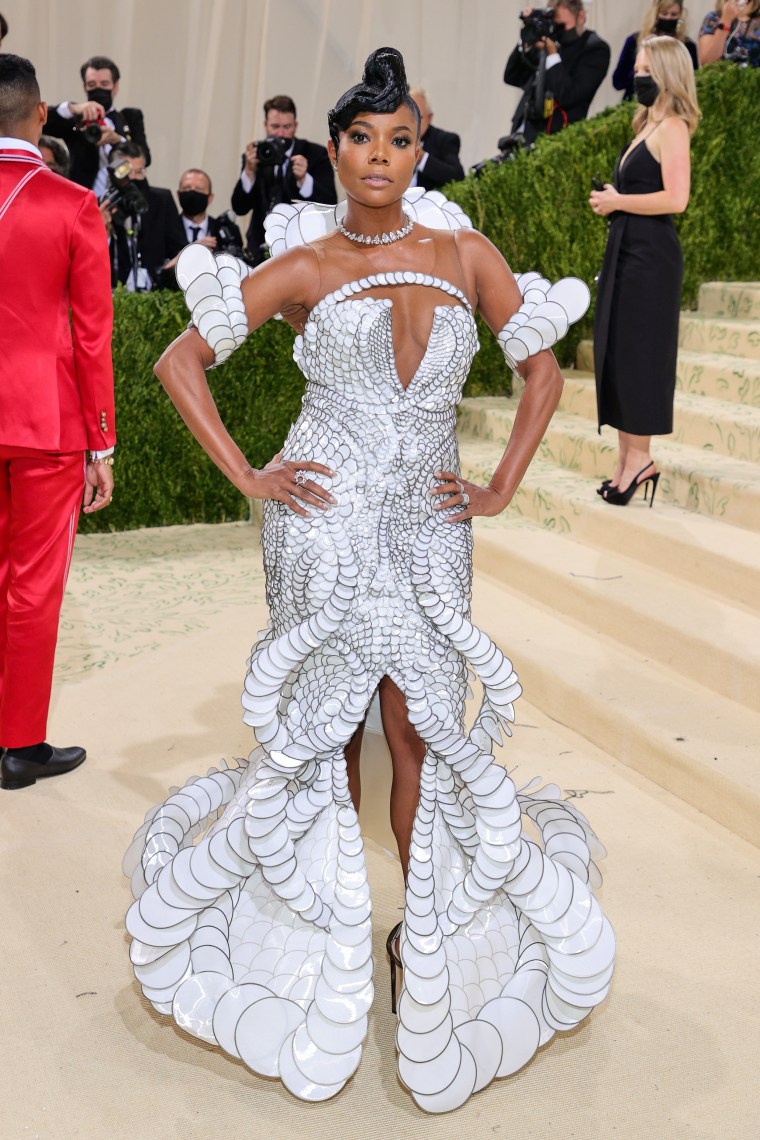 Gabrielle Union chose to wear a show-stealing gown by innovative designer Iris Van Herpen for fashion's big night.
Alexandria Ocasio-Cortez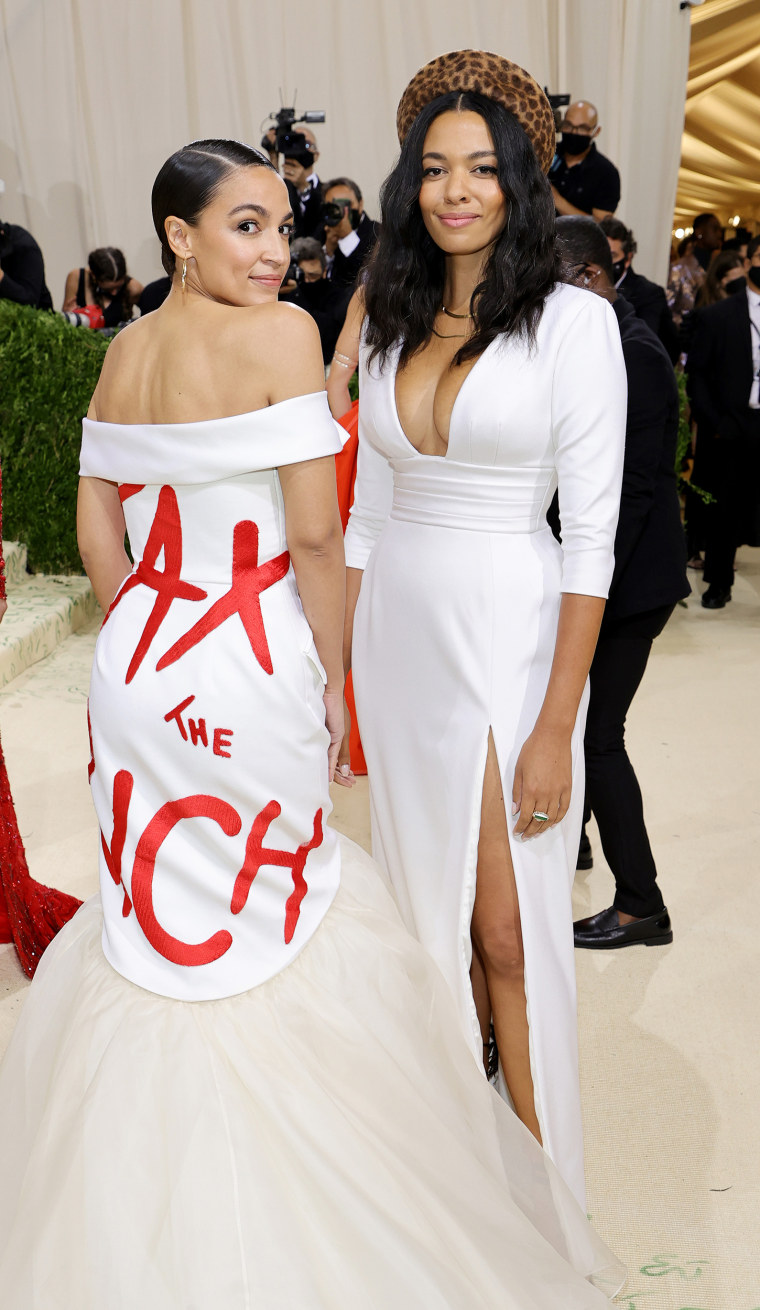 The New York congresswoman let her politics do the talking in this straightforward white dress from designer Aurora James, founder and creative director of Brother Vellies (pictured with her here).
Lorde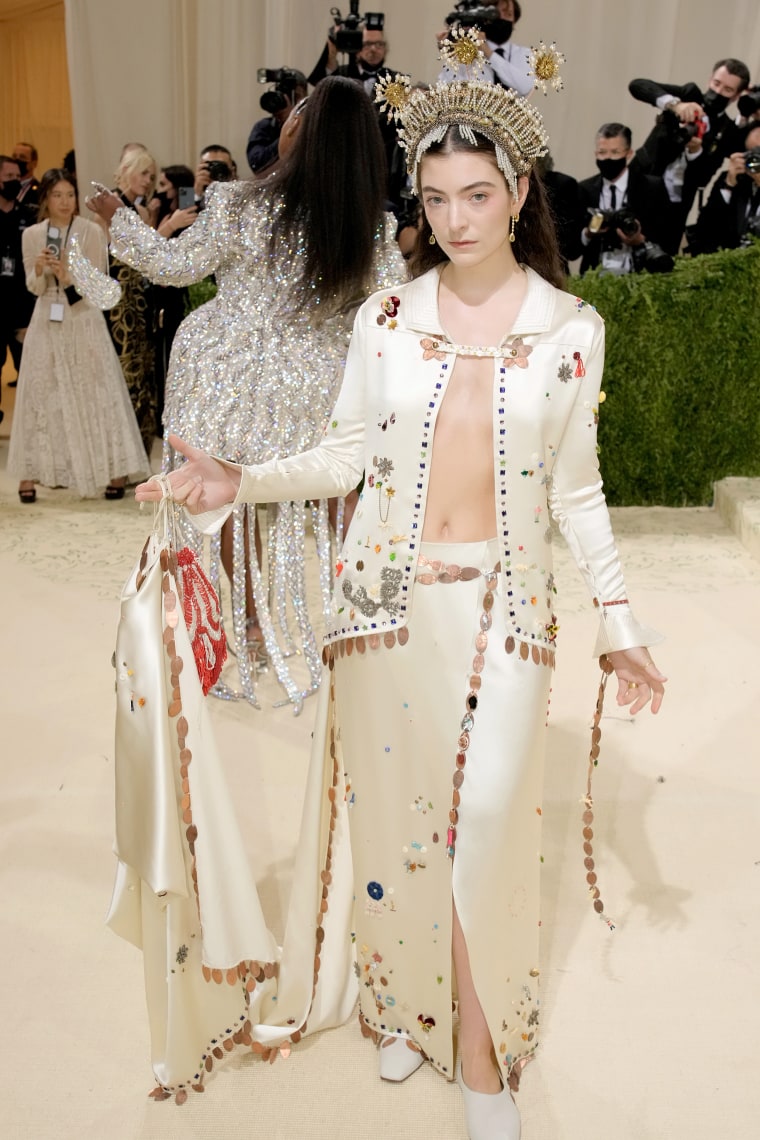 The "Solar Power" singer went for an ethereal look, complete with an eye-catching hairpiece.
Simone Biles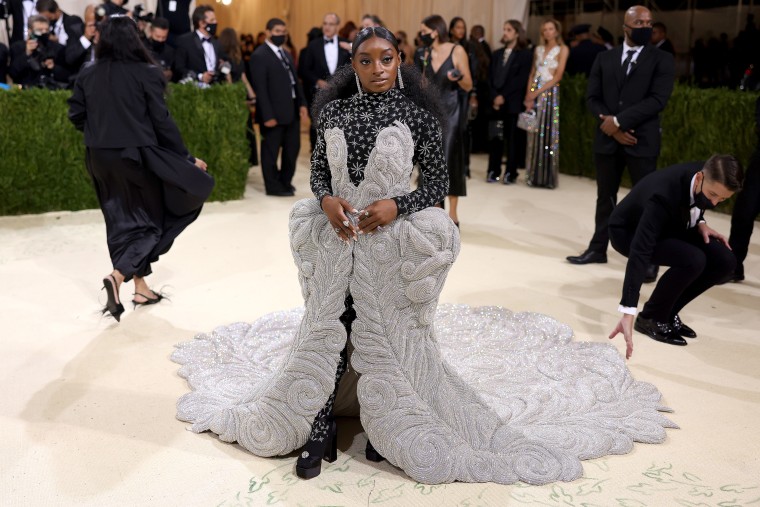 Olympic gold medalist Simone Biles can add another athletic achievement to her list: Wearing an 88-pound dress to the Met Gala!
Addison Rae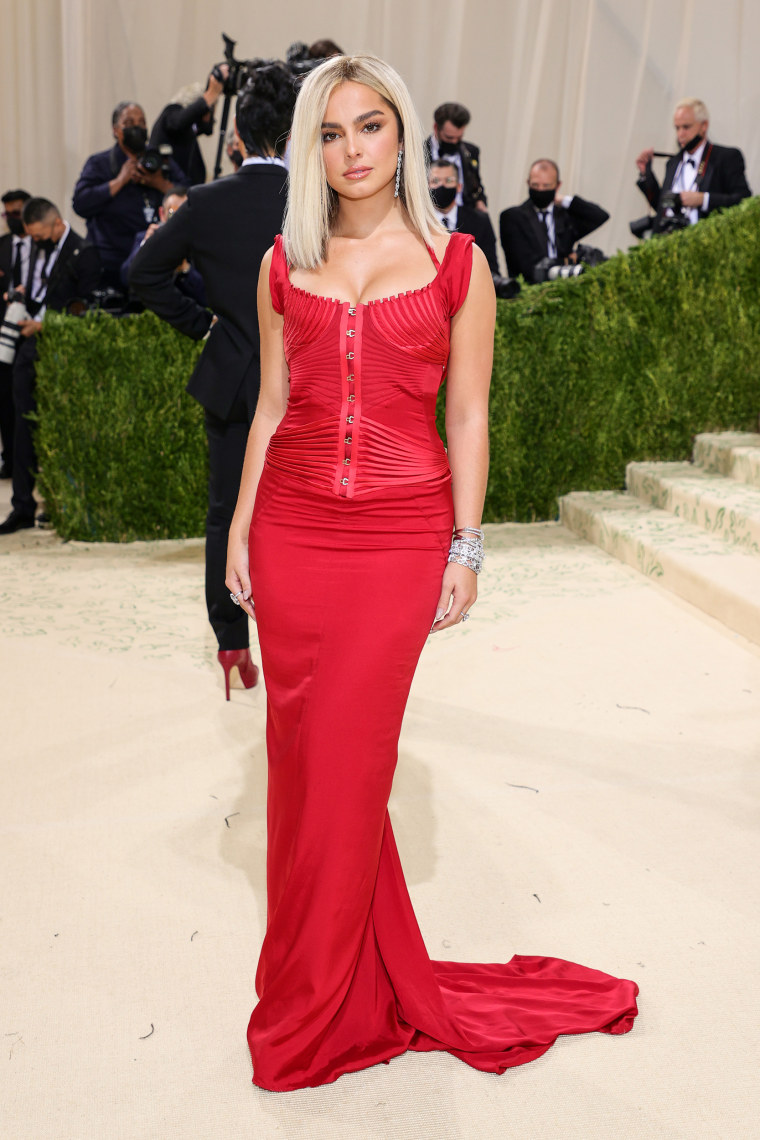 The TikTok star turned Netflix actress showed off a new blond bob while wearing this corsetted red gown.
Natalia Bryant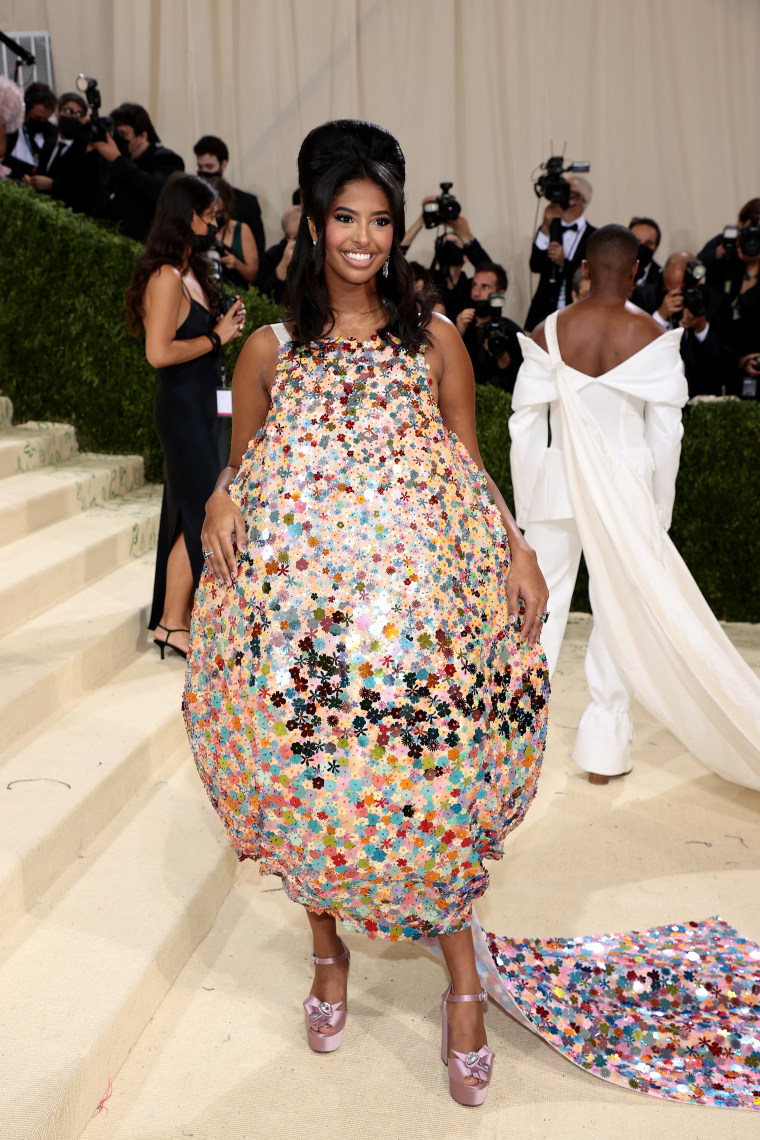 Natalia Bryant made her Met Gala debut in this bubbly, colorful dress.
Barbie Ferreira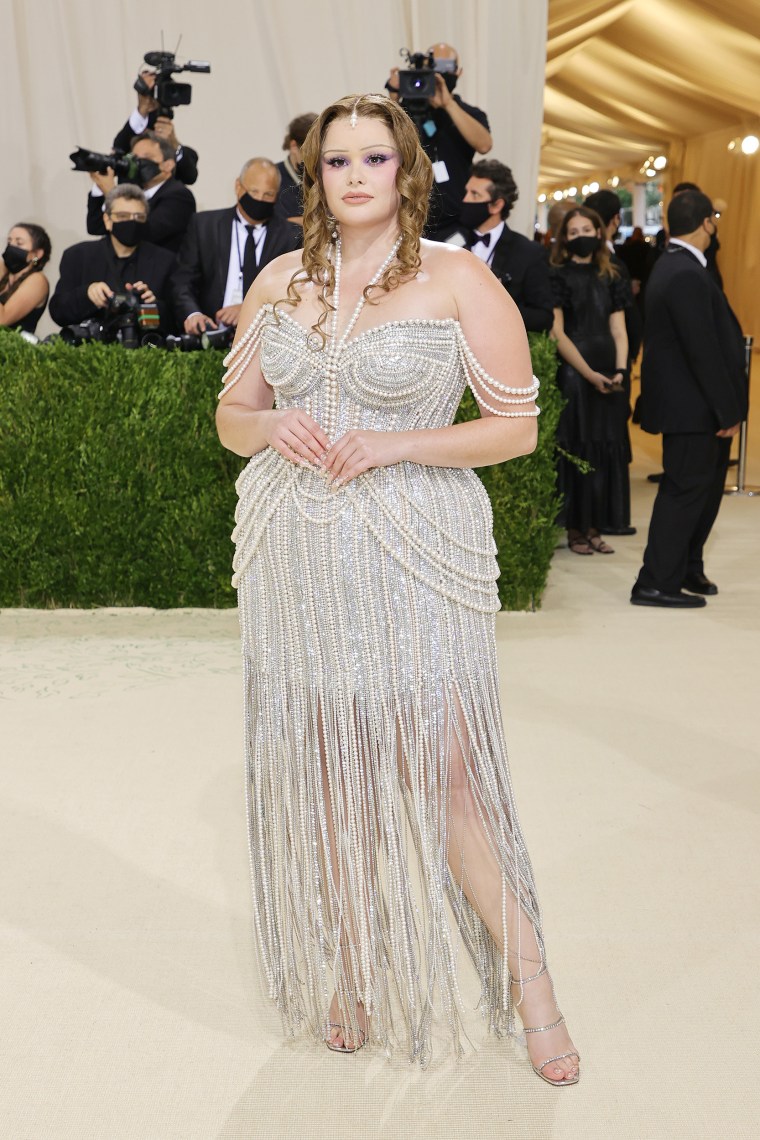 "Euphoria" actress Barbie Ferreira was dripping in pearls and fringe with this ultraglam dress.
Tracee Ellis Ross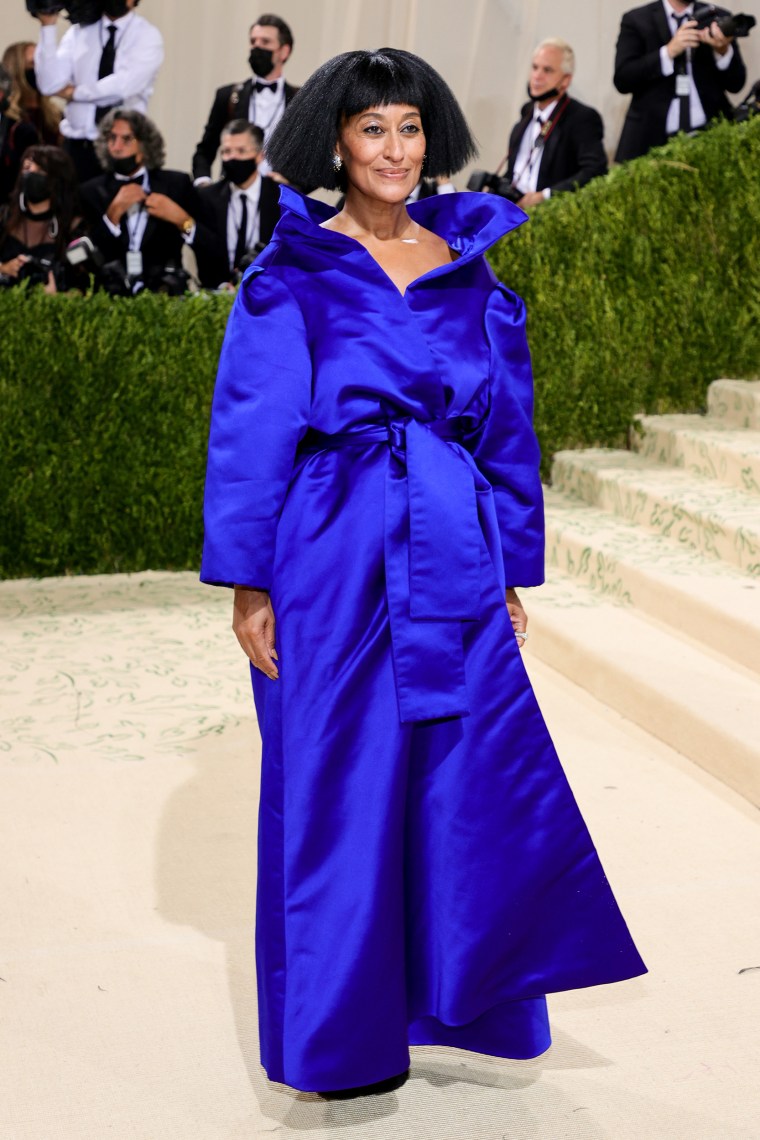 Tracee Ellis Ross is the queen of red carpets and this striking blue wrap gown is no exception.
Brooklyn Beckham and Nicola Peltz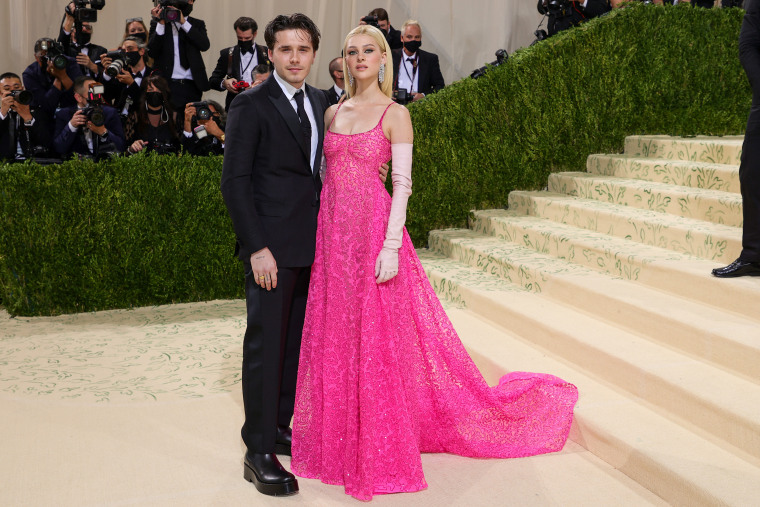 It looks like Brooklyn Beckham is just as stylish as his fashion designer mom (or should we say mum), Victoria Beckham. He joins fiance Nicola Peltz on the white carpet.
Kendall Jenner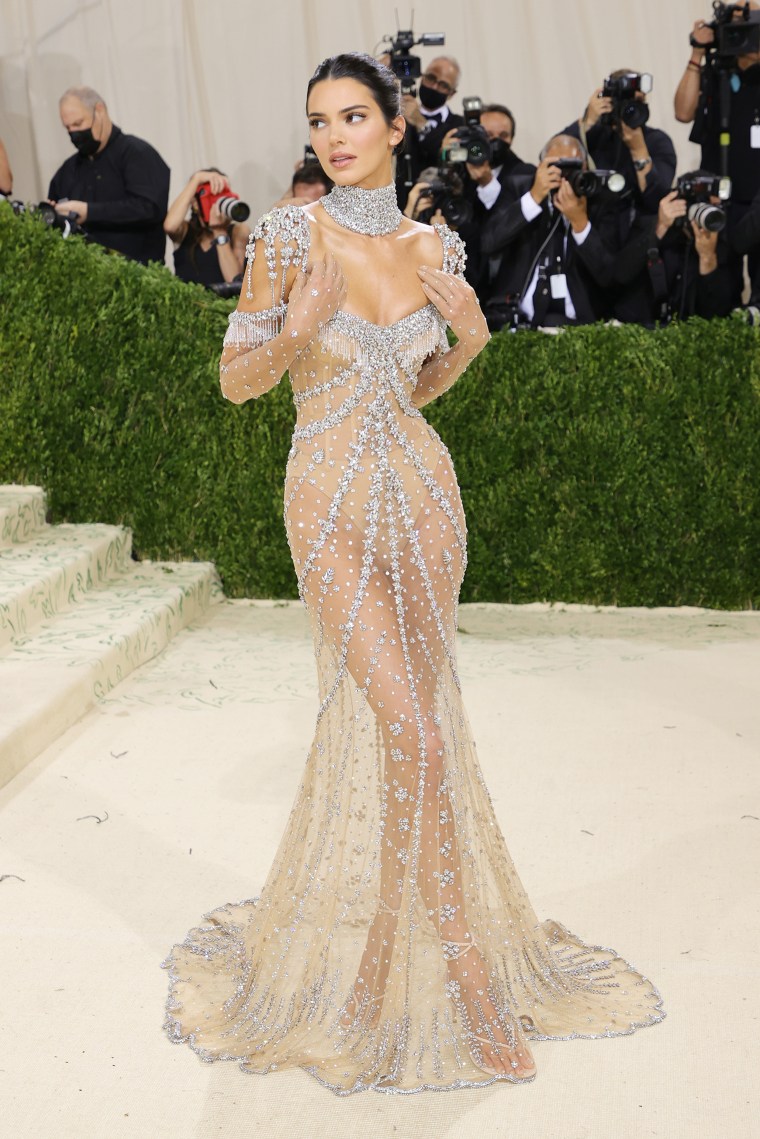 The "naked dress" has never looked more expensive than Kendall Jenner wearing custom Givenchy.
Ella Emhoff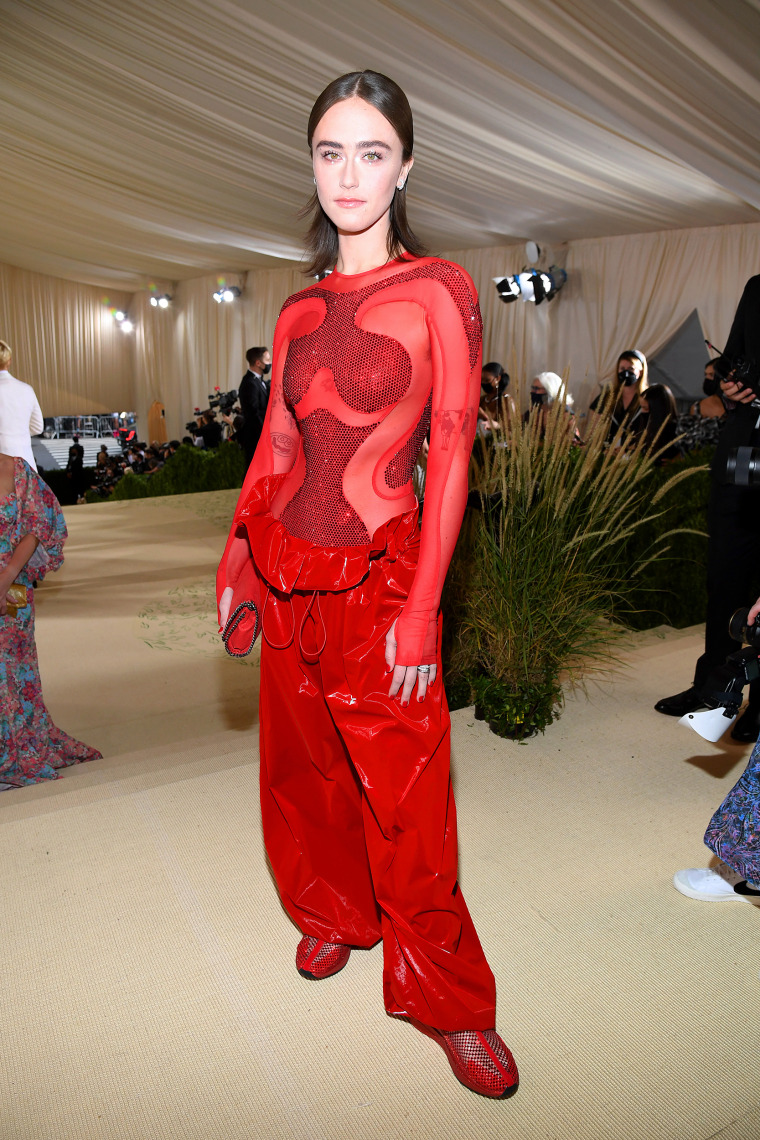 The fashion student and model made an instant splash when she attended the presidential inauguration in support of her stepmom, Vice President Kamala Harris. Now she's walking the Met Gala white carpet in a groovy red pantsuit with perfectly matching sneakers.
Storm Reid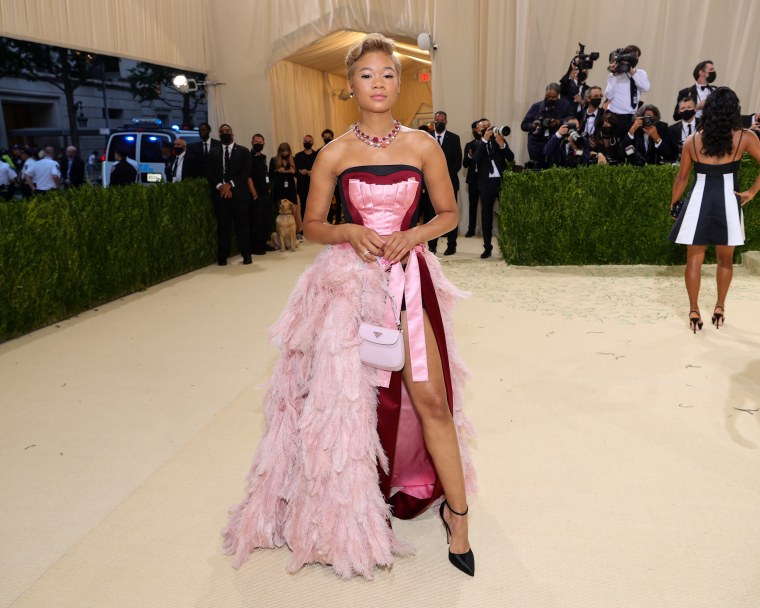 Pretty in pink! The "Don't Let Go" actress was all about feminine embellishments in feathers and pink satin.
Kaia Gerber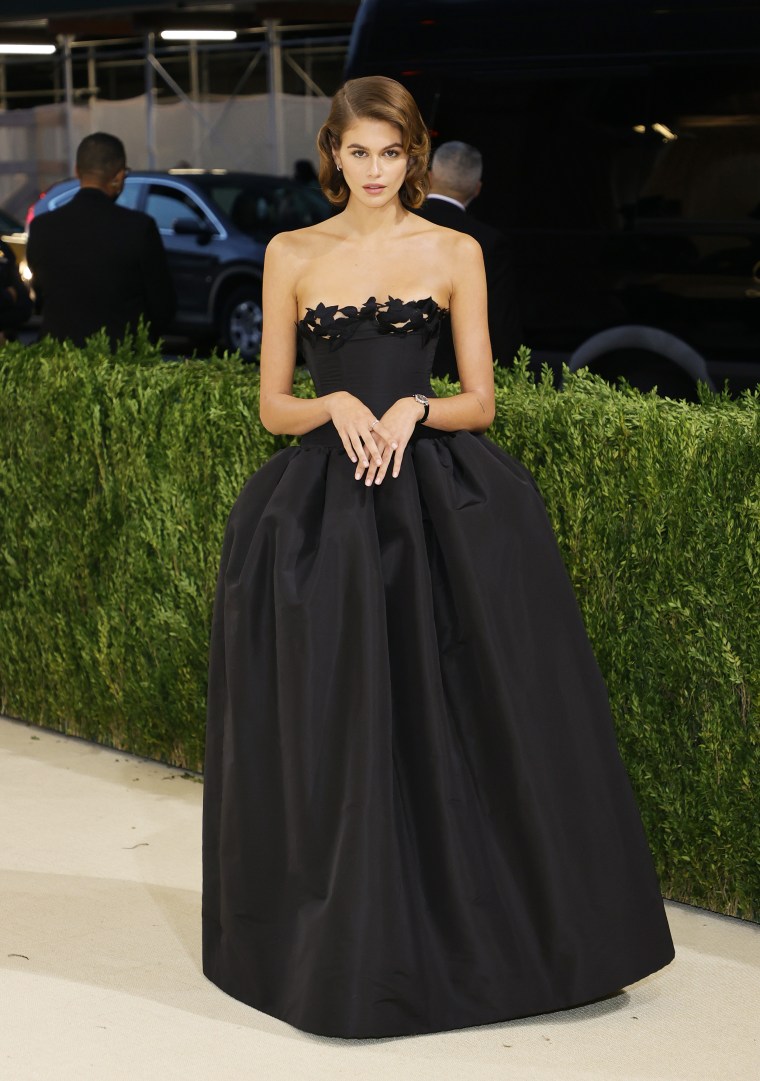 The supermodel was following in her mom's footsteps (Cindy Crawford, of course) in this classic and classy strapless black ballgown.
Hailee Steinfeld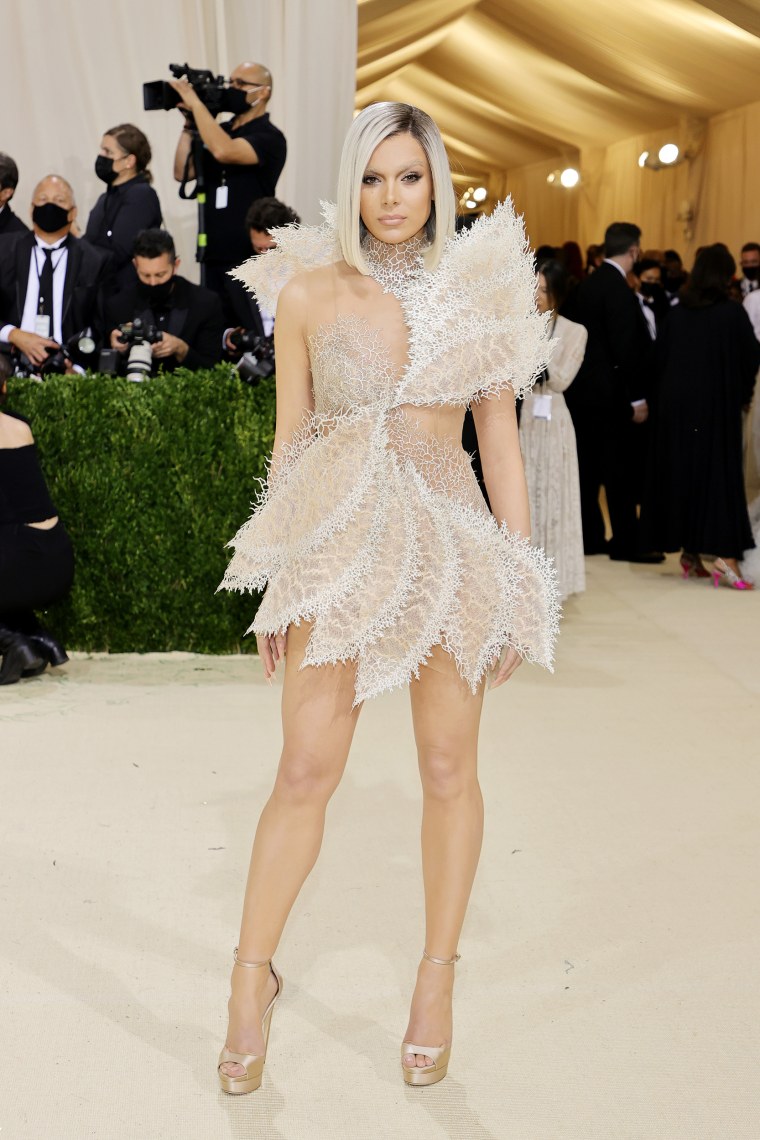 Hailee Steinfeld, is that you? The "Dickinson" actress was nearly unrecognizable in a blond bob and Iris Van Herpen dress.
Whoopi Goldberg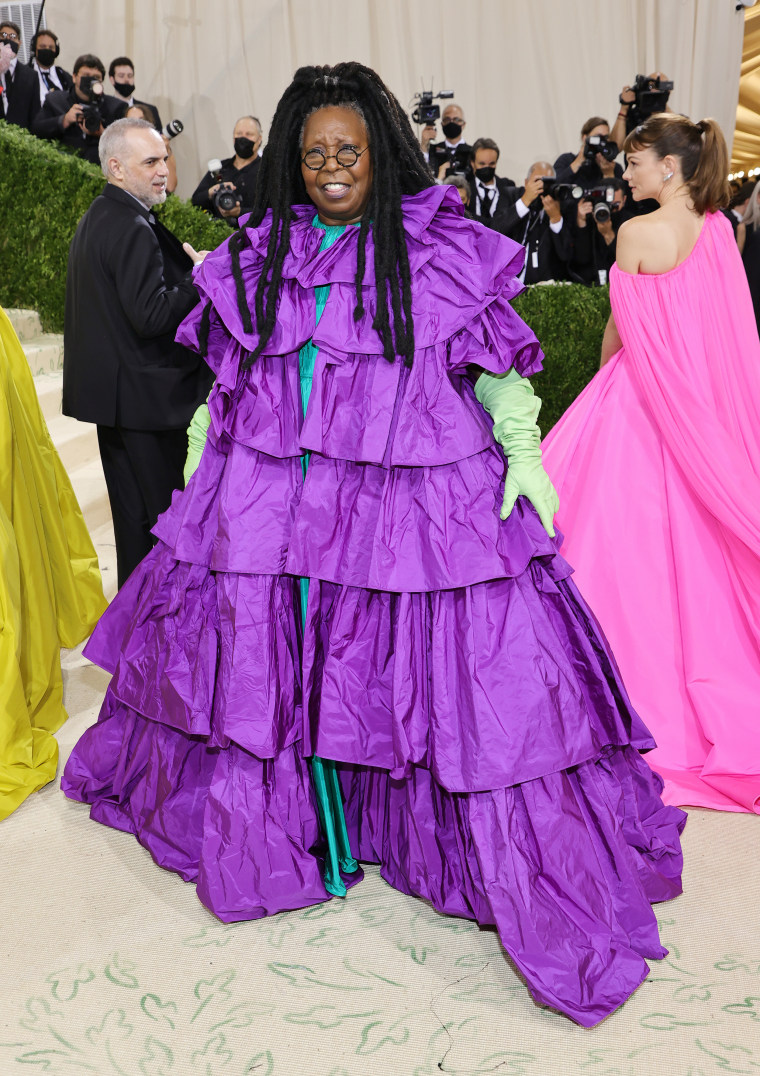 Whoopi Goldberg is the opposite of a shrinking violet in this bold, ruffled look.
Carolyn Maloney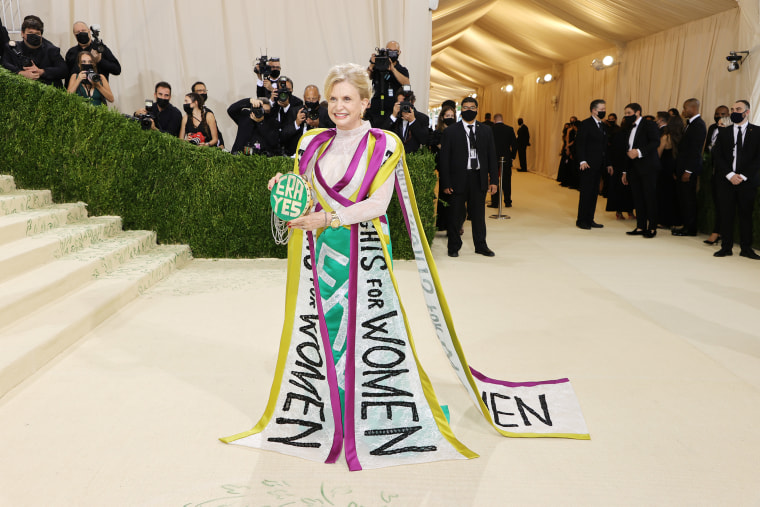 Congresswoman Carolyn Maloney, who represents New York's 12th district in the House of Representatives, is making a political statement with her fashion statement. "I have long used fashion as a force 4 change," she wrote in a Twitter post while calling for the certification of the Equal Rights Amendment.
Jennifer Hudson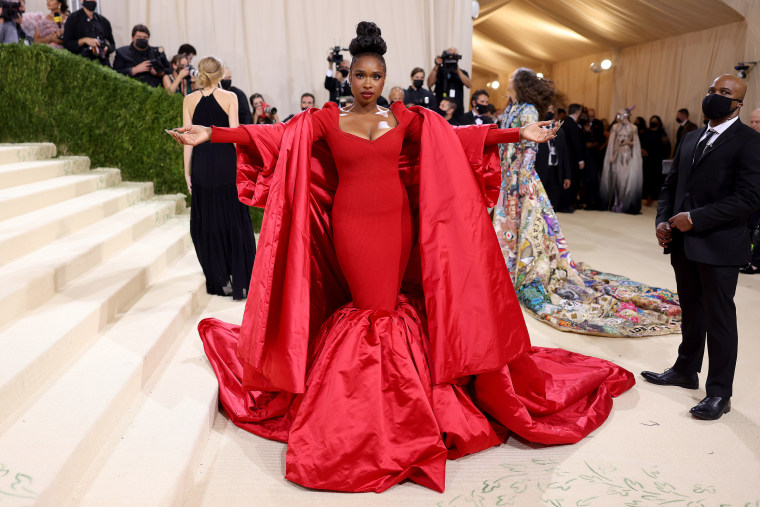 Jennifer Hudson channeled her inner diva in this red, trumpet-skirt gown paired with a tall updo.
Eva Chen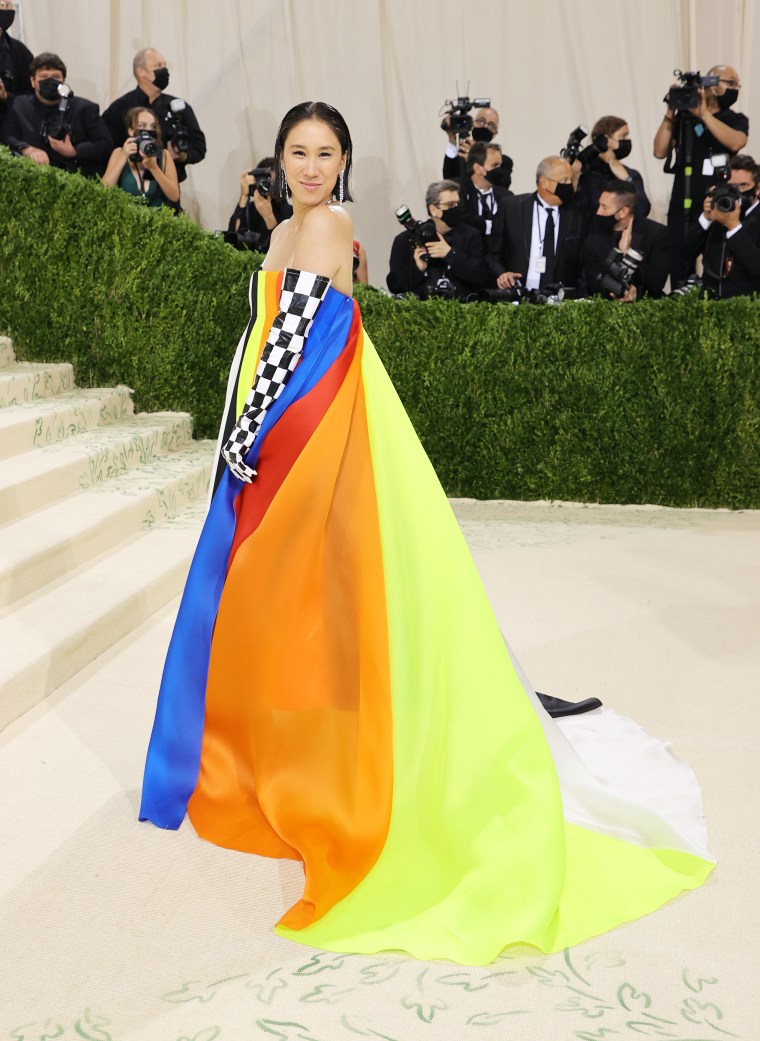 As the head of fashion and shopping for Instagram, we're not surprised to see Eva Chen in a colorful showstopper of an outfit.
Anna Wintour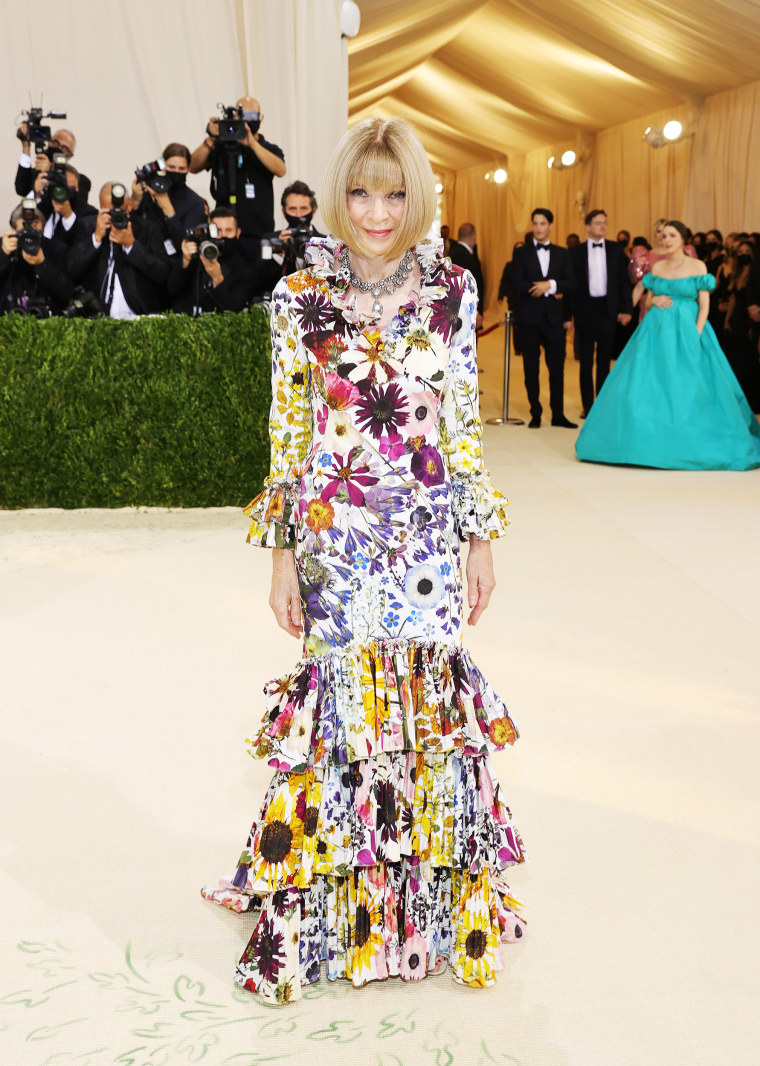 Covered in florals, the Vogue editor-in-chief and belle of the ball (she's a longtime chairwoman of the event) told TODAY's Sheinelle Jones that she's wearing a vintage Oscar de la Renta gown.
Adrien Brody and Georgina Chapman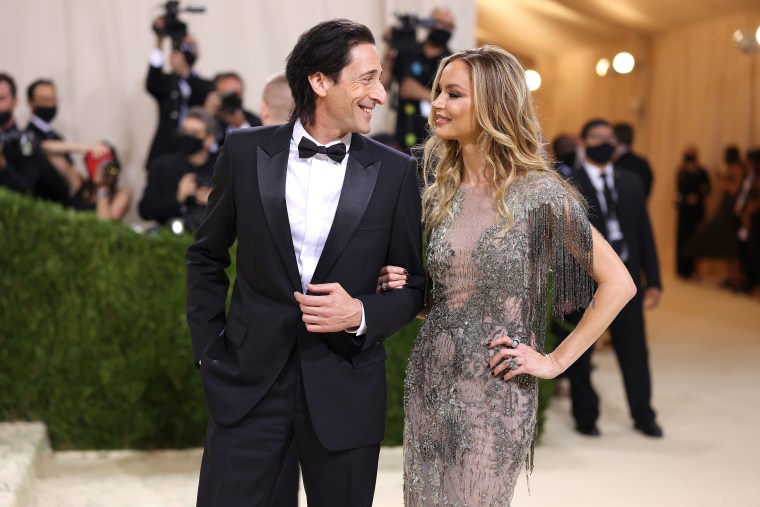 New couple alert! The actor and Marchesa designer strode arm-in-arm up the Met's famous stairs.
Elliot Page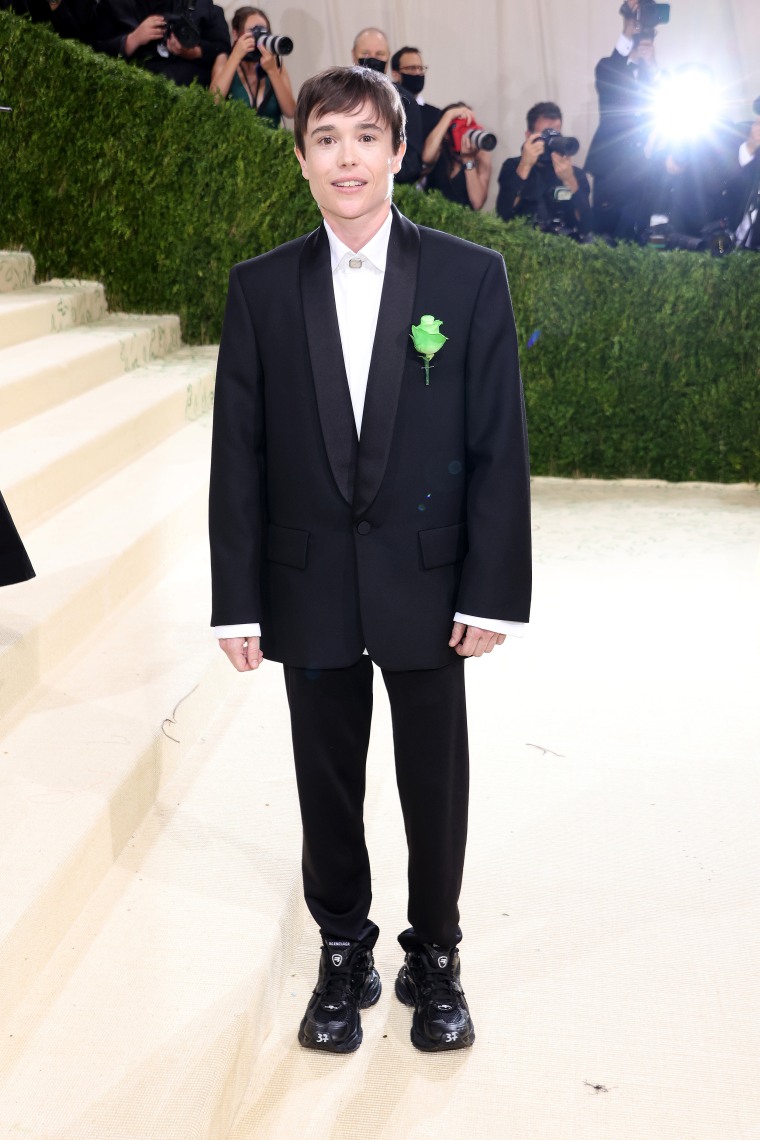 The actor kept his look comfy with matching black sneakers to go with his toned-down tuxedo.
Emma Chamberlain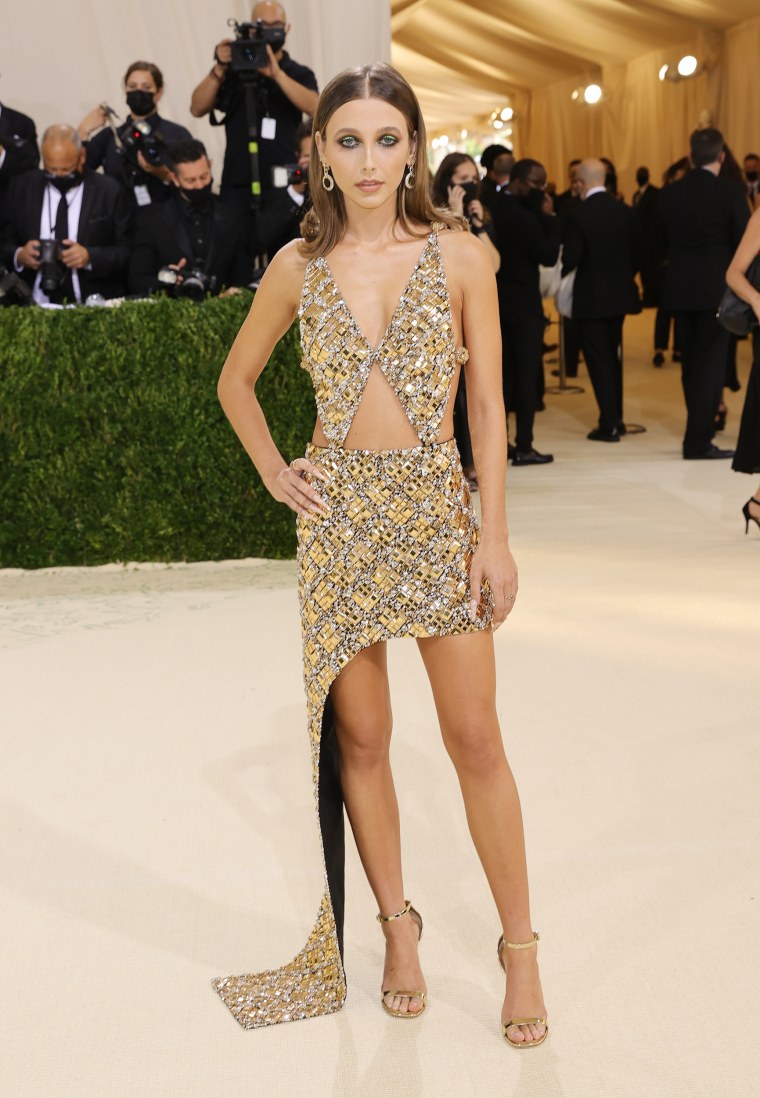 The YouTube star has shed her signature sweats for this high-glam look from Louis Vuitton.
Julia Garner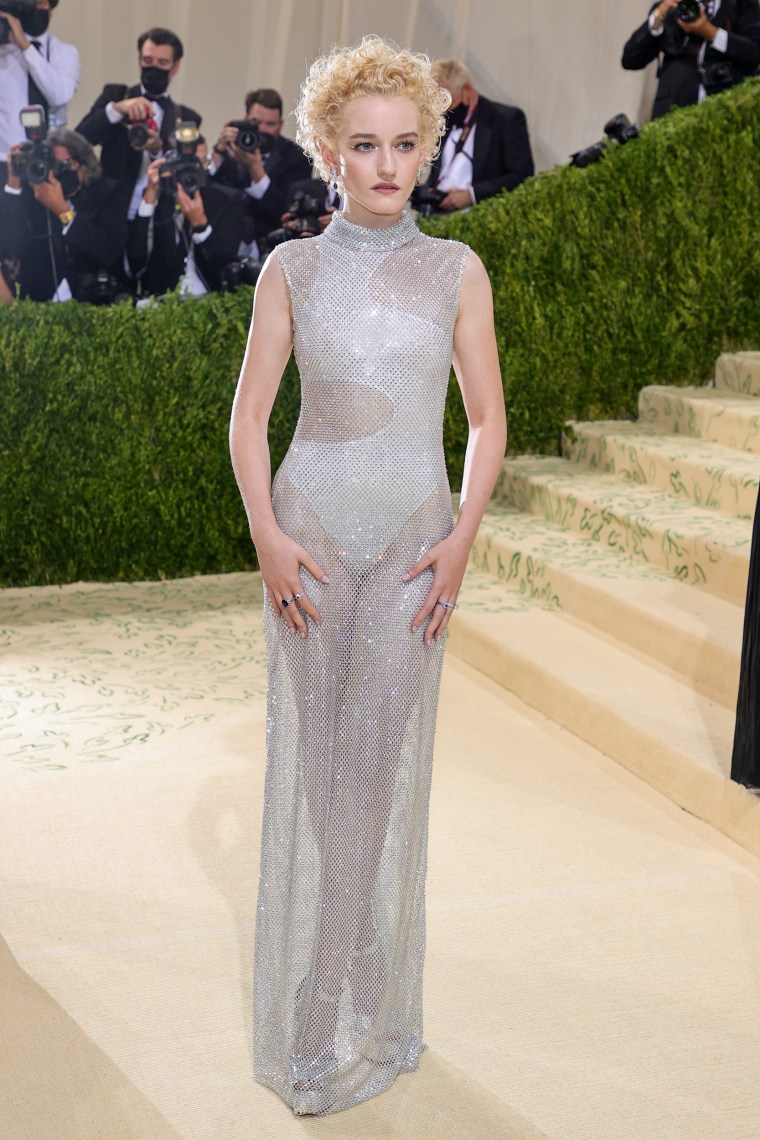 The "Ozark" star shined on the white carpet in this mesh-covered Stella McCartney column dress.
Ben Platt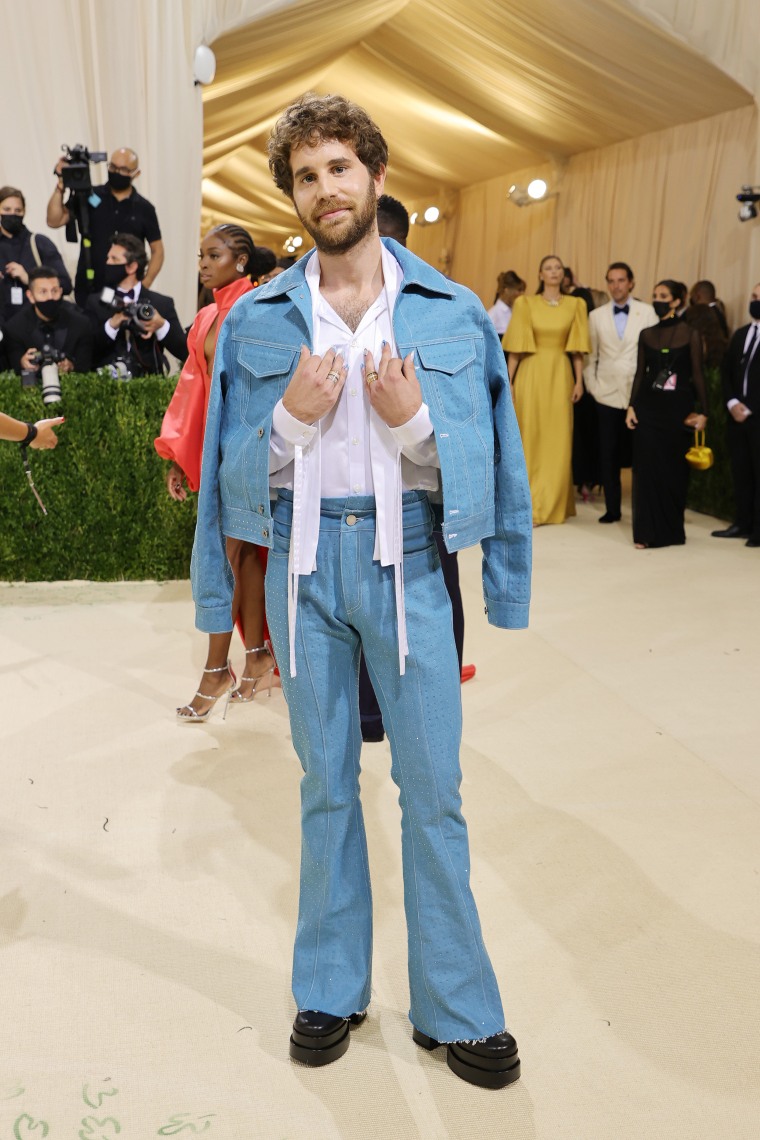 Looking groovy! The Broadway star, who is bringing his hit show "Dear Evan Hansen" to the big screen, rocked head-to-toe denim, bell bottoms and high platforms.
Tom Ford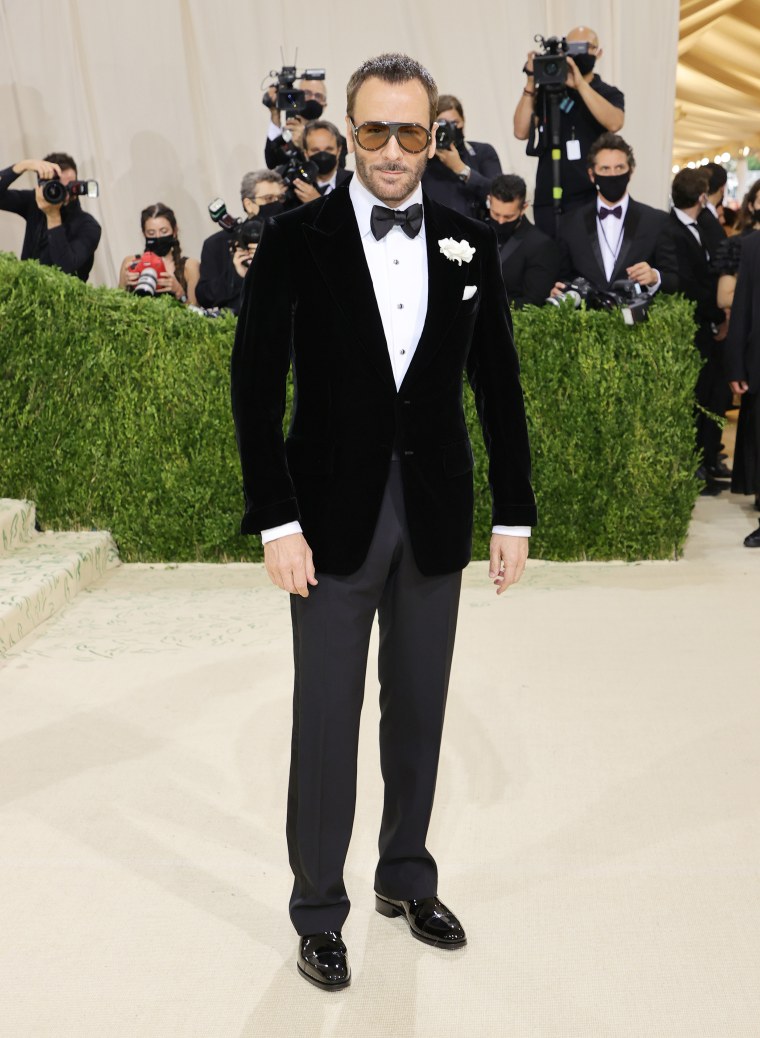 The designer, who optimizes American luxury, was perfectly on theme at the 75th anniversary event.
Keke Palmer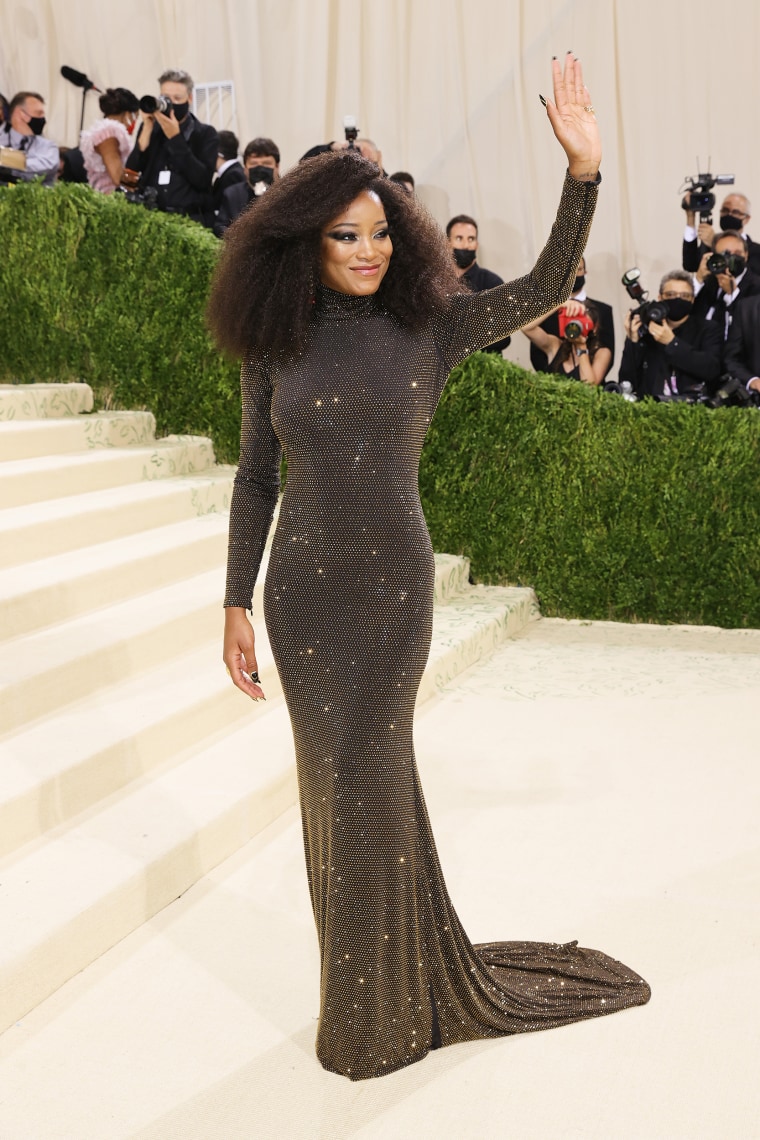 Keke Palmer proves that sometimes the sexiest dresses show the least amount of skin. This slinky number with long sleeves and a turtleneck is sophistication at its finest.
Ilana Glazer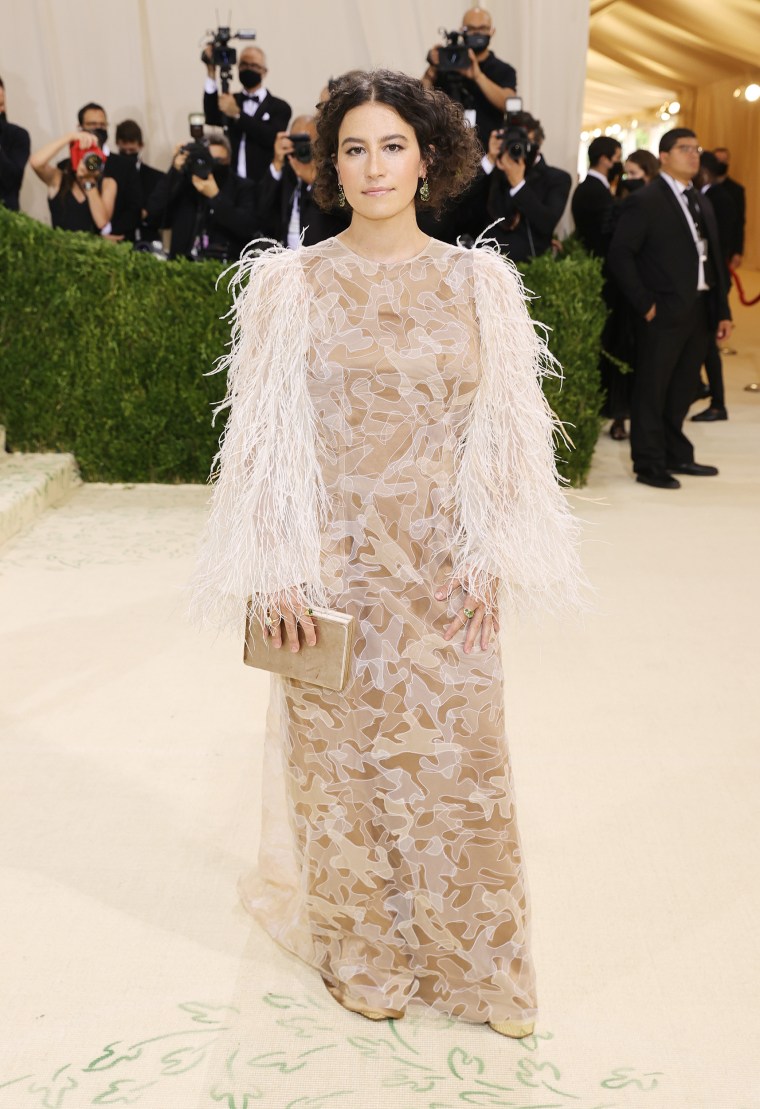 Is there anything more glamorous than feathers? Ilana Glazer looks effortlessly chic in this light-as-air gown.
Rachel Smith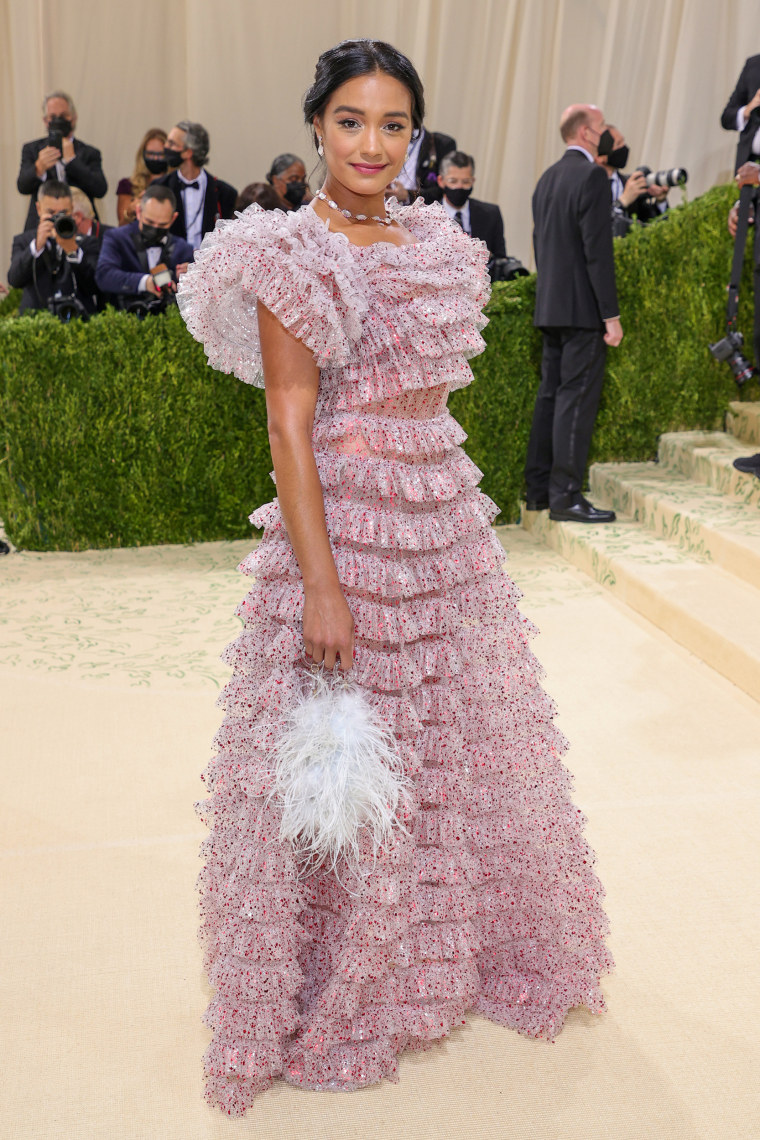 With ruffles and polka dots, this sweet dress makes a statement on the white carpet.
Leon Bridges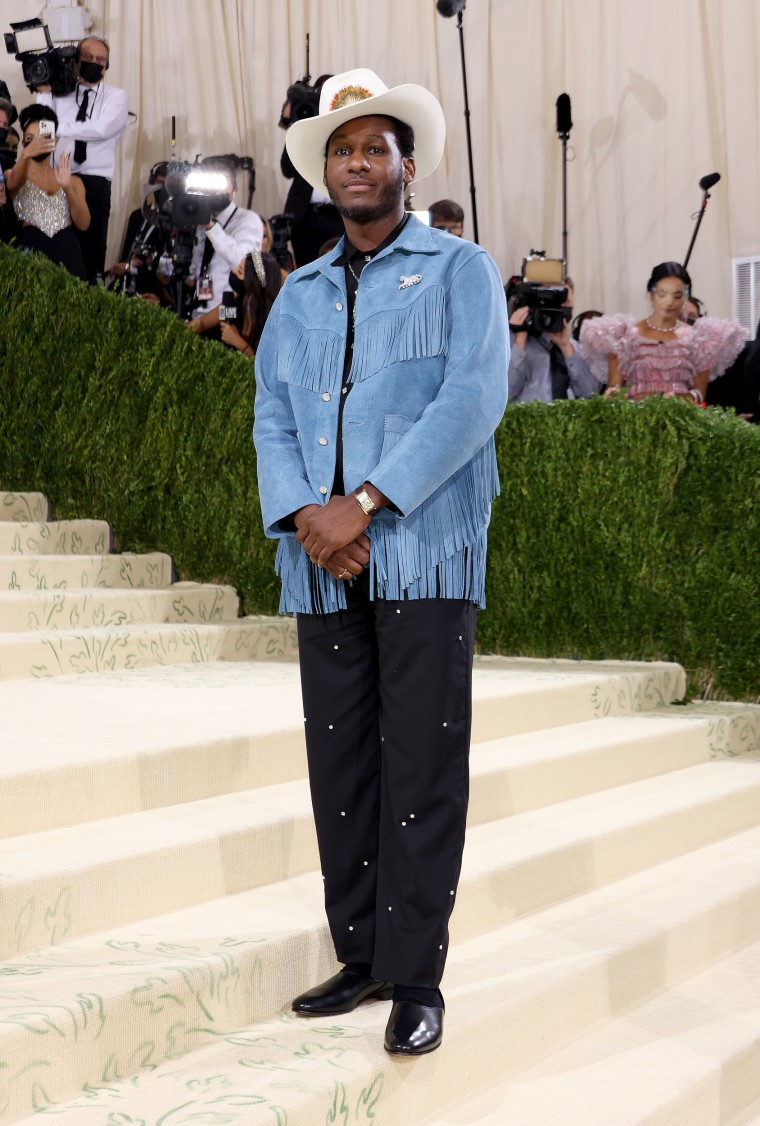 The soulful singer is just as smooth when it comes to fashion!