The Met Gala is touted as one of the most glamorous nights in fashion, but for those of us covering the stories and styles, it's less glitz and a lot more grit. Here's what really happens when the stars align for one of the most exclusive events in New York City.
(That's me! All dressed up and exhausted after a long day of covering the red carpet.)
4:30 — Press check-in for The Met Gala, which means waiting in line amongst 250 photographers and videographers who will be covering tonight's event.
5:07 — Press call. Every crew is assigned a number — this number determines your position on the infamous Met museum steps. They load in from the top of the steps to the bottom of the steps. Writers first, video crews next and photographers last.
5:56 — Our host, Anna Wintour, arrives with her daughter Bee Shaffer. She poses for a few photos and only speaks with one reporter, Alicia Quarles, my good friend at E! News who told me that despite Anna's icy reputation, she's as sweet as can be and very excited for tonight's event.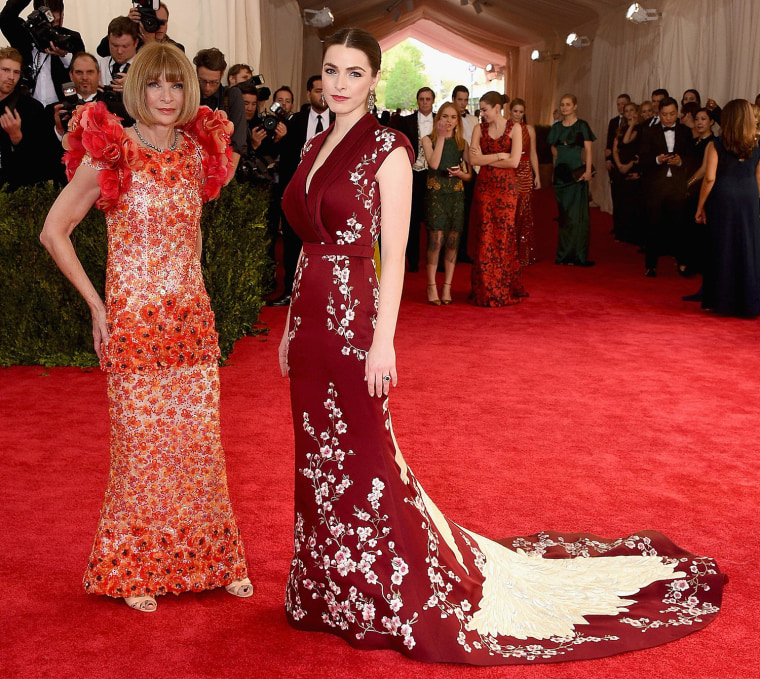 6:36 — One star that never disappoints on the red carpet: Sarah Jessica Parker. Her Phillip Treacy headdress is a total showstopper and has the photographers going crazy! With all the attention on her incredible hat, many people didn't hear that she actually designed her own dress with H&M as part of their eco-friendly Conscious Collection. Should we anticipate an upcoming collaboration line?? Here's hoping!
7:12 — Solange Knowles hits the carpet in a dress that will hopefully make everyone forget her drama from last years Met Gala ... but how will she be able to sit down in that gown?!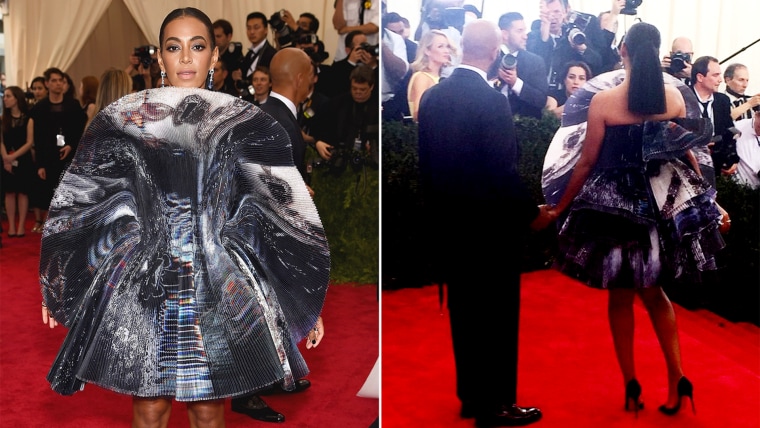 7:41 — Sophia Vergara steps on Amal Clooney's train (by accident of course!) briefly causing a lot of fussing and gasps from their respective stylists. I caught another moment while Amal made her way up the carpeted steps.
7:49 — The Biebs. In Balmain.
7:57 — Red carpet traffic jam! J.Lo, Kim Kardashian and Kanye West all hit the red carpet at the same time! Photographers don't know where to point their cameras!
8:06 — Madonna and Katy Perry pose for pictures together — two pop worlds collide!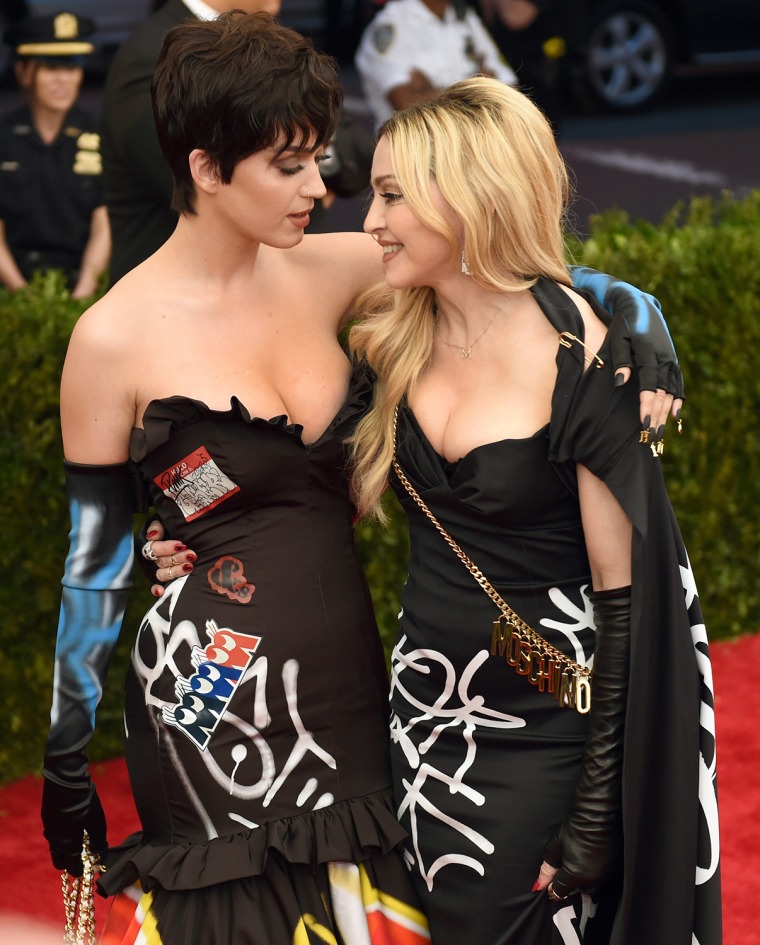 8:19 — Lada Gaga and her date, fashion designer Alexander Wang, have arrived. Her train also requires all hands on deck ... or at least Mr. Wang's hands. Their Met Gala after-party happens to be the hottest ticket in town.
8:23 — Rihanna arrives on the red carpet with three dedicated attendants in tow to help fluff her massive cape and ensure it looks picture perfect.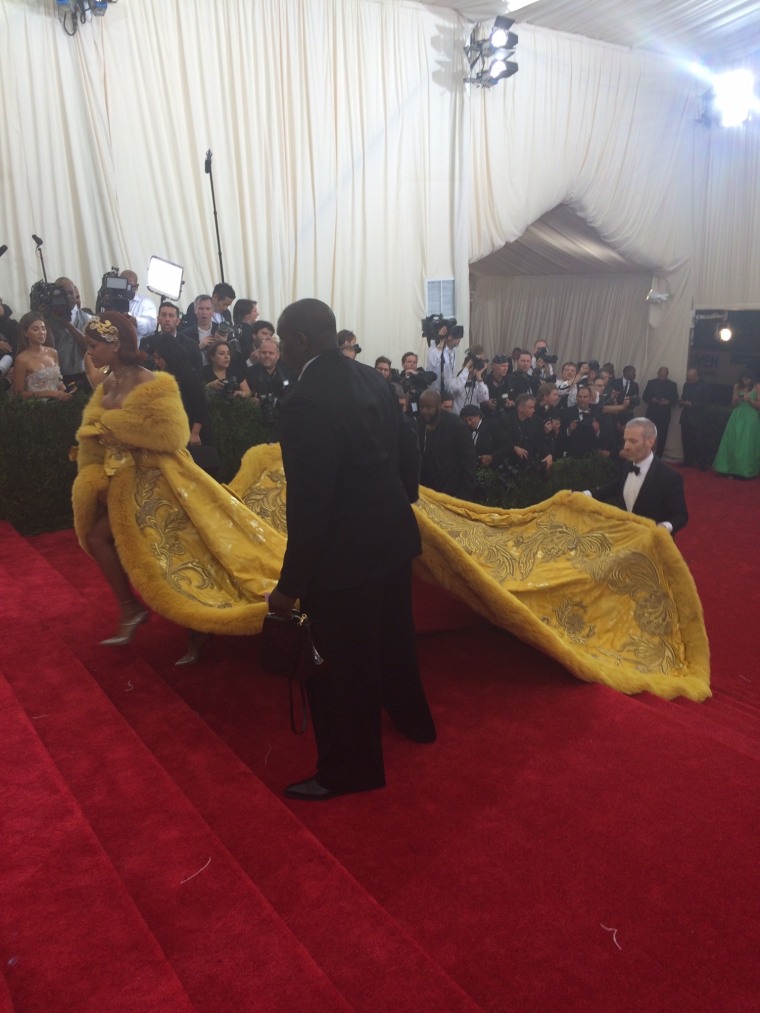 8:34 — The (empty) carpet is patiently awaiting the arrival of Jay Z and Beyonce.
9:09 — It's been almost an hour since anyone set foot on the red carpet. I'm restless, hungry and my feet hurt. Beyonce, where are you?
(Do you see my mean mug? I'm not actually as mad as I look, since I'm posing with my friends and fellow style gurus Brad Goreski and Zanna Roberts.)
9:48 — Finally. After posting several photos of herself to Instagram, Beyonce shares her look with the rest of the world as she arrives at the Met Gala almost two hours late on the arm of her husband, Jay Z.
9:51 — And just like that, she's done with the red carpet.
9:55 — Time to call it a night. And that's a wrap on The 2015 Met Gala!