Meghan Trainor is not a woman who has a problem saying "No" (it's the name of her latest hit) — so when the Grammy-winning artist behind "All About That Bass" discovered she'd gotten a virtual waist tuck in her new music video, she let everyone know that this was not her doing.
And then she had the video pulled from online.
The music video for "Me Too" debuted on Monday, but Trainor had it taken down within hours and posted a Snapchat video explaining why.
MORE: Meghan Trainor on why she can't stand the term 'plus size'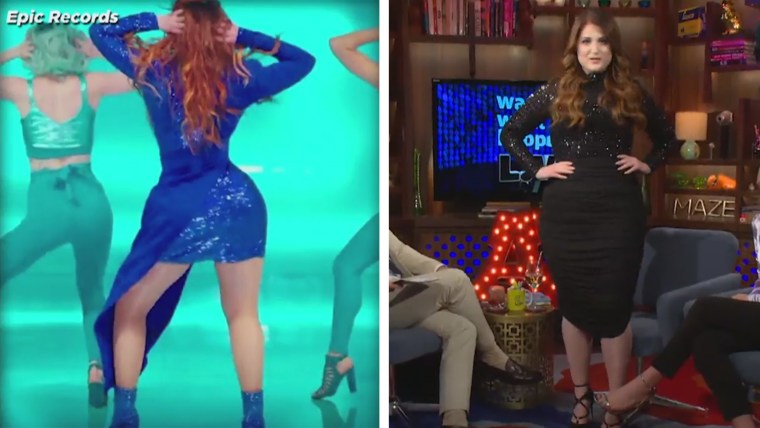 "They Photoshopped the crap outta me," she said. "My waist is not that teeny, I had a bomb waist that night, I don't know why they didn't like my waist. But I didn't approve that video, and it went out for the world, so I'm embarrassed."
She also posted this devilish frowny-face to Twitter:
Naturally, this topic came up when she visited Bravo's "Watch What Happens Live" on Monday night. As she explained to host Andy Cohen, "I was so upset because I thought the fans were doing it online with this screenshot and then I was like, 'Oh my god, it's my own video.' So I called the gods of Vevo and they took it down."
She showed off her actual body shape to the audience, while Cohen posted a picture of a much adjusted version from the video, which shows a day in the life of a celebrity (Trainor) called "M-Train."
Clearly she's not unhappy with all of it. Here's an image from the video she left up on Instagram in which she doesn't appear to have been too adjusted:
MORE: 'Every inch of you is perfect': Singer's message goes viral in 'All About That Bass'
But there's good news for Trainor fans. As she told Cohen, "I approved a new version that should be coming out like, tomorrow morning."
We can't wait!
Follow Randee Dawn on Twitter.