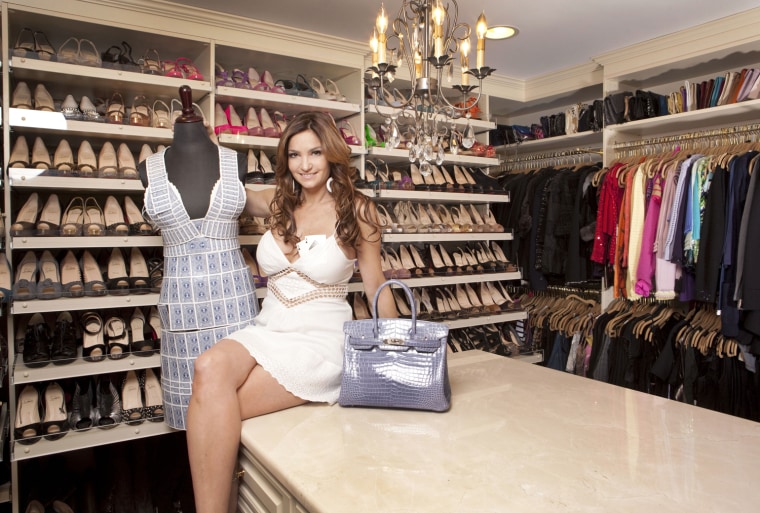 Professional poker player Beth Shak knows when to walk away -- but not from a shoe store.
The gambling girl, 41, told Footwear News she owns 1,200 pairs of shoes, including 700 red-soled beauties from her designer of choice, Christian Louboutin. The luxe kicks, which the size-seven shoe lover collects while competing, take up three closets in her Bryn Mawr, Penn. home. She estimates she's amassed $500,000 worth of high-end heels.
Carrie Bradshaw, eat your heart out. 
"It's my one happiness," Shak told the New York Post. And though her style is stiletto-centric, she admitted to FN that she wears Lanvin ballet flats on the weekend, and cycles through Havaiana flip flops on a regular basis.
Her enthusiasm for footwear is matched by the shoe makers who count her as a customer: Louboutin is so grateful for her business, they let her special-order stilettos and give her early dibs on limited-edition styles. "They pretty much just e-mail me pictures, and I get to pick what I want," she told the Post.  
So what's a shoe-obsessed girl to do next? Shak's planning to pair with a charity to donate some of her haul. She sells hoodies and tees of her own design on her website. And she'll appear in the documentary "God Save my Shoes," about the relationship between women and their sole-mates, which premieres in Paris this fall.
What do you think? How many shoes are too many shoes? Or is there such a thing? 
Read more: How many shoes do YOU own? The anchors count 'em up
Read more:
Louboutin's super-high 8" heels
Biking in heels: A do or a don't?