No one does Halloween like TODAY, which begs the question: What will the anchors dress up as this year?
For the past 20 years, the show's anchors and staff have worked tirelessly to create memorable themes and costumes for the show's annual Halloween celebration. And 2016 will be no different (though we're not giving any hints)!
To gear up for this year's event on Monday, we're taking a look back at some of the highlights of two decades of Halloween celebrations on TODAY.
2015: 'Peanuts'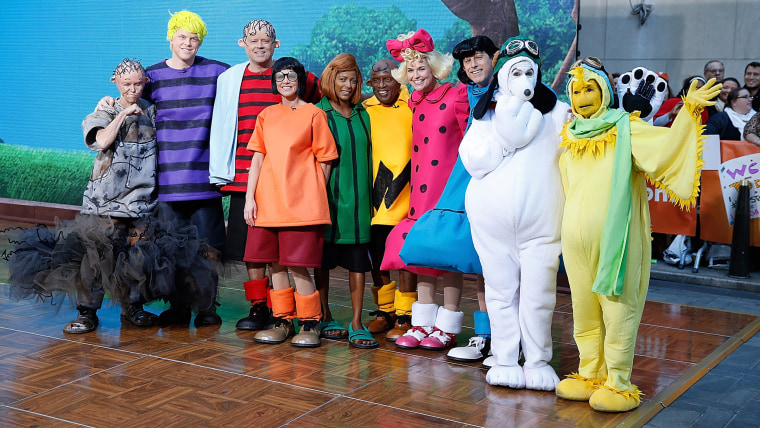 RELATED: TODAY goes nuts for Halloween: 'Peanuts'! See our Charlie Brown and the gang
2014: 'Saturday Night Live'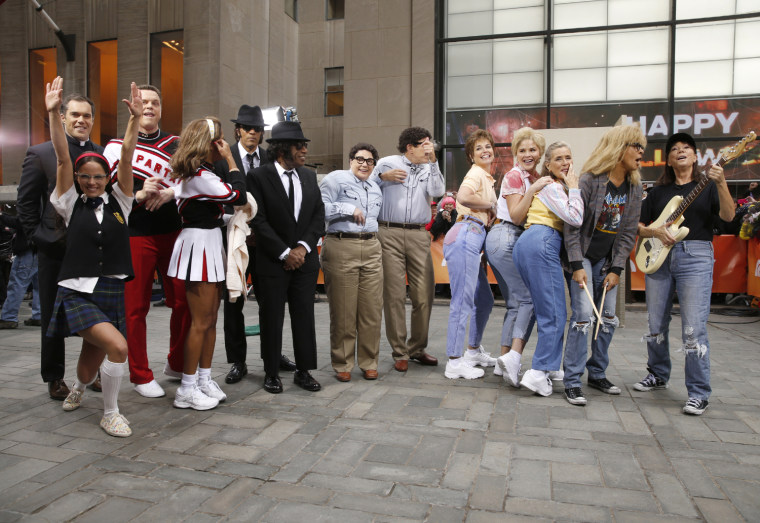 The TODAY anchors paid tribute to classic 'SNL' characters across the show's 40-year history.
2013: Vintage TV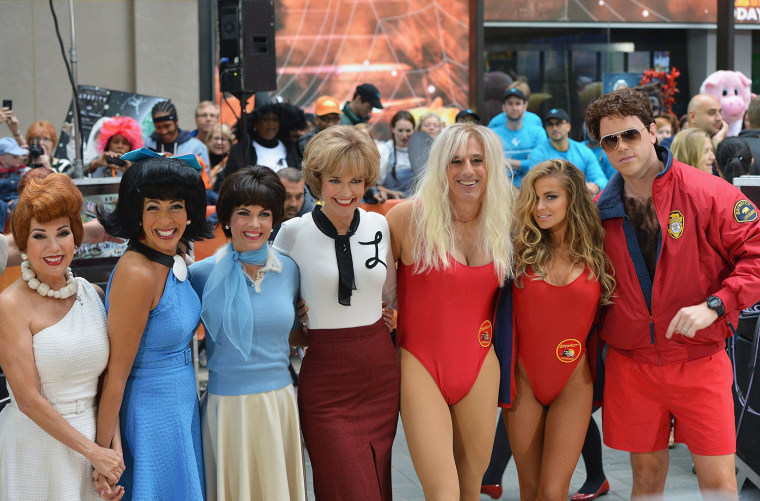 Matt made his third appearance in drag in the name of a TODAY Halloween celebration (it's beginning a Halloween tradition all its own). From "Baywatch" to the "Flintstones," check out the rest of the incredible costumes from TODAY's TV Throwback Halloween.
2012: There was no Halloween celebration in 2012 due to Hurricane Sandy.
2011: The Royal Wedding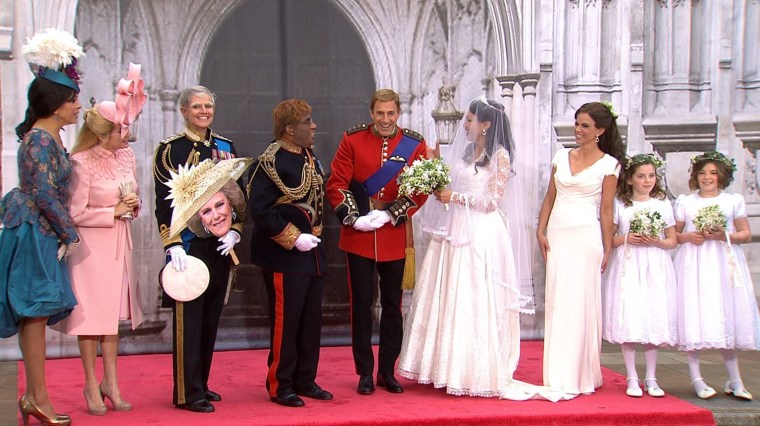 Ann and Natalie looked stunning in their elegant dresses as Kate and Pippa Middleton, but it may have been Kathie Lee and Hoda as Princesses Beatrice and Eugenie of York who stole the show. Check out more of the royal treatment here.
2010: Pop culture icons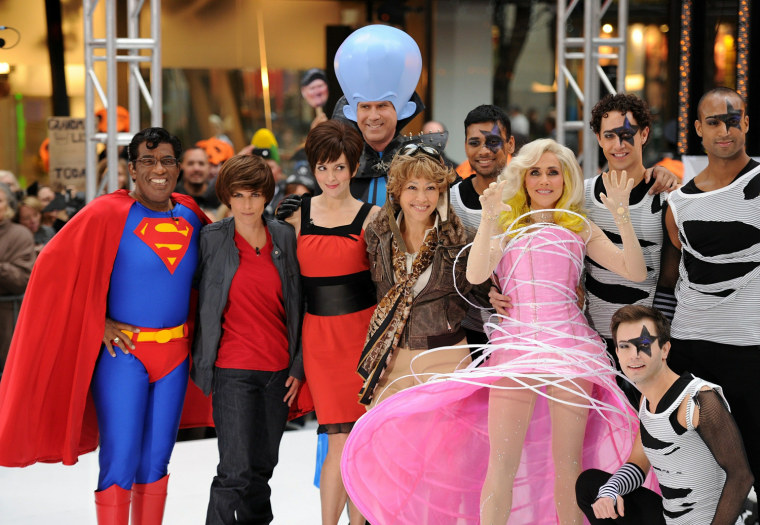 Meredith went full Lady Gaga, Natalie caught Justin Bieber fever, and Al and Ann soared as Superman and Amelia Earhart for the year of the icon. TODAY also welcomed special guests Tina Fey and Will Ferrell, who attended the party on the plaza as their "Megamind" characters. See more from the "iconic" TODAY Halloween here.
2009: 'Star Wars'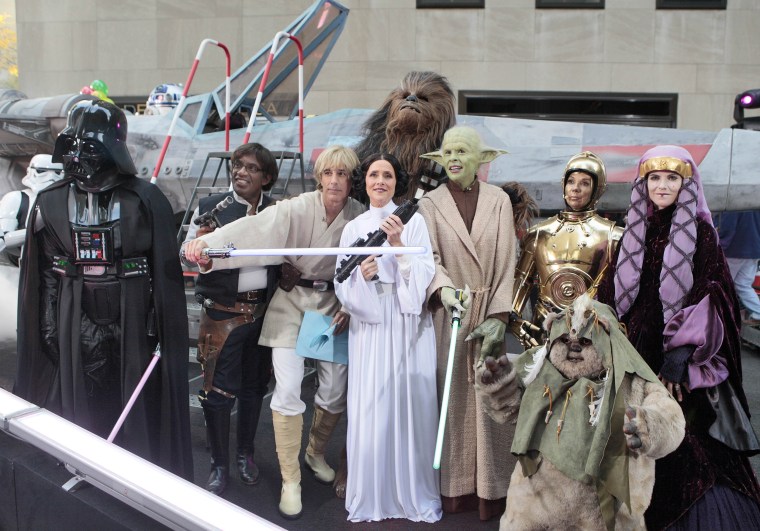 A long time ago, on a plaza far, far away ... actually, it was just five years ago that the TODAY anchors dressed up as the cast of "Star Wars," covering all the major characters, from Luke Skywalker (Matt) to Princess Leia (Meredith) to Yoda (Hoda, of course). And who could forget those crazy Ewoks? The Force was strong on the plaza that year — check out more photos here.
2008: Fairy Tales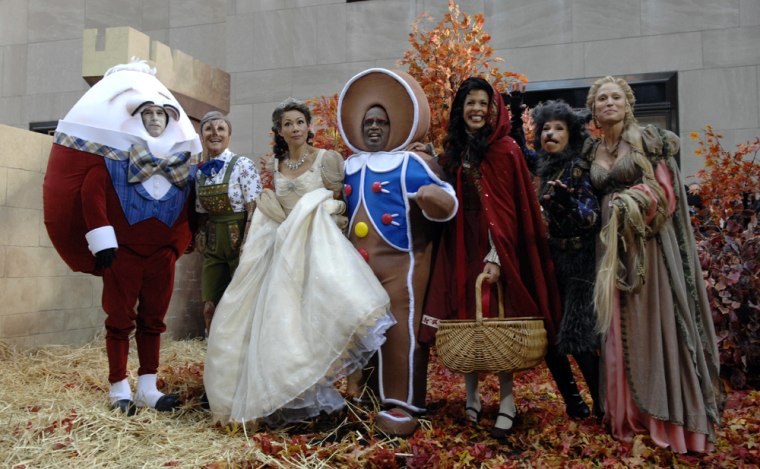 Matt as Humpty Dumpty and Meredith as Pinocchio — what more could you ask for? Well, how about Ann Curry as Cinderella, Al Roker as The Gingerbread Man, Hoda as Little Red Riding Hood, Kathie Lee as the Big Bad Wolf and Amy Robach as Rapunzel? Check out more from the fairy tale Halloween celebration here.
2007: 'The Munsters'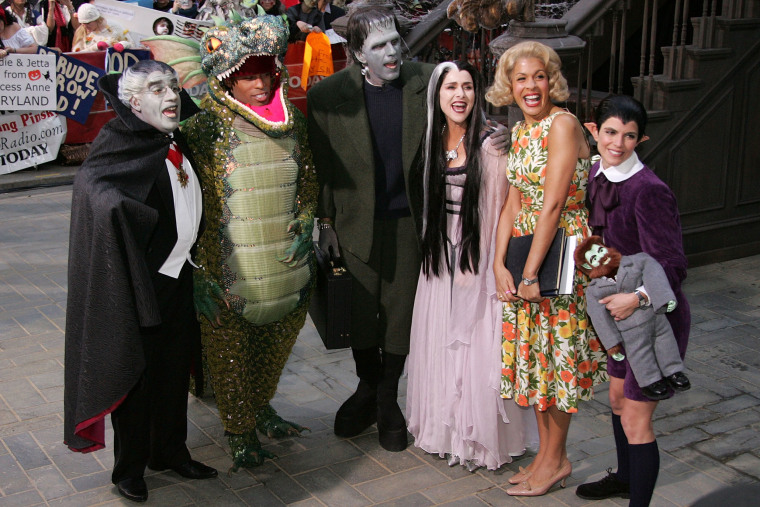 No TV show better captures the spirit of Halloween than "The Munsters." That's Hoda as Marilyn (the normal one), Natalie as Eddie, Meredith as Lily, Tiki Barber as Spot the family pet, Matt as Herman and Al as Grampa. Check out the rest of the pictures to see the full TODAY cast dressed as the Munster family in 2007.
2006: Pirates and divas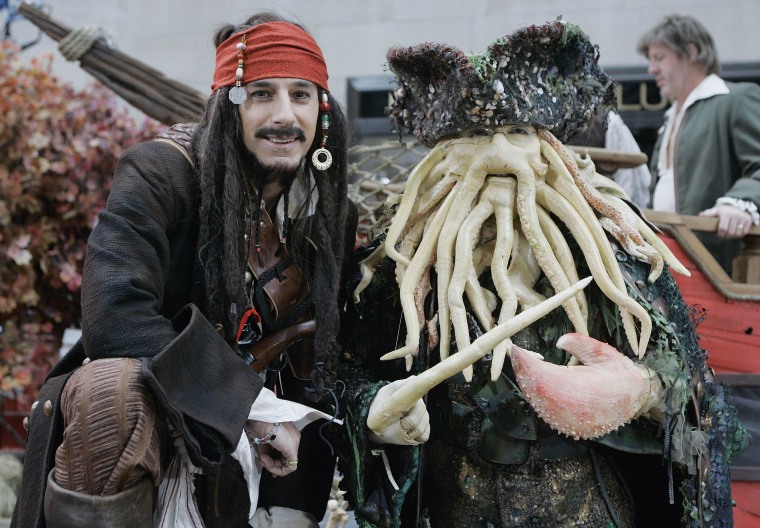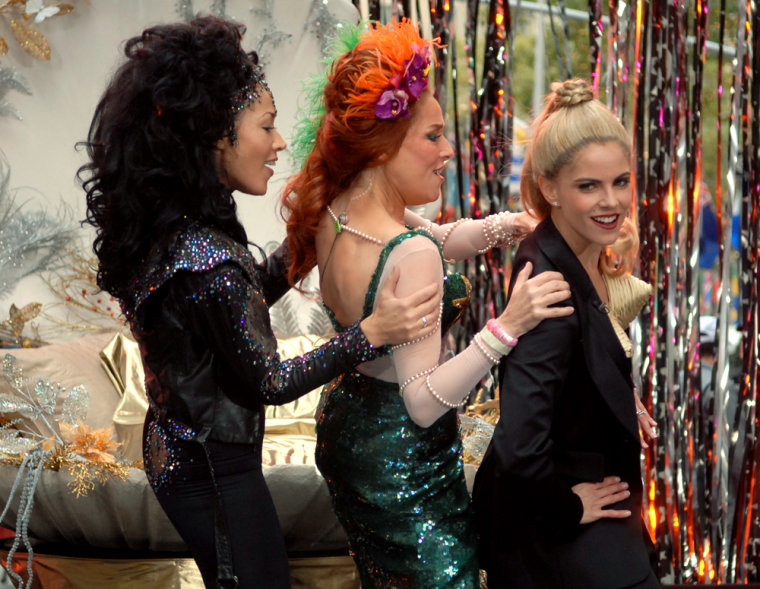 Want to see the detailed prep that went into turning Al into Davy Jones, or the transformation from Natalie to Madonna? Check that out along with the rest of the pictures from TODAY's 2006 Halloween celebration here.
2005: Movie characters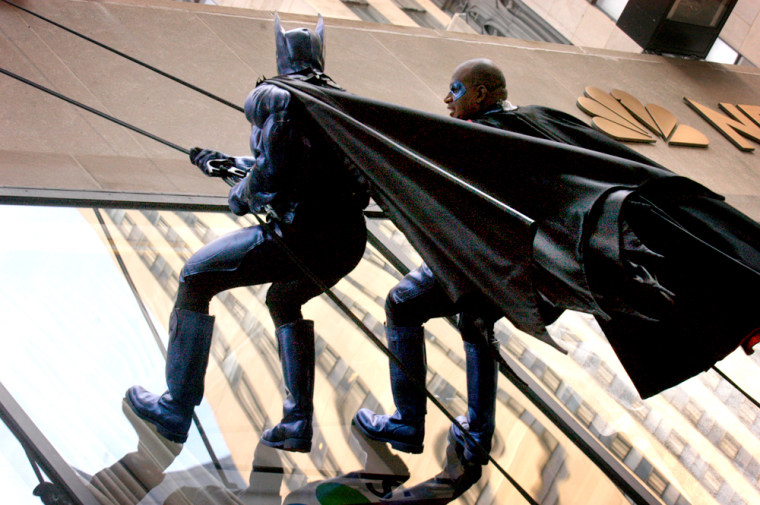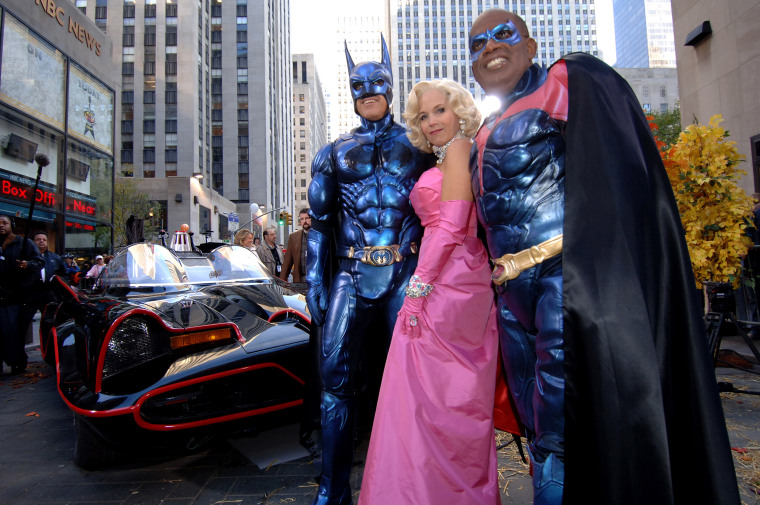 Whether you're a fan of classic movies starring Audrey Hepburn and Marilyn Monroe, or the more modern flicks like Batman and Robin, TODAY had you covered with movie-themed costumes in 2005. Check them all out here. Matt says this was his favorite entrance of all. Find out more about Matt's favorite Halloween costumes below.
2004: Paris Hilton, Oprah, Donald Trump and Tina Turner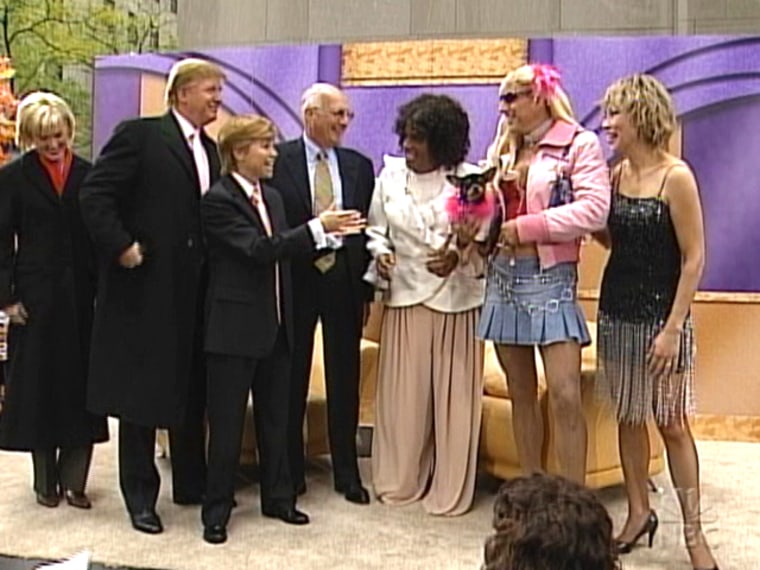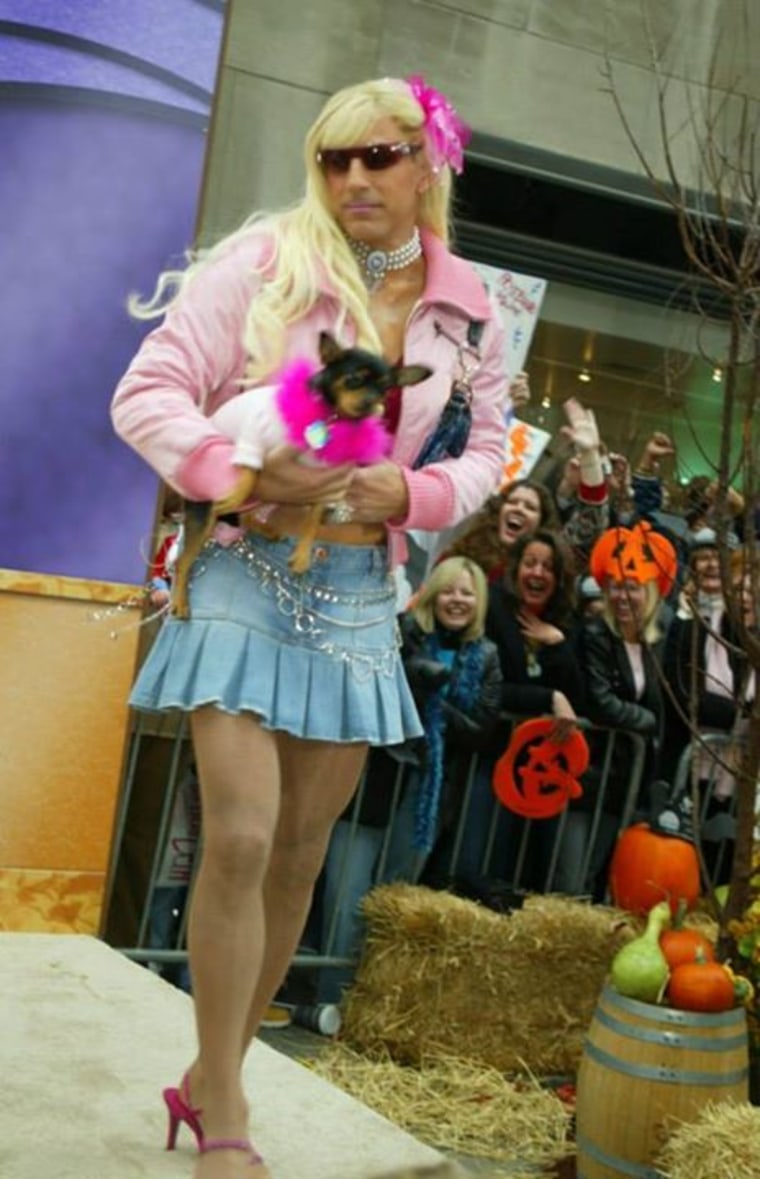 If you want to see more of Matt in drag (and who wouldn't?), watch the full costume reveal here.
2003: Simon and Garfunkel, Mary Poppins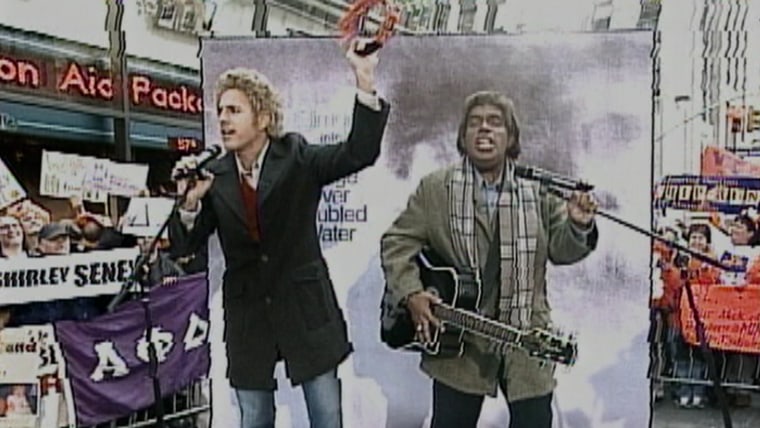 2002: Siegfried and Roy, SpongeBob SquarePants, the Statue of Liberty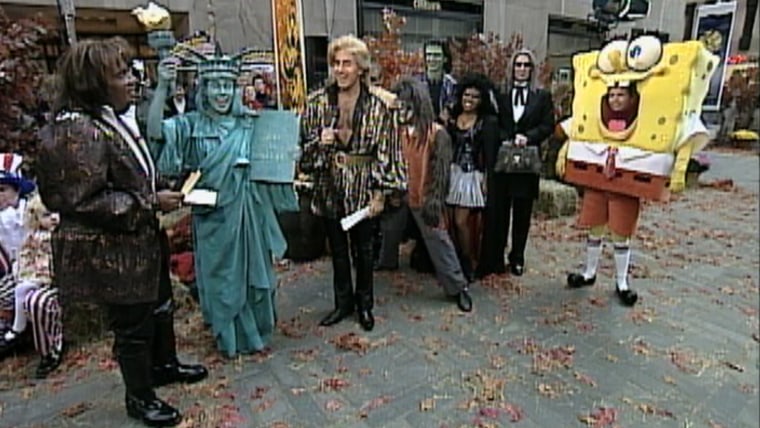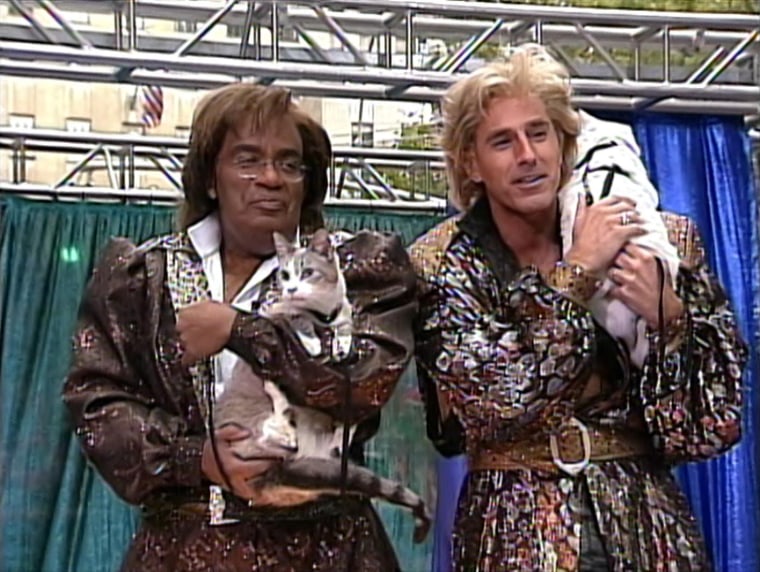 2001: There was no Halloween celebration due to the Sept. 11 terror attacks.
2000: J-Lo and Puff Daddy, Lucy of 'I Love Lucy,' Joan of Arc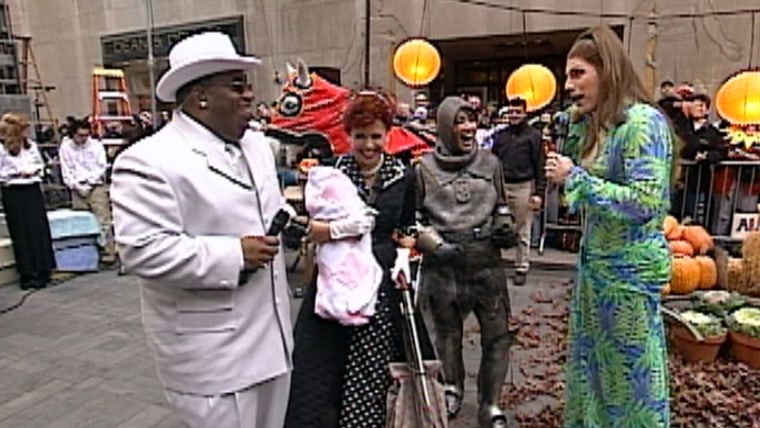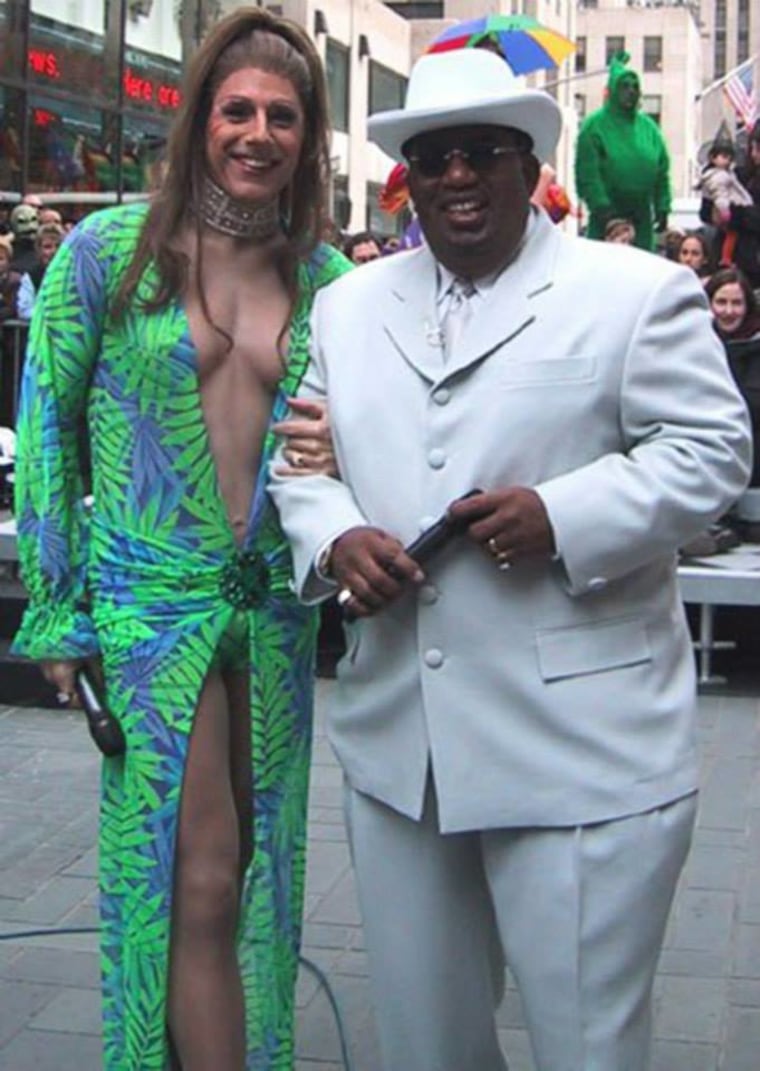 1999: Austin Powers, Dr. Evil, Pocahontas, Peter Pan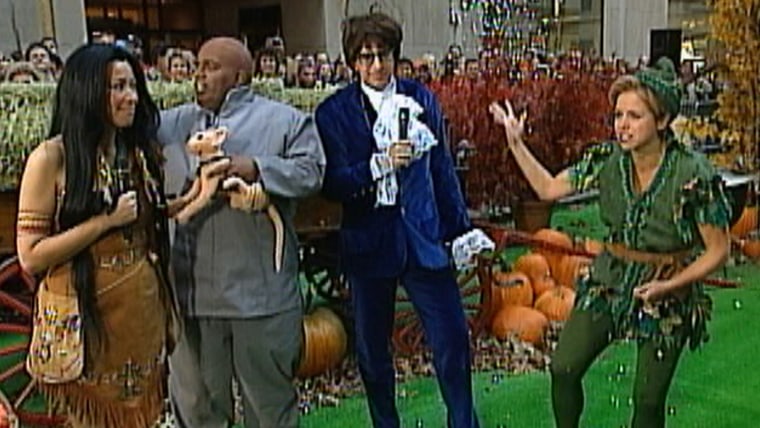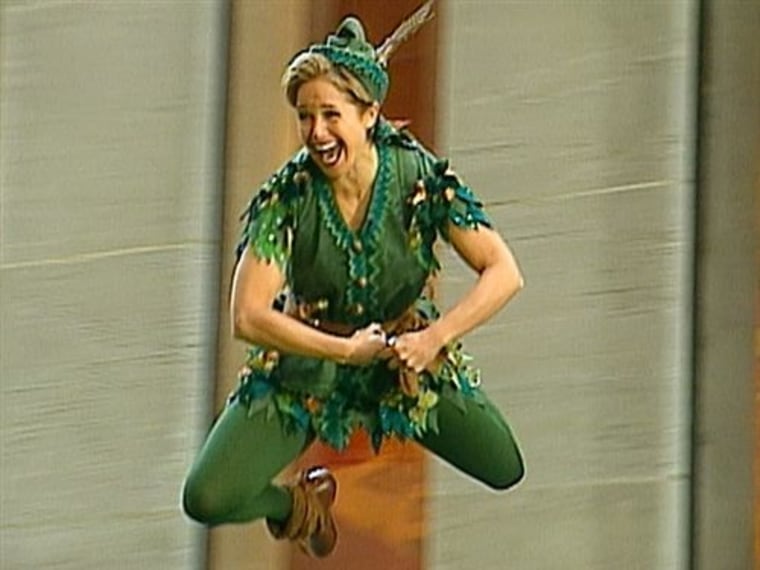 1998: Gilligan, Skipper, Wonder Woman, Dorothy from 'Wizard of Oz'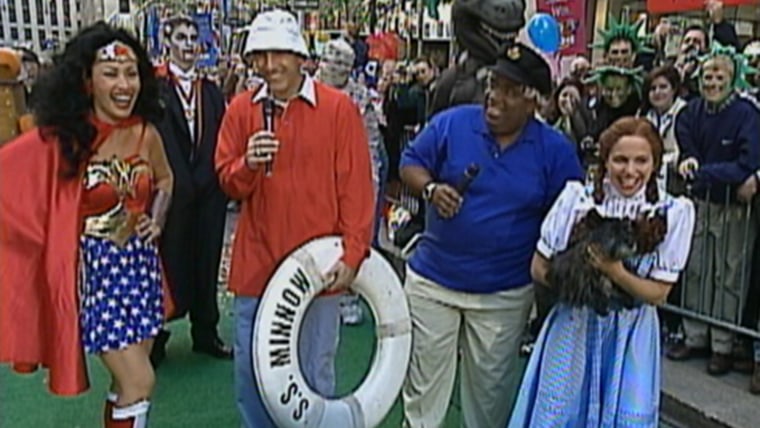 1997: The Flintstones, Mae West and Cleopatra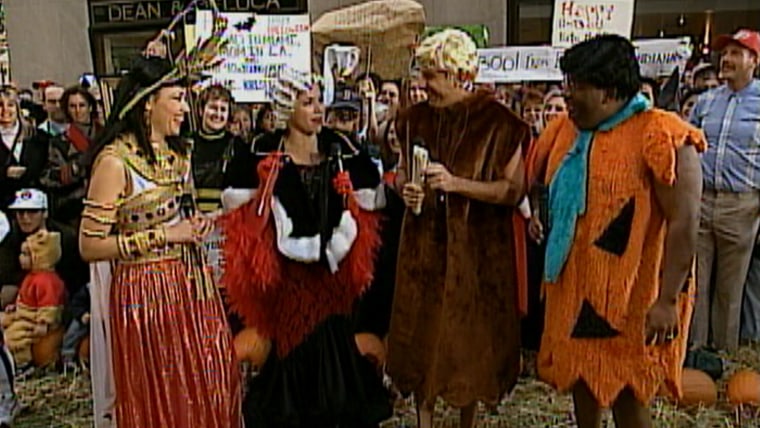 1996: 'The Honeymooners,' Marie Antoinette, Jimi Hendrix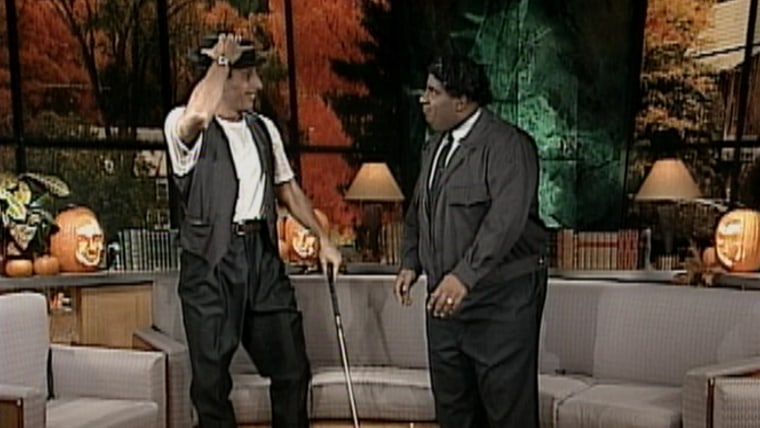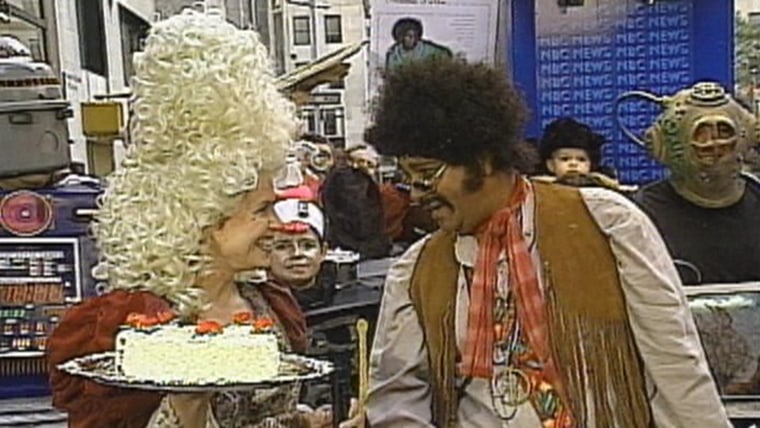 1995: General Colin Powell and a witch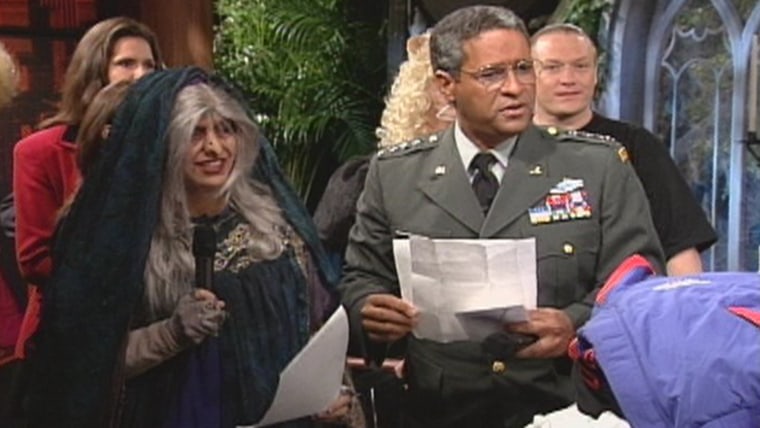 1994: Bride of Frankenstein and an old man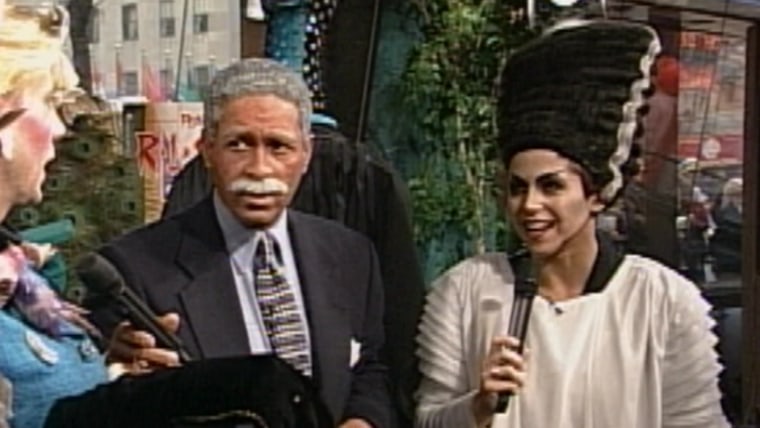 Watch the very first TODAY Halloween reveal here.
Matt and Al are known for their buddy costumes throughout the year. Watch below to find out which ones were their favorites.
And watch the video below for a look at the rest of the anchors' favorite moments from TODAY's Halloween celebrations through out the year.