/ Source: TODAY contributor
True beauty is more than just skin-deep, but sometimes it's fun to focus on the surface. From easy and amusing ways to apply your makeup to clever collaborations, Bobbie Thomas, TODAY Style editor and author of the Buzz column for In Touch Weekly, rounds up the latest and greatest offerings from the beauty industry.
Perfect vision
Farsighted females can rejoice — new makeup eyeglasses make it much easier to "put on your face" without giving you raccoon eyes or streak cheeks! Magnifico's lenses ($47.95, Magnifico's Eye Makeup Glasses) drop down,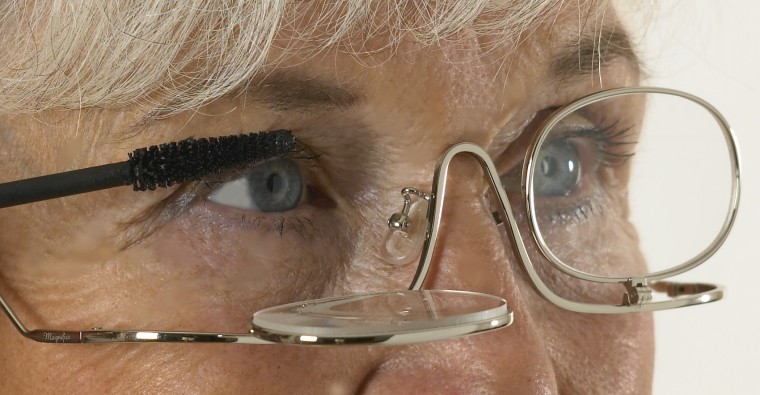 allowing access to one eye at a time, while iMagic's lenses swing from side to side ($14.95; iMagic Make-up Glasses) so you can actually see what you're doing and be ready for a close-up.
New lip service
Lip color is constantly evolving, and while sticks and glosses both had their time in the spotlight, now it seems that lip stains, oils, markers and even stamps are stealing center stage. Luxury lip stains have been around for a little while now, but newer formulations, such as CoverGirl's Outlast ($7.49; drugstore.com) and Revlon's Just Bitten ($10.49; Revlon.com), are causing quite a stir on the beauty scene.
Ramy's Lip Oils — which come in old-fashioned droppers — have become the latest celebrity favorite ($18; ramy.com). For a pre-planned pout, Lip Stamp is the latest innovation. Just pick your desired lip shape, stick a pre-shaped sponge onto the mirrored applicator, add your favorite lipstick shade and press it against your lips for a smile that suits your mood. ($24.95; Alconeco.com)
No-shine nail polish
For those gals looking to go without glossy nails, new matte polishes are popping up on the shelves. Knock Out Cosmetics has released two chalky shades for women seeking a shimmer-free look — Flatte Black and Powder White ($22; koknockout.com). For those who want to avoid any shine — or even any color — OPI is now making their Clear Nail Envy in a perfectly matte polish. ($10; nailspasupply.com) 
Makeup for men
Guys have always had their own set of grooming tools, but now many men are embracing the idea of wearing makeup, and brands are responding with primping products just for them.
Sephora has an online section dedicated to "men's complexion enhancers" that features Jean Paul Gautier's Monsieur collection with eyeliner pencils and bronzers, and Anthony Logistics for Men's Self Tanner ($14-$40; sephora.com). The Men Pen ($17.95; themenpen.com) and L'Homme YSL's Radiant Touch ($40; yslbeautyus.com) are two top-selling products that are helping men conceal unwanted spots. In addition, Man Glaze is making punk practical for men, with its hard-core black and gray nail polishes ($6.66; manglaze.com).
Hello Kitty
Two cult favorites have come together to bring back the awe that you felt as a little girl experimenting with mom's makeup! Grown-up gals still love Hello Kitty — making the brand's collaboration with MAC Cosmetics a winner. The limited-edition line debuts next week to the delight of Kitty collectors everywhere. ($11-$90; maccosmetics.com)