Keeping the smartphone generation in mind, more makeup companies are taking selfies into consideration during their product testing process — in some cases, even altering formulas when they don't look great in the bright flash of an iPhone camera.
Sarah Vickery, PhD, principal scientist for CoverGirl, told TODAY.com that the brand doesn't have any official methodology to test whether makeup is "selfie-proof," but it has tried some unscientific methods.
"[We] took iPhone photographs of employees wearing the makeup to see how it photographed," Vickery said of a recent foundation test, which she discussed this week in The New York Times.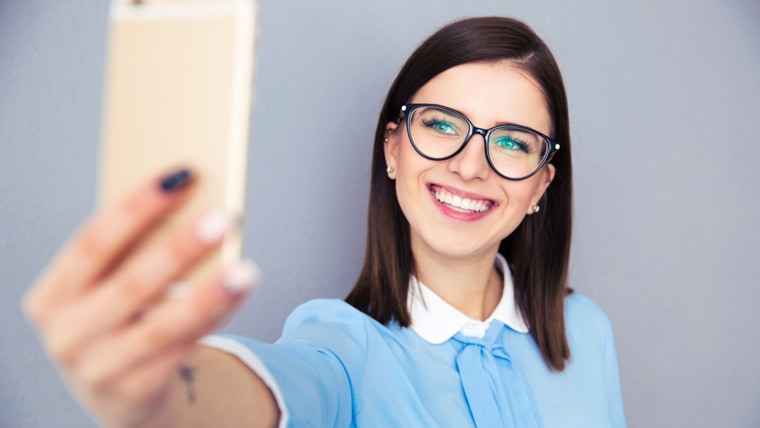 Of course, that's in addition to traditional scientific testing that measures luminosity and long-wear quality, Vickery said, but when the iPhone test revealed skin looked "too glittery in certain lighting conditions," they slightly tweaked the formula to tone that down.
CoverGirl isn't the only brand realizing how important customers who take and post selfies are to the beauty industry — and how important it is to market to that audience. Smashbox built an entire company around primers and foundations designed to look good in any light (presumably, that includes a smartphone flash), and the brand even recently introduced a "Selfie Kit" in the UK, a curated collection of products designed to perfect your smartphone self-portrait.
RELATED: 5 tips to nailing the natural 'no makeup' makeup look
While it doesn't make sense that beauty brands would significantly alter tried-and-true formulas for products based solely on a bad selfie, it's clear they're picking up on the importance of considering social media habits during the testing process. Lisa Lamberty, vice president for global and regional color cosmetics at Avon, told TODAY.com that consideration is key to maintaining a "competitive advantage" over other makeup companies slower to realize the trend.
"Developing a 'filter finish' that looks good on camera and in selfies is definitely the future of makeup innovation," Lamberty said, adding that "looking good in pictures has become an everyday affair."
That's exactly what Avon had in mind when it launched its Ultra Color Bold Lipstick last year, a highly pigmented lipstick with moisturizing technology to prevent dryness typically associated with bright colors. (Cracked lips are a selfie faux pas, after all.)
Avon doesn't use iPhones in its testing process, but Lamberty said the company is always updating its testing technologies: "This is something we might consider for the future," she said