I don't know about you, but I'm terrified of the makeup counter.
I can't count how many times I walked into the mall looking for a $20 lipstick and walk out disappointed with $60 worth of products I don't need. Then there's always that awkward moment when the makeup application isn't going as I expected and it's really tough to speak up.
So, is there a way to get a great experience? TODAY Style spoke with Emmy-award winning makeup artist and retail consultant Kevin James Bennett for the scoop, and he had a lot to say.
He armed us with the know-how tips and questions to ask so that you walk away with everything you want while making friends with the sales associate ... who can put you on the notification list for when that fancy eye shadow palette goes on sale.
1. Do your research
Stores have so many products, making it tough to stay focused. Take some time to scour your cabinets prior to your shopping trip to look for items you're running low on or want to add to your routine. And look online for products you might be interested in.
"If you walk in with intention, the sales associate can help you more effectively," Bennett said.
It's smart also to ask the sales associate if there have been any new innovations to your favorite products — you may just find a new holy grail item!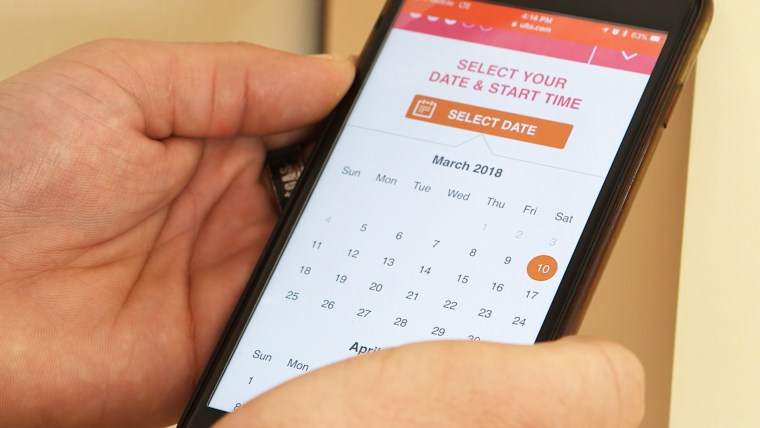 2. Don't just walk in!
"There are two schools of thought here," Bennett explained. "One, I want to get my makeup done to look pretty because I'm going out or two, I want to try out some new things because I'm not satisfied with what I have."
If you're heading in for a consultation (option two), it's smart to call ahead. The sales associate or makeup artist will allot time so you won't feel rushed. A lot of stores have made this easier by allowing you to schedule through their website or smartphone app.
Otherwise, you'll want to be clear with the sales associate ahead of time if you're looking to make a drastic change. If you're looking for a new foundation, for instance, since it takes more insight, time and trial and error than picking out a new lipstick shade.
3. Don't arrive with a clean face
It sounds counterintuitive, right? Doesn't it make sense to walk in with a clean canvas? Actually, no!
"I would suggest you come in with the makeup you wear on the daily," Bennett said. "If you walk in bare-faced, we have no idea where to take you."
You should start with a dialogue about whether you're looking to update or overhaul your look. "The associate can't read your mind and it's not fair for either of you," said Bennett, adding that both parties end up frustrated.
His best advice is to ask pointedly: This is how I want to look, how do I get there? With clear directions, the associate can offer products and techniques to help.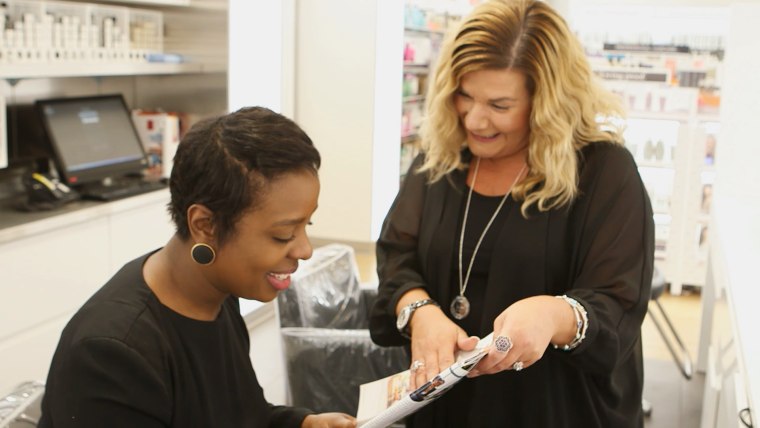 4. Always bring a visual reference
"I think it's funny when people want a natural look and bring me a photo of Kim Kardashian, which is anything but natural. It's neutral, not natural and there's a big difference," Bennett told TODAY Style.
If it's for an event, bring a swatch of your dress color or take a photo. Let the associate know whether it's casual or black tie. Ultimately, it's important to bring a visual reference for color because your idea of red might be different than the associate's idea of red.
5. Don't expect a free makeover
You heard it here first, there is no such thing as a free makeover! These associates are on the clock, you're in a high-pressure retail environment and they have to be productive during this time. "If you're going to sit for 45 minutes and they can't help anyone else, you have to commit to a certain level of purchase," he said.
"Most beauty salespeople rely on commission to supplement a lackluster hourly wage, so their time equals money," makeup artist and smart shopping expert Trae Bodge of truetrae.com told TODAY Style.
Associates are held to an average unit sale or an hourly quota as soon as you sit down. If you sat there for nearly an hour and walked out with only samples, it can negatively impact that associate's productivity and trigger bad performance review scores from their manager.
"There should be some value in your head for this service," Bennett said. Typical makeup services run $40-$60 across the country so use that as a general benchmark.It helps to be transparent as soon as you walk in. Tell the associate or makeup artist what you're looking to purchase upfront. For example, only an eyeliner and mascara.
Making that verbal commitment helps get you and the associate on the same page and takes some of the sales pressure off of both parties.
If you're mostly looking for some advice, spell that out, too. Your script can read: "I'm interested in these two items today, but I really need to update my foundation. Can we look at some foundations while you're doing my makeup and talk about it a bit?"
6. You shouldn't feel pressure to buy
You shouldn't feel immediate pressure to buy complexion items like moisturizers, concealers and foundations. "You should apply and live your day. See how it lasts," Bennett said.
These are commitment products, and you want to make sure it's the right one for you. You'll want to see it in daylight and also make sure you're not allergic.
This is a great example of when to ask for a sample. Once you go back to pick it up a few days later, make sure to point out the person who helped you choose so they make the commission for the sale. Building that relationship is key to learning about upcoming sales for a high-ticket item you've been eyeing or new launches!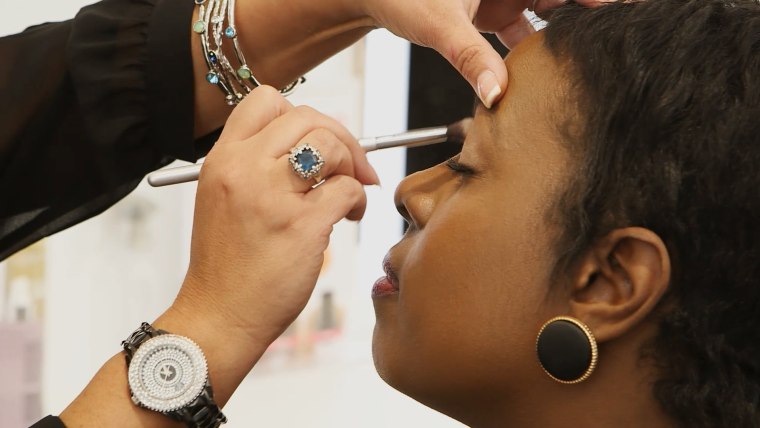 7. Ask questions ... but only when it's appropriate
If you're having makeup applied for an event, makeup artists prefer that you sit and relax while they do their job. If you're in for an actual consultation, you should feel free to ask questions along the way.
"You need to ask, 'Why are you putting this on? Why did we choose this color? Why are we doing this finish?' you need to understand the process," said Bennett. If you head home without a clue as to re-create, you'll just end up with buyer's remorse.
"When I worked in the industry, I loved when people asked questions," one makeup artist that preferred to go anonymous told TODAY Style. You as a salesperson should know everything about your product and what is in it. What makes your product stand out from your competitors? Leave them with little nuggets of information, so they themselves can make an educated decision for why that is the product that's best for them. This will make the consumer more confident in their buying decision and make you look awesome in the process.
8. Don't ask for too many samples.
"If someone offers you a sample, take one, don't ask for five because then you're asking for a half a bottle of moisturizer, and that's not cool," Bennett said.
Experts advise you ask for one sample unless it's from different categories, say skin care, makeup and fragrance. Sales associates expect this for complexion items, because you should try it at home for a few days before making a commitment.
9. Get creative with tipping!
Many stores don't allow customers to tip with cash, it's always important to ask about their policy. Passing off money into the hands of a sales associate could land them in hot water with their manager.
If cash is out of the question Bennett recommends asking if there's another way to show your appreciation. Cakes, cookies, potted plants and wine are favorites among artists and it pays off. "You're going to get the most amazing service the next time you come in," he said.
10. Speak up if you don't like how it looks
Be direct. Let the sales associate what you're looking for, and what you're not looking for, too. You can explain that perhaps you don't like the way your skin has been looking this week, but you're not sure whether it's your foundation or your skin care — they'll know where to take it from there.
Associates are looking to build a long-term relationship after having dedicated time with you, especially if it involved a longer interaction and consultation. You must speak up — even if you're shy — to guarantee the great experience you deserve
11. Top makeup artist pet peeves.
Customers who put fingers directly into the samples on the counter displays. They prefer you ask for a dipping stick or scoop, which they'll happily provide for you.
Sales associates will remember customers that buy just enough products to qualify for a free gift — then come back a week later to return everything while keeping the gratis samples. "So tacky," one makeup artist, who preferred to stay anonymous, told TODAY Style, "and most of the time the products were used, so they were not sellable."
Makeup artists see right through your scheme! "Do not walk in at 6 p.m. on a Friday night and ask to get your makeup done when you don't have any intention to purchase," Bennett said. "We look at the ceiling and curse under our breath — but we do it!"
What do you think of these tips? Let us know on Facebook, Twitter and Instagram.