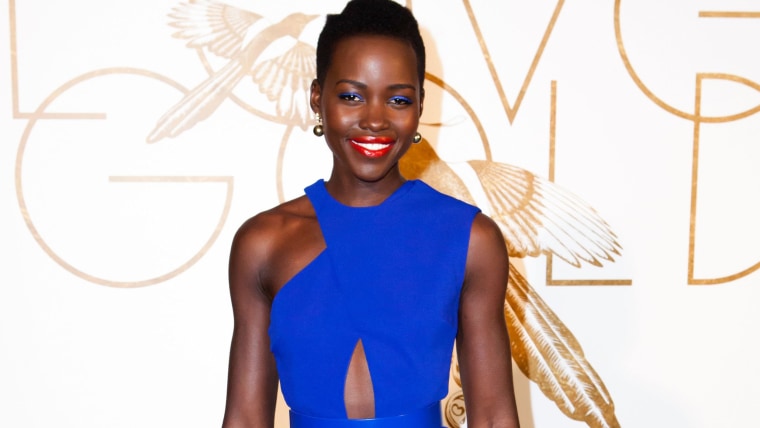 In the past month alone, Oscar-winner Lupita Nyong'o's fans have seen her beauty recognized with a Lancôme ambassadorship and the coveted title of People magazine's Most Beautiful person for 2014. But, notes her makeup artist Nick Barose, "While she has a gorgeous face, it's more than that — there is more to her — and I think her inner beauty shines through." 
That said, there's little question that the Yale School of Drama alum tops the list of the world's most sought-after faces. Here, Barose shares with TODAY.com readers his favorite tips to recreate Nyong'o's look at home.
Easy on the eyes
"It's OK to wear strong colors on the eyes, but don't overwhelm them with too much eye shadow or liner, as that can become too overpowering," explains Barose, who balances Nyong'o's signature vivid shades with a pared-back approach. "Just use a liner on top or a wash on the upper lids. I also love sheer washes of gold and bronze on her eyes." 
Arch rivals
When it comes to replicating Nyong'o bold-and-beautiful brows, "Keep it simple and elegant," says Barose. The key? "I always keep her shape, but exaggerate it a bit by filling the brows in here and there to add fullness. Use a pencil, such as Lancôme's Le Crayon Poudre Brows Pencil, and sketch in soft feathery strokes."
At first blush
"Bright color blended on the apples of the cheeks adds a pop of color that looks fresh," says Barose, who recommends deep orange or bright magenta shades. "Color that isn't rich enough won't show up and instead gives a grayish cast on darker skin."
Powder patrol
"The beauty of deep, dark skin is its natural glow; don't cover it up with too much powder," he advises. After blending on liquid foundation like Lancôme Tient Idole, "use powder sparingly — don't try to matte everything down, but instead focus on the T-zones."
Lip service 
"Don't be afraid to apply bright lipstick; just blot it down," encourages Barose. "You'll still get that bright pop of color — never washed out — but it looks more natural.

Lesley Kennedy writes for ShopAtHome.com. Follow her on Google +.