While chatting with Vogue magazine, Academy Award winner Lupita Nyong'o answered several "Star Wars" questions that likely won't spoil the latest sequel, but might fuel a few debates that have raged for decades.
For Vogue's popular "73 Questions" series, the actress called 1980's "The Empire Strikes Back" — the first sequel of the "Star Wars" series — her favorite movie in the franchise. When given an either-or option, she preferred Han Solo to Luke Skywalker, and, in the robot category, R2-D2 to C-3PO.
An Oscar winner for her performance in 2013's "12 Years a Slave," Nyong'o is expected to appear in the next "Star Wars" installment, "The Force Awakens," arriving in theaters this December. With regard to the number of "dots" she wore to create computer-generated imagery on that set, she answered, "I don't know, but I think it was more than 168."
While Vogue followed her around a studio full of dresses and shoes, Nyong'o opened a drawer to reveal a toy lightsaber, which she playfully brandished for the camera. She showcased her hula-hoop prowess later in the video.
Spoilers, however, were not about to be revealed during this Q&A. When asked twice to reveal any kind of information about the new "Star Wars" movie, she smiled both times and replied, "No."
Born to Kenyan parents and partially raised in Mexico, the Brooklyn resident showed off her fluency in three languages (English, Swahili and Spanish) while answering some non-"Star Wars" questions. In keeping with that international theme, her favorite holidays, she said, are "Thanksgiving in America; Christmas in Kenya; and El Dia de los Muertos in Mexico."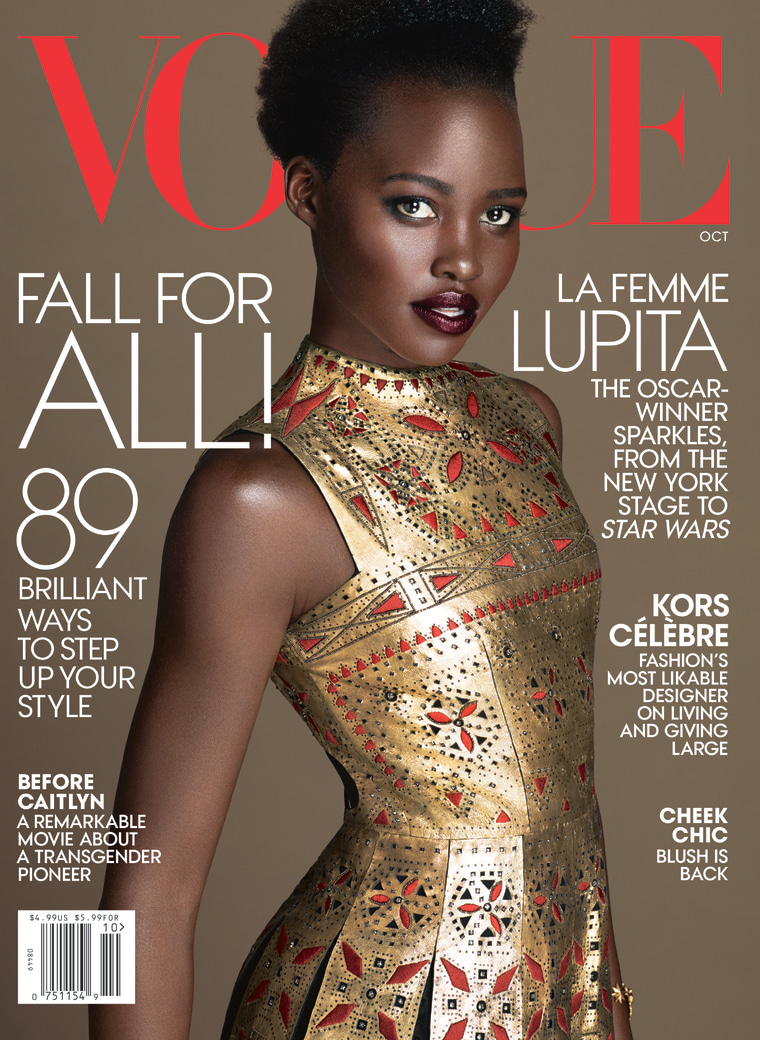 Even her makeup artist chimed in with an inquiry about the actress' first pet. ("A puppy named Princess," Nyong'o replied.)
Here are more highlights from Vogue's rapid-fire conversation:
Typical breakfast? Plantain, sweet potato, and blueberries
Best way to spend a Saturday in Brooklyn? "A farmer's market, and a walk in the park, and a movie."
Favorite beverage? Pineapple juice
Most influential fashion icon? "My mommy."
Favorite comedy of all time? "Maybe 'Bridesmaids.'"
Kittens or puppies? Puppies
Favorite living musician: John Legend
The Vogue issue featuring Nyong'o arrives on newsstands Tuesday. In the meantime, you can watch other celebrities — such as Nicole Kidman and Victoria Beckham —answer "73 Questions" of their own.
Follow TODAY.com writer Chris Serico on Twitter.