Following complaints from thousands of customers over the sizing and quality of LulaRoe leggings, a women's retailer that sells its products through independent fashion retailers across the country, the company has issued a new refund program. Through the new "Make Good Program," customers can contact any independent retailer or submit a claim to receive a full refund on any defective items purchased between January 1, 2016 and April 24, 2017.
LulaRoe also announced that they are enforcing a new "Happiness Policy" which will allow customers to return their purchase for a full refund, credit or exchange within 30 days if they are unsatisfied with their purchase.
In a statement emailed to TODAY Style, a LuLaRoe spokesperson said it stands behind their products and customer service.
"We take pride in our clothing and want everyone who wears LuLaRoe to be happy and satisfied with their product," the statement explained. "We've listened to questions that consumers have shared about the quality of our leggings, and know firsthand the importance of generous customer service that meets customer expectations."
Thousands of women continue to take to Facebook to voice their frustrations about their leggings. The private Facebook group, LulaRoe Defective/Ripped/Torn Leggings and Clothes, has grown to more than 27,000 members. Many of those members are voicing their frustrations over the new policy, citing that it's up to the independent retailer to decide whether or not to refund the customer.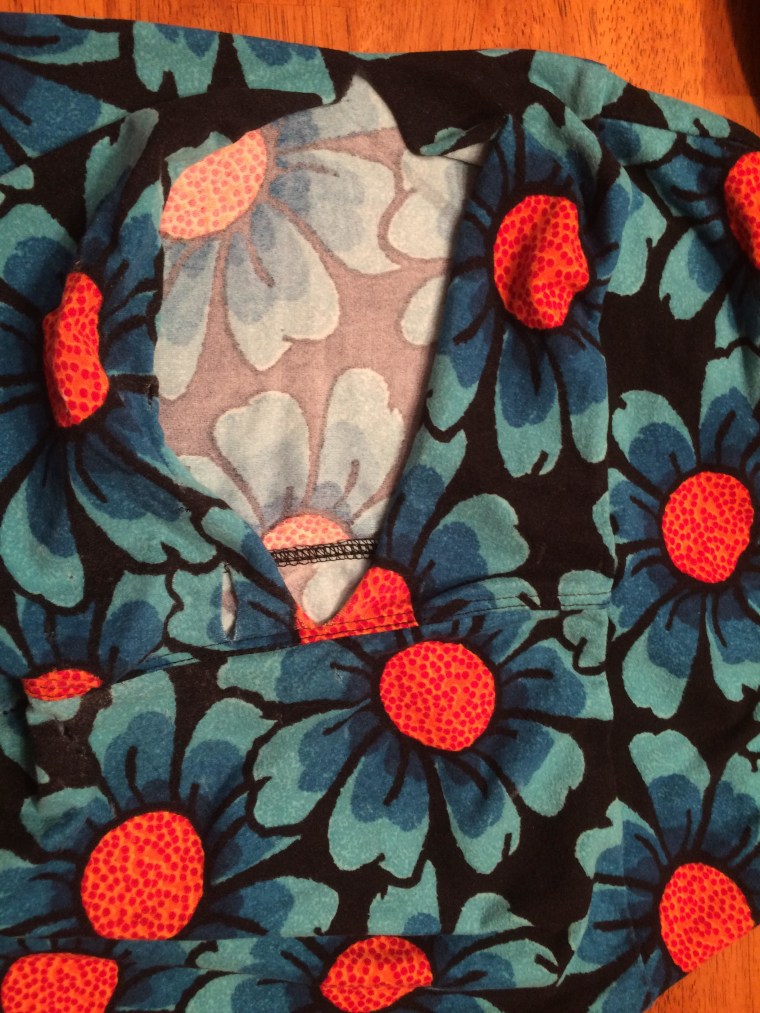 "Corporate should be handling this NOT the consultants," wrote one Facebook member. "I have 8 pairs [of leggings] I don't know what to do with. I don't want to dump them with one consultant and I don't have the time nor do I want to track down eight different consultants and pay shipping eight times to fix an issue that shouldn't have happened to begin with."
The leggings, which retail for around $25, come in a variety of prints and are, according to the LuLaRoe website, "ultra stretchy and super soft." However, thousands of dissatisfied customers are reporting that the popular leggings are ripping and developing holes after even just a few hours of wear.
One customer, Ice'Shay Penney, told TODAY she had two pairs of LuLaRoe leggings that "disintegrated within two hours of wear."
Another customer, Alana Taylor, explained that while she has never had any issues with the shirts or dresses she has purchased from LuLaRoe, all of her leggings have developed holes.
"One pair of leggings I received from a consultant covered in holes," said Taylor, who has made about a dozen purchases from the company. "Some I've worn once and had them completely rip while I'm in public."
Additionally, it seems customers are also grappling with some sizing issues.
"The sizing is extremely inconsistent," said Lisa Barretta, who explained she wore a size 2XL in one pair of leggings and required a size medium in another pair. "You almost have to order and pray for the best."
RELATED: People are really annoyed by Zara's 'love your curves' campaign
Thousands of women have taken to Facebook, various other social media outlets and the Better Business Bureau to voice their frustrations and document the holes in their leggings. The Facebook group LuLaRoe Defective/Ripped /Torn Leggings And Clothes has grown from 1,400 members to more than 14,000 members in the past two weeks alone. Julie Dean, an admin for the page, hopes the Facebook group empowers women to get answers.
"A lot of us can't afford to lose that kind of money," Dean told TODAY about not being able to receive refunds for faulty products. "We needed corporate to listen and I know they are now hearing us."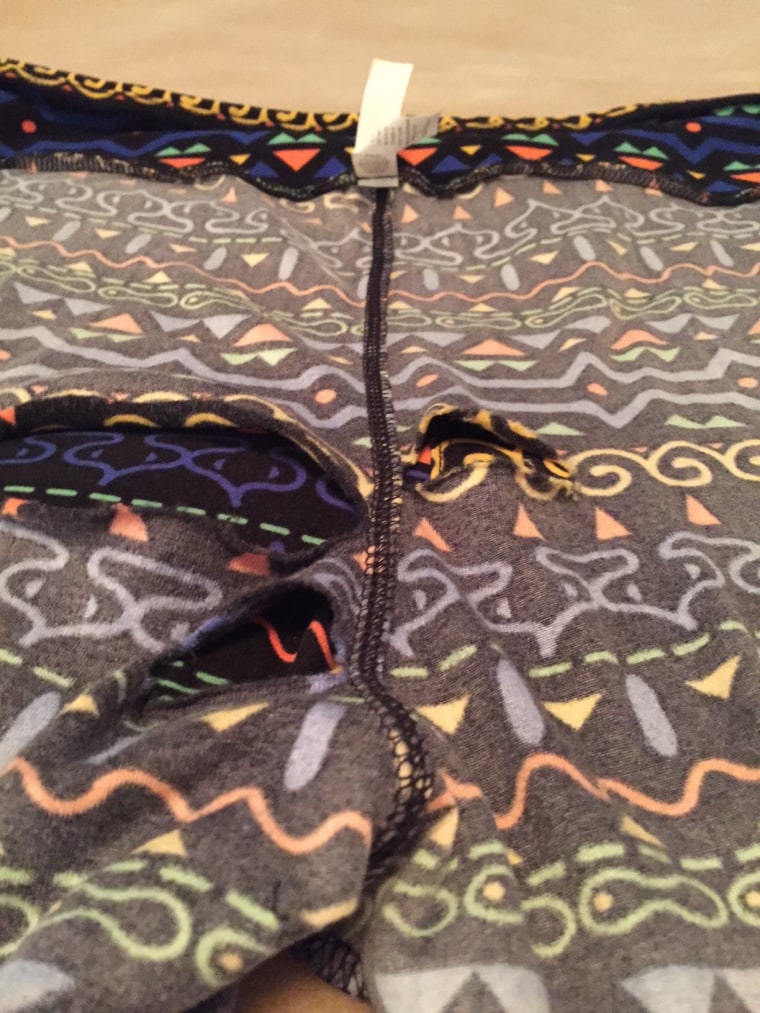 A former consultant who wishes to remain anonymous said she no longer felt comfortable associating her name with the company after she sold several faulty leggings to friends.
"We were encouraged to replace, not refund, any damaged items," said the woman, who was one of 72-thousand-plus independent retailers across the country. She continued to explain that attempts to contact the company for help went unanswered.
In a company email obtained by Business Insider, Patrick Winget, the head of production for LuLaRoe, is quoted as saying the company has tried a number of fixes.
"The leggings may get holes, because we weaken the fibers to make them buttery soft," Winget reportedly said. "We have done all we can to fix them."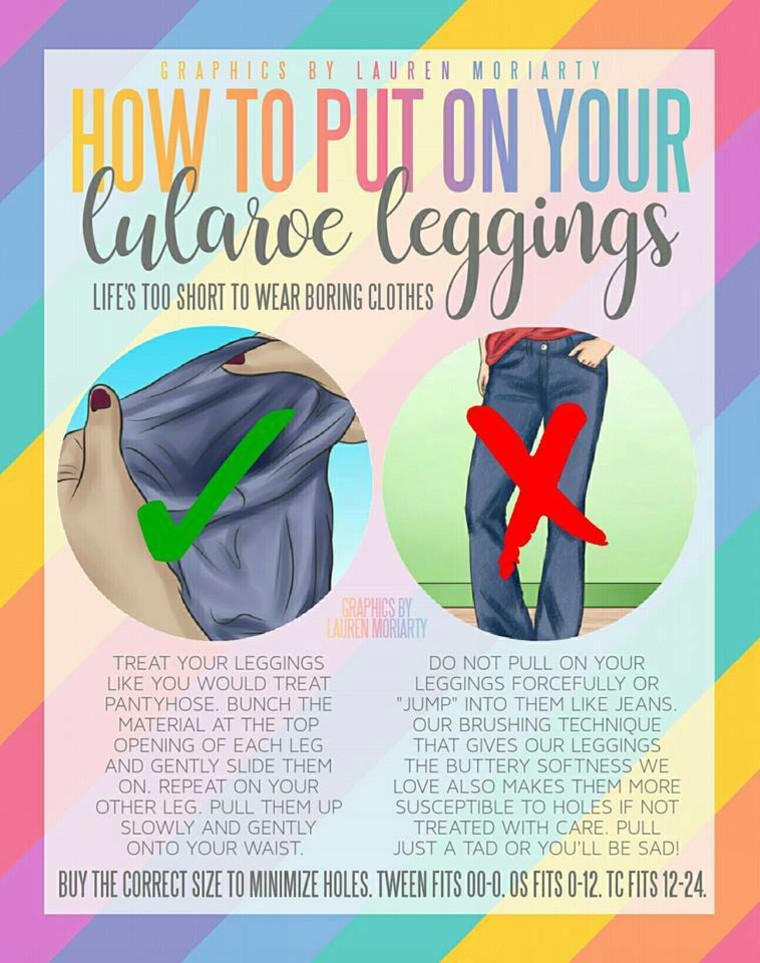 According to Justin Lyon, chief marketing officer for LuLaRoe, the company is fully aware of the issues surrounding the leggings.
"When we hear customers are not satisfied, we take it very seriously," Lyon told TODAY. "We're always looking at how we can continue to improve our product. If there are things we can do to make our product better, we're very serious and interested to see what that looks like."
RELATED: Why do T-shirts get those annoying little holes? They are avoidable!
In a statement emailed to TODAY, a LuLaRoe spokesperson said it stands behind the integrity and quality of its products.
"By and large, consumers love our products," the statement explained. "We encourage our independent retailers to remind their customers that they can contact them to help facilitate an exchange or full refund if they are unsatisfied with their product."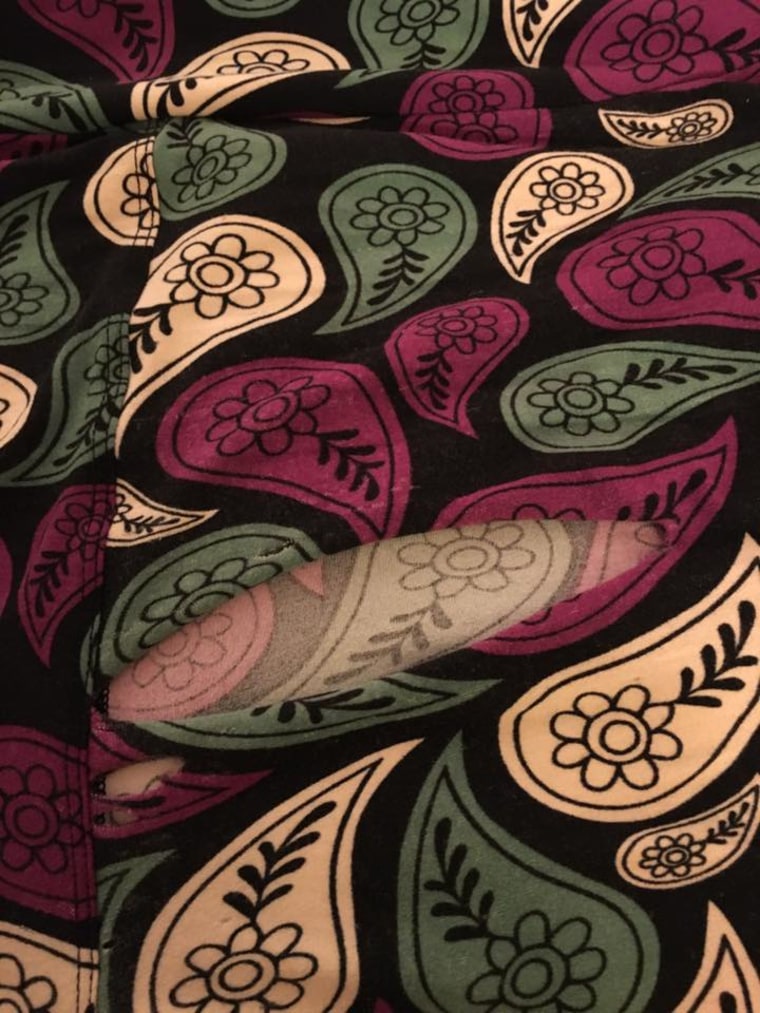 The controversy over the leggings is just the latest issue for LuLaRoe, which is also facing a class-action federal lawsuit claiming it wrongfully charged customers sales tax in states where clothes are exempt from such taxes.
"We are fully aware of this issue and have invested significant resources to address it," read a LuLaRoe statement emailed to TODAY regarding the lawsuit. "A former technology vendor had a software failure that misidentified the accurate location of certain customers."
RELATED: Parents are loving Target's new 'Strong Like Mom' T-shirt for kids
While the statement said the company has "immediately" issued a refund to customers who have contacted LuLaRoe, Lyon told TODAY he could not guarantee an exact time for customers to receive the money.
"I like to under promise and over deliver," Lyon said. "I can reassure you that we'll get to it in as timely of a manner as possible. We're working effectively, but it just depends on how many people reach out."
Barretta told TODAY she is owed $10.43 in overcharged taxes but has yet to receive her refund.
"I emailed the company and attached my invoice," Barretta explained. "That was about a week ago and I have not heard back."