It may be chilly outside, but Studio 1A was heating up with some hot makeovers Thursday!
Celebrity hairstylist Louis Licari and TODAY contributor Jill Martin chose two lucky ladies with a special bond for this week's Ambush Makeover. A mother and daughter from Chicago excitedly accepted the opportunity to leave TODAY looking a bit more glamorous than when they arrived.
The daughter, Katie Rich, who works as a textbook writer at the University of Chicago and celebrated her 33rd birthday on Tuesday, was first to receive her makeover.
RELATED: 'That's not even you!' Woman shrieks upon seeing sister's Ambush Makeover
Katie said her beauty routine is limited to moisturizing and applying the occasional eyeliner, so she couldn't wait to see what TODAY's style squad would do.
"Look at my hair!" she said with excitement after seeing her soft, new bangs in the full-length mirror on set.
Next up was Katie's mom, Joan, who said she hadn't highlighted her hair since her college years.
Joan's edgy outfit and bright makeup prompted a priceless reaction from Katie, who couldn't believe her mother's transformation.
RELATED:Breast cancer survivor goes from gray to gorgeous
Joan was equally as excited about Katie's new elegant look as her own layered hairstyle.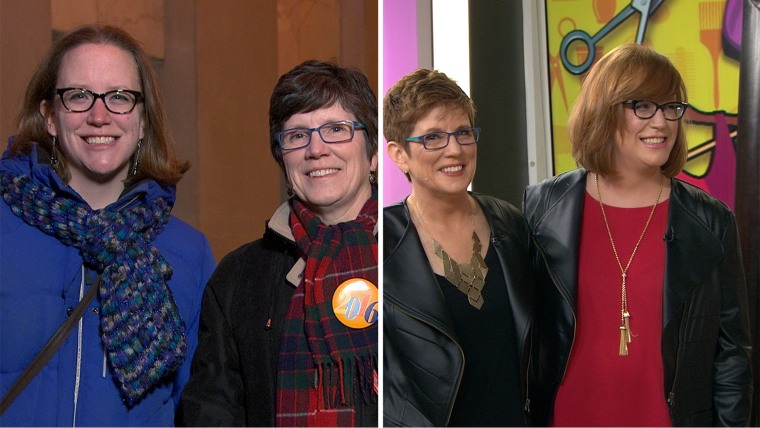 Beaming and beautiful — like mother, like daughter!