She might not be skiing down the slopes at Sochi, but Olympic champion Lindsey Vonn certainly isn't sitting still.
With help of crutches, the champion Alpine racer and NBC Olympic correspondent took a triumphant walk down the runway at the Heart Truth Red Dress Collection. The show, which promotes women's heart disease prevention, kicked off New York Fashion Week on Thursday. As the crowd cheered, Vonn happily made her way down the runway to the Kelly Clarkson anthem "Stronger (What Doesn't Kill You)."  
"I'm excited and nervous — this is not my spiel," Vonn told TODAY backstage before the show. "It'll be interesting to see how fast I get down there. I'm a skier; I don't normally walk the catwalk ... especially in crutches."
One thing Vonn certainly wasn't concerned about? Rocking a slinky dress from Cynthia Rowley, who outfitted her for the runway.
"I love wearing her clothes," said Vonn "We designed this dress together. It's a little bit difficult to find something that looks good with flats and a knee that has a huge scar down it, so I think she did a good job."
Vonn announced she would withdraw from the Sochi Olympics because of a knee injury in January. Later that month, she was announced as an Olympic correspondent for TODAY and NBC Sports, based in New York.
A wide range of celebrities, including chef Giada de Laurentiis, actress Jill Hennessy, singer Joan Jett, reality TV star Nene Leakes and TODAY style contributor Jill Martin rocked bold red frocks by top designers — from Zac Posen to Marchesa — to help raise awareness for heart disease, the number-one killer of women in America.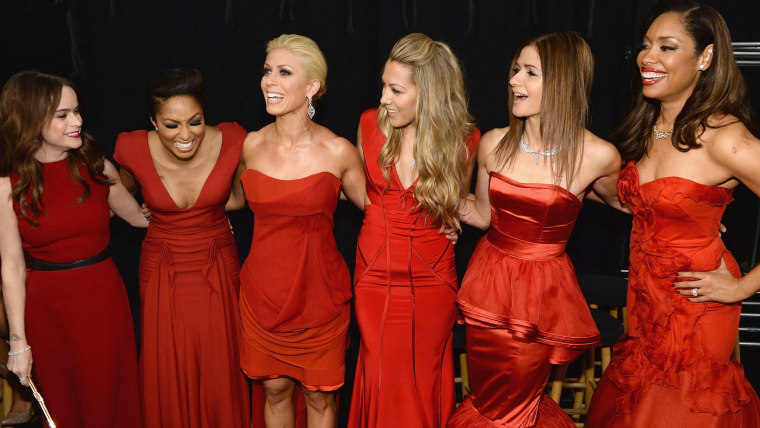 It's an organization close to Martin's heart, whose grandfather succumbed to heart disease when her mother was just 15. "This is a very special cause for me," she said. "I didn't realize how greatly it affected women."
Apart from the meaning the event held for Martin, it was also a nice change for the editor who consistently helps others looks good. "I got my own Ambush Makeover!" she exclaimed in her Anina King for Macy's dress. "I feel like a princess."
First time catwalker Giada De Laurentiis, clad in a lace Carolina Herrera gown, put down her knives to strut the show, but not before getting some sage modeling advice.
"Someone told me I should just slip so that I'll get the best press out of this," she said, before reconsidering. "I just don't feel like flashing everyone. At least not right now, no thanks."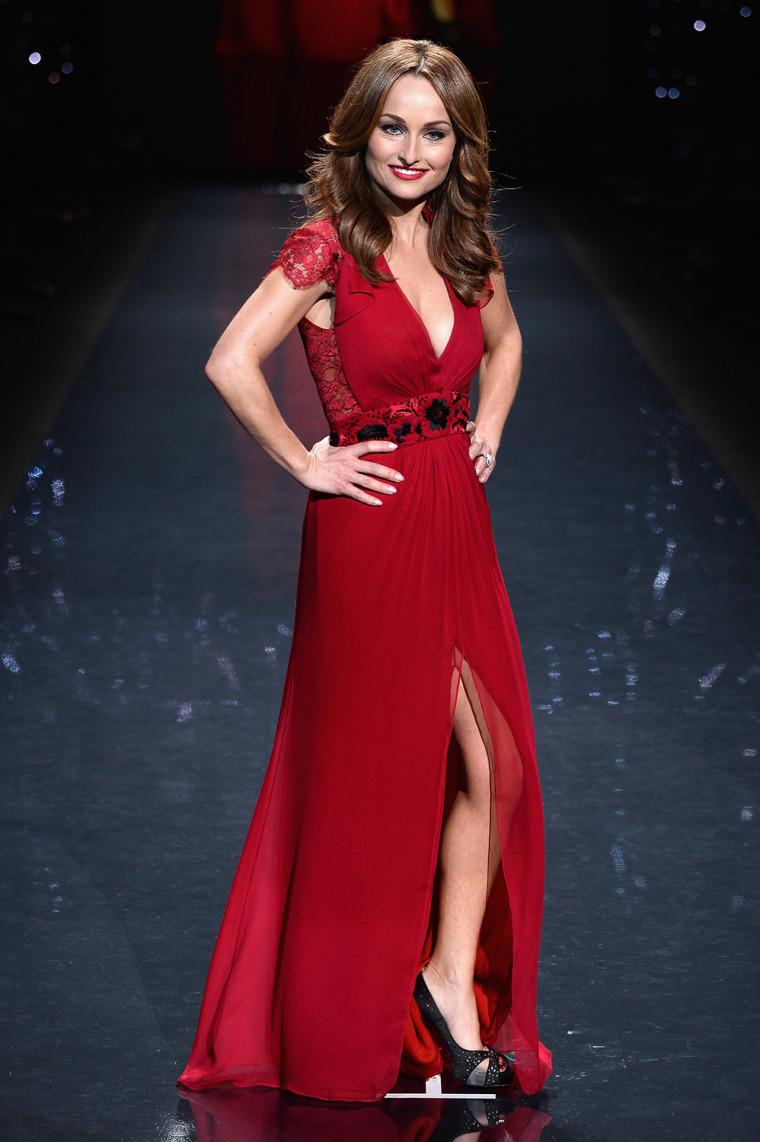 No one slipped or fell or flashed the crowd on Thursday evening, but they did all sashay and dance down the runway, clad in stunning scarlet. In fact, the color might be Vonn's new favorite hue.
"It can be," she said with a smirk. "It is tonight."
To raise money for women's heart health, female stars wore designer frocks crafted by New York's top designers at Go Red For Women The Heart Truth Red Dress Collection 2014 Show at the Theatre at Lincoln Center on Feb. 6 in New York City.