First, there was the massive rising phoenix tattoo on Ben Affleck's back — a garish rainbow of colors peeking out from his hospital gown on a movie set late last year.
And, more recently, Adam Levine's reveal of a mermaid collage stretching from shoulder to shoulder, the latest in the Maroon 5 singer's ever-expanding collection of body art.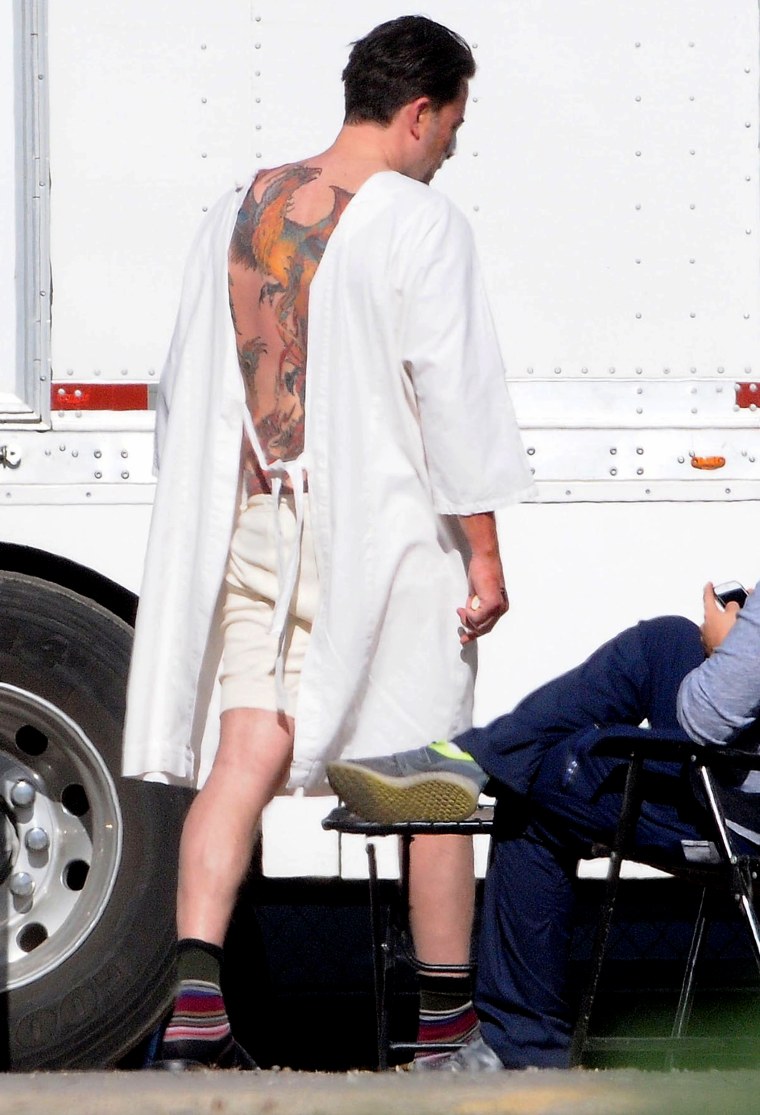 Then, of course, came the criticism.
Last week, Affleck's former flame Jennifer Lopez told Andy Cohen the new Batman's tattoo was "awful" and "shouldn't be so colorful."
Ex-wife Jennifer Garner also hinted in Vanity Fair this month that she was not a fan.
"You know what we would say in my hometown about that?" the West Virginia native said. "Bless his heart."
RELATED: Ben Affleck shows off huge back tattoo, while Justin Bieber teases smaller tat
And Levine hasn't escaped the attacks, either. Esquire proclaimed, "Adam Levine's New Back Tattoo is Worse than Maroon 5." One blog even compared the two inked-up stars along with the headline, "Who has the most tragic back tattoo?"
Jump to 1:10 to hear Jennifer Lopez's thoughts on Ben's tattoo
But maybe, just maybe, we've been too quick to judge these supersized tattoos.
After all, it takes a certain type of man to ink his entire back and walk around with confidence.
And that's just it, isn't it? You have to have a particular brashness to pull this off.
Adam Levine, he's clearly a tattoo guy. Ben Affleck? We're not so sure, but we give him credit for trying.
Tattoos, when done well, can be beautiful artwork. Sometimes they're tributes or memorials; other times they're simply decorations, like accessories you don't have to put on in the morning.
And opting for full back art shows a willingness to make a big personal and financial commitment.
"It does take dedication and patience," Romeo Lacoste, a Hollywood tattoo artist whose clients include Justin Bieber and Ariana Grande, told TODAY.com "Back pieces take many hours usually spread out over many sessions ... anywhere from around six months to many years."
The back is also the largest, flattest area of the body, so choosing to ink it can signal a guy has a larger story to tell about himself.
"An artist can get a lot of detail and visual information on such a large canvas," Adam Suerte, co-founder and co-owner of Brooklyn Tattoo, told TODAY.com.
"A detailed allegory, say from the Bible, or a montage of events, maybe depicting experiences in someone's life, a series of portraits of loved ones, a famous master's painting — the subject matter is really endless on the back."
RELATED: Adam Levine reveals massive back tattoo that was 6 months in the making
Suerte also suggested that sporting so much body art isn't necessarily a sign that a guy's full of himself or nanny-chasing egomaniac.
"The back is easily concealable," he said. "Someone who is very introverted, shy or socially awkward can have their whole back tattooed, and no one would know."
"There are lawyers and doctors who have full body suits tattooed that are never revealed. There's no occasion so show a full back tattoo off, unless you want to."
Plus, plenty of our favorite guys have large parts of their bodies covered in tattoos, much to our delight. We're looking at you, David Beckham.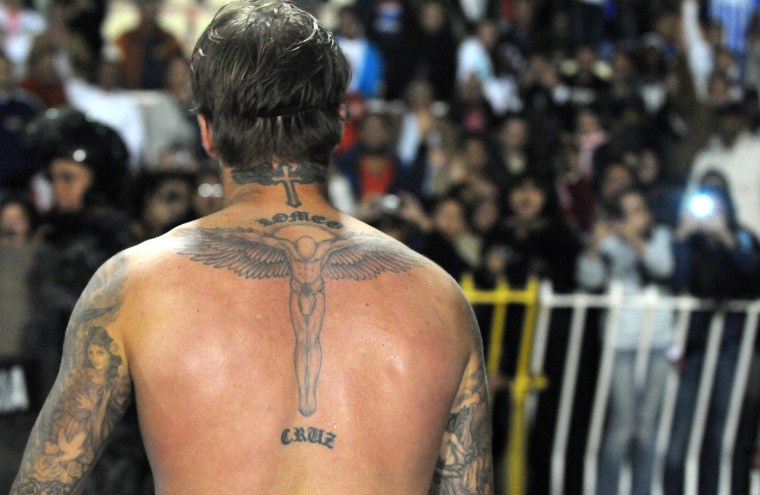 And yet, at the end of the day, a tattoo is a personal decision, one we hardly have the right to judge.
(But if there's an exception, it might be a phoenix rising from the ashes.)
RELATED: In defense of fanny packs, and Matthew McConaughey's style
We asked men's style expert Megan Collins of Style Girlfriend for her opinion, and she reiterated that that personal aspect is huge.
While she's typically not a tattoo fan, "sometimes I find the origin stories of why a guy got inked to be interesting enough to overcome that," Collins said.
So, there's your lesson: Be cool and confident — and remember, a good story never hurts.