Lauren Scruggs, who lost her eye and part of her left arm in a propeller accident, recently removed her prosthetic arm for the first time on television.
The fashion journalist and blogger took it off at the urging of Larry King during an interview for his Ora TV show, Larry King Now.
"I will wear it with long sleeves," Scruggs said of her prosthesis. "But, it's one of my insecurities that I'm working through."
That's when King, 83, pointed out that Paul McCartney's ex-wife, Heather Mills, took off her prosthetic leg on his former show and "handed me the leg."
Scruggs said her husband, E! News anchor Jason Kennedy, would "love" for her to take off her prosthesis in public.
"My husband would cry his eyes out if I did that," she said.
"Try it," King prompted, to which a nervous Scruggs said, "Let's do it."
She then removed her prosthesis and showed King where her left arm ends. She then explained how she uses a special liner to lock her prosthesis into place.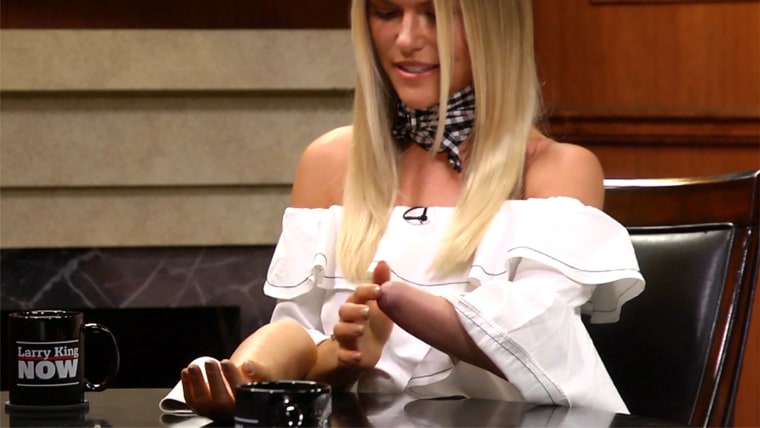 "Now didn't that feel good to take it off? I freed you up," King said. "There's no reason ever to be ashamed of it. It's life and you help a lot when you do that."
Scruggs made headlines in 2011 after she accidentally walked into a spinning airplane propeller, resulting in the loss of her left eye and part of an arm.
After she went on King's show earlier this month, Scruggs' husband took to social media with a clip of the interview to describe the moment's significance.
"So I've been [crying] over this moment all day today and I wanted to share with you," Kennedy wrote.
"This is a HUGE step @laurenscruggs and I know it will encourage anyone in a similar situation who might be scared."
He also thanked King for his kindness and helping to spread the work run by his wife's charity organization, the Lauren Scruggs Kennedy Foundation.