By Julia Rubin, Styleite
And the week of outrage continues! The latest controversy to come across our desk involves an exceptionally sexist pair of pants.
It all started when the Daily Telegraph's Digital Media Editor Emma Barnett found a pair of her boyfriend's pants while she was cleaning her house. The pants' large white tag caught her eye, and a closer look caused her to tweet a photo of its washing instructions on Monday: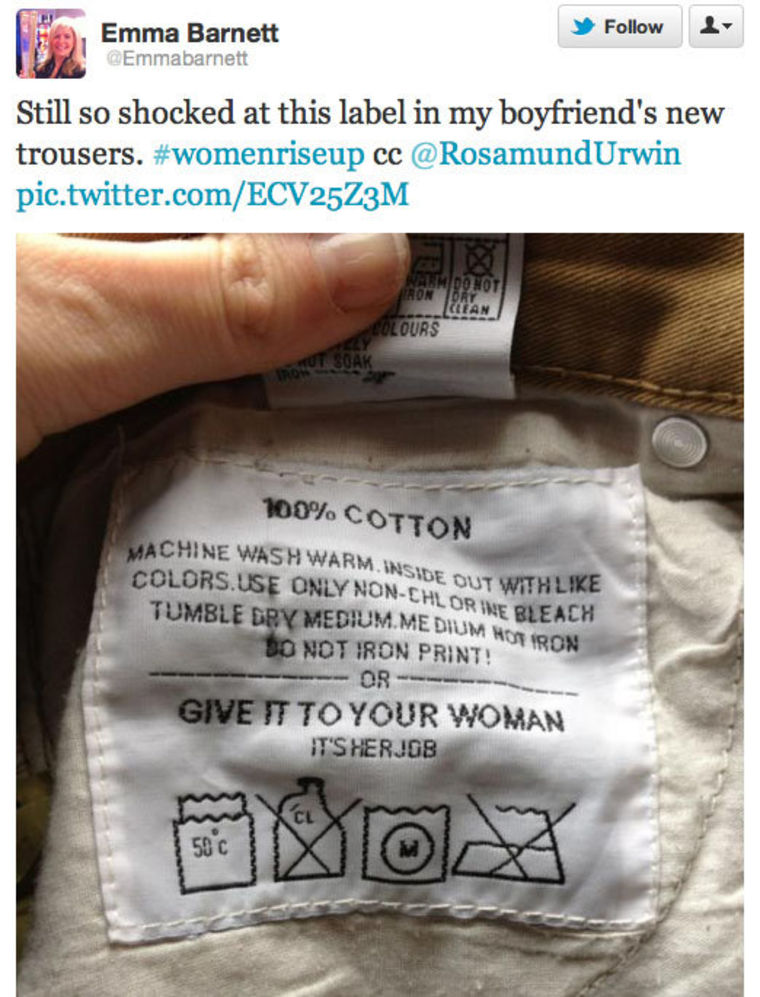 In a post for the Telegraph, Barnett picked apart the tag's sexist message, writing: "Even the language — 'Your Woman' — presupposed some kind of Neanderthal mentality from my boyfriend, an unwilling shopper after some affordable chinos — preferably not lined with sexist imperatives."
The pants come from British discount brand Madhouse. She reached out to the company, who were slow to reply, though they eventually responded that they had no clue the tag read as such. This seems pretty unlikely — someone at Madhouse had to have given the text the okay. (A message Wednesday on the Madhouse homepage says the web site is "closed for maintenance work and will be back online shortly." Hmmm, sewing new labels on all their pants, perhaps?)
Barnett's thoughts on the matter echo our own:
If the comment had been remotely funny — I would have been the first to laugh and shrug it off — as it really wouldn't have bothered me enough to photograph it, tweet it, and then write about it. But it was the lack of any implied humor and the horrible surprise of such an incongruous message hidden away inside some trousers, that left me just plain stunned.
What do you think? Are the pants funny or offensive? Vote in our poll and comment below.
More from Styleite:
Are These The Most Terrifying Bra Ads Ever?
Does Taylor Swift's CoverGirl Ad Deserve To Be Banned?
PHOTO: Online Retailer Inadvertently Features Nude Man In Kids Ad