They might not wear sample sizes or fit your typical definition of lingerie models, but the women in Lane Bryant's newest ads are just as sexy.
The full-figured fashion brand's latest campaign boasts the slogan "I'm No Angel," and features top models like Ashley Graham, famous for being the first plus-size model to be featured in Sports Illustrated's Swimsuit Edition (albeit in an ad), in lacy lingerie from the brand's Cacique line.
For Graham, that slogan means "nobody has to be perfect," she told TODAY.com.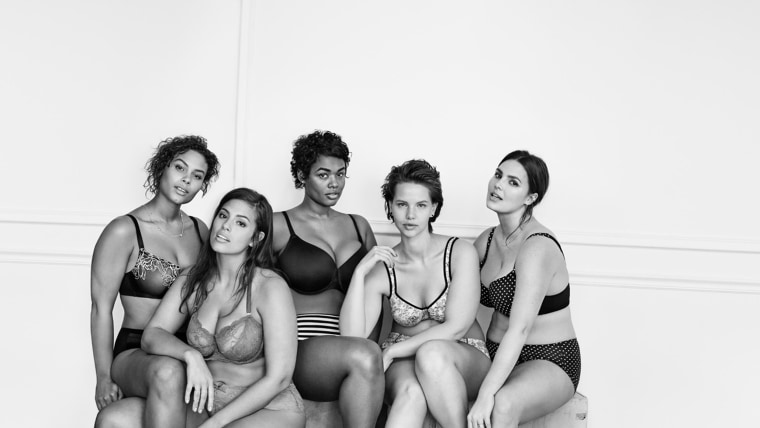 "Why shoot for perfection when perfection doesn't exist?" Graham said. "We want women to believe they're beautiful. We are breaking down industry barriers and letting people know that any type of woman is beautiful, no matter the shape or size."
"I may have some cellulite showing through my neoprene skirt but I don't care!" she added.
Photographer Cass Bird shot the campaign images, and a commercial will air on TV next week. Lane Bryant is encouraging fans to join in the conversation on social media with the hashtag #ImNoAngel.
Lane Bryant CEO and President Linda Heasley said the slogan isn't a direct dig at Victoria's Secret, which notably calls its models "angels," but only a reminder that sexy comes in all shapes and sizes.
"We admire Victoria's Secret — it's an amazing brand," Heasley told TODAY.com. "There's nothing I would say against them except that, arguably, their notion of beauty is a little narrow. What we wanted to do is stimulate conversation about redefining sexy."
The campaign isn't meant "to throw shade at any brand, but it's definitely [meant] to throw some curves out into the world," she added. Heasley said the campaign is "tongue in cheek" and meant to inspire women.
"It's about not tolerating fat-shaming. It's about helping all women feel great about themselves," she said. "And if it gets people to stop and have a good laugh, that's great."
A video the brand posted on Facebook featuring the models flaunting their curves in skimpy lingerie has gone viral. Graham said she's thrilled by fans' response.
"The reaction is amazing, but women are obviously going to react," she said. "The fact that men are coming up to us and saying, 'My wife is going to love this, this is an amazing campaign' — it's incredible. It's coming from every angle."
"We've had young girls come up and say thank you, you've changed my outlook on body image," Graham added. "It makes me want to cry. We're literally changing lives by saying nobody is perfect."