Our editors independently selected these items because we think you will enjoy them and might like them at these prices. If you purchase something through our links, we may earn a commission. Pricing and availability are accurate as of publish time. Learn more about Shop TODAY.
My love for cookie dough runs pretty deep, so whenever I come across a beauty product that smells sweet and even remotely resembles that mouthwatering smell of freshly baked cookies, I usually fall pretty hard. And that's exactly how my love affair with my favorite body scrub began.
The sweet name of Lalicious' Brown Sugar Vanilla Extraordinary Whipped Sugar Scrub first drew me in, and as soon as I smelled its delectable scent and tried the scrub, I was sold. It's been my go-to for eight years now, and I haven't been able to find a body scrub that does as good a job in all that time.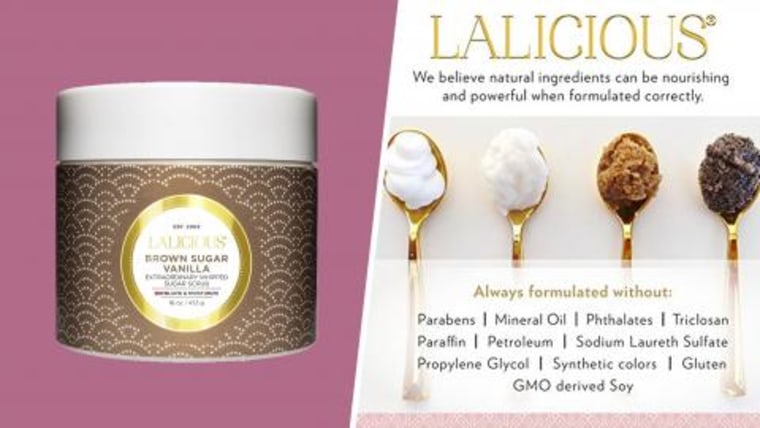 For starters, the whipped texture of the sugar scrub — it relies on pure sugar cane crystals to work its magic — is just about perfect for my sensitive skin. While many body scrubs have a tendency to scratch skin with harsh grains of salt or sugar, this one gently melts and rubs in smoothly.
The brown sugar vanilla scrub also washes off easily, and my favorite part (OK, aside from the cookie-like smell!) is how it makes my skin feel after a shower. My skin is pretty smooth in general, but this scrub takes it up to maximum softness, and I'm pretty addicted to the luxurious, almost buttery feel I get while toweling off afterward. As a bonus, my skin always glows, too!
Amazon shoppers have rated this miracle worker 4.5 stars, so it looks like I'm not the only one with a crush. The 16-ounce cult fave goes for $37 on the site, but it also lasts for several months, so I get plenty of mileage out of one tub.
The scrub is filled with skin-nourishing ingredients — coconut oil, sweet almond oil and vitamin E, for starters — and is free of nasty extras like parabens, phthalates and propylene glycol. So at the end of the day, I know I'm really treating my skin to some tender, loving care.
For more body products we love, check out the People and TODAY beauty award winners here. TODAY Style also wrote an article on celebrity stylist-approved face scrubs.
Read on below for more body scrubs that reviewers love.
This body bar from Kiehl's is the top-rated body scrub at Sephora. It's made with bran and oatmeal and ideal for all skin types.
This playful scrub is the best-selling body scrub on Sephora. It's dermatologist-formulated to combine the benefits of a chemical peel and microdermabrasion all in one.
We've written about this Himalayan scrub before in some of our holiday gift guides — the internet just can't get enough of this scrub! It's made with essential oils and Himalayan pink salt, which is said to promote your body's natural pH balance.