/ Source: TODAY Contributor
Neither Leni Sherman nor Harvey Goldman were looking for love 10 years ago, when he was divorced and she was a widow. But after the longtime acquaintances shared a dinner to catch up, they each felt that night that they were destined to be together, and their love story began.
As they decided to marry, the Danvers, Massachusetts, couple wasn't looking to replicate their first weddings. Instead, they imagined, their wedding should be a casual celebration that represented their life together and would include — and delight — their seven grandchildren.
And so at noon on July 30, Sherman, 64, walked down the aisle wearing a yellow, one-shoulder dress and carrying a bouquet of red roses to marry her prince, Goldman, 70, in a wedding at the North Shore Music Theater that followed the theme of another love story, "Beauty and the Beast."
"We wanted to do something that was fun, particularly for our grandchildren and something completely different and nontraditional," said Sherman, adding that they both love the theater. "We wanted to do something that was us, that showed our personality."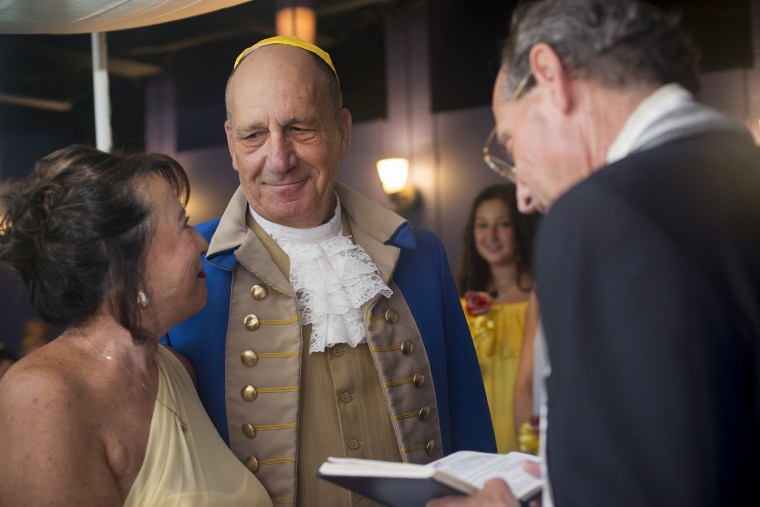 Or, to put it another way, they hoped their big day would be so memorable for their grandkids, Sherman said, "that when they look back, they could say, 'We have fun grandparents.'"
For their wedding day, the couple became the classic Disney characters Belle and the Beast, who ultimately found love. "That's the story of our life," Sherman said. "We hope, just like in "Beauty and the Beast," to live happily ever after."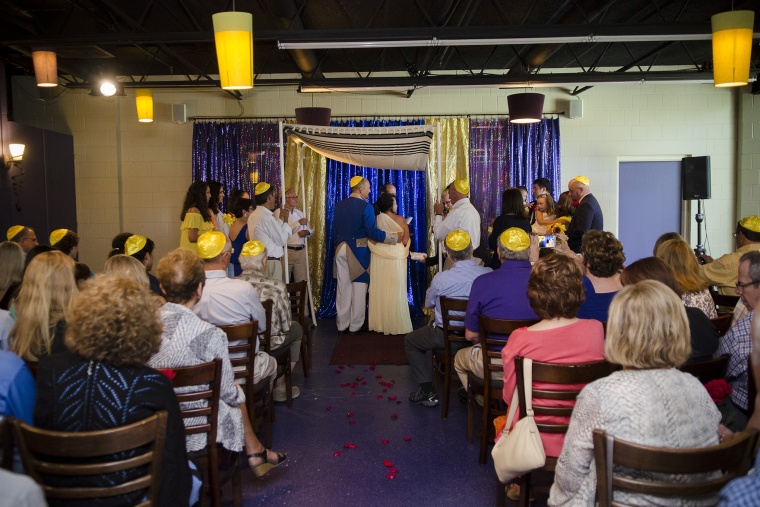 "That's who we are," Goldman said. Using a Yiddish word for soul mate or meant to be, he added: "We had a bashert love story on our first date. I gave her a simple kiss. We knew it that moment."
Just like their love was meant to be, so too was the theme of the wedding.
Never miss a parenting story with TODAY's newsletters! Sign up here
The couple drove past a billboard for Beverly, Massachusetts, theater, and wondered about having their wedding there and incorporating a show. When they discovered that "Beauty" was playing, that they could buy seats together for their 115 guests for a production they loved and their rabbi was available, plans for the theme wedding fell into place.
Their three children and their spouses served as their attendants, along with their grandchildren, who range in age from 1 to 17. The family members dressed in blue and yellow to match the theme.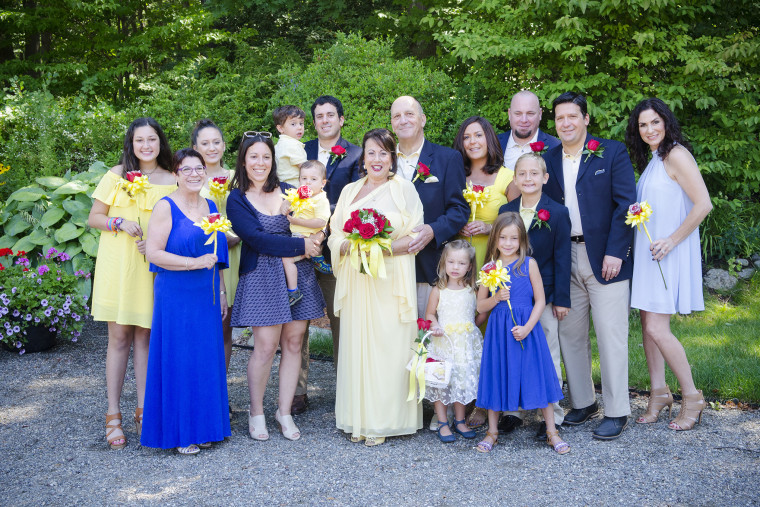 Yellow satin yarmulkes were made for the men; a red rose was handed to each woman.
After Sherman walked down the aisle on the arm of her son and daughter-in-law to the "Beauty and the Beast" theme song from the latest version of the movie, she exchanged vows with Goldman, who was escorted by his children.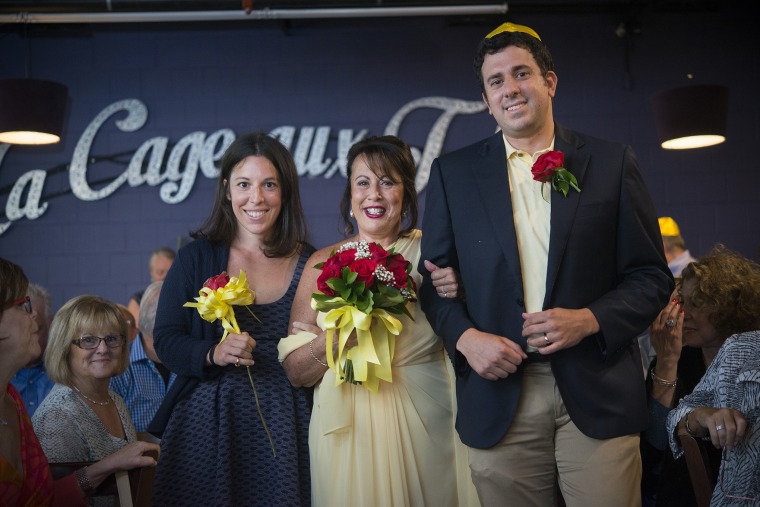 "Having all of our grandchildren, all of our children under the chuppah and all together was magical and we feel very blessed," Sherman said.
The groom had surprised the crowd by changing into a Beast jacket just before the traditional Jewish ceremony, which was held in a rehearsal space at the theater.
"I only cared about one thing: making this woman my wife for the rest of my life," he said. "I don't mind making fun of myself, obviously."
They enjoyed hors d'oeuvres afterward, and then filed into their seats to watch the first act of the 2 p.m. show. At intermission, they ate again before watching the second act. Then it was time for the dessert buffet and ice cream sundae bar.
Everyone loved the day, especially the youngest guests. "They had a blast," Sherman said. "We had such a good time."
The couple said their wedding was the perfect way to start their marriage.
"We had a beautiful, magnificent day," Sherman said. "We did this because we decided we wanted to spend the rest of our lives together. We wanted to have a happily ever after, and what fun to do it surrounded by all our friends and family."
TODAY.com contributor Lisa A. Flam is a news and lifestyles reporter in New York. Follow her on Twitter and Facebook.