There's a rare creature in Hollywood who can pull off any hair shade he or she wishes. We like to call them hair color chameleons—and boy do they love to surprise us. Whether it's for an upcoming movie role, TV series or simply for fun, these celebrities have caused the biggest stir when it comes to hair color, often dividing the Internet into two opposing camps.
Now, we're putting the decision in your hands: Which hair color do you prefer on each of these celebrity chameleons?
Amy Poehler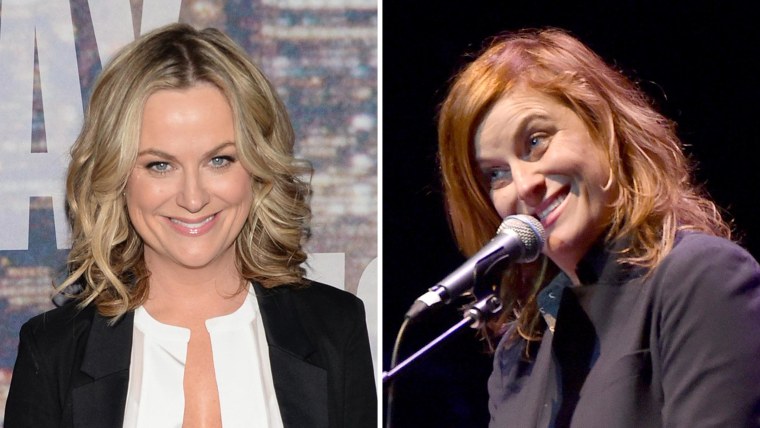 Check it out! The "Parks & Recreation" star and genius behind Smart Girls debuted her new strawberry locks at a performance at the Ace Hotel in L.A. on Tuesday. Which hue do you like better?
Idina Menzel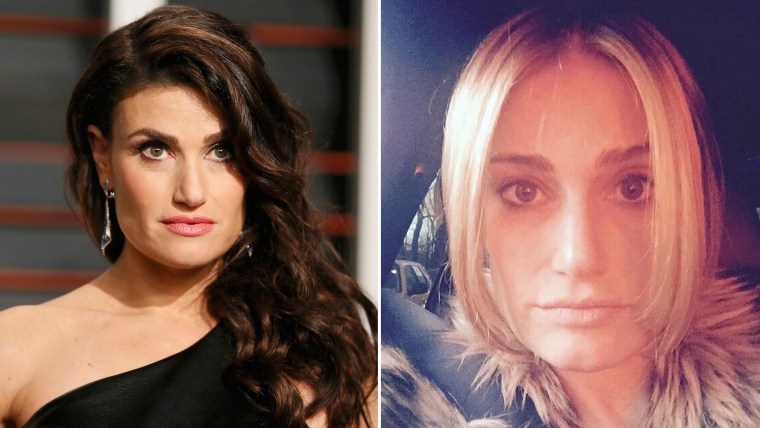 The raven-haired beauty suddenly looks a lot like the character she voices in "Frozen," Elsa. In an Instagram posted on Thursday, Menzel wrote that she simply "needed a change." What do you think of the look?
Kim Kardashian West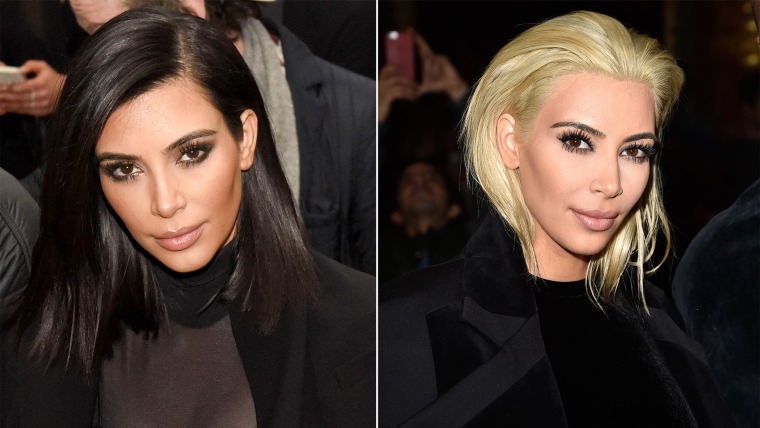 She's teased us with blond highlights and tested out a dirty blond 'do, but we definitely didn't expect the reality TV queen to rock a platinum blond style at Paris Fashion Week. That sound you hear is the Internet exploding over yet another Kardashian kerfuffle.
Jared Leto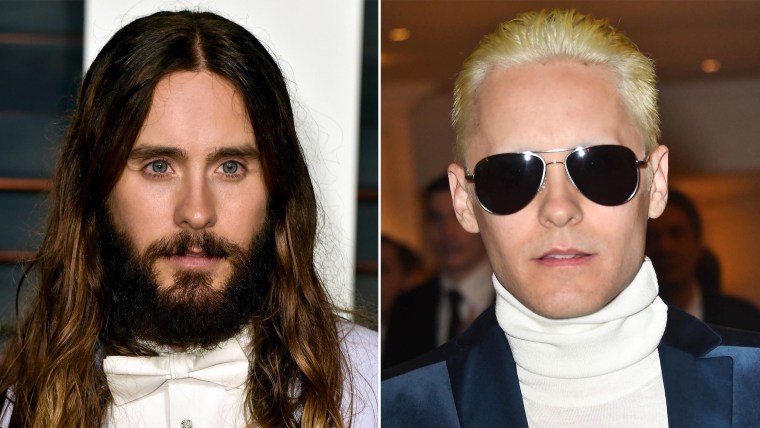 Rachel McAdams
Talk about all the luck! Gorgeous movie star Rachel McAdams seems to have the ability to rock any shade, and pretty much has for each of her different film roles. But the real question is, which is your favorite?
Jennifer Lawrence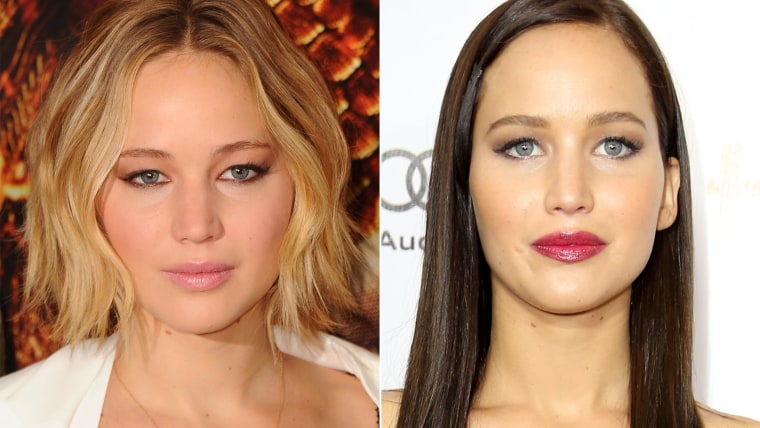 Lawrence reportedly spent several hours with "The Hunger Games" executives deciding exactly which shade of brown would be right for her character Katniss Everdeen. Once the movie wrapped, she decided to go back to blond. Lucky Lawrence seems to look beautiful with either, but which would you rather?
Nicole Richie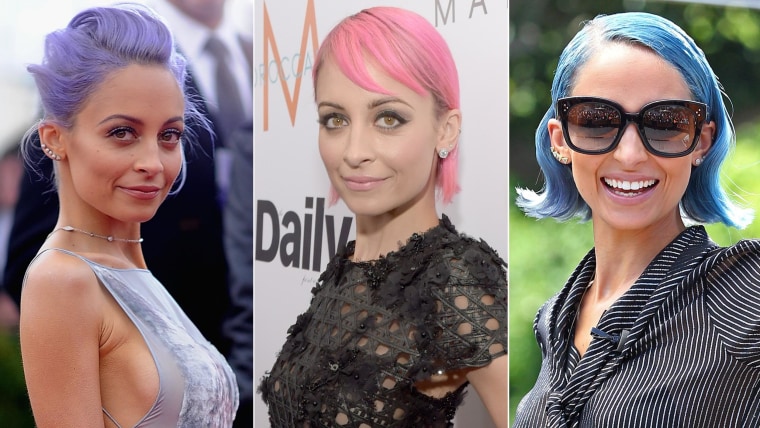 Richie first entered our lives as a reality TV star with messy, long blond hair. She has certainly changed quite a bit over the years. The fashion mogul has spent some quality time with purple, pink and blue hair, among others. Which is your favorite candy-colored 'do?
Emma Stone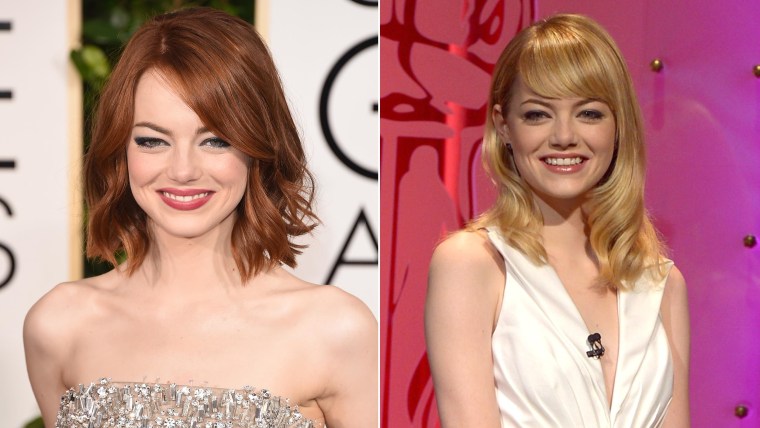 As a natural blonde, Stone originally went red for her breakout role in "Superbad." She then went back to her naturally golden locks to play Gwen Stacy in "The Amazing Spider-Man" and sported dark roots for her Oscar-nominated part in "Birdman."
Adam Levine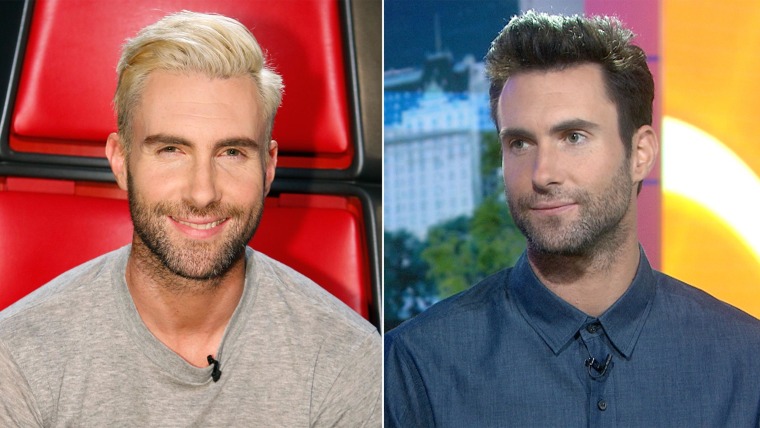 Did Adam Levine have more fun as a blond? "No one liked it, which I kind of dug," Levine told TODAY in June.
Dakota Johnson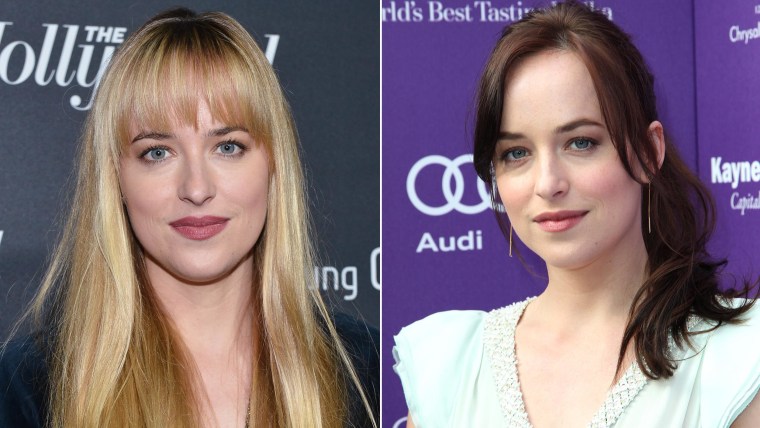 If you haven't heard of the "Fifty Shades of Grey" star yet, you must be living in a tightly concealed red room. Johnson, who is the daughter of Melanie Griffith and Don Johnson, can easily rock either of her parents' hair shades.
Lily James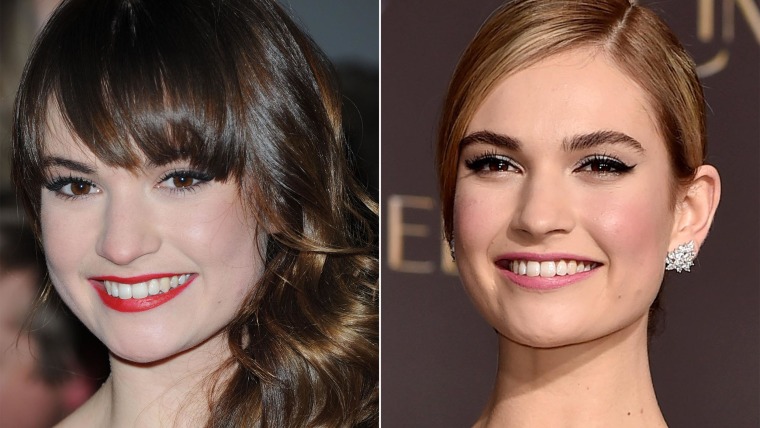 Lily James, a natural brunette, actually dyed her hair to play the role of Lady Rose MacClare on the hit show "Downton Abbey." Her blond locks also proved to be a perfect fit to star as Disney princess Cinderella.
Katy Perry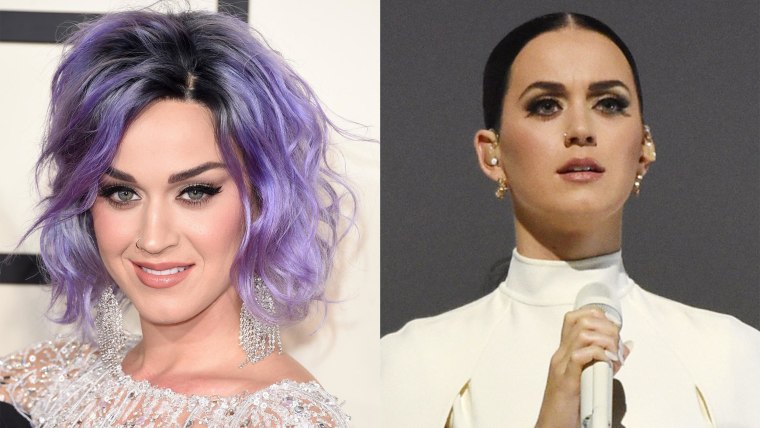 This pop star certainly isn't afraid to go the candy-colored route. But which do you think better suits the songstress: colorful or natural?
Anne Hathaway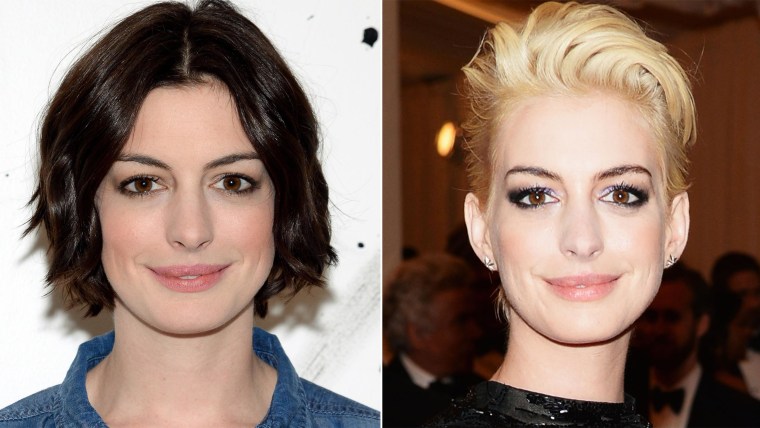 Anne Hathaway divided fans over her rock-n-roll, platinum blond hairstyle at the 2013 Met Gala. Whether you love it or hate it, we like that the usually demure actress got to show off her punk side.
Scarlett Johansson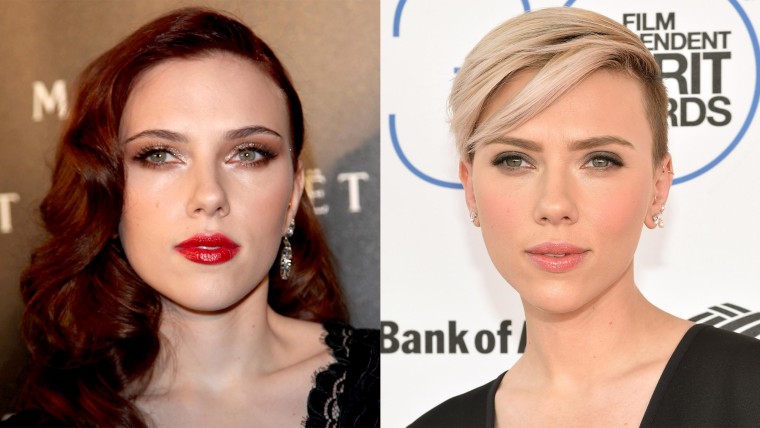 It's hard to deny the stunning beauty of Scarlett Johansson, but she proves how gorgeous she truly is the more she changes the color, length and style of her locks. The actress can do no wrong!
Molly Ringwald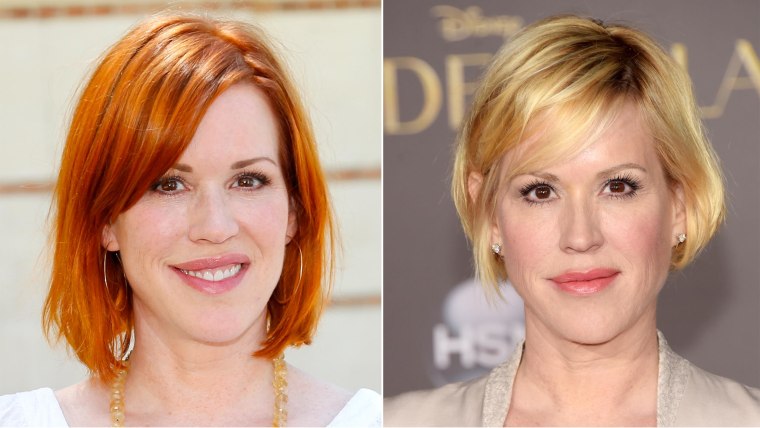 Molly Ringwald became famous for her angsty red hair in '80s movies like "Pretty in Pink" and "Sixteen Candles." Now that she's celebrating the 30-year anniversary of "The Breakfast Club," Ringwald is going golden. Do you miss her signature color?
Robin Wright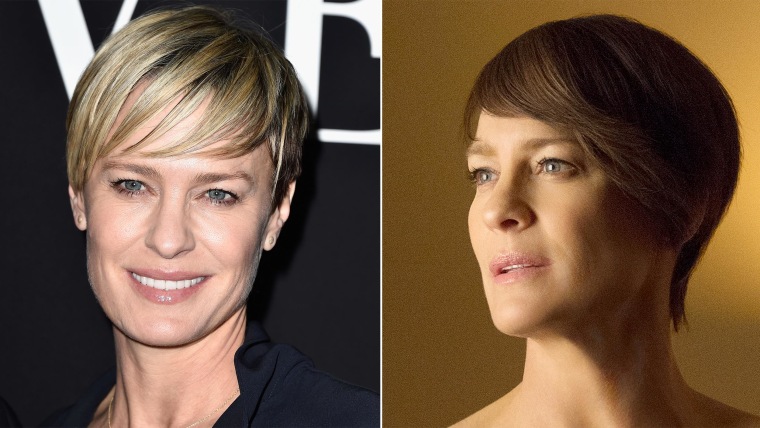 If you're a "House of Cards" fan who couldn't wait to dive into Season 3, you know that Claire Underwood (and actress Robin Wright) go darker in the third installment.
Reese Witherspoon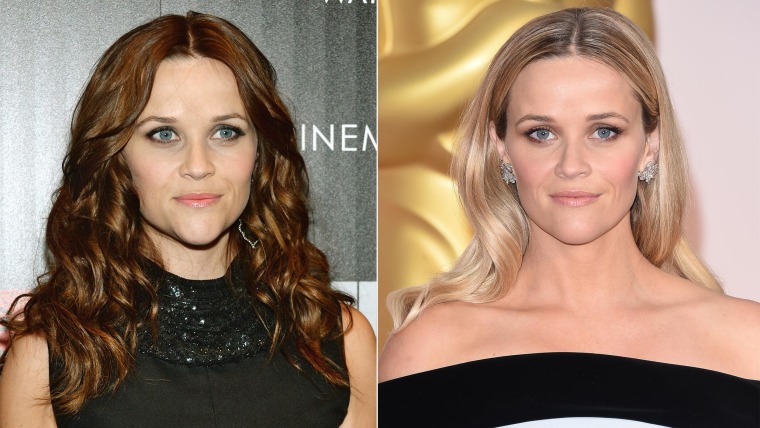 Southern darling Reese Witherspoon is as well known for her blond tresses as she is for her slight twang. We can't imagine any other actress playing Elle Woods in "Legally Blonde"! But the actress took a darker turn when she played June Carter in "Walk the Line" in 2005, and once again in 2013.