/ Source: TODAY contributor
How many times have you been in a sunglass store and turned to the person next to you to ask, "do these look good on me?" While they may be small, sunglasses are the accessories that frame the window to your soul – so it's important to choose wisely! Whether you have your sights set on a pair of trendy tints, or just want a way to update your beach basics, Bobbie Thomas, Today Style Editor and author of The Buzz for In Touch Weekly highlights five SPECtacular sunglass styles.
Top Gun
Modified aviators, influenced by the bigger-is-better trend, are outshining smaller shades this summer.  That's right – the aviators-of-the-moment are large and in charge — and many sport a shield-like appeal. This summer there's a style for everyone — from the slick and sophisticated Tom Ford collection (Nordstrom.com) to the funky versions from graffiti artist Claw Money in candy colors (clawmoney.com). Square shapes are best to flatter round faces — but no matter which ones you choose, these classic shades will keep you in style.
Sungoddess Shields
Hollywood knows — wear a wrap around a day and keep Dr. 90210 away! Function and fashion merge for the most popular form of protection with complete-coverage frames. Wide set styles will balance long narrow faces, but it's best for most of us to keep them snug. And when choosing a pair of protective lenses, why not opt for some added benefits? Scratch resistant lenses are less likely to endure major wear and tear, and are a good idea if you're planning to invest in an expensive pair of glasses.  Also, dark lenses aren't guaranteed to have good sun guard — the coating that has UV protection is actually clear! So be sure to look for labels that indicate 99%-100% UV absorption.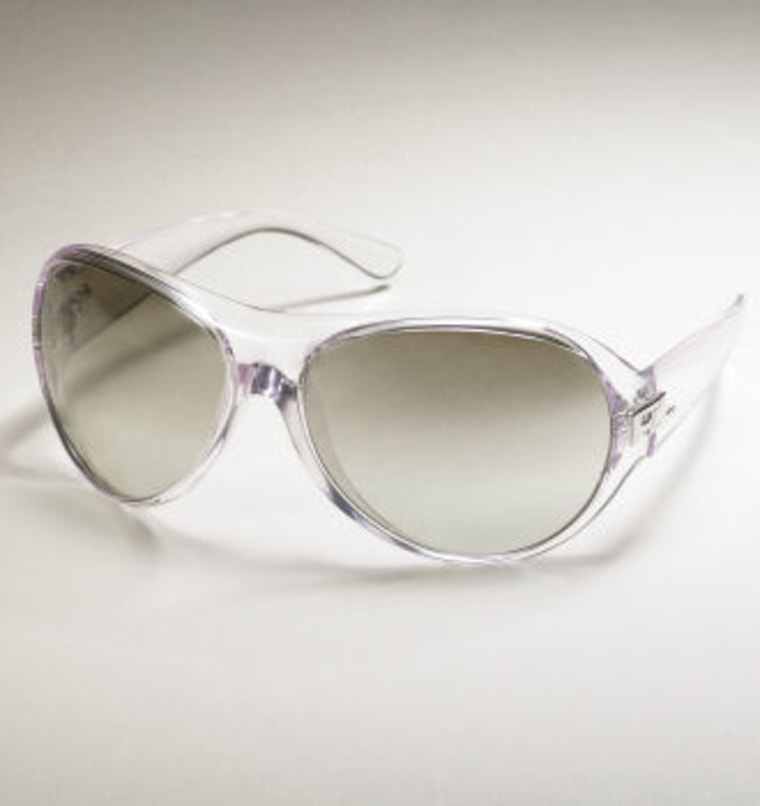 Logo Love
While wearing Chanel from head to toe will set you back a pretty penny, a designer pair of well-made specs is a splurge that many people contemplate. If you're hesitant to invest in the must-have handbag, such as the YSL oversized "Muse" for $1395, you may consider their brand-new "Muse" sunglasses for $270. Designers work with every embellishment imaginable — from crystals for glamour to luxurious leather — and your favorite insignia makes for a great profile photo! Just be careful to keep them safe — sitting on a pair of pricy glasses is sure to have you seeing red!
Bobbie's Buzz: Keep you lenses stylishly stored!  Cute cases like those from Mercer may inspire you to tuck your glasses carefully away ($78; haydenharnett.com).  Or, sport your shades around your neck, with La Loop's stylish necklaces (laloop.com), or See's Eye Keepers (seeeyeware.com). Case closed!