/ Source: Martha Stewart Weddings
When it comes to weddings, no one knows better than the queen of party planning, Martha Stewart. That's why TODAY tapped Martha Stewart Weddings editor-in-chief Amy Conway to share quick fixes for when things don't go entirely your way.
You're planning your wedding down to the last detail, so nothing can go wrong ... right? Well, an event like this has so many moving parts — not to mention people and their very different personalities — that some surprises are inevitable. Don't panic! Most mishaps are so minor that your guests won't even notice (really, trust me on that). Other things are easier to fix than you might think. Read on.
RELATED: Watch the full TODAY Wedding — from dress to kiss!
Eek! The invitation had a mistake
Forgot to list the ceremony address or start time? It happens! Send a follow-up mailing as soon as possible — whether it's a straightforward "corrections" card with the new info, or a more detailed itinerary card for the whole wedding weekend. Also, update your website so that the info is prominently displayed and ask attendants to spread the word.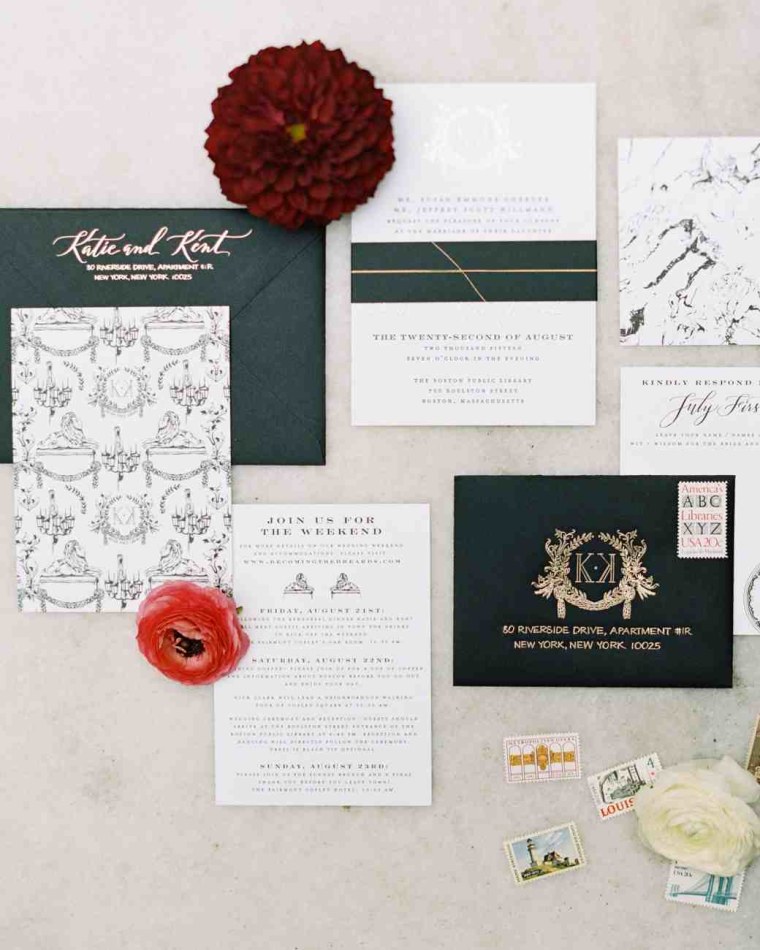 Your skin breaks out right before the big day.
If you have difficulties with your complexion, see your doc well in advance to for a skin-care plan. But if it's an emergency, a derm-administered cortisone injection can zap last-minute pimples within 48 hours, and concealer will work wonders.
RELATED: 17 most common wedding-planning mistakes couples make
Forecast: Rain
You. Need. A. Rain. Plan.
No, you don't want think about it, but it's essential. Discuss this up front when you're looking at venues — a good "plan B" could make the difference in your decision. If the forecast is dodgy a couple of days out, have your planner or a friend gather golf umbrellas and plan to have helpers shield guests as they're getting out of their cars and into the venue. If the weather is iffy or drizzly, but not a downpour, have towels or large clear plastic tarps to wipe down or protect chairs before guests arrive. If it will also be chillier than you were hoping, talk to your caterer about offering hot cocoa or warm cider as guests arrive. And don't rule out dancing in the rain at the end of night!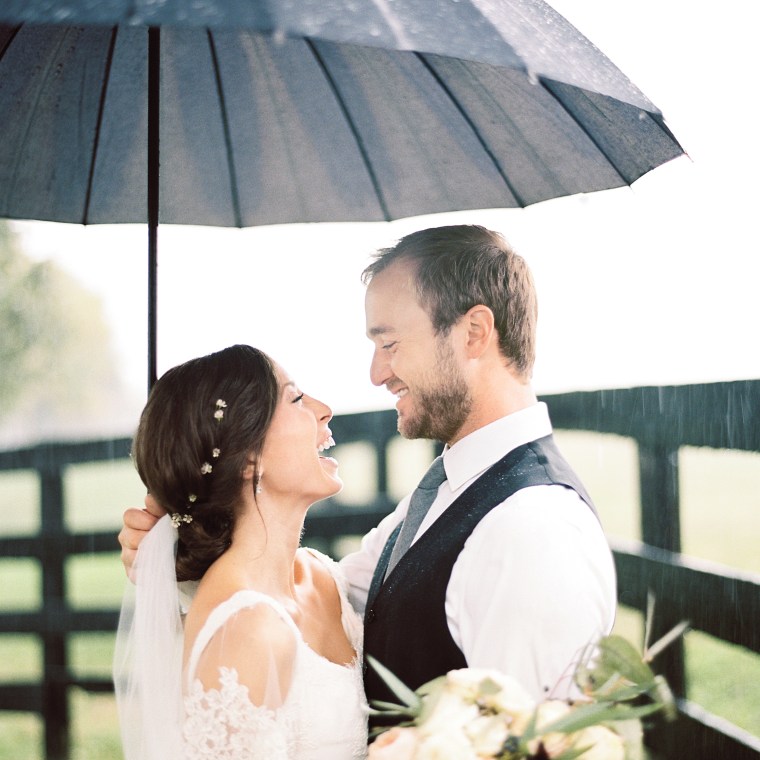 You have a wedding dress malfunction.
Put together a few supplies that might come in handy for you or a member of the bridal party. Needle and thread or large safety pins can fix a broken strap or a fallen hem, or cinch gapped fabric (more than one bride has been sewn into her wedding dress!). A few more tips: Clear wax stick can ease a stuck zipper. Fashion tape keeps a low-cut dress in place. Chalk can hide a smudge on a white gown.
Speaking of stains: Once you're dressed, don't drink anything other than water — and use a straw, which makes spills and drips less likely. (Okay, a little Champagne is allowed.)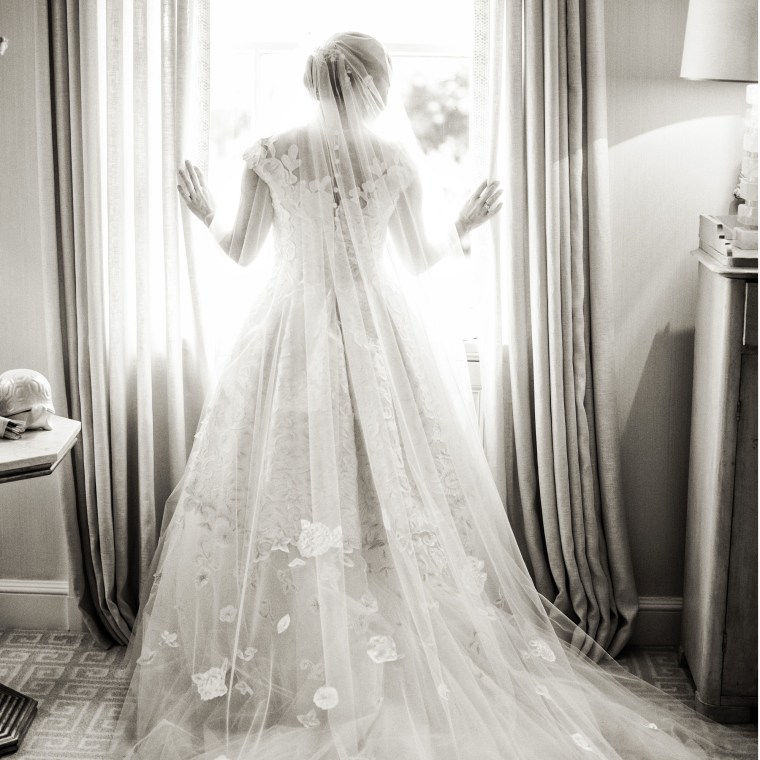 RELATED: 21 things I wish I'd known before wedding-dress shopping
The flower girl or ring bearer isn't happy.
Make sure to have him or her practice for the role, ideally in the venue, before the ceremony — knowing what to expect will ward off the jitters. Have mom, dad or another trusted relative there to focus on the young attendants as everyone is getting ready. Keep them busy in the run up to the big moment with non-messy supplies like sticker books or crayons and paper. Hunger translates to crankiness, so also have a stash of non-staining treats (think granola bars or cheese sticks). Melt-downs do happen. Don't stress or force it. You can always have the little one make a special entrance at the reception instead, after having a chance to calm down.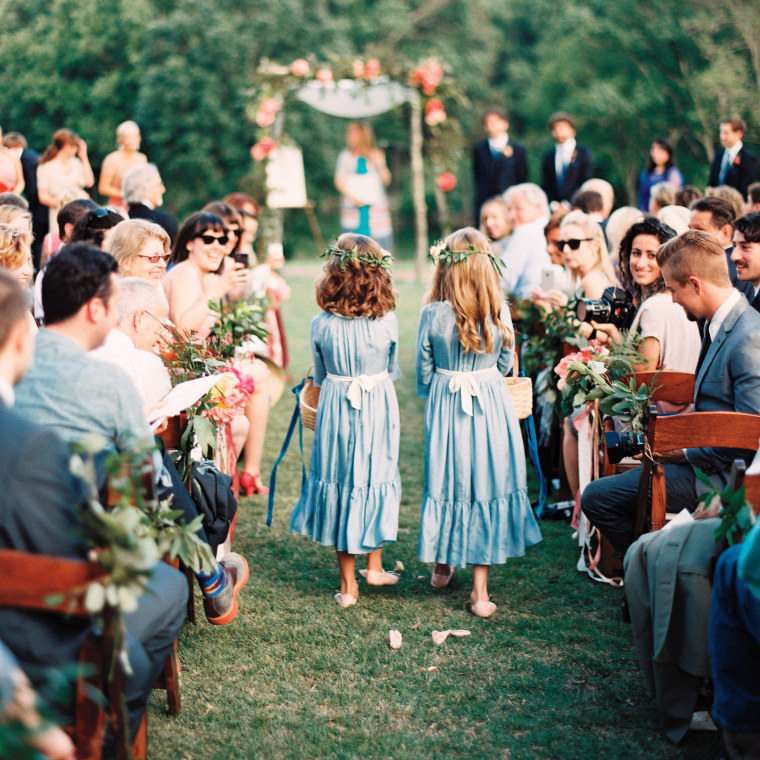 Your friend brought a guest — but you hadn't counted on the plus one.
Don't let it spoil your night. Be gracious, and just let your planner or caterer know — they'll take care of the details of squeezing in one more. When you're signing contracts, ask your vendors how they prepare for extra guests, just in case.
RELATED: Celebrity brides who wore unconventional colors on their wedding day
The life of the party is too lively.
Ask your bartenders in advance to keep an eye out for over-imbibing guests and to refuse service, if necessary. Consider having a "hydration station" with pitchers of fruit- or herb-infused water so guests can help themselves to something to drink without going the bar. Also, have a plan for getting guests home safely if they drink too much. A shuttle back to the hotel is always a great idea. Make sure cabs or ride shares will be available at the end of the party.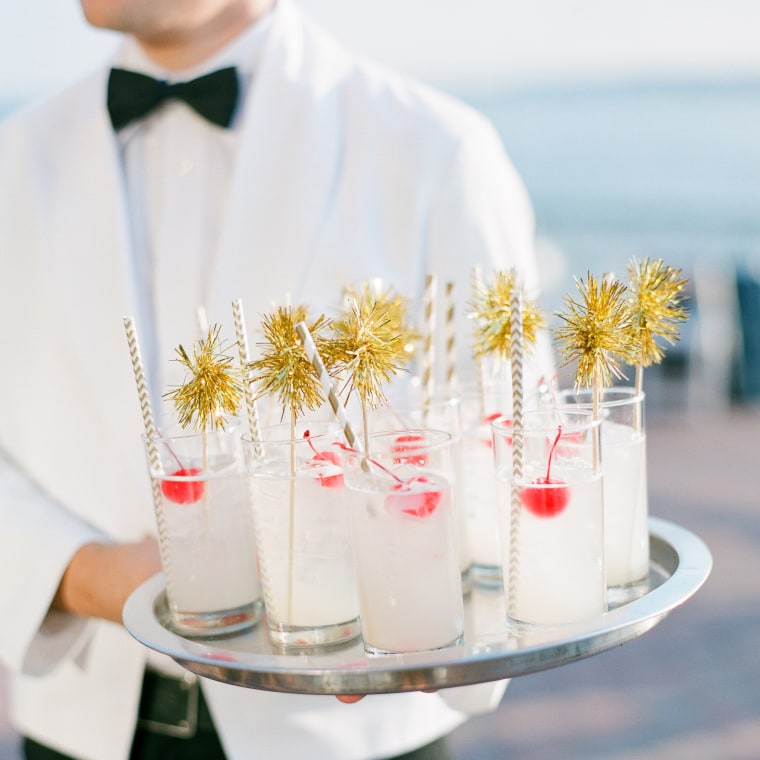 The cake is compromised.
Professional bakers are experienced in transporting delicate desserts without damaging them (even so, accidents do happen). If you have a talented friend bake your cake, there's a higher chance that something could happen en route to the wedding. If some of the icing on the cake has been marred in transit, position it so that the "good side" is the only one on view. Worst case? It may not look pretty, but it's still probably delicious. Have the caterer slice and serve the cake without displaying it.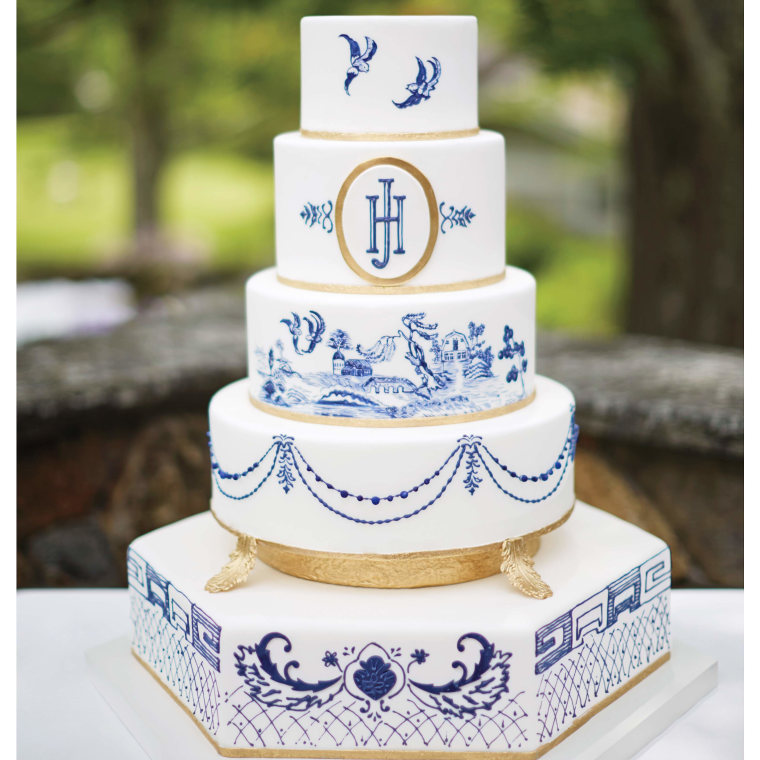 RELATED: 30 'naked cakes' for your wedding
The best fixes of all?
A sense of humor — and sense of perspective — can fix almost any problem. Remember that the day is much more than a collection of details — it's about the two of you beginning your life together. Something unexpected will make a great story to tell for years to come — and handling it with grace in the moment is good practice for everything that life will throw your way.