When Katie Holmes was photographed shopping in New York City last year, her look caused quite the frenzy. So much so, that an item she was wearing reportedly sold out in only one hour, according to the brand.
The look everyone went gaga over? A cashmere bra and matching sweater by Khaite.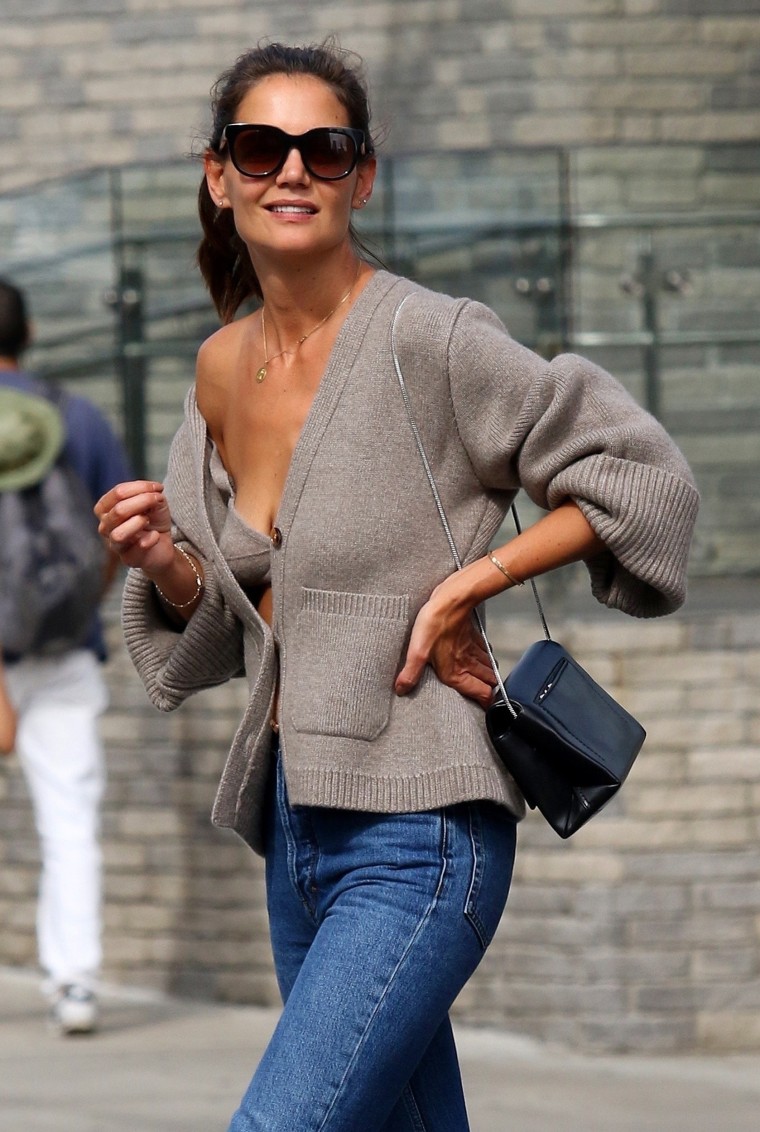 In a new cover story with InStyle magazine, Holmes is opening up about the media attention she received for her fashion choice.
"Honestly, I wasn't feeling so sexy," she said. "And I saw that and was like, 'Sexy. I can do that!' I thought it would be good if I was in a cabin sitting by the fire and wore the (matching) sweater over it. That's how my brain works."
But the 40-year-old actress claims that she really had no idea just how chic she was being.
"I didn't want to get into trouble with my teenager," she explained, referring to 13-year-old daughter Suri Cruise (with ex-husband Tom Cruise). "We were school shopping, and I was just trying to hail a cab on Sixth Avenue. It looked way more glamorous than it was."
Holmes was seen in that viral moment wearing jeans, oversized sunglasses and a knitted cardigan loosely clasped with only one button while hailing a taxi cab and generally enjoying the day in the shopping district of Soho in Manhattan. The cardigan falls off her shoulder just so, revealing the slightest hint of a cashmere bra underneath.
"I saw Katie Holmes wearing a cashmere bra and cardigan so I bought a cashmere bra and cardigan," wrote one delighted fan on Twitter.
Another user tweeted: "I will be thinking about that Katie Holmes photo for weeks, if not MONTHS."
The clothing brand reportedly sold out of the item in under an hour after Holmes' look went viral — even though it retails for a cool $520.
But don't worry, if you too want to add this chic item to your closet, it looks like it is back in stock.
On the inspiration behind her bralette design, Khaite founder and creative director Catherine Holsteiner told New York Magazine's The Cut in 2019 that she just wants "everything in cashmere."
She quipped: "I want a cashmere house. Why not a bra?"
As for the item's popularity, Holsteiner admitted she has Holmes to thank for that.
"I have been making cashmere bras for two years now and really believed that people would catch on eventually," she said last year. "Thank you, Katie!"
This story was originally published on Aug. 30, 2019 and updated with new information.