Joan Rivers left big (and very fashionable) shoes to fill as host of "Fashion Police" on E! when she passed this September. Now, Kathy Griffin plans to take on that role and follow Rivers' legacy of biting commentary.
In a statement naming Griffin the show's new host, E! executive Jeff Olde praised the comedian as the natural heir to Rivers' red carpet-skewering throne.
"Not only was Joan a trailblazer, she was also a dear friend and mentor to Kathy, who will no doubt continue her legacy and do the series justice by bringing her own unique comedic style and tell-it-like-it-is personality to the host chair," Olde said Monday in a statement.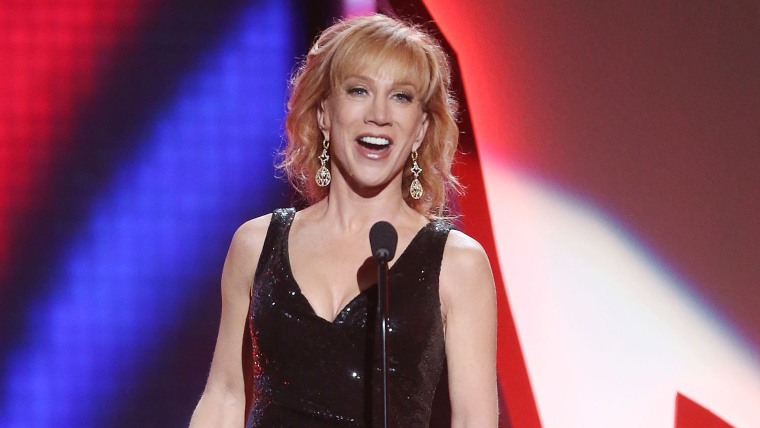 Griffin isn't the only new addition to the show. Celebrity stylist and former Rachel Zoe assistant, Brad Goreski, will join the panel with co-hosts Kelly Osbourne and Giuliana Rancic. E! executives have yet to confirm the return of George Kotsiopoulos.
"Kathy just feels right, and Brad brings a fun, new voice to join Giuliana and Kelly in this ensemble," said Melissa Rivers, who is staying on as executive producer. "I'm excited to see where this panel takes this series my mother so adored in this next incarnation."
For the Emmy and Grammy-winning Griffin, the significance of following in her mentor's footsteps isn't lost.
"I get it! These are some big shoes I'm going to fill. Joan was truly one of a kind," Griffin said. "Now, I hope you will accept me for me. I'm just Kathy. Did I say I'm just Kathy? I meant I'm Kathy F***ing Griffin and you celebrities better strap yourself in, as I am taking no prisoners. I am not holding back so DAMMIT let's have some fun!"
The series will return on Monday, Jan 12 with coverage of the Golden Globes.