We love having fun with fashion ... and love finding it at an affordable price even more. That's why TODAY.com is picking the brain of some industry experts to find out where they score the best deals on the cutest items. This time, Lilliana Vazquez chatted with the stylish and fun fashion director of People StyleWatch, Kate Dimmock.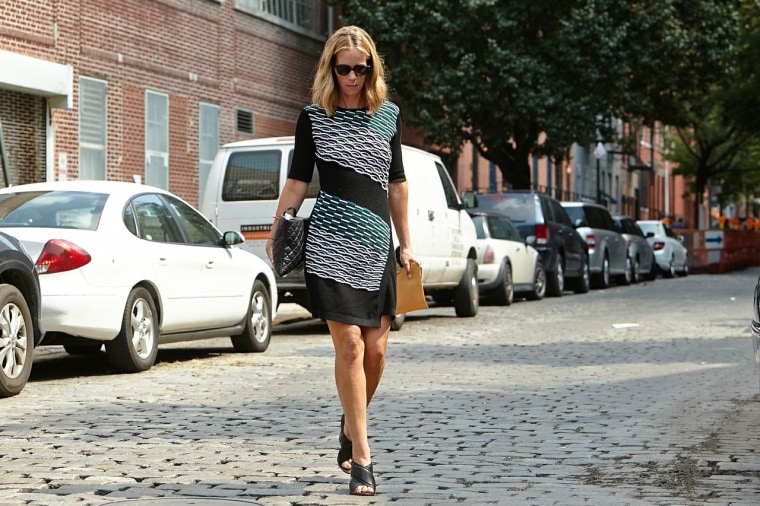 Name: Kate Dimmock
Title: Fashion director, People StyleWatch
1. Describe your personal style in 5 words or less.
Oh, that's hard! How about: Chic, sophisticated, but still fun.
2. Who's your celebrity style crush & why?
Alexa Chung slays me. She's so good at mixing pieces you might not have thought to put together. I also love the way Jenna Lyons reinvents super classic items by pairing them with something unexpected. I like people who create their own look rather than follow trends.
3. How often do you shop online?
Too much. First of all, I shop almost exclusively online. As a working mom, I find it's the most time-effective way to see everything and make the best choices. I look at my favorite sites every day. I browse and maybe add items to shopping carts but I don't always make the purchase. I LOVE to shop online (guess I found the right job!) and the act of just looking makes me happy. I am also the consummate bargain hunter and feel that if I don't look every day I might miss something special.
4. What is your best tip for a successful online shopping experience?
Shop on sites that offer free shipping and returns. Smart companies are making it so easy to send back what doesn't work, so take them up on their services. Also, if an item is shot on a model and the information is available, I use her measurements to gauge my size. I may not have her same figure but it really helps to determine how it's going to look on me even when I am going up a size or two. Online shopping is the best way to score a deal so do yourself a favor and search around a little to make sure you're getting the lowest price.
While it's great to know exactly what you want, sometimes it's also nice to go on luxury sites like TheOutnet.com or Gilt and just look — you never know what might pop up! I rarely buy investment items in season. If I look online I can find past season versions on sites like yoox.com and it's even better because not everyone is wearing it at that point.
5. What is your favorite "under-the-radar" shopping website and what makes this website so special?
I am obsessed with "& Other Stories" and their site stories.com. I fell in love with the store, which opened last fall, and it turns out the site is every bit as good. Everything they do is special — dresses with great details, pants in interesting fabrics, etc. — and almost nothing is over $100. I know this is an overused phrase, but their product feels European (and it actually is, since it's brought to you by the folks at H&M). The shoes in particular are so chic (I'm dying for those block-heel sandals) and they're very well made. I also can't seem to place an order without throwing in a body wash or moisturizer in scents like frozen verbena and fig.
7. What is the last item you bought on this site?
I just bought the pompom trim dress. I wore it this weekend with studded brown sandals and a cute clutch. Everyone kept asking me if it was some amazing vintage find. Actually, I felt very Alexa Chung-like in it — feminine and a little quirky, but still pretty.