We're impressed by anyone who can master a smokey eye or a perfect contour, but when someone who has no arms or legs does it? That's inspiring.
Kaitlyn Dobrow was 18 years old when she was diagnosed with bacterial meningitis. Doctors had to amputate all four limbs and Dobrow, of Huntington Beach, California, underwent 21 surgeries and spent six months in the hospital. Now 22, Dobrow is making headlines for another reason: her amazing makeup tutorials on YouTube.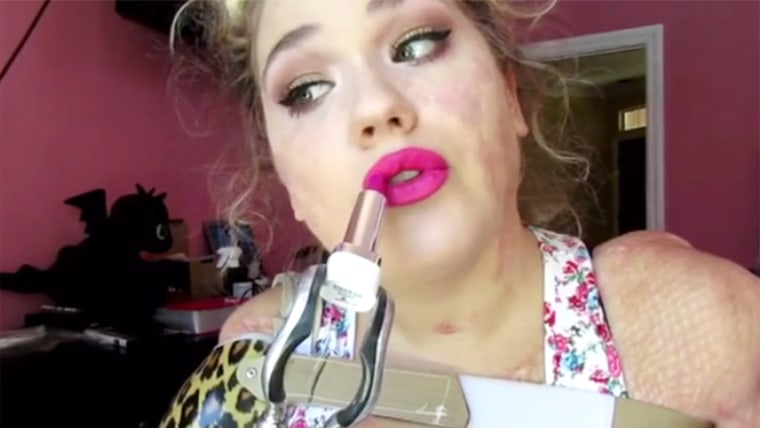 She describes her love for beauty as a "passion that came out of nowhere" after she got sick.
RELATED: Meet Nura Afia, CoverGirl's first hijab-wearing ambassador
"The first thing I picked up with my prosthetic arm was a makeup brush," Dobrow told TODAY Style.
She became curious about makeup after watching YouTube videos, and dreamed of starting her own channel.
"I just started thinking, that would be really fun to do," Dobrow said. "And it's something I can do."
Dobrow, who uses prosthetic legs and arms, realized she couldn't dance or box the way she did before she lost her limbs ... but she could apply makeup. And she was determined to be good at it.
RELATED: 'Bionic Model' Rebekah Marine fights for fashion diversity, adaptive clothing
"It was difficult," she said. "I actually started doing makeup in my bed. I would spread the products out on my bed, and I wouldn't wear my (prosthetic) legs. I would just have my arms on. Because I can pick things up with my legs without my (prostheses) on. And I figured things out. Now I have a routine, I know how to open things. It took trial and error."
Now Dobrow has more than 70,000 followers on Instagram and thousands more subscribe to her YouTube channel. Her looks aren't for the shy or faint of heart: She shows off cheetah makeup, bold lips and dramatic winged eyeliner.
RELATED: Double amputee former Marine Chris Van Etten models in underwear campaign
"I really like dark looks," she said. "I love doing dark eye shadows and mascara. I love black lipstick."
She also loves the celebrity that comes from being a popular beauty vlogger.
"The fact that I'm getting attention for this — I really like it," she said.
We do, too. Way to go, Kaitlyn!