Marybeth Eustice had been engaged for six years, having repeatedly pushed the wedding date off. Whenever she thought about planning her wedding, she was overcome by stress. Even deciding who to choose for her bridesmaids seemed like a burden.
Then last November, the couple decided to finally get married — but not invite anyone.
"We just wanted it to be about us," said Eustice, a 29-year-old dental assistant from Orlando, Florida. "At big weddings, I noticed the bride and groom are entertaining the guests and don't get to spend a lot of time with each other — we love spending time together. And, it's really about [us] at the end of the day."
Weddings-for-two, as bridal planners call them, are a growing trend, says Kelly Karli, owner of Frosted Pink Weddings in Vail, Colorado. "It's been popping up more and more," Karli told TODAY.com.
Less is more?
With the struggling economy, couples still want to get married — and they want more than a courthouse elopement. Brides want an expensive dress, a beautiful bouquet, a photographer and flowers. But one expense some couples are willing to cut? The guests.
One bonus of planning a "just us" wedding is that you have a lot more leeway in the budget, Karli explained.
"You're able to have a really great dinner and the best filet or the best wine," she said. "You're able to have the wedding that you want."
But the biggest bonus, she says, is that there's zero stress. They don't have to deal with a seating chart, feuding relatives, an uncle who can't eat what's on the menu, or a grandmother who hates the centerpieces.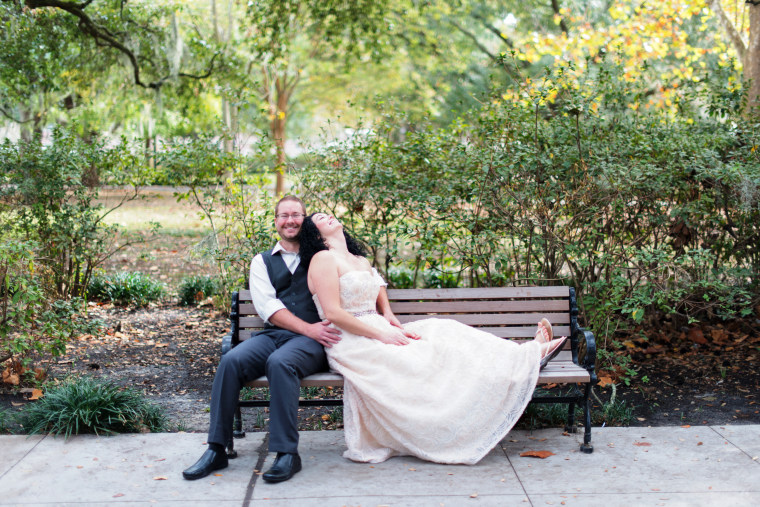 Las Vegas wedding planner Andrea Eppolito loves planning these smaller weddings so much she decided to have one herself this past fall.
"It's one of my favorite trends," said the 35-year-old newlywed. "It's about you, your life, your relationship, and what matters to the two of you. At the end of the day, it's what your marriage should be about."
Eppolito didn't want to have a big reception two months after having a baby – especially since her father isn't able to travel to give her away. But she still ordered an Ulla-Maija couture gown, had her hair and makeup done, booked a florist and selected a lavish menu at the Four Seasons Las Vegas.
Maybe in a year, she said, she'll throw a black-tie reception and invite all the friends and family.
"Then I'll wear a Vera," she says. "Or a Reem Acra."
'You're going to regret it someday'
Still, not everyone's family is on board with the trend. Elementary school teacher Amanda Mace's parents expressed their disappointment at not receiving an invitation.
"I'm their only daughter," said Mace, 33, of Elmira, New York. And although her dad wants to walk her down the aisle, Mace and her fiancé are exploring venues for a no-guest-wedding, ranging from Central Park to the Caribbean.
"My mom and dad's big concern is, 'we're worried you're going to regret it someday,'" Mace said. "I'm kind of a shy person. I don't need the spotlight on me... I want the memory of just the two of us."
Leigh McLeod, 35, watched her sister deal with planning a big reception. The more she thought about it, the more McLeod realized she wanted to be married more than to have an over-the-top wedding.
"I didn't want to wait," says McLeod, a 35-year-old assistant teacher from Columbia, S.C. "I just wanted to be with him."
Last October, McLeod bought a wedding gown, picked a bouquet — and the week after her fiance's divorce was final, they married, just the two of them.
While driving to their venue, McLeod received a text message from her sister with the message: "I'm jealous. I really wish I had done what you're doing."
More from TODAY Weddings:
'Downton' castle makes brides feel like real-life nobility
Were fake-out proposals 2012's worst wedding trend?
Something warm: Brides cozy up to wedding sweaters