What would you do with $1.56 million dollars this holiday season? Click your heels together three times and imagine it.
Somebody with that amount of money just purchased the blue gingham dress Judy Garland famously donned in the The Wizard of Oz, which bowed in theaters in 1939. The dress sold at a New York auction on Monday, organized by Bonhams auction house in in partnership with Turner Classic Movies.
And like Toto, it fetched.
Big time.
Bonhams had estimated the dress could pull in between $800,000 and $1.2 million at the sale, which also offered various other entertainment industry memorabilia. The frock went to a phone bidder, who had been in active competition with two other remote bidders.
It's the rare occasion when an old, soiled dress could sell for approximately the same amount as a typical Hollywood home. While the dress had held up well overall, it did have sweat stains around the neck.
It's estimated that MGM's costume designer made 10 dresses for Garland to use in the role, though the frock that recently sold was one of only two the star actually wore on screen.
RELATED: Rawr! 'Wizard of Oz' Cowardly Lion costume, 'Casablanca' piano each sell for over $3M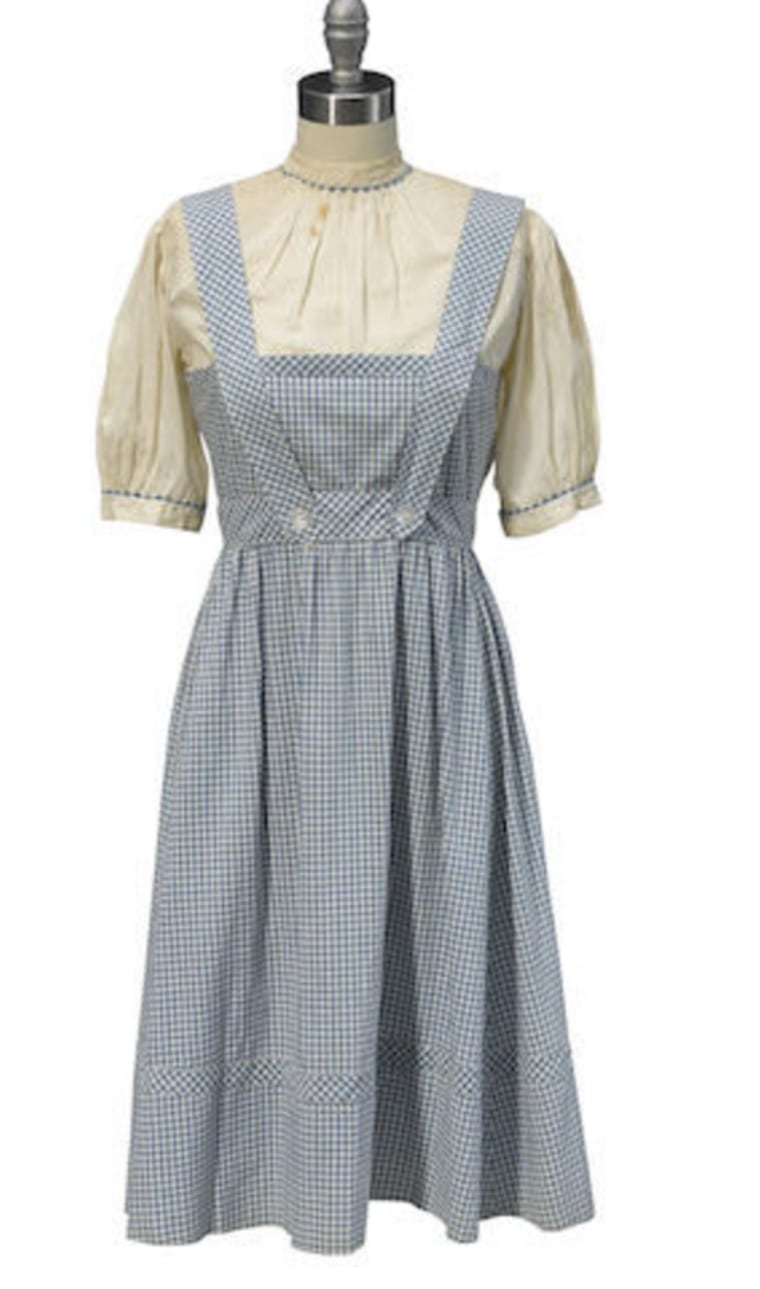 "The dress is one of only two complete Dorothy costumes in existence," Bonhams' director of entertainment memorabilia Catherine Williamson said in a statement. "As we witnessed today in the Bonhams saleroom, the dress is considered a true and timeless icon of classic Hollywood."
Close to 400 other collectible items also sold to folks in the crowded saleroom at Bonhams Madison Avenue, as well to bidders as by phone — resulting in total sales in excess of $4 million.
RELATED: WornonTV: Site lets you shop from your favorite TV shows
Other notable sales included Marilyn Monroe's suit from "Gentlemen Prefer Blondes," which took in $425,000. A trio of "Casablanca" scripts — including Jack Warner's bound copy of the final draft — sold for U.S. $233,000. And a "Golden Ticket" from "Willy Wonka & The Chocolate Factory" sold for U.S. $35,000.
Alesandra Dubin is a Los Angeles-based writer and the founder of the lifestyle blog Homebody in Motion. Follow her on Facebook, Instagram, Google+ and Twitter.