Jonah Hill may be one of Hollywood's most sought-after actors, but early in his career he was anguished by nasty remarks about his weight.
During his visit Friday to "The Ellen DeGeneres Show," Hill, 34, who got his start acting in comedies including "Superbad" and "Knocked Up," and just directed his first feature film, "Mid90s," opened up about how body-shaming comments "hurt" him.
"I came up in goofy comedies and this kind of curly haired, overweight kid and everyone had their own opinion on what I should be, how they could speak to me, how they could treat me," he told DeGeneres.
Hill, whose weight has fluctuated throughout his career, detailed his experience with body-image issues in his new magazine, Inner Children, and read one candid excerpt aloud during his appearance.
"I became famous in my late teens and then spent most of my young adult life listening to people say that I was fat and gross and unattractive, and it's only in the last four years writing and directing my movie 'Mid90s' that I've started to understand how much that hurt and got into my head," Hill read.
"I really believe everyone has a snapshot of themselves from a time when they were young that they're ashamed of," he continued. "For me, it's that 14-year-old overweight and unattractive kid who felt ugly to the world, who listened to hip-hop and wanted so badly to be accepted by this community of skaters."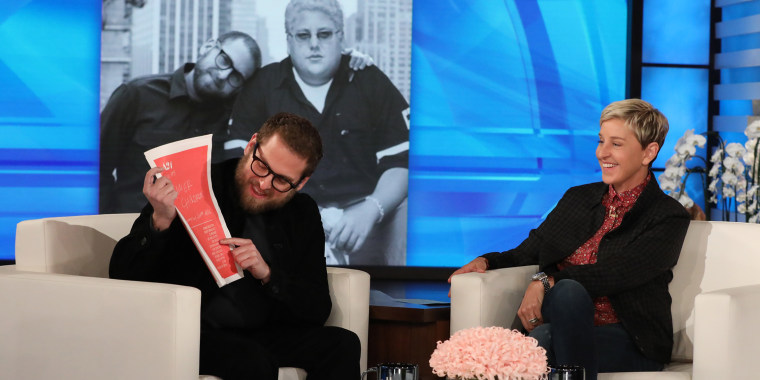 "Mid90s" tells the story of a 13-year-old boy desperately trying to fit in with his peers. Hill created Inner Children as a companion piece to the film, inviting several famous friends, including his sister, actress Beanie Feldstein, and model Behati Prinsloo, to open up about their childhood issues.
"I think everybody has a version of themselves ... at some point in your life the person you're trying to kind of hide from the world," Hill explained. "Even if you get success or you grow up or you become good looking or whatever, the things that you think will fix the thing, you kind of carry some part of that with you."
When DeGeneres told Hill she was proud of him for finding self-love, he shrugged it off.
"I'm under construction like we all are, you know what I mean?" he asked. "We're all just trying to figure it out."