We're not sure what to make of this interview Jim Carrey gave to E! News at a New York Fashion Week event Friday.
Reporter Catt Sadler pulled the actor aside on the red carpet of a Harper's Bazaar party celebrating icons by Carine Roitfeld. Let's just say the conversation didn't go as she expected.
In a viral clip of the interview, Carrey, who circles Sadler for a couple of rounds, starts the conversation by completely dismissing the whole purpose of the event.
"There's no meaning to any of this," says the 55-year-old actor and comedian. "So I wanted to find the most meaningless thing that I could come to and join and here I am."
He pauses before repeating his point, this time with extra emphasis: "You gotta admit … it's completely meaningless."
What's more, Carrey says he doesn't believe in icons.
"Celebrating icons? That is just the absolute, lowest-aiming possibility that we could come up with," he comments.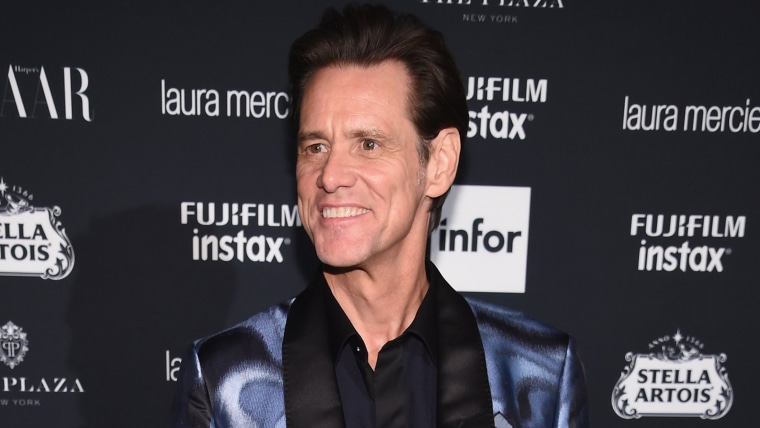 Seconds later, he impersonates James Brown and Jimi Hendrix for Sadler — who is visibly confused by this point — before continuing his train of thought.
"I don't believe in personalities. I believe that peace lies beyond personality, beyond invention and disguise, beyond the red 'S' that you wear on your chest that makes bullets bounce off. I believe we are a field of energy dancing for itself. And I don't care."
When Sadler notes that Carrey dressed up for the occasion, he replies, "I didn't get dressed up. There is no me. There's just things happening."
The interview concludes with Sadler asking for his thoughts on what's been going on in the world.
"It's not our world. We don't matter. There's the good news," he says. And with that, he walks off.
The interview came just days after Netflix acquired the rights to a documentary about Carrey's portrayal of late comedian Andy Kaufman in the 1999 movie "Man on the Moon." The streaming service is billing the film, titled "Jim & Andy," as a "documentary on his full transformation." Carrey famously refused to break character while making "Man on the Moon," keeping in line with Kaufman's own dedication to his performances.