Whether in the company of martinis, cars or girls (or all three at once), James Bond has maintained his undeniably sophisticated tastes over the last 53 years of films. Actors Sean Connery, George Lazenby, Roger Moore, Timothy Dalton, Pierce Brosnan, and Daniel Craig have all portrayed Agent 007, upholding the spy's image through a chiseled physique and, of course, the finest fashion choices. In celebration of the release of "Spectre," the 24th Bond film from Eon Productions, we're reflecting on some of the character's best looks.
The polo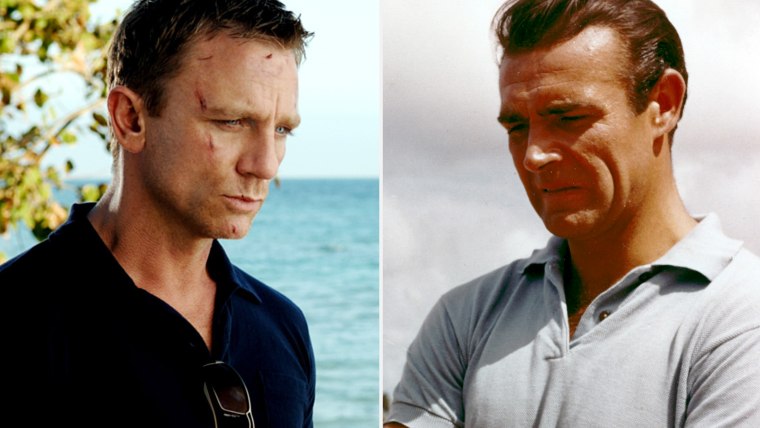 While Bond is probably sartorially best known for his black-tie scenes, the spy certainly knows how to pull off a casual look. Both Sean Connery (in 1962) and Daniel Craig (in 2006) sport two-button, short-sleeve polo shirts — and the styles haven't changed much despite many years between movies. In the first film of the series, Connery wears a light blue, pocketless version, while Craig's Sunspel polo in "Casino Royale" features one pocket and a more slimming fit. One thing is certain: both of these flattering photos offer a clear argument for the polo shirt as an off-duty wardobe classic.
The suit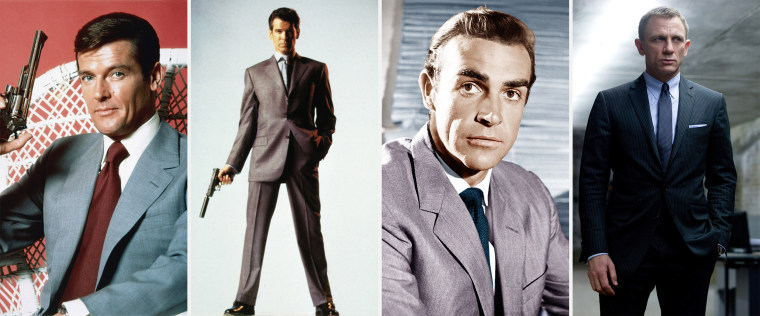 Whether striped, checked or solid, Bond's suits are always impeccably tailored. The elegant agent's many jackets and ties are examined in full on the website The Suits of James Bond, and this comprehensive analysis of Roger Moore's Cyril Castle suit in "Live and Let Die," Daniel Craig's Tom Ford suit in "Skyfall," Sean Connery's Anthony Sinclair suit in "Dr. No," and Piece Brosnan's Brioni suit for "The World is Not Enough" provide a fascinating comparison. While lengths, colors, fabrics and cuts vary between films, there's no denying that these suits were the embodiment of sophistication at the time each film was released. It is, after all, an unspoken requirement that Bond look sexy in a suit.
The turtleneck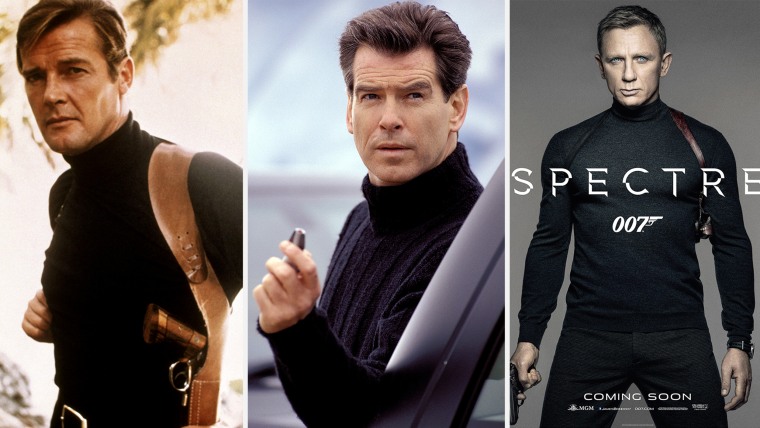 Daniel Craig is making a case for the return of the turtleneck, proving that everything old truly is new again. In the teaser poster for "Spectre," Craig wears a mock turtleneck from N. Peal reminiscent of Roger Moore's black turtleneck from the 1973 film "Live and Let Die." While Bond wears a turtleneck in many of the older films featuring Connery, Moore, and Lazenby, it's been 13 years since the style was last featured on the spy; Pierce Brosnan pulled off a cashmere version in the 2002 film Die Another Day.
The bathing suit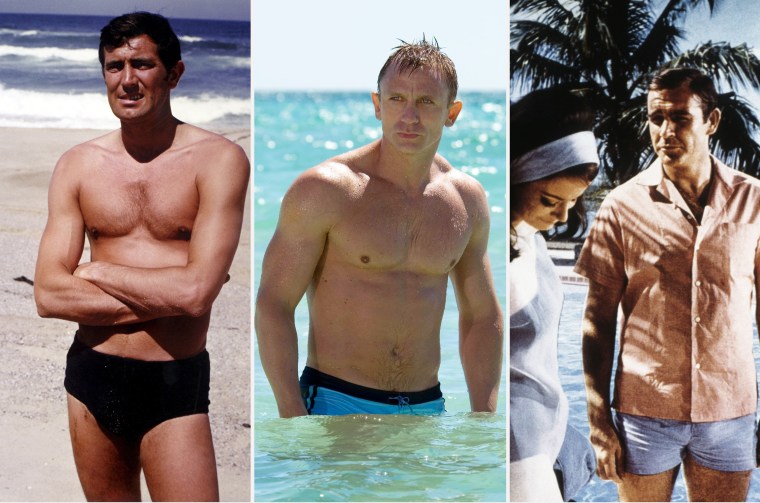 When Bond takes a dip, you know it's going to be noteworthy. From Sean Connery's light blue Jantzen shorts in "Thunderball," to George Lazenby's speedo in "On Her Majesty's Secret Service," and Daniel Craig's now infamous La Perla trunks from "Casino Royale," these swimsuits — and the men wearing them — have created quite a flurry over the years. Though the styles have shifted slightly, tiny-and-tight swimwear remains a 007 staple. We think all Bond fans would agree that if you've got it, flaunt it.
The tuxedo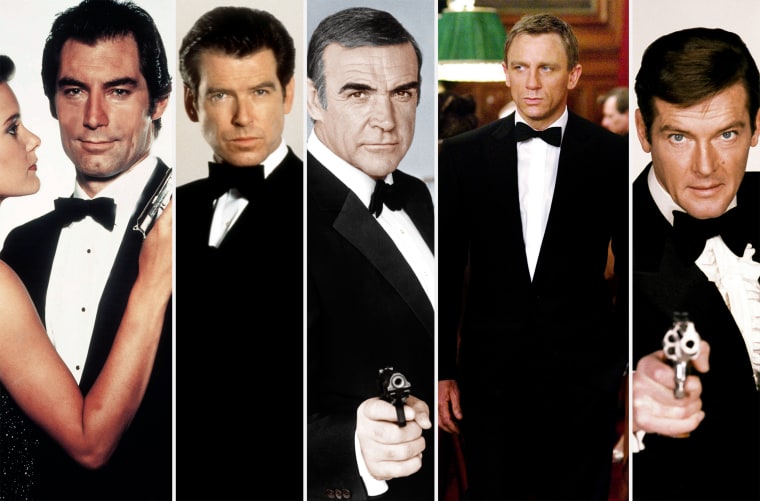 Though technically two out of the 24 films don't feature tuxedos, a Bond film is feels incomplete without a black-tie moment. In fact, a bow tie and dinner jacket are just as symbolic for the spy as a pistol or a martini. From Brosnan's butterfly bow tie to Dalton's dark studs, or Craig's single vent and Lazenby's uncharacteristic ruffled shirt, each actor's wardrobe has featured a unique element, though most of these styles are designed to be timeless and well-tailored. As far as a signature look goes, 007 in a tuxedo is about as iconic as it gets. Need proof? Bond's tuxedo sleeve is the opening shot in the franchise's first film, a sartorial precursor if ever there was one.