A former J.C. Penney employee said she was sent home from work for wearing shorts she bought in the store's career style section, launching a heated discussion about dress codes for women online.
Sylva Stoel of Sioux Falls, South Dakota, called out her former employer on Twitter last week, accusing her boss of sending her home because her red linen shorts were "too revealing," she said.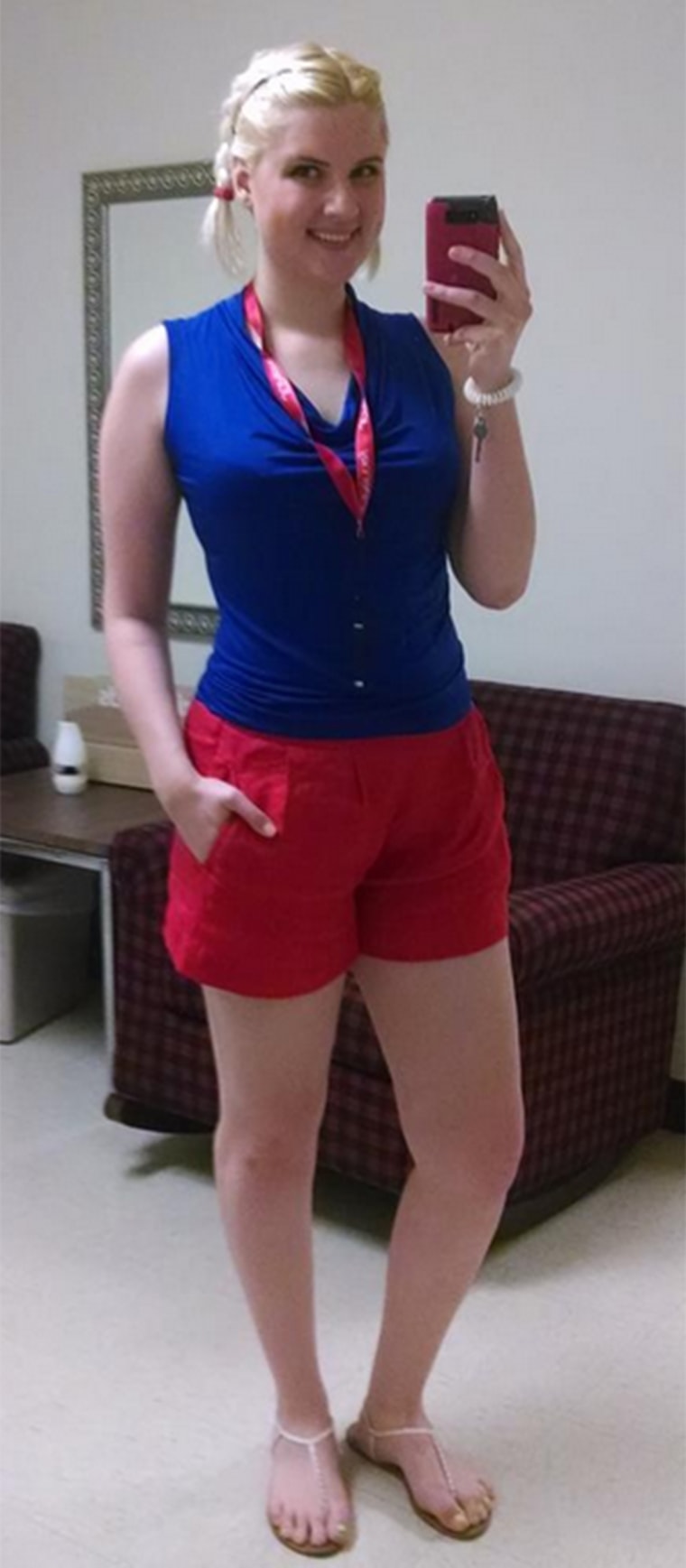 "I was at work for about 10 minutes before he approached me," Stoel, 17, told TODAY.com. "He asked if anyone talked to me about dress code at orientation."
2015 Voices: Where is she now? Former J.C. Penney employee reflects on the controversy
After he reportedly asked her how long it would take to go home and change, she quit on the spot, Stoel said.
"I bought [the shorts] thinking they were pretty professional," she added. "They didn't show anything other than my legs, which I don't think is too provocative."
Sign up for TODAY newsletters straight to your inbox.
She posted a photo of the outfit in question online: a blue sleeveless shirt, red shorts and sandals.
While shorts do violate J.C. Penney's dress code for employees, Stoel said she never learned that in orientation. The company declined to comment.
The teen said she's fed up with dress codes that target women, and she's not the first to speak up about it — many young women have voiced concerns that school and work dress codes are sexist.
"It's blowing up," she said. "I'm very satisfied that people are paying attention to the cause and starting a discussion on dress codes in the workplace and at schools, and how we view women."
RELATED: Sister slams high school in viral post after girl sent home for outfit
She said she agrees with dress code rules that aren't gender-specific — "no gang attire, no explicit imagery, no pajamas," she wrote on Twitter — but not ones that suggest women should always keep their legs and shoulders covered, for example.
"It's always been an issue, but the Internet is making women feel like they can express their opinion," Stoel said. "We have a huge community of feminists who will share it and give it validation. What we're doing isn't wrong, it's society that is wrong."
Stoel, who had worked at J.C. Penney for about two weeks, is now looking for a new job.
RELATED: Teen asked to cover up at school dance felt 'embarrassed and ashamed'
TODAY asked whether readers agreed with J.C. Penney's decision to send Stoel home from work due to her attire, and it appears the verdict is split down the middle.