Just because your mascara lasts for longer than a year, doesn't mean you should use it for that long.
Now's a great time of year to give your beauty bag a check-up, making sure everything is fresh and in good working order. TODAY style editor Bobbie Thomas joined Kathie Lee and Hoda Thursday to give the expiration explanation.
1. Learn your labels.
If an item has a specific MM/YY expiration date listed, simply toss it out after that date. If an item doesn't have an expiration date, your second line of defense is to look for the PAO, which stands for "Period After Opening." It's a small symbol that looks like a jar with a number inside it, and it's found on most cosmetic products. The number (6M, 12M, etc.) identifies the useful lifetime of a cosmetic product (in months) after its package has been opened for the first time.
2. No original package? No problem.
There are apps that aim to help you track down the info via the item's batch code, a small, imprinted number that indicates and tracks exactly when the item
was produced. CheckFresh, Beauty Keeper and CheckCosmetic are a few of my faves.
If you've ditched a lot of your packaging but still want to give your makeup a checkup, here's a handy snapshot of suggested industry averages.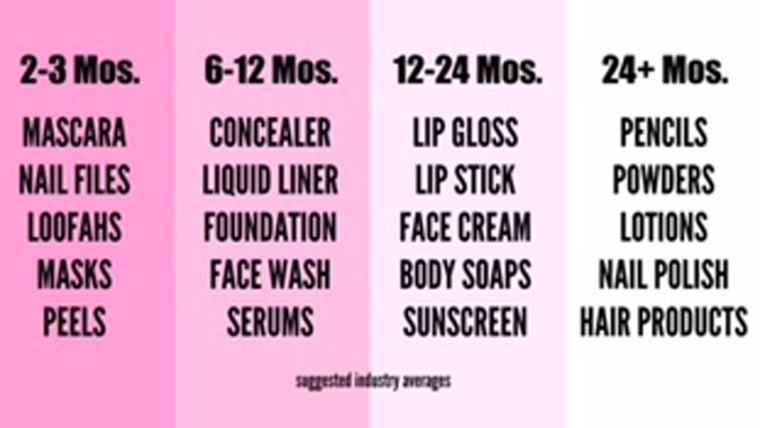 While expired makeup can perform poorly and harbor bacteria, items with active ingredients, like skincare, can have an additional risk because as the base breaks down, the active ingredients (think Retinol, glycolic acid, salicylic acid and others) can become more concentrated, leading to potential irritation or infection.
3. Pay attention to packaging.
Air-tight canisters, sprayers and pump-style jars with creams and lotions can stay fresh longer than dip-style jars because they aren't as easily exposed to air, or bacteria from your fingers.
4. Be careful with organic or preservative-free products.
For those who like the natural approach, keep in mind that these products may have a shorter shelf life due to lack of preservatives, and in the inclusion of raw ingredients like pulps, barks and pure extracts. Be vigilant about replacing these items on a regular basis.
5. Consider where the item lives.
Every wonder why some serums and oils come in dark-colored glass bottles? It's because amber glass and UV treated glass can help protect delicate ingredients (like vitamins) from potentially damaging sun exposure.
Think of tinted bottles like sunglasses for your skincare! Items that aren't in amber glass, like nail polish and perfume, are best stored out of the way of sunlight to keep them in tip top shape. Lastly, remember to check on shampoos, conditioners, hair masks and other items that live in the shower, as humidity can foster the growth of potentially dangerous molds and mildews in addition to reducing efficacy.
Resident style editor and author of "The Power of Style" Bobbie Thomas shares the buzz about beauty, fashion and more here on TODAY and at Bobbie.com. Follow her on Twitter, Facebook & Instagram.