Get ready to celebrate — because the "big fat" TODAY Wedding is finally HERE!
Today, our couple, Kaitlin Roseman and John West, will have the celebration of a lifetime. And from the gown to the cake, to the rings, to the bridesmaid dresses and so much more — every aspect of this special day was decided by YOU!
The votes were cast and now they've been tallied. So, before we kick off the fun (and kick-start this couple's lifelong journey together), take a look at the complete list of winners.
Well chosen, TODAY fans!
Dress and tux
Elegant affair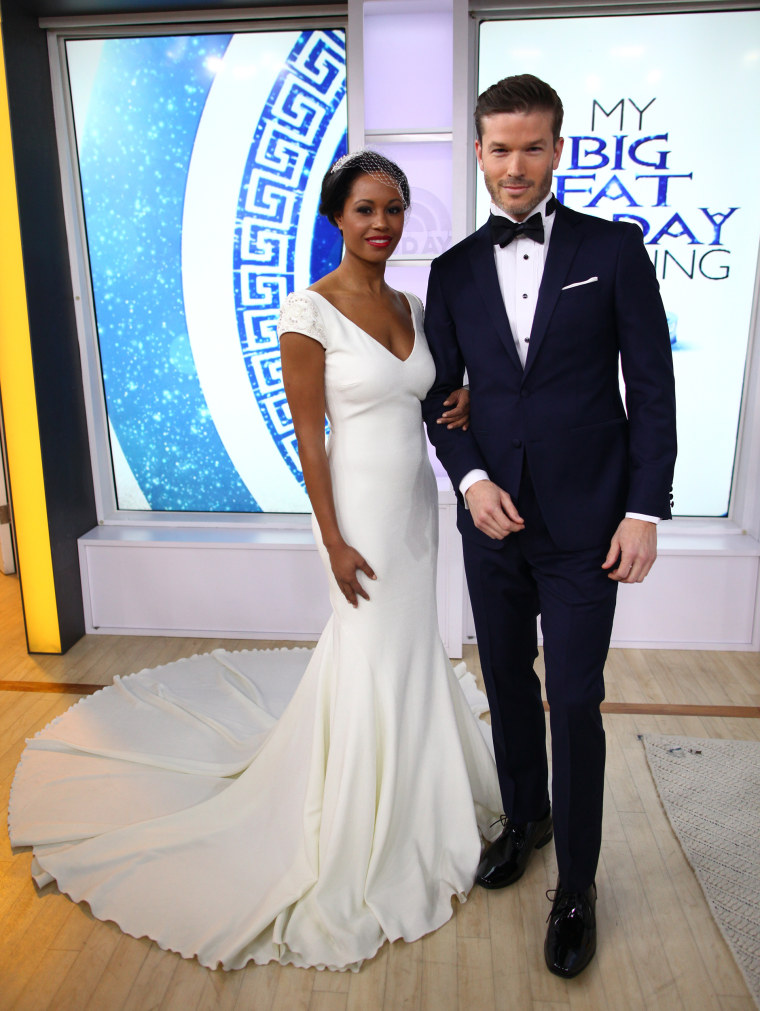 Bride: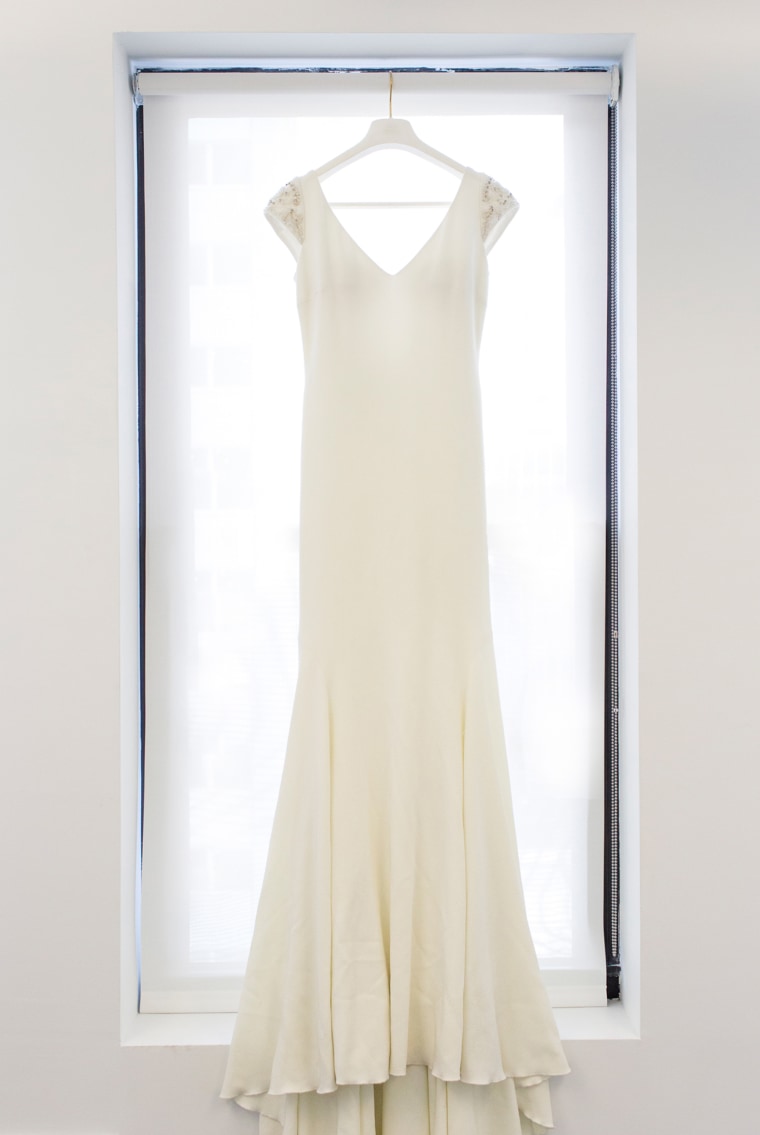 The winning dress for the bride embodies sophistication and grace. "It's a mermaid gown in a soft white crepe fabric and it highlights the deep, plunging V-back trend, that is so hot right now," Style Me Pretty founder, Abby Larson, explained. Understated elegance is the name of the game with this look, and its art deco flair adds a fun, Gatsby-esque element.
RELATED: 21 things I wish I knew before buying my wedding dress
Groom: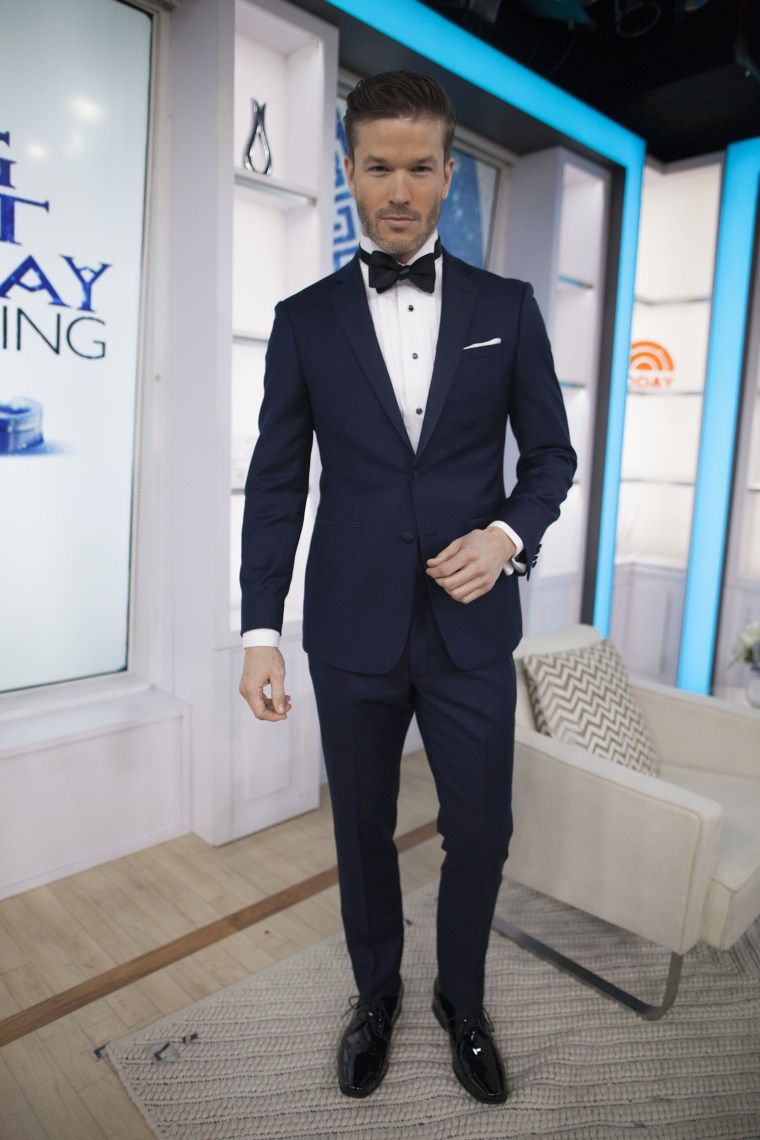 "Navy is the 'it' color when it comes to men's formalwear," Larson said. And this navy tux by Calvin Klein for Men's Warehouse is so incredibly modern. Its super slim fit and grosgrain detailing along the pockets and pants makes it the perfect match for the bride's Gatsby-inspired dress.
See the original options here.
Pin it!
Welcome sign
Floral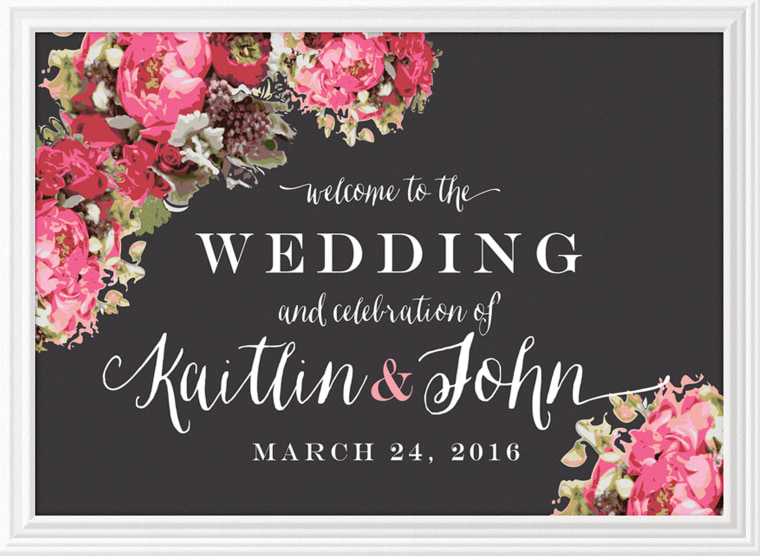 This metropolitan floral design perfectly complements a wedding in the city. Sheila Dodson-Wright, owner and lead designer at Tableau, said she "wanted to do something floral for (the couple), because it's a romantic and time-tested option."
See the original options here.
Pin it!
Rings
Mix and match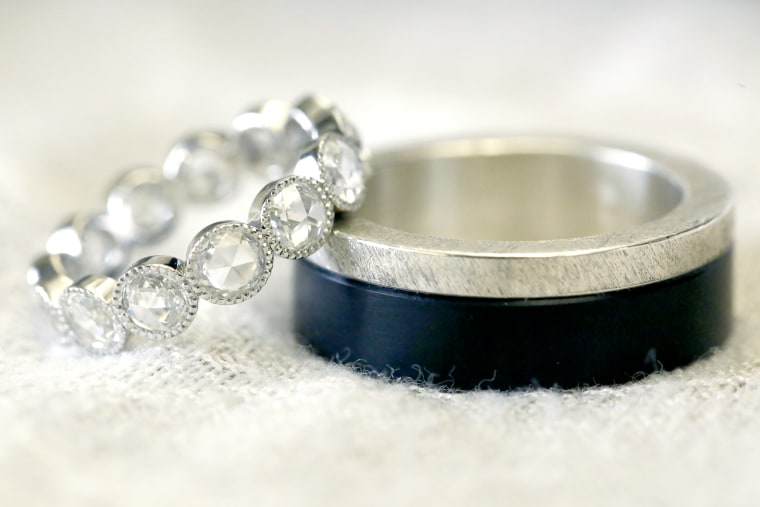 Bride: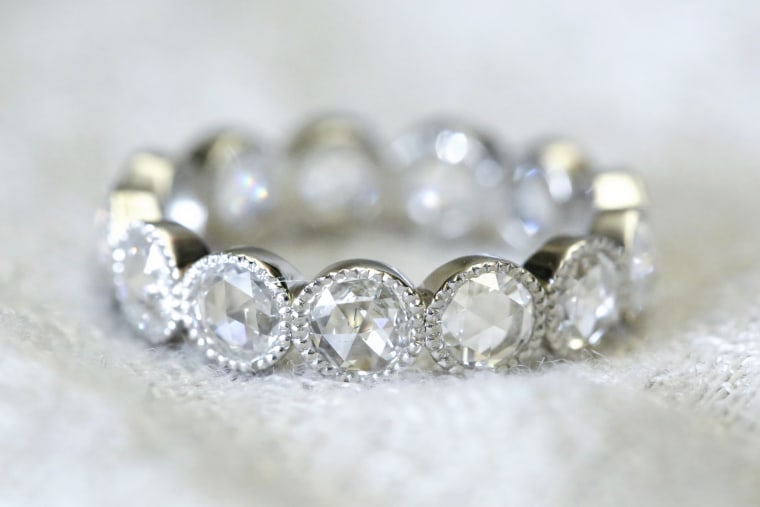 "They say opposites attract," Keija Minor, editor-in-chief of BRIDES magazine, told TODAY. And based on your vote, we agree! For the bride, you chose this TWO by London vintage-inspired ring. The design is feminine, romantic and features a platinum eternity band with 1.85 carats of beautifully-cut rose diamonds.
RELATED: 18 unique and minimalist engagement rings for the modern bride-to-be
Groom:
Todd Reed at Greenwich Jewelers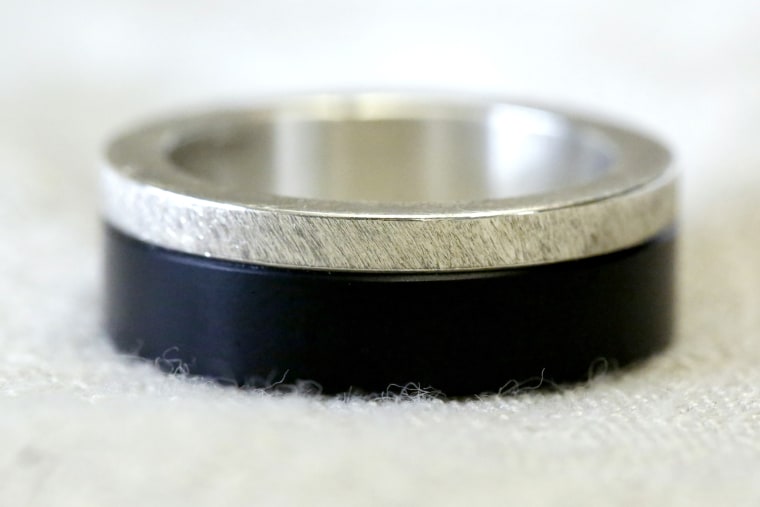 For the groom, you chose a simple, yet very masculine design by Todd Reed at Greenwich Jewelers. This black jade and sterling silver band provides the perfect amount of contrast to the bride's more traditional ring.
See the original options here.
Pin it!
Bridesmaid dresses
Blush (with a group ombré effect)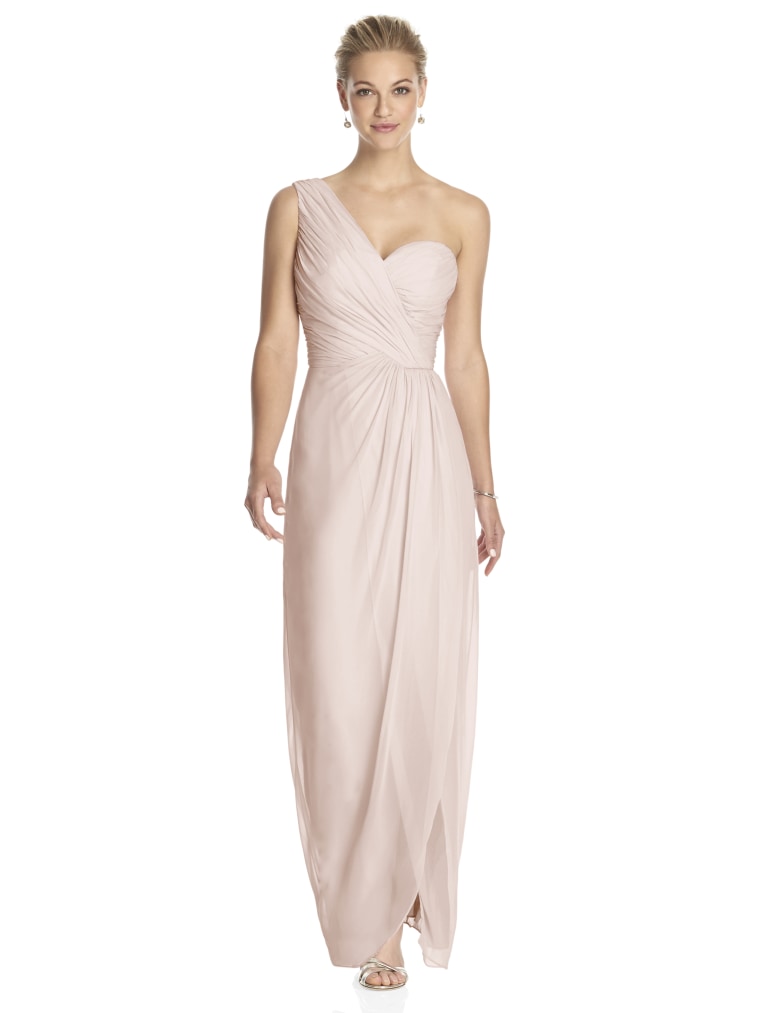 Kaitlin's bridesmaids will wear this Grecian-style gown from the Dessy Group. It comes in three shades of pink that look lovely together: blush, rose and cameo. These dresses will create the ultimate ombré effect when worn side-by-side.
RELATED: Bridesmaids, rejoice! The new wedding trend is all about individuality
See the original options here.
Pin it!
Favors
Garden trays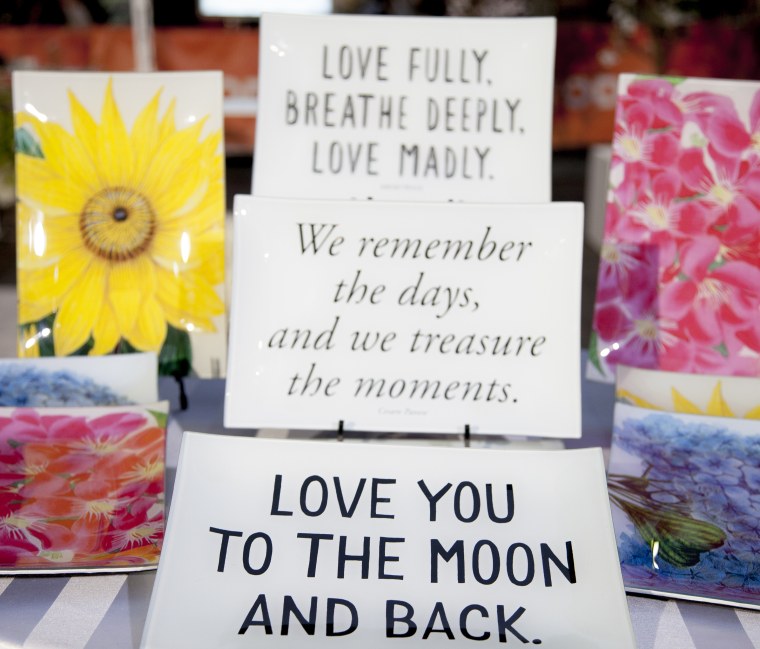 You loved these assorted garden trays from Ben's Garden, and we're sure the guests of this special wedding will adore them, too! This favor is a unique and personalized gift — perfect for family members and friends who want to display and remember the sweet moments from the couple's big day.
See the original options here.
Pin it!
Bridal hairstyle
Soft, modern updo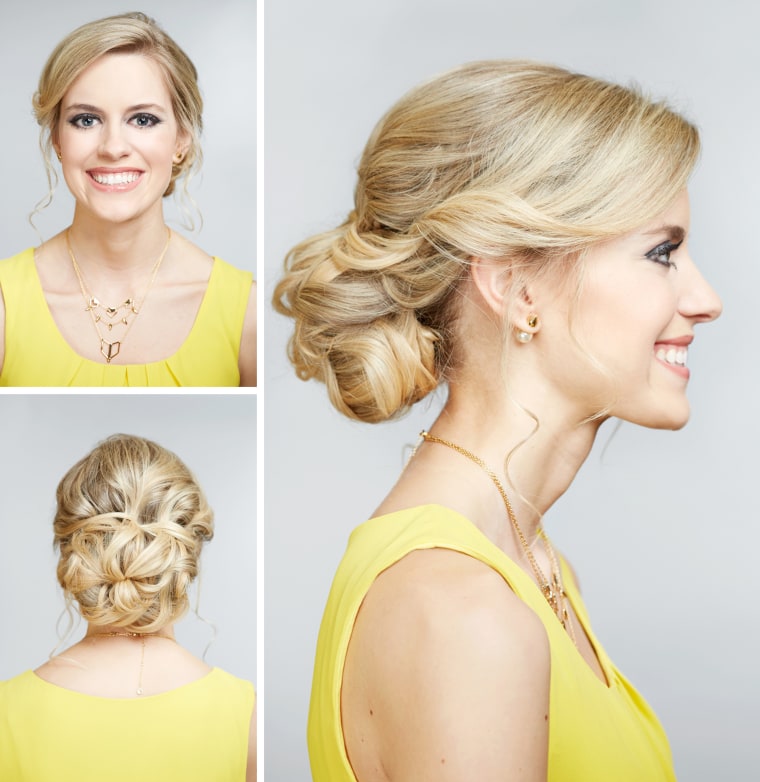 For the bride's hair, you chose this soft, textured style — sure to look stunning with the delicate design of her dress. "A slightly messy, disheveled updo feels romantic, feminine and natural," said Larson. Our TODAY hairstylist, Ashley Palumbo, agreed, explaining that the look she created is sexy, elegant and timeless.
See the original options here.
Pin it!
RELATED: Want picture-perfect wedding hair? The 8 best styling tools under $50
Cocktail
Honeymoon sunset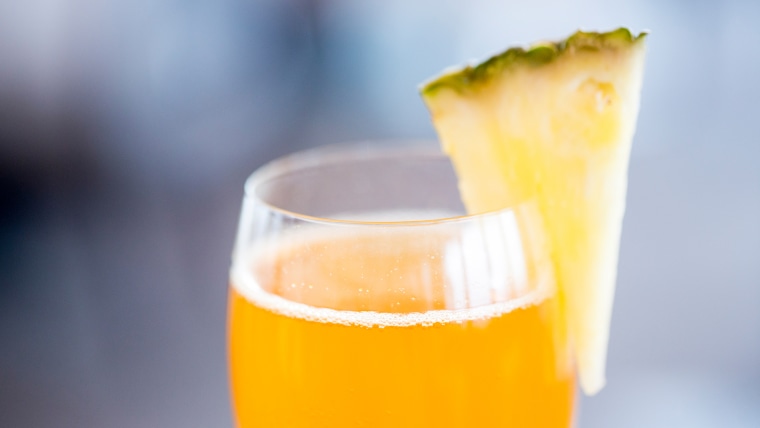 The bubbly drink you chose has a beautiful ombré effect that reminds us of a sunset. The cocktail is full of passion from the cherry, heat from the jalapeño slices and exotic flavors from the pineapple juice and turmeric. Plus it's topped with Champagne!
See the cocktail recipe and original options here.
Pin it!
Cake
Floral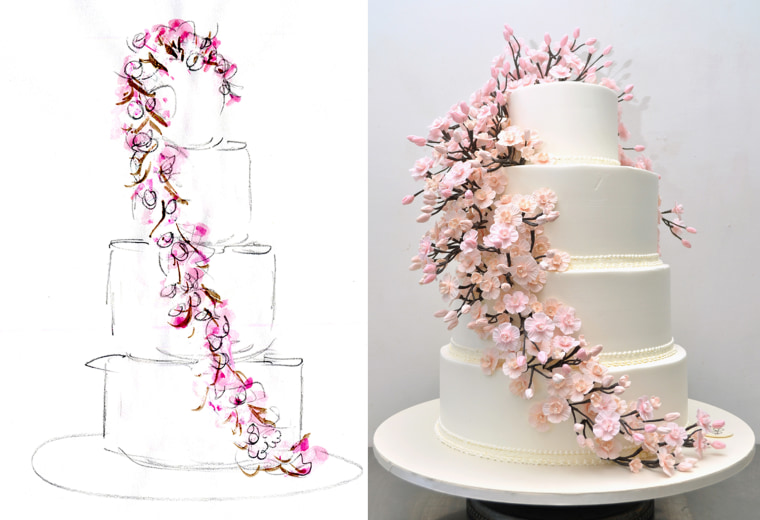 For the wedding cake, you chose this breathtaking floral design, rich in vibrant, natural color. The trimmed tiers of this selection add a dash of delicacy and effortlessly complement the smoothness of the frosted layers. The cake includes three different fillings from which guests can choose: chocolate, caramel and vanilla.
See the original options here.
Pin it!
Flowers
Romantic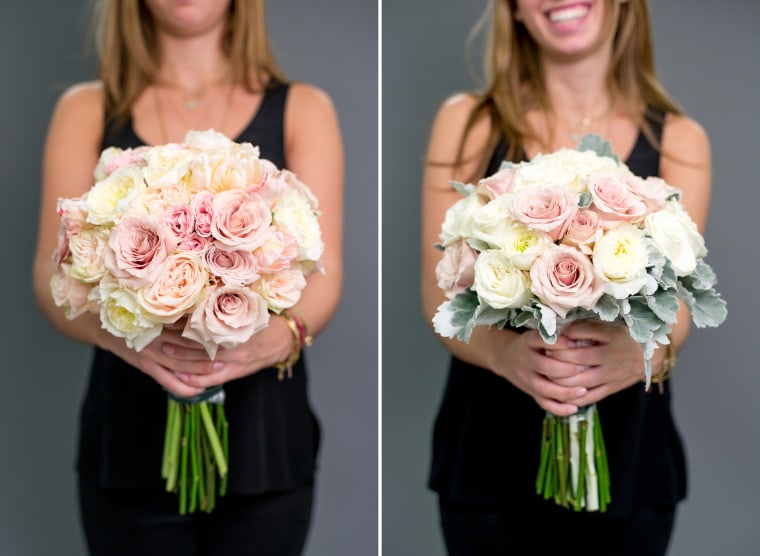 Bride: White and blush garden roses, pink spray rose, white and blush tulips
Bridesmaids: White and blush garden roses, blush spray roses, dusty miller
Boutonniere: White garden rose, blush garden rose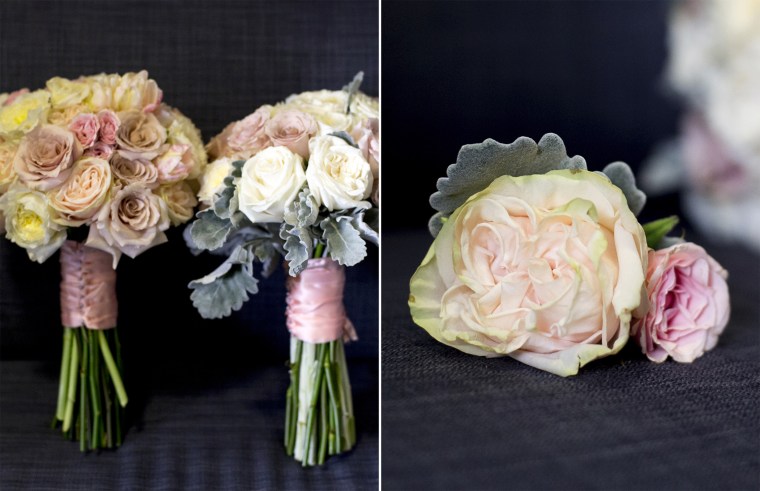 We think the blush tones of these arrangements will wonderfully complement the wedding gown and bridesmaid dresses you selected. "Romance flowers, such as peonies and garden roses, personify romance, beauty and passion … These flower breeds tend to create a dream-like and romantic ambiance without even trying," explained Jes Gordon, owner and creative director of properFUN by jesGORDON event planning.
See the original options here.
Pin it!
RELATED: Move over honeymoons! Couples are embracing the new "weddingmoon" trend
Honeymoon
Greece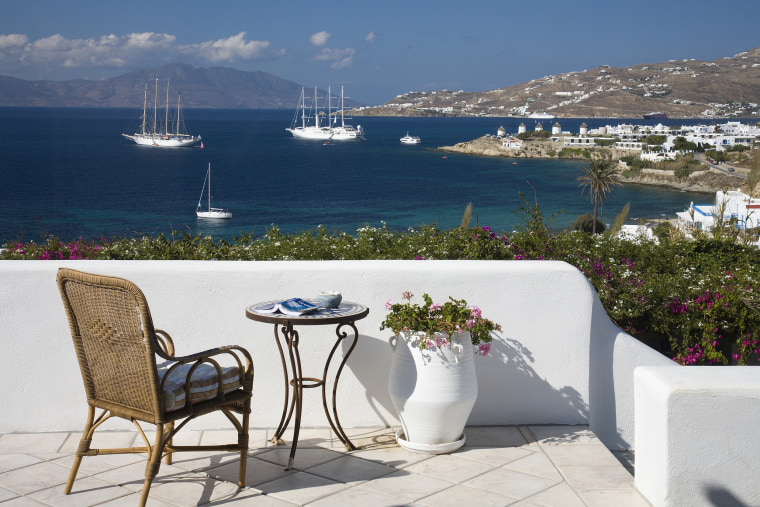 What goes great with a "big fat" TODAY Wedding? You guessed it — a "big fat" fabulous Greek honeymoon!
Thanks to our friends at Luxury Retreats, a leader in global luxury villa rentals, the couple will enjoy two Greek islands on their vacation (with a 24/7 concierge, private chef and business-class flight tickets included), starting in Mykonos at the Villa Hurmuses. This sun-drenched location has spectacular views of the bay and a turquoise private pool. Kaitlin and John will also get to pick which fun-filled activity they'd like to customize: a private boat charter around the island, lunch and people watching at a popular beach club or diving at Mykonos' aptly named "Paradise Beach." The couple will also enjoy a private wine tasting and lunch at a famed vineyard, a visit to one of the island's organic farms to sample local produce and a meal at one of the five-star restaurants before hitting a nightclub.
The second stop on their honeymoon will be to Villa Joy on the legendary isle of Crete, where they will browse one-of-a-kind shops, explore the island's famed sites of heroes and myths — hello, Minotaur! — enjoy superb meals at world-class restaurants and then dance the night away at lively beach-side clubs. They'll also take a guided hike through Crete's stunning Samaria Gorge!
See the original options here.
Pin it!
And be sure to check out TODAY on Pinterest to explore all of the TODAY Wedding choices and winners!