/ Source: TODAY Contributor
Worn by two generations and stored away for decades, this vintage wedding gown has stood the test of time. Now, the treasured family heirloom has survived the wicked winds of the Midwest as well.
As a tornado ripped the roof off a home in East Moline, Illinois, Tuesday evening, and emptied all that it held, it carried the boxed gown over the Mississippi River and onto a grassy hill several miles away in LeClaire, Iowa. The white dress was a little damp but did not suffer as much as a pull or tear.
Jill Stawicki, who wore her mom's wedding gown when she got married in 1987, was overcome with emotion when she picked it up Thursday after it was turned into the police.
"I couldn't even form a sentence," she told TODAY.com on Friday. "I couldn't stop bawling. It was joyful tears and relief and just a little piece of sunshine."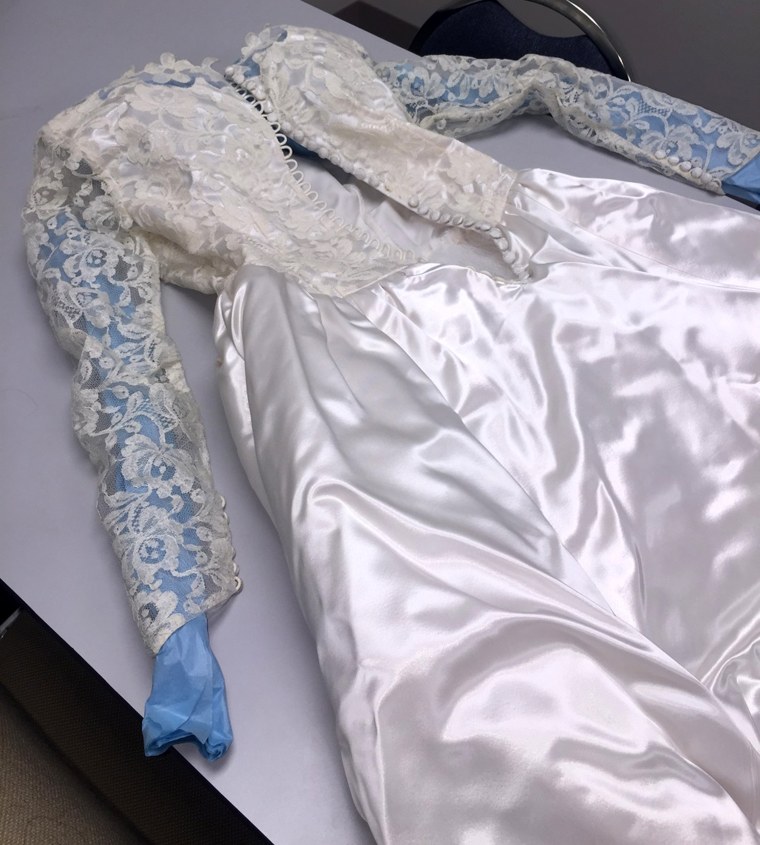 Back on her wedding day, Sept. 26, 1987, Stawicki, 55, loved wearing the gown that her mother, Donna Morford, 77, wore down the aisle in 1958.
"I felt like a princess," Stawicki said. "I was so proud to wear it. You could see in my grandparents' faces how proud they were for me to wear it."
During the storm Tuesday night, Stawicki hid in her closet, and was thankful her mother was at work and not in her home, which is nearby on the family's farmland. The storm took the attic off of Morford's house and left it 6 feet off of its foundation.
"The second story is just exposed," said Stawicki, whose home was also damaged. "Everything from the attic is gone."
At first light on Wednesday, the family set out to hunt for their belongings, and Stawicki knew exactly what she wanted most.
"The first three things that we need to find are the family bible, family pictures that go back generations and Mom's wedding dress," she said.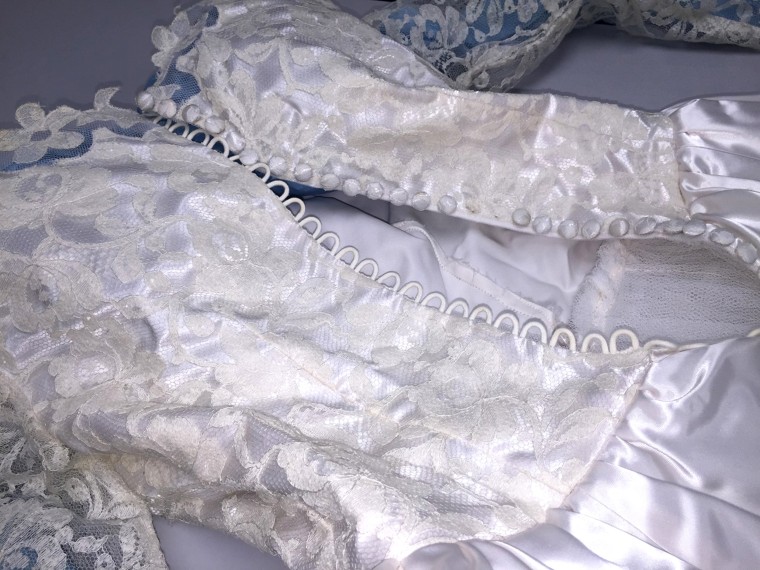 They found the pictures right away and thought the dress might have been blown into the fields. Stawicki could not believe how far it traveled and that the plastic that covered the box was still intact.
"To not even have the plastic ripped? How does it destroy a house but it didn't destroy the plastic?" she wondered. "It took the trees out by the roots but the cardboard box that's 30 years old and the plastic is not marred at all. It's just incredible to me."
RELATED: Purple Heart on sale for $4.99 at Goodwill store reunites with veteran's family
The police were surprised as well when a newspaper delivery man brought the box to them early Wednesday.
"I was kind of amazed it ended up where it had, and traveled that far without being destroyed," said LeClaire's police chief, Shane Themas.
LeClaire had scattered debris from the Illinois side of the river, but it was mostly construction materials like plywood and metal, he said. "But this particular item, being as fragile as it is, for it to survive that journey was unbelievable. I've never seen anything quite like this," Themas said.
Police took to Facebook to look for the gown's owner, and are happy it's back with the family.
"Maybe it's one little positive thing for the family considering what they've been through with the storm," Themas said.
Stawicki, who has two daughters and a granddaughter, hopes the gown might be worn again. Her older daughter is getting married on Saturday but chose another gown. Still, Stawicki is thankful to have the dress back in the family, a cherished memento of two joyous days.
"It's a piece of us," she said. "It's a piece of history, and it's something that will be hopefully in our family forever."
TODAY.com contributor Lisa A. Flam is a news and lifestyles reporter in New York. Follow her on Twitter: @lisaflam