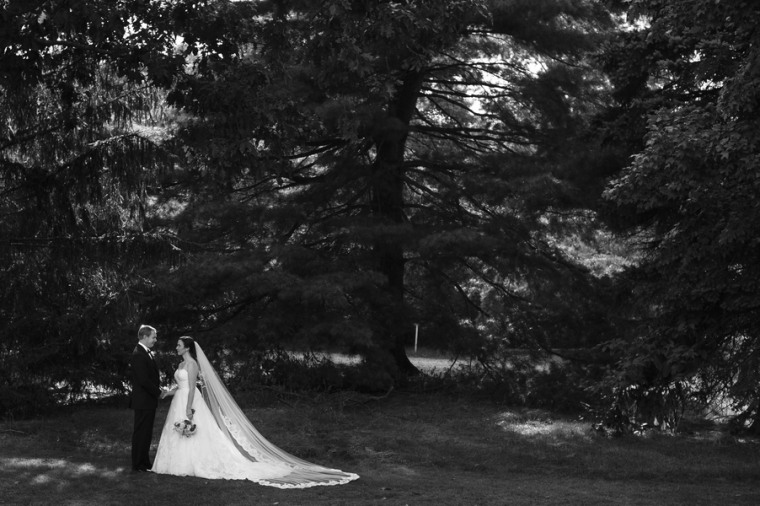 In 2011, Kate Callahan and Chris Coughlan knew just what they wanted out of life — they simply hadn't met anyone they wanted to share that life with, yet.
Kate, 33, was a PhD student studying chemistry at Georgetown. Chris, 31, was a graduate of the Naval Academy who'd once been stationed in Nigeria and Chad, but now worked across town in the nation's capital, specializing in intelligence and counter-terrorism.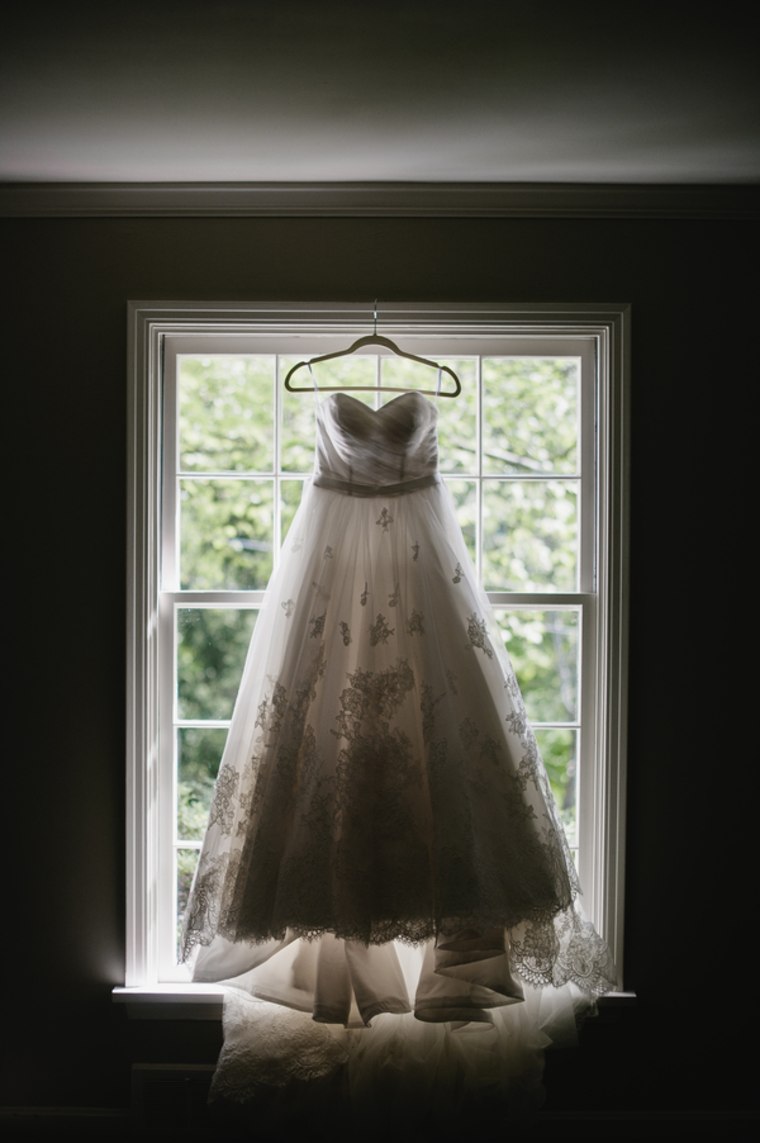 Kate was looking for a family man who could make her laugh. Chris was looking for a "smart Irish Catholic girl." Little did they know, they were looking for each other.
Rather than cross their fingers and hope to run into "the one," they each decided to take fate into their own hands and fill out online dating profiles, and ended up going out with each other.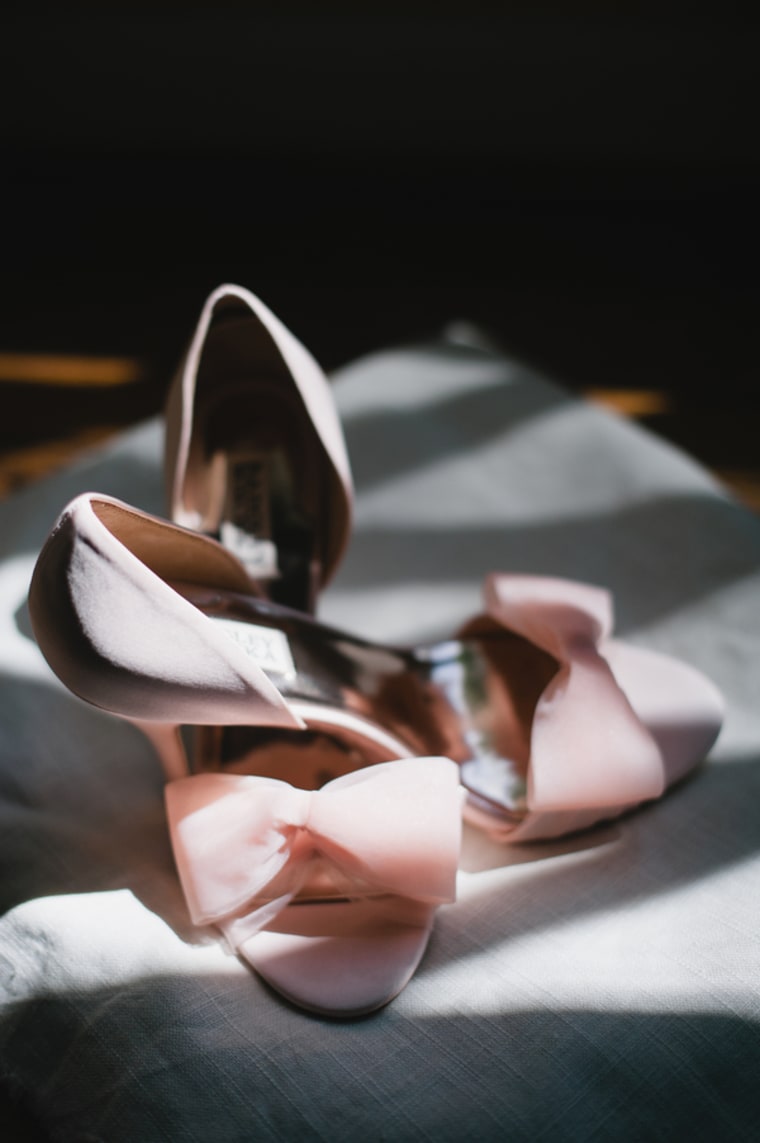 "Our first date, on one of those hot, humid July days in D.C., we met for ice cream," Chris remembers. "And we walked down to the sculpture garden and just talked. The big thing we connected on was how important our families are to us."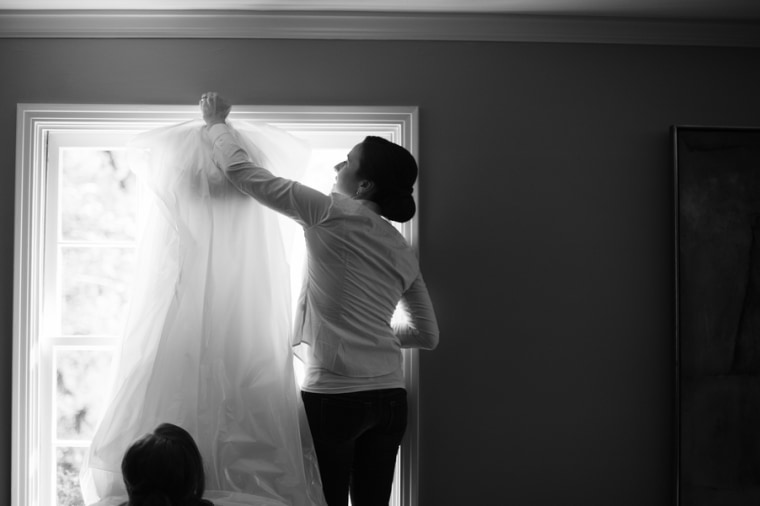 Kate felt a connection right away, too, but during the two and a half weeks that followed that first date, she tempted fate by totally ignoring Chris's attempts to follow up.
"I had some family in town," she says, "so I didn't return his call or check his voicemail. He called again and I didn't reply and then he called a third time." Thankfully, she answered, since it was the last time Chris would have tried.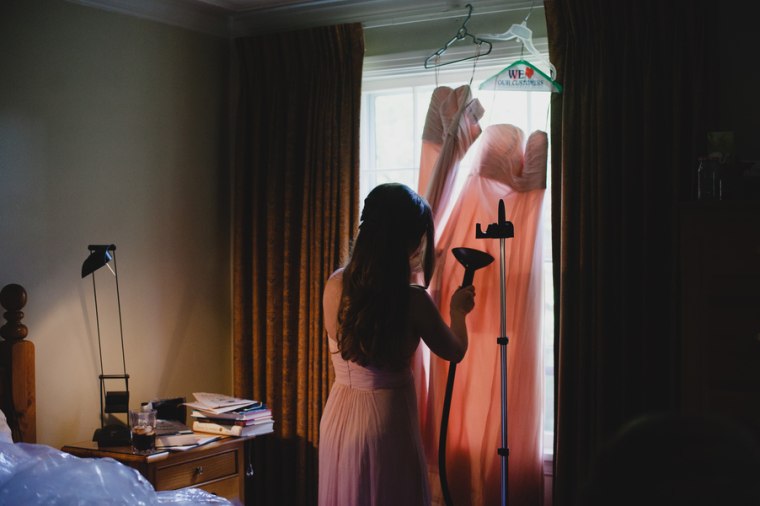 "I'd reached the limit of rejection," he says, though he now understands what was going on. "Her excuse was that she's very traditional. She'd been taught by her mother that girls do not call boys, and it didn't matter that I was leaving messages."
The absurdity of almost missing one's match over phone protocol now makes Kate laugh. "I was pretty bad, especially with dating," she admits. "I was just going to wait for him to call again."
On their sixth date, Chris showed off his exceptional grilling skills and won Kate's heart — or at least that's his version of things. "She's a vegetarian and I'm not," he says, "but I convinced her to come over for dinner and devised this BBQ veggie meal with BBQ pizza topped with pineapple. It was all edible and that's when she fell in love with me."

The rest, as they say, is history. "We fell in love pretty quickly," Kate says. "It's hard to find someone you connect with on such a basic level, a partner you can relax with."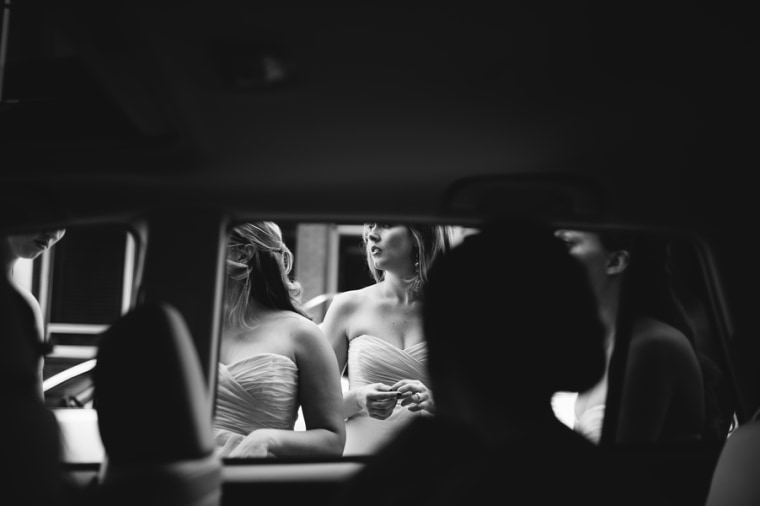 Still, the relationship was not without its hurdles. They'd only dated for a few months before Chris was deployed to Afghanistan for a 5-month stint.
"I really thought he was worth waiting for," Kate says. "We wrote emails almost every day, we wrote some letters, and once a week we got to talk through Skype. We spent a lot of time talking about what we were going to do once he got back."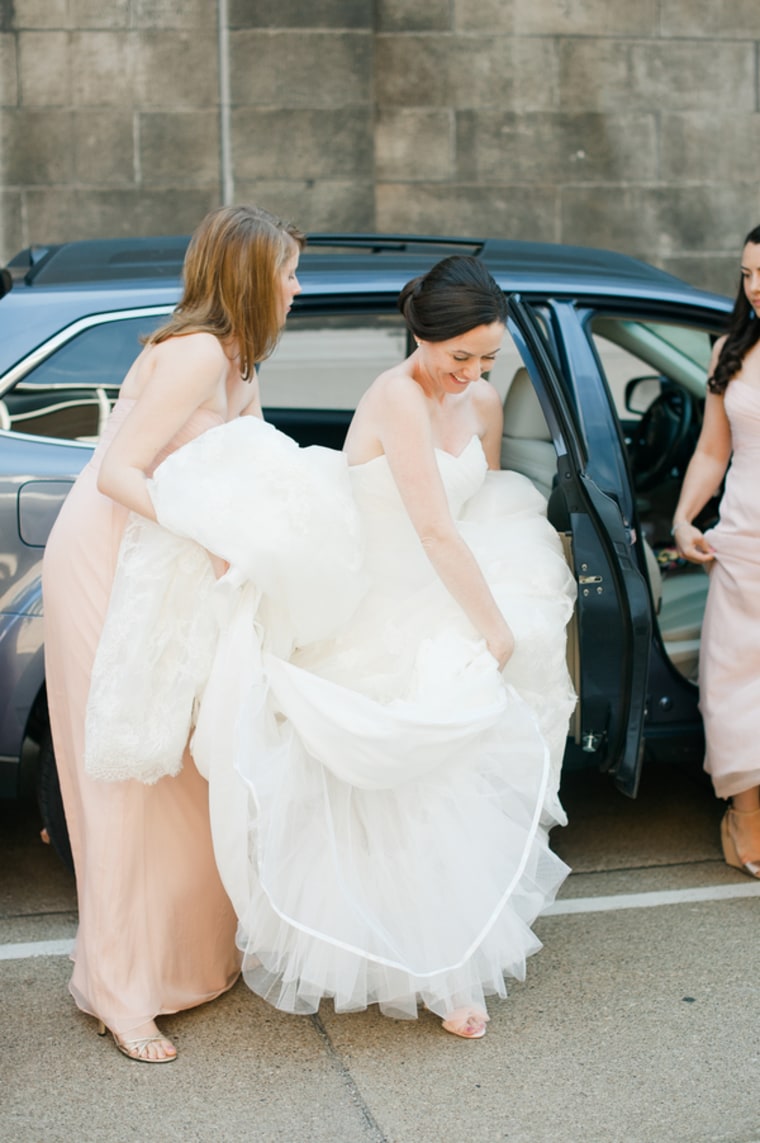 Chris confesses he couldn't anticipate how Kate was going to react to his being away. "I kept on trying to give her outs, like, 'I don't expect you to wait around,'" he says. "It didn't take long once I got there to realize she wasn't going anywhere. A month into being there, I knew I'd propose."
He took his time doing it, though. After Chris returned to the states in March of 2012, he started planning an August move to California, where he'd embark on his MBA at UC Davis."He'd said we had a lot to talk about," Kate says, "but then he just kept me in suspense. He proposed like a week before he left for school."
This time, it was Chris's turn to invoke tradition as an excuse for holding out: "I wanted to make sure I discussed things with Kate's dad in Pittsburgh and I wanted to do it in person. We had a trip scheduled to there anyway in late July and we had a good talk. He was more than happy to give me his blessing."
Chris centered the proposal on correcting fate's wrongs. "Throughout our dating life there were a few things we'd planned to do, but something would happen and the plan would be destroyed," he explains. "So I told her the theme for the night was 'things we've been talking about doing, but haven't done.'"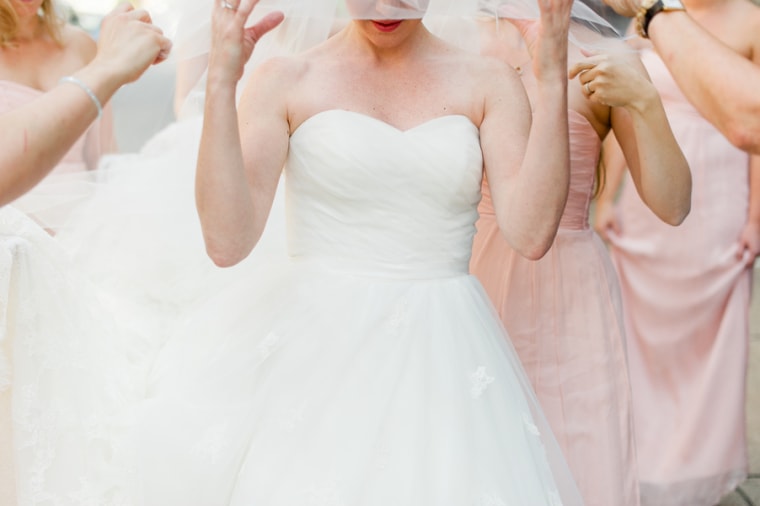 In addition to visiting some restaurants they'd long had on their to-do list, Christ also gave a nod to their tendency to make their own fate, taking her back to the National Gallery of Art Sculpture Garden (the site of their first date), where he proposed.
Kate remembers the details perfectly: "Down on one knee, with a blue Tiffany's box tied up with a white ribbon that I had to unwrap. I couldn't believe it — he was leaving in a week and I thought it just wasn't going to happen."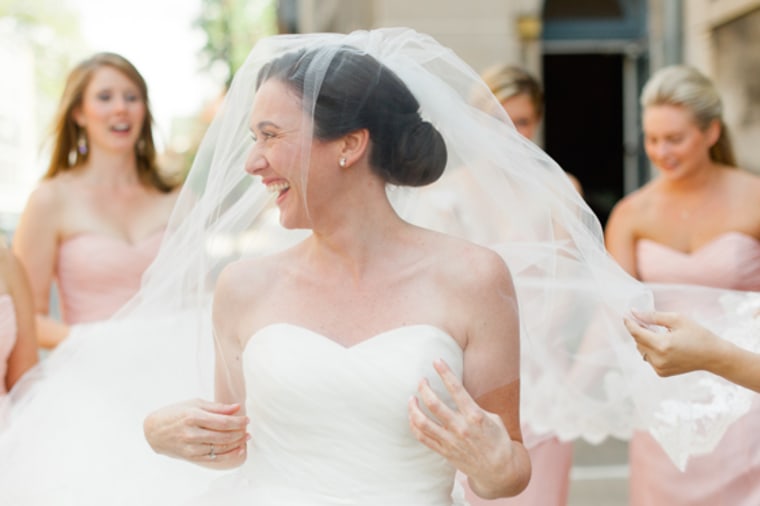 It's a little blurrier for Chris. "I had rehearsed the actual proposal several hundred of times and I still have no idea what I said at all," he admits. "All I remember is her saying 'yes.'"
Chris left for California in mid-August, as planned. But no one could have planned for what fate threw at them next: Kate's father, a four year survivor of brain cancer, passed away in September.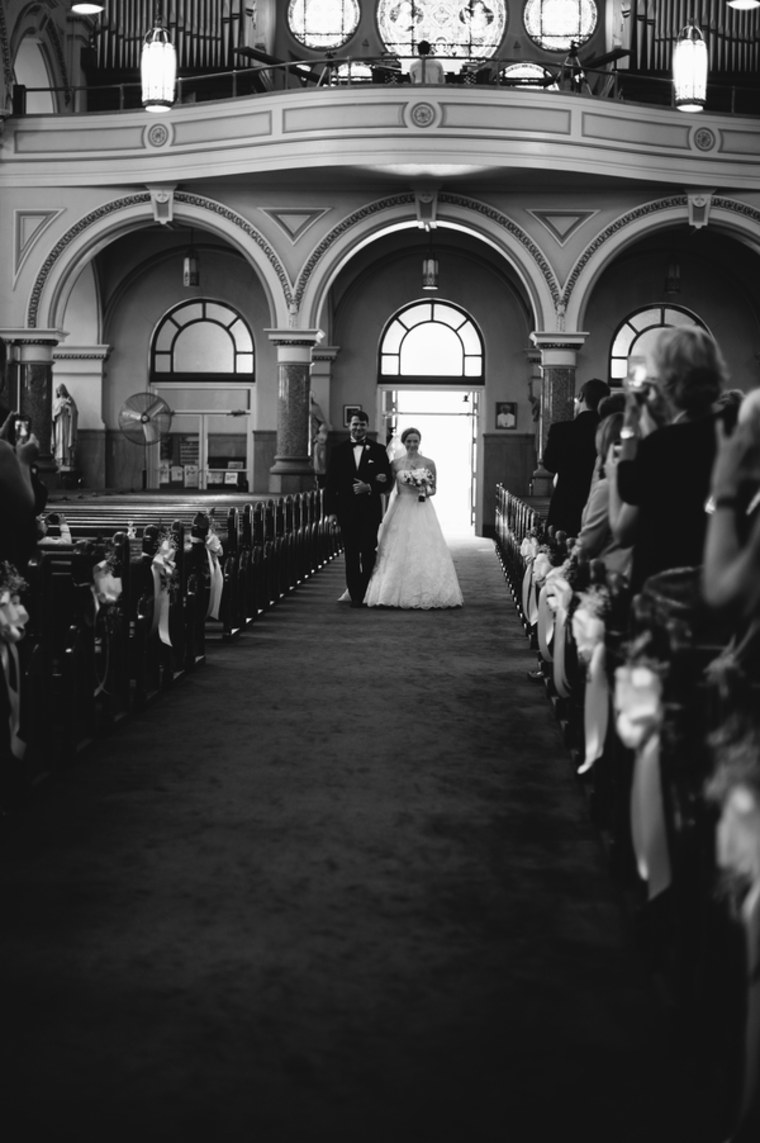 "It's really hard to lose your father," Kate says. "And Chris was on the other side of the country. At the same time, the wedding gave me something to think about, instead of just missing my dad. I remember him saying: 'Life is going to work out, you're going to be so happy.'"
Kate's dad had also made sure he'd be present in spirit at their wedding by making their first big-day decision for them: the wedding cake. "He said, 'well, of course Jean Marc will have to bake your wedding cake,'" she remembers, of the bakery that ended up supplying their dessert. "It was a really special part of the wedding day; it felt like Dad was there."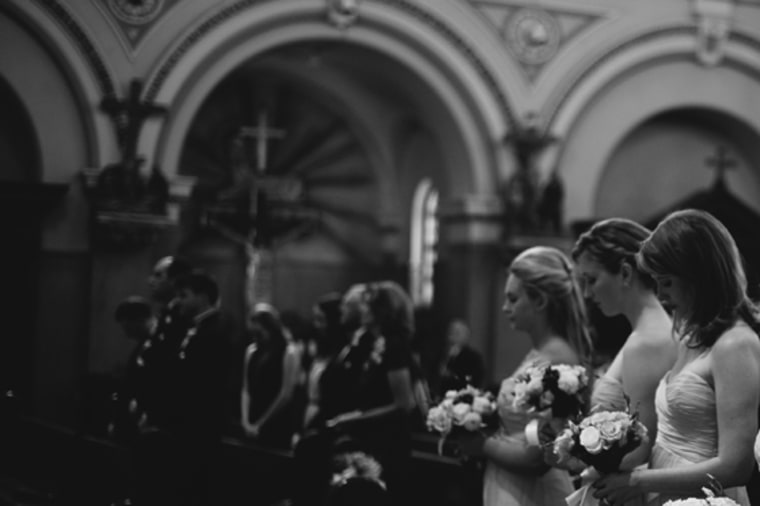 Many of the other major details fell into place just as organically. Pittsburgh was a given, as was Kate's family church of St. Mary for the ceremony, the very same church that had held mass for her father. Within the church's near full schedule, the couple found one perfect open weekend in September, sandwiched between the end of Chris's internship and his second year at UC Davis. As for the reception, Kate had her heart set on Fox Chapel Golf Club.
"Kate had the wedding of her dreams in her head," Chris says, "and she did everything she could to make it happen."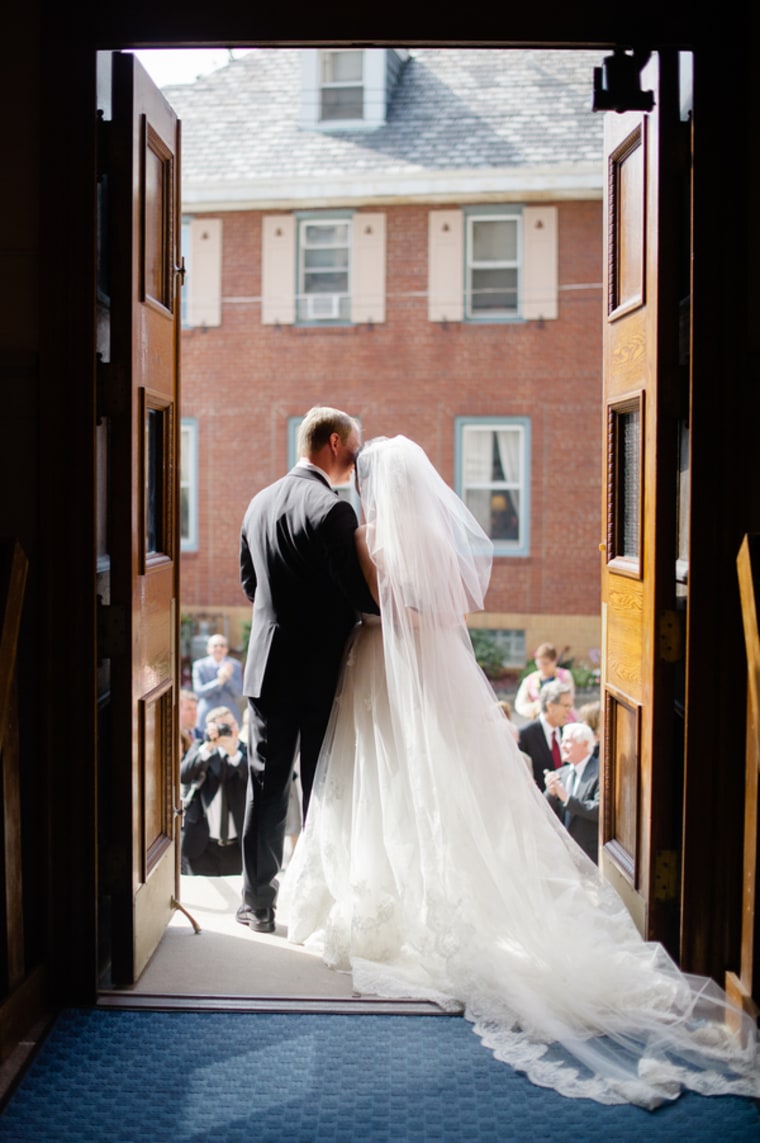 Though Kate says she hadn't given much thought to planning her wedding before the engagement, she found the process fun, and creating the look of the ceremony and reception was simple. "The church we got married in is old with a lot of character and the golf club is just a gorgeous venue," Chris says. "There wasn't a lot to do but highlight stuff. "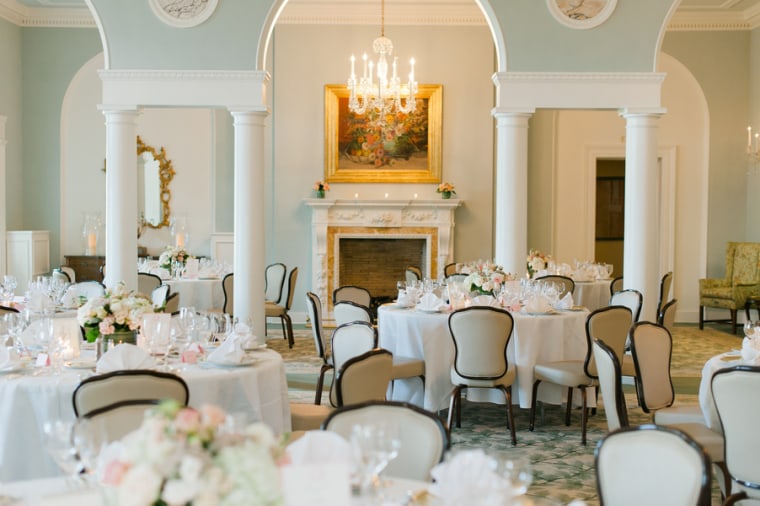 Indeed, the golf club had all the makings of a fairytale wedding: atrium, water fountain, and luscious foliage. Kate added some floral accents in blush gold and white, for a look of simple, soft romance. The wedding invitations were quite traditional, too, and engraved. 
"That set the tone," Kate says. And that was all the embellishment the day needed.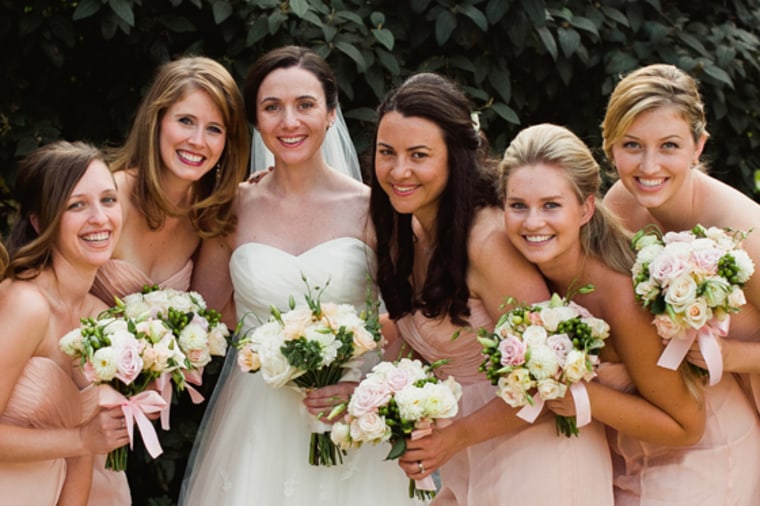 Chris wore a classic black tux, and Kate, after trying on an estimated 50 dresses, finally found her Martina Liana ball gown, with its sweetheart neckline and full lace skirt, at a trunk show — with the help of the very girl who found her sister's wedding dress. "I felt like a princess," Kate says.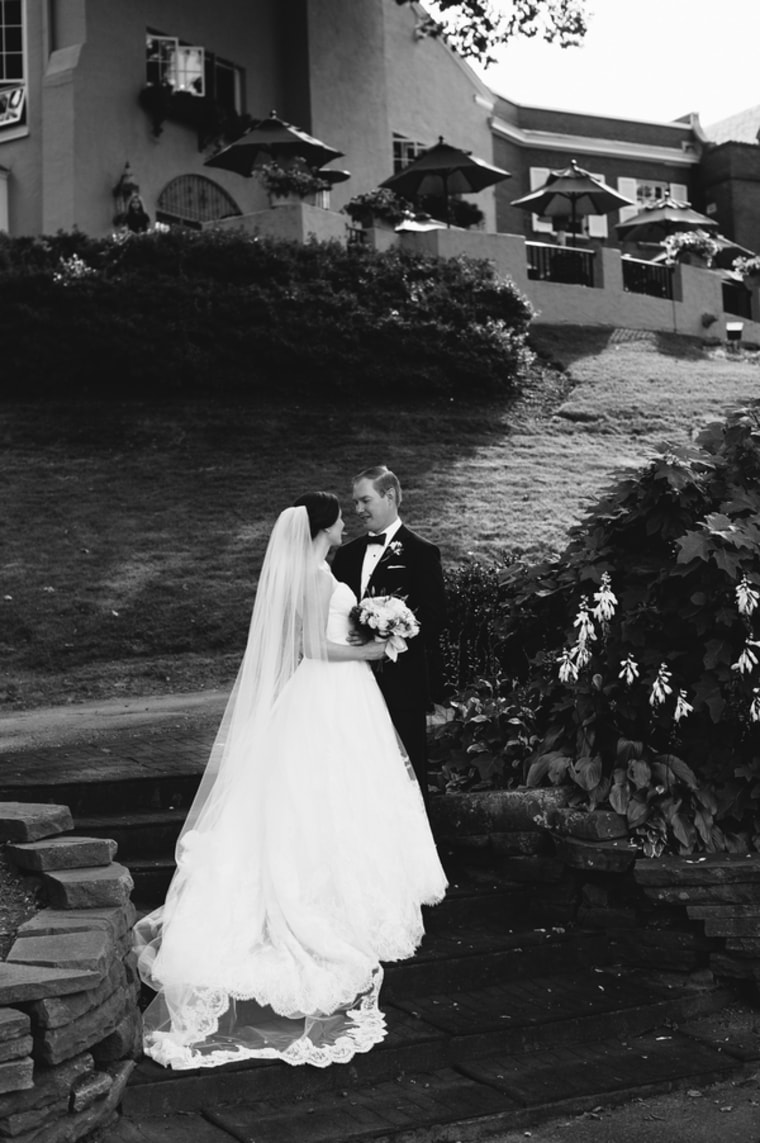 Kate's younger brother walked her down the aisle on September 7th, 2013, and after an exchange of vows, she became Kate Coughlan.
"I was surprised at how meaningful the vows were," she says. "Even with 100 guests staring at you, hearing you say you're going to be together for the rest of your lives, it felt like just the two of us."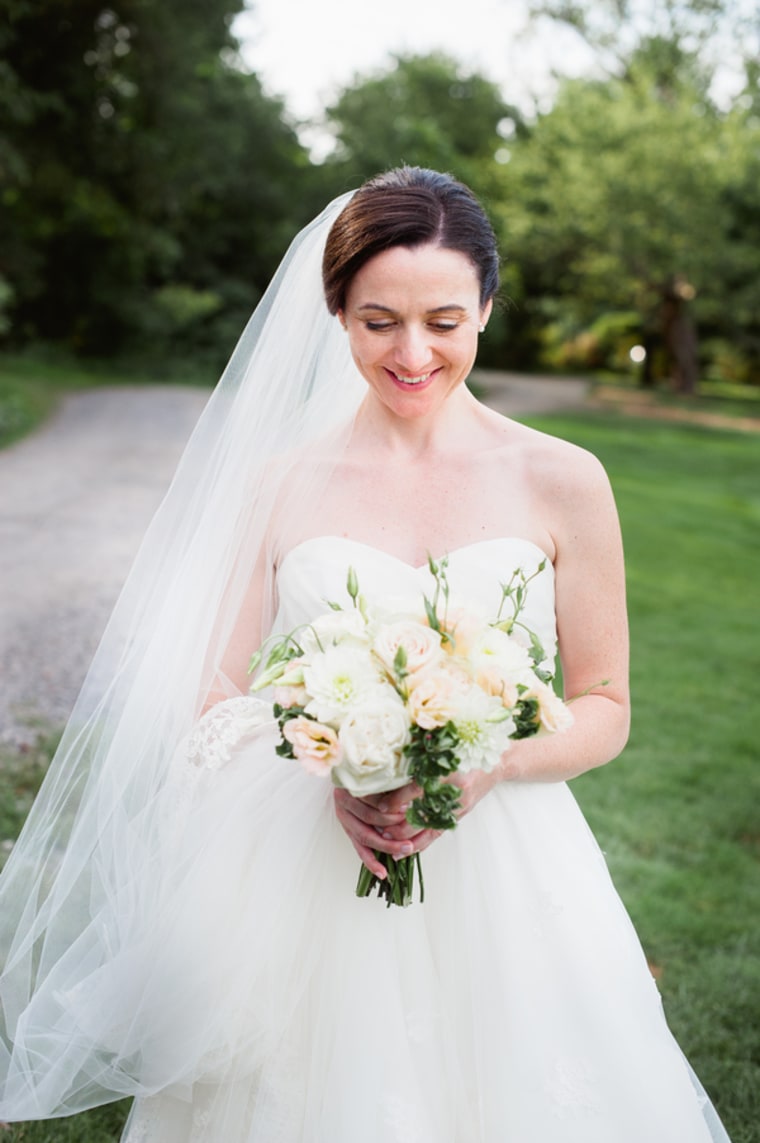 Which is fitting, because the couple strove to create a paired-down, intimate feel throughout the day. "We'd gone to so many wedding with lots of knickknacks and doodads," Kate explains, "and I'm not really a craft-er. We're simple, traditional people."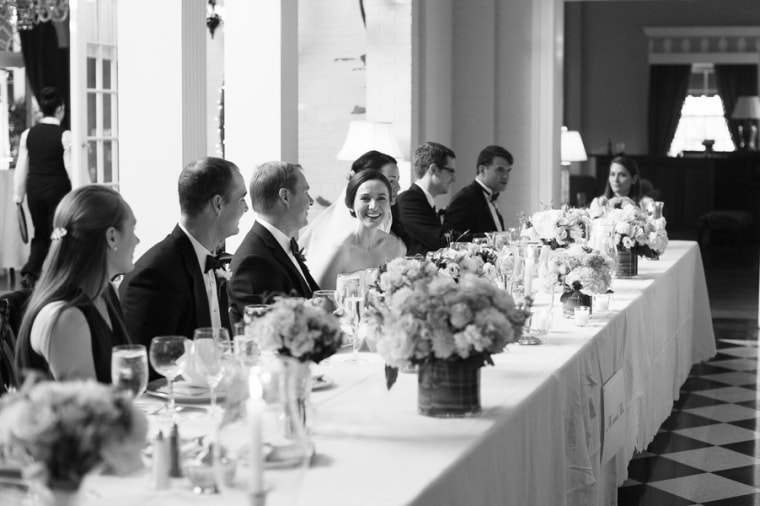 Eschewing the knickknacks and doodads left Kate and Chris free to focus on what was most important to them: the joining of their two families — and having fun.
After the ceremony, they kicked off the reception with a cocktail hour on the patio and an introduction by Kate's uncle, who referred to the couple as "the lieutenant and the PhD, the vegetarian and meat eater, East Coast meets West Coast, Irish and Irish, Catholic and Catholic."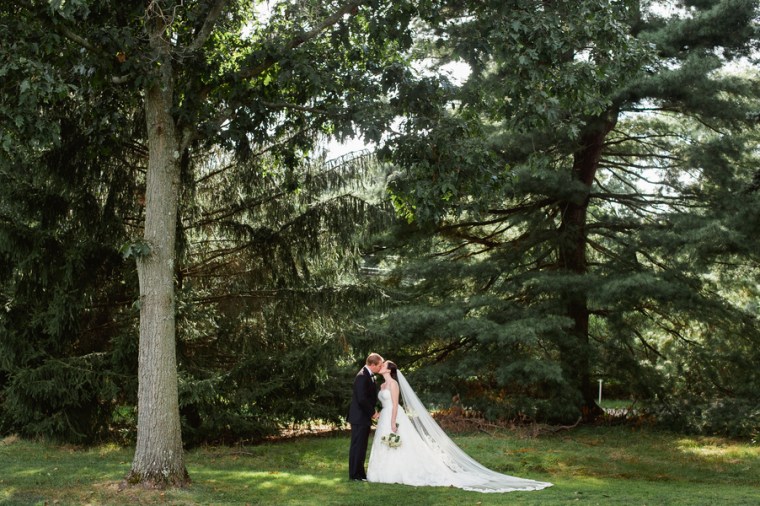 Then came the cutting of their three-tiered white wedding cake — a yellow cake with chocolate ganache, to be served with dinner — one of the most important parts of the evening for Kate. The most moving part of the reception, and a real highlight across the board, were the speeches.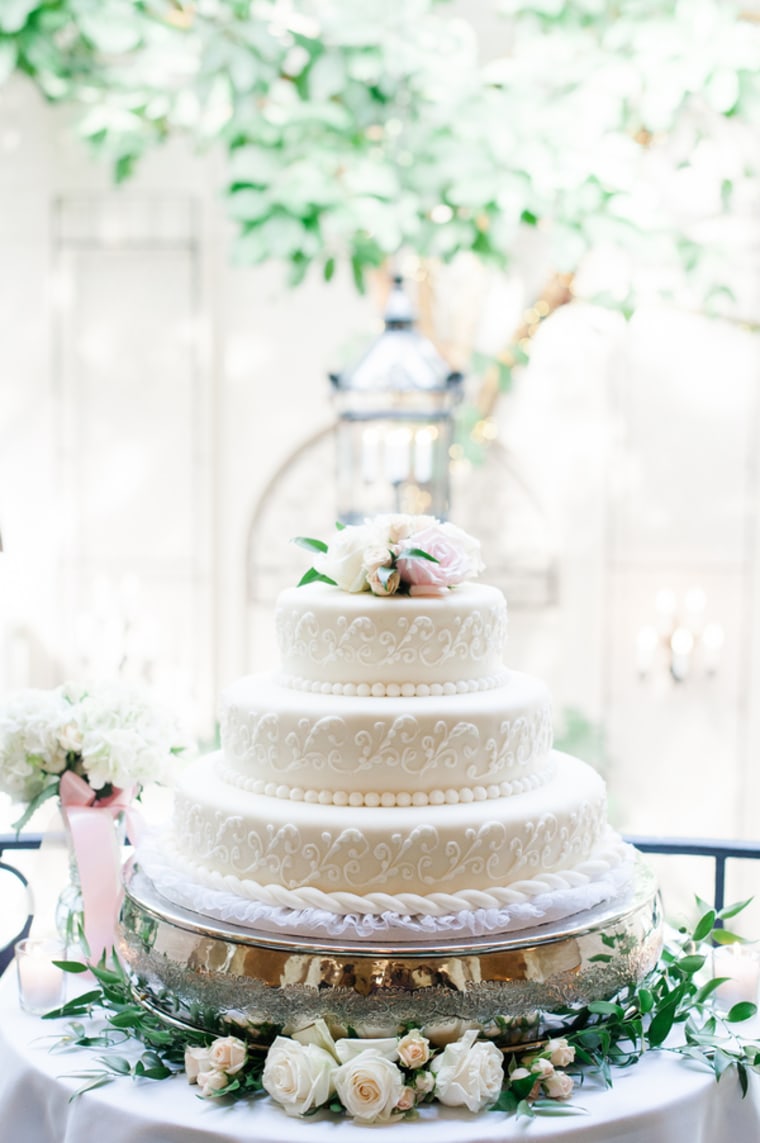 "We have a wedding video and we love looking back at the toasts," Kate says. "And my younger brother gave an impromptu prayer. My sister talked about the memories she had of us growing up and Chris's brothers spoke about how much they looked up to him for serving, for sticking with the academy after 9/11."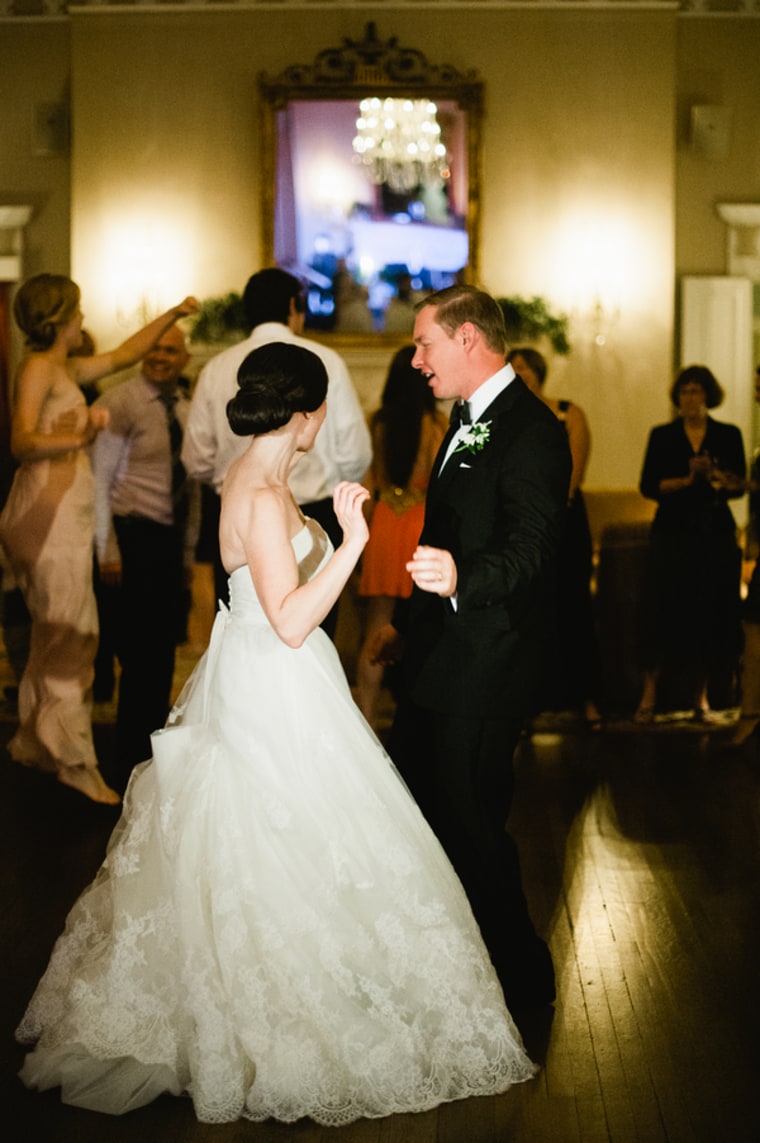 Soon, everyone was up and dancing to the live band. To cap the night off, Kate's uncle challenged the Coughlans to a dance-off. "They really love the conga line," Kate recalls, "so that was their dance move and I have a cousin, one of my bridesmaids, who wants to be a Rockette." In other words: no moves were off limits on the dance floor.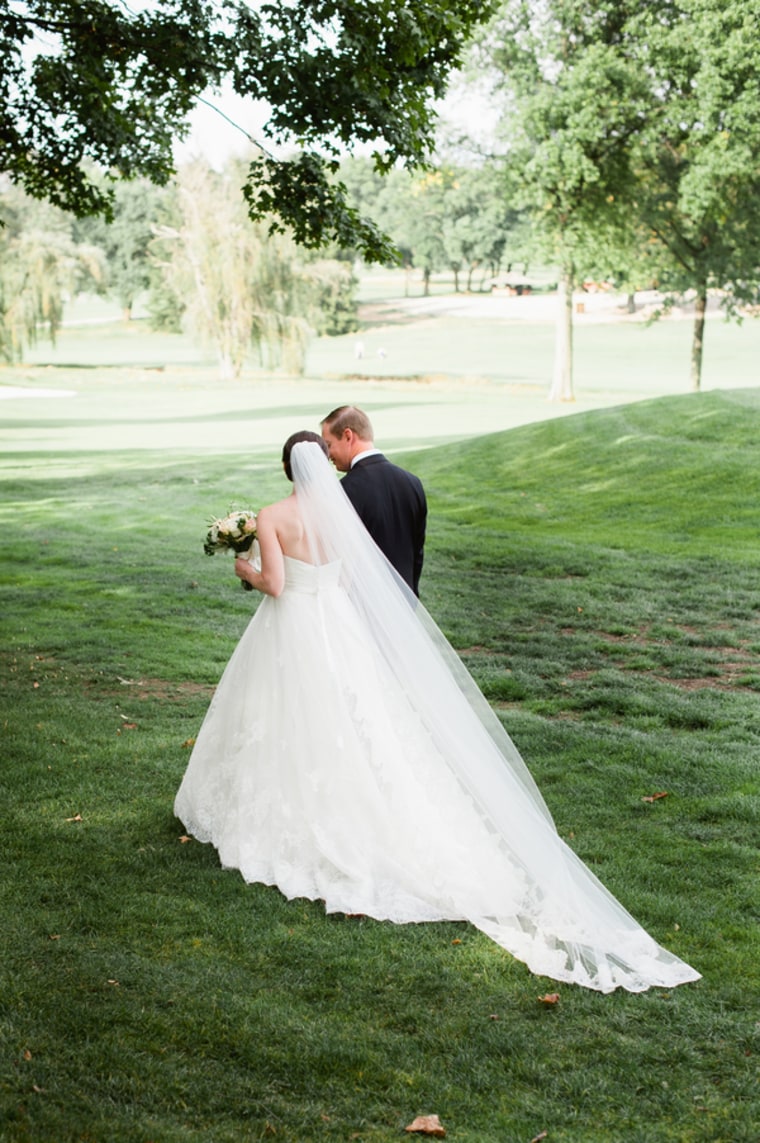 In the days following the wedding, Chris and Kate spent a week driving a truck with all of her belongings from Pittsburgh to California, and not only did they still want to spend the rest of their lives together, but they actually had fun doing it.
Kate Callahan and Chris Coughlan tied the knot in a classically romantic Pennsylvania wedding in September.
If that doesn't prove that these two are fated for each other, than there's no such thing as fate.

All photos provided by Veronica Varos Photography. Find more TODAY real weddings here.