The success of "Sex and the City" has always been linked to style, but not for the frivolous reasons you may think. Whether Carrie was looking for labels or love, it was always in pursuit of self-expression — the true definition of style. Through her writing and wardrobe, Carrie let us into her heart, empowering women to dress with confidence and conviction. While costume designer Pat Field's on-screen creations aren't meant to be copied from head-to-toe, the movie serves as a wonderful visual aid to show how four women can weave fashion into personal statements. 
Bobbie Thomas, Today Style editor and author of the Buzz column for In Touch Weekly, explores four fundamental fashion lessons to take away from the shopping fantasy that is "Sex and the City."
For the love of shoesMany of us grew up thinking you needed one pair of brown shoes and one pair of black shoes to get you through any situation. Well, those days are long gone. 
Thanks to "Sex and the City," handbags are no longer the only status symbol to flaunt; shoes have become just as important. Carrie Bradshaw once said, "It's really hard to walk in a single woman's shoes, that's why you sometimes need really special shoes!" In fact, a very special pair of royal-blue Manolo Blahnik Hangisi pumps play a pivotal part in the movie, resulting in Carrie's very own Cinderella moment. (Available to all June 9, 212-582-3007)
Footwear today has become the focal point of an outfit, as heavy, ornate and artful shoes can be found everywhere. And while expensive footwear was her character's self-diagnosed "substance abuse problem," you may be surprised to learn that Sarah Jessica Parker's favorite kicks from the new flick are "so last season." Costume designer Pat Field flipped for a pair of Dior Extreme sandals from a past collection, and thanks to her they are now available again ($790, 212-931-2950). The "it" shoe has stores such as Nine West and Steve Madden hot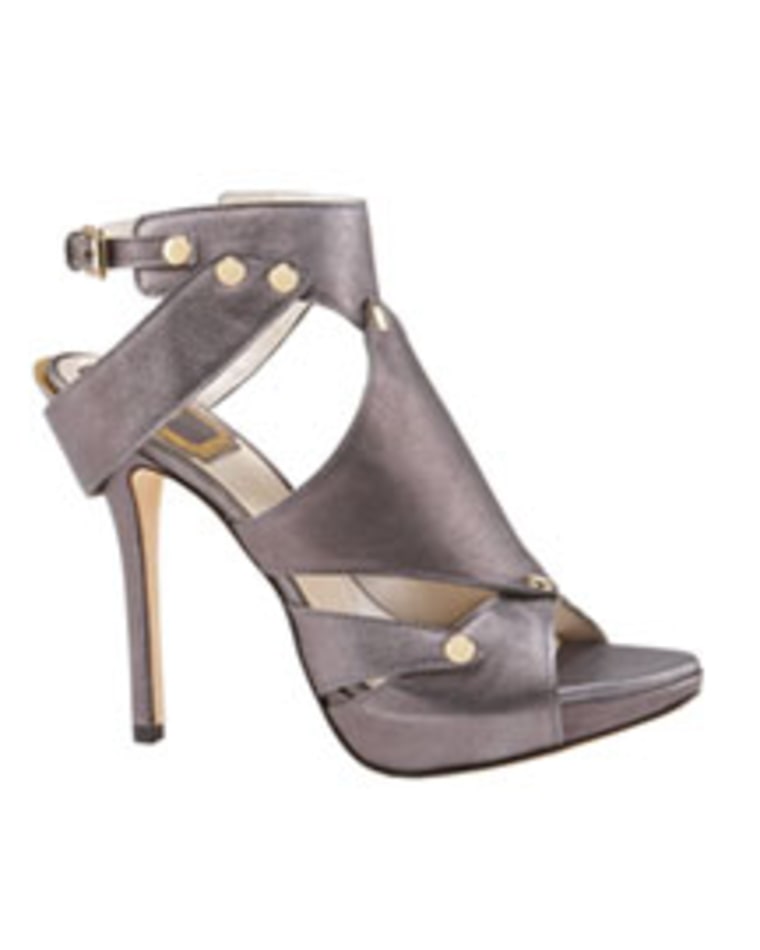 on their heels offering less expensive variations of the chunky gladiator style.
And you don't have to fear that you will be the old woman who lived in her shoes! Whether you score your size at a consignment shop, designer resale store or find items from discount department outlets, these resources are rich with older treasures, and Pat Field would pull from them constantly. As a matter of fact, I spotted a red-hot pair of Stuart Weitzman pumps that Samantha wears in the movie at DSW (also known as Designer Shoe Warehouse)! And did you know they have a Web site? Yup, DSWshoes.com; happy hunting.
Feminine and fabulous
Thanks to Carrie and company, we've said goodbye to blues and hello to the dress. Prior to "Sex and the City," we were defined as the denim culture, and retro styles such as full, flared skirts were somewhat of a fashion faux-pas. But after Pat Field replaced pants and tighter silhouettes with more feminine pieces, everything changed.
There's a certain freedom behind frocks; the notion that you can slip on a single piece and walk right out the door is rather empowering! It also allows us to feel dressed up with no explanation needed. As the dress glides easily into everyday attire, we have to admit that the idea of being "dressed up" is rather delightful.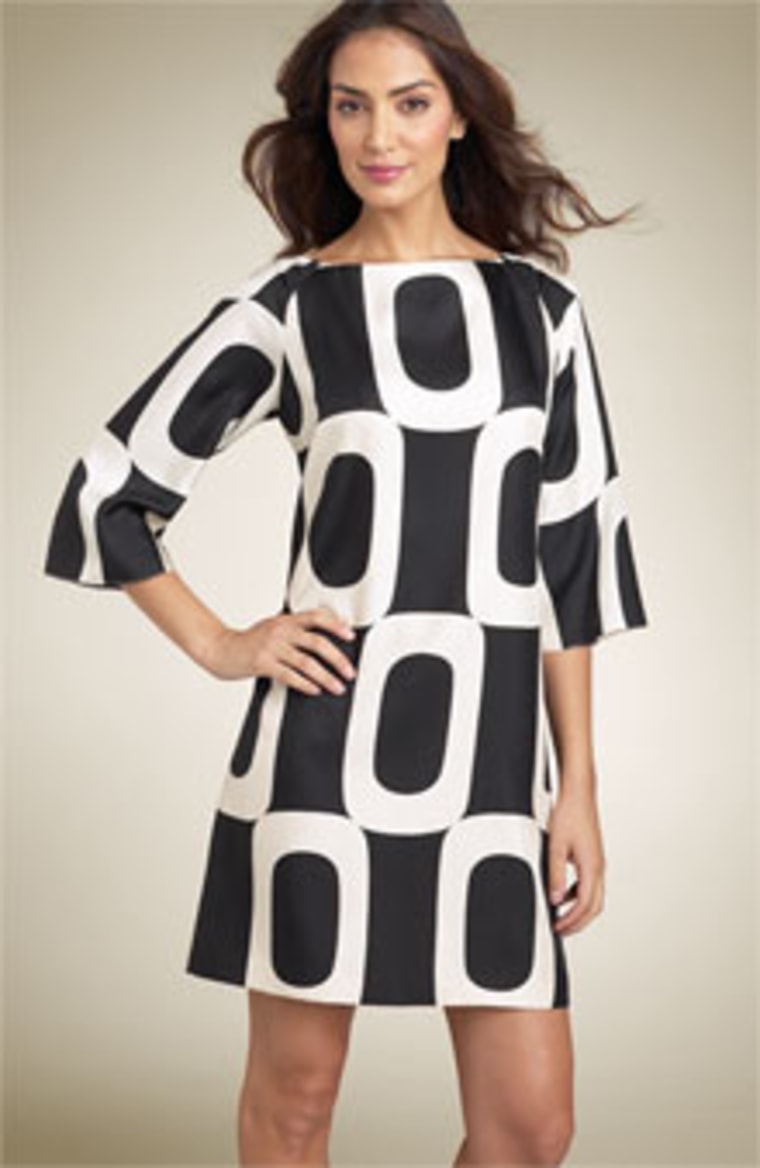 In another display of the feminine, flowers bloomed everywhere in "Sex and the City," and for Carrie in particular. From the floral pins that popped up in the TV show to the floral prints that were prevalent on dresses throughout the movie, turning your closet into a garden of possibilities may be just what the wardrobe doctor ordered.
Finally, keep in mind your feminine frame looks most fabulous when highlighting your hourglass silhouette. Embrace your shape, show off your legs, cinch in your waist, and celebrate the fact that you're all woman.

Seen on TODAY: Oscar De La Renta polka-dot dress from Albrightnyc.com; on model: Maggie London dress, $168, Dillards.com, Stuart Weitzman Linda pumps, $179.95, DSWshoes.com
Mix it upCarrie Bradshaw's character could be on both the best- and worst-dressed list at the same time, and it's this risk-taking tactic that makes her a fashion hero. The key behind this kind of bravery is not being afraid to break fashion "rules," add unexpected elements, and alter pieces to suit your style. Pat Field constantly cropped dresses and even requested to change an element on a Zac Posen couture runway dress.
In one scene from the movie, Carrie leaves her house in pajamas and a fur jacket complete with pearls, white booties and a sequin cap. This mishmosh is extreme, but it's her carefree, "I'm piling on all my favorite things and I don't care what you think" attitude about dressing that is, after all, so refreshing and inspiring.
Playing with proportions, such as pairing a cropped vest with a longer shirt, keeps things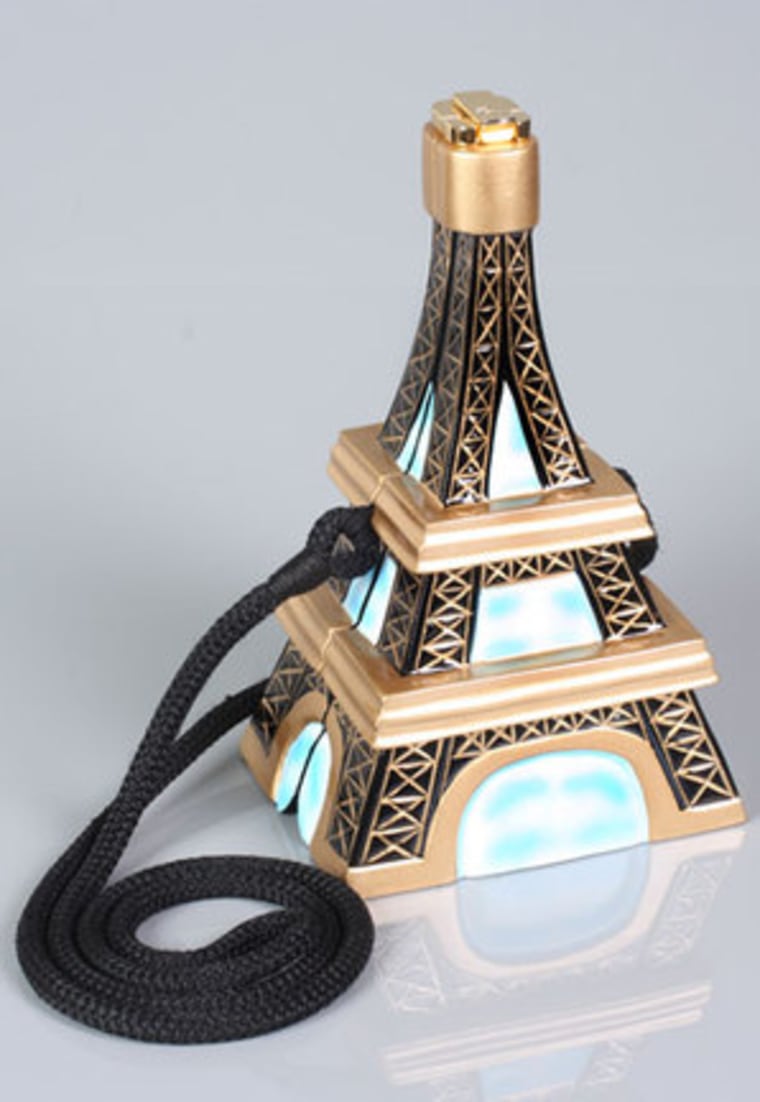 interesting. Other contradictions, such as mixing fabrics, high and low prices, brown and black or gold and silver together, and old and new garments, add an exciting element to any outfit. A studded, edgy vintage belt became a staple that Carrie paired with sweet, pretty frocks. The combination of rough and romantic worked every time, and Sarah Jessica Parker even nicknamed the belt "Roger," because it appeared in the movie so much, it felt like its own character. Seen on TODAY: Balenciaga pink dress from Albrightnyc.com, belts, Streetsaheadinc.com; on model: Gramercy vest, belt, cropped pant, $39-119, ClubMonaco.com, Glimpsse heels, $79.95, SteveMadden.com, Timmy Woods Eiffel Tower bag, $375, ShopIntuition.com, Crystal bag, $3,000, TimmyWoods.com
Be bold and fearlessOver-the-top accessories have long been a "Sex and the City" staple, and the movie does not disappoint; from fanciful feathers to another Timmy Woods creation, the Eiffel Tower bag, these outrageous accents will be all the buzz at the water cooler. But strong "statement pieces" are just one of the many ways Pat Field punctuated the story and armed these ladies with lust-worthy wardrobes.
Another look-at-me factor for the fearless foursome is based on the concept of going sheer and showing a little lingerie. Long ago, the T-shirt was considered underwear only, until men like James Dean and Marlon Brando started wearing T's as streetwear. Similarly, "Sex and the City" has revolutionized the way women wear bras now; thanks to these characters, it's not all bad to have a neon strap or a lacy black back peeking through a sheer shirt. No longer considered trashy, the idea is actually empowering; yes, we wear bras. 
Each character in "Sex and the City" is a risk-taker with her wardrobe, but its Samantha's unapologetic shamelessness that often has us gleeful with girl power. As a high-profile P.R. executive, Samantha brings bold color (and sometimes shocking cuts) into the boardroom, daring anyone to doubt her admittance into the boys' club.
Bottom line: It's not about the name or number on your labels; "Sex and the City" style exemplifies self-expression. Sexy is, after all, a state of mind, and the fab four's friendship is the ultimate sex symbol. So soak in all the eye candy and inspiration that Pat Field provides for you. Then, be sure to adapt these concepts to your own tastes and preferences, and you can't go wrong. While I loved the fashion just as much as the next gal, my favorite lesson from the movie was that love is the label that never goes out of style. Seen on TODAY: CD Greene crystal and mirror dress and black one-shoulder dress exclusively at Bergdorf Goodman, 212-753-7300; On model: Silk poncho, $59.50, PearlRiver.com, Sebastian Milano peep-toe slingback shoes, $399.95, DSWShoes.com, Patricia Field for Payless metallic embossed clutch.