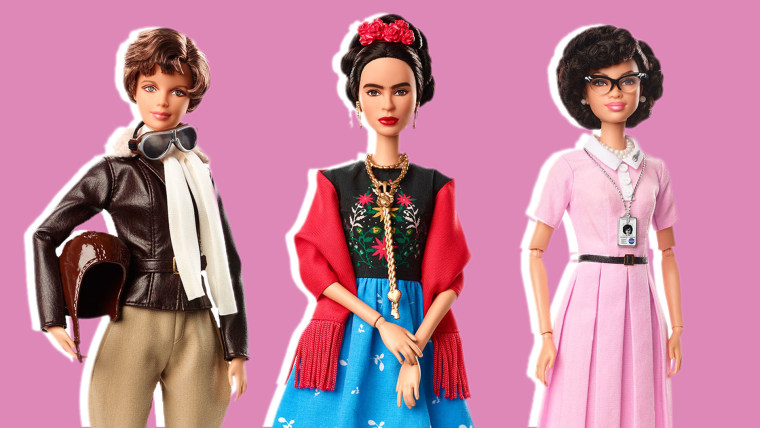 Featuring Amelia Earhart, Frida Kahlo and Katherine Johnson, the new collection comes just in time for International Women's Day on March 8. Each doll includes information about the contributions each woman made to society and her respective field.
As the first female aviator to fly solo across the Atlantic Ocean, Earhart inspired women everywhere to reach for their dreams. Kahlo won the hearts of art enthusiasts around the world with her unique style and became a well-known activist and symbol of strength. Johnson was a major pioneer in the field of mathematics who worked for NASA and was honored in the hit film "Hidden Figures."
The "Inspiring Women" dolls ($30 each) are available for pre-sale online now, and you can snag one in stores on March 8 (for Kahlo and Earhart) and May 10 (for Johnson).
As if that wasn't enough girl power, Mattel is also honoring 14 additional modern-day role models as part of its existing "Shero" program, which celebrates women who have broken boundaries in their fields. Sadly, that collection isn't for sale, but they're pretty awesome to look at all the same. Each honoree will be gifted with her own one-of-a-kind doll in her likeness.
Role models like Chloe Kim (Olympic snowboarding champion), Bindi Irwin (Australian conservationist), Patty Jenkins (American filmmaker) and Nicola Adams (boxing champion from the U.K.) and other successful professionals round out the impressive lineup.
In a press release, Barbie's senior vice president and general manager, Lisa McKnight, said she's excited to launch this latest group of inspirational dolls: "Girls have always been able to play out different roles and careers with Barbie and we are thrilled to shine a light on real-life role models to remind them that they can be anything."
And that "anything" includes being immortalized in plastic.